This is a 100% honest review of Josh Cellars Pinot Gris. No one would ever actually pay me for my opinions, so you can rest assured I'm unbiased. Usually I review boxed wines in a much more informal format, but bottles deserve some love (or hate) too.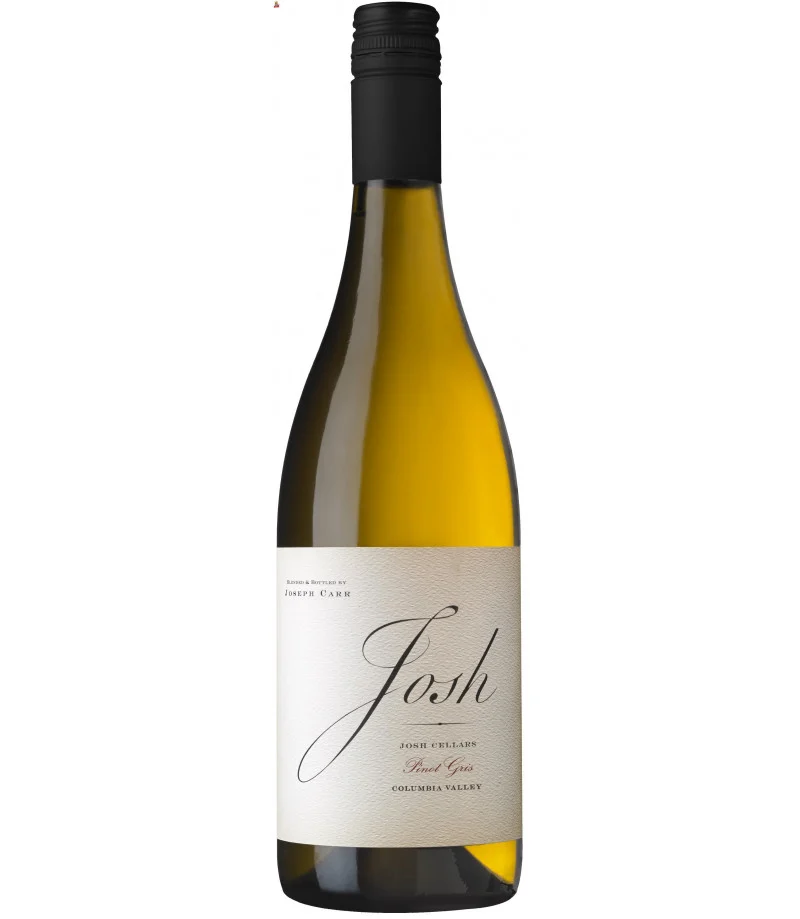 Josh Cellars Winery: The Man Behind the Wine
I remember the first time I ever saw a Josh branded wine. It was around Father's day, and I basically thought that it was the same gimmick as Coke bottles with your name on it. Imagine my disappointment when I went out to find a "Jim" bottle (my dad's name), only to discover that Josh put his name on every damn bottle with no variation. Even though they market it as a wine for dads, seems like Josh only cares about one very specific dad.
Jokes aside, Josh winery was opened as a tribute to Josh's late father — Joseph Carr. Today the winery has vineyards in St Helena, Rutherford, Stags Leap District and the Sonoma Coast.
Originally, he used the name Joseph Carr Wines on all of his bottles, but he switched over to just Josh in 2005. As someone who knows nothing about marketing, this would have seemed like a poor choice to me. Like sure, it's going to be a hit for people named Josh, but for everyone else it's just a random guy's name on a bottle of wine. I don't understand the intrigue.
But, for whatever reason, it worked out for ol' Joshy, and he partnered with Deutsch Family Wine & Spirits in 2012 to market and sell his wines.
This ended out being a great move, because by 2015 he was selling 1 million cases of wine a year. The company experienced more growth than any major wine brand over $10 over the next 5 years, and nowadays Josh is sittin' pretty on his millions of dollars in his castle-mansion that probably spells "JOSH" from an aerial view.
What is Pinot Gris?
But enough with the history — we're here to talk about Josh's wines and whether or not they live up to the hype. This time around I'm specifically focusing on the Pinot Gris, which is one of my favorite types of wines.
For those who aren't as familiar, Pinot Gris is a grape varietal. It's actually the exact same grape varietal as Pinot Grigio — it just has a different name because Pinot Gris originated in the Alsace region of France and Pinot Grigio hails from Northern Italy. Since they come from such different terroirs, this means they each have their own unique taste profiles.
Nowadays, Pinot Gris is grown all over the world, but it still maintains the same qualities you would expect in an Alsatian Pinot Gris.
Although technically the same grape varietal, I immensely prefer Pinot Gris. It's a bit richer and rounder in texture, and it also tends to have better aging potential if you're into that kind of thing.
Josh Pinot Gris Honest Review
Price Point
Depending on your State, you'll see it range between $14-$18.
Appearance
It pours a clear, light straw color.
Nose
Not super aromatic, but I get apples, peaches, honeysuckle, and maybe some pineapple. Overall pretty tropical with some citrus notes mixed in.
Taste
Soooo pleasant. This wine manages to have a super silky, round texture while also being bright and refreshing.
It has a lot of tropical and citrus fruit flavors that are balanced out by the crisp acidity. Though full-bodied, it still feels light on the palate.
Mid-palate, there are some great apple, pear, and white peach flavors. The finish is long, refreshing, and a little bit tart. This bottle is so drinkable it could be there and gone in the flashiest of flashes.
Pairings
Pasta with cream sauce, roasted squash and root vegetables, fish prepared in pretty much any fashion, pizza, grilled chicken, salads… basically, this wine is almost as versatile as it gets. It also goes fantastically well with Thanksgiving food!
Overall Value of Josh Pinot Gris: A
Since all rating systems are fairly arbitrary when it comes to wine, I'm choosing the US grading system because I don't like numbers and letters mean more to my brain.
If you're looking for a good value wine that checks off pretty much every box you wafnt it to, this will do the job. I've never met anyone who didn't enjoy this bottle, whether they're a red or white wine person, and it's perfect for ANY season. It's so refreshing on a hot summer day, but also full-bodied enough to keep you warm all winter long.
Also as a note: a lot of reviews will focus on a specific vintage, but I've had pretty much every vintage of this wine and they're all consistent and taste more or less the same. So if you run into a 2015 or 2019, give it a try! Either way, you won't be disappointed.
---
Read Also: