Italicus is one of the most exciting new liqueurs on the market, and it's about to become your new favorite cocktail ingredient! From refreshing spritzes to creative sours, these Italicus cocktail recipes are beyond delicious and will breathe new life into your cocktail game!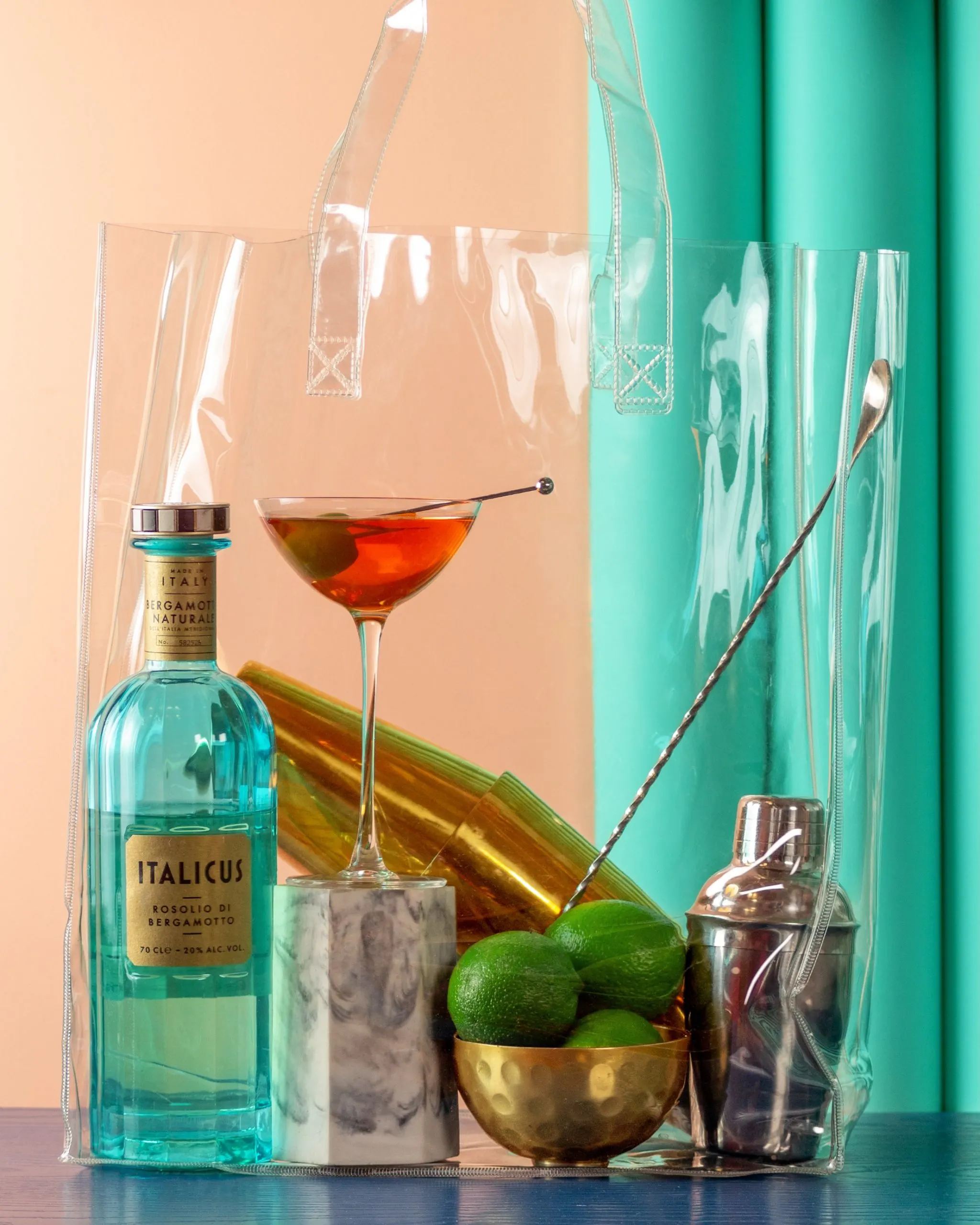 What Is Italicus?
Italicus Rosolio di Bergamotto is an Italian liqueur made by the famous mixologist Giuseppe Gallo that hit the market in 2016. From the ingredients to the gorgeous turquoise bottle, Italicus was inspired by Gallo's childhood in the Amalfi coast.
If you've never heard of Rosolio or Bergamotto though, don't worry — you're not alone!
Rosolio is an ancient style of Italian liqueur dating back to the 16th century made with sugar, water, alcohol, and flavoring from local ingredients (often roses). It's now used as a generic term in parts of Italy for homemade liqueurs with a lower ABV.
Bergamotto is the Italian word for bergamot orange, which is a citrus fruit grown primarily in southern Italy. It's somewhere between an orange and a lemon, and is super aromatic with an intense citrusy flavor and bitter bite. Fun fact: Earl Grey tea owes its distinctive citrusy flavor to oil from bergamot peels!
So in short, Italicus is a modern ode to an ancient style of liqueur flavored with bergamot oranges, as well as lavender, chamomile, lemon, yellow rose petals, lemon balm, gentian, and sugar.
Thanks to its unique concept and taste, Italicus is one of the most awarded aperitivos in the world! Some notable awards include Top Trending Brand by Drinks International three years in a row (2019, 2020, 2021) and the the prestigious Best New Spirit at Tales of the Cocktail USA in 2017.
What Does Italicus Taste Like?
Italicus pours a light golden straw color and has strong aromas of citrus oil, lavender, rose, and herbs. On the palate, it's characterized by a honey sweetness with flavors of zesty citrus, herbs, and a light bitterness. There are also some subtle floral notes from the lavender and rose petals.
Where To Buy Italicus
Italicus retails at about $45 for a 750ml bottle, so it's a little pricey, but totally worth it! While it isn't sold everywhere in the USA quite yet, it's expanding at a fast pace and you can find it in most states.
On their website they have a handy list of places you can buy Italicus in person or online depending on what state you live in. Otherwise, my best recommendation would be to check your local liquor store or Total Wine to see if it's available.
Substitutes For Italicus
Since Italicus is a super unique liqueur in terms of style and flavor, there isn't a great substitute for it. The closest in taste would be another bergamot liqueur, but those can be difficult to find.
If I had to compare it to a more widely available liqueur, I'd go with St Germain Elderflower liqueur since it has a similar honey sweetness and floral quality. However, it is by no means a perfect substitute and the cocktails would come out tasting very different.
What To Mix With Italicus
Italicus is great to drink alone over ice as a digestif, but Gallo created it to be an ingredient for cocktails. So it's a super versatile liqueur that goes with a wide range of mixers! Below are some of the most popular mixers you'll see paired with Italicus.
Citrus juice
Grapefruit juice
Sparkling wine
Tonic water
Aperol
Campari
Gin
Beer
Olive brine
These are just to name a few! For more mixers to pair with Italicus and specific recipes, read onward friends!
18 Top Italicus Cocktail Recipes
These recipes have me SO excited for the weekend! I just got a new bottle and I can't wait to break it in!
Which of these Italicus cocktail recipes do you plan on trying? Or do you have a favorite Italicus cocktail that I didn't include here? If that's the case, let me know in the comment section below so I can check it out 🙂