If you're looking for a refreshing bourbon cocktail that's always a crowd-pleaser, you need to try the Paper Plane! It's a brightly-colored, zingy, and elegant modern cocktail with a super fun garnish that resembles a paper plane.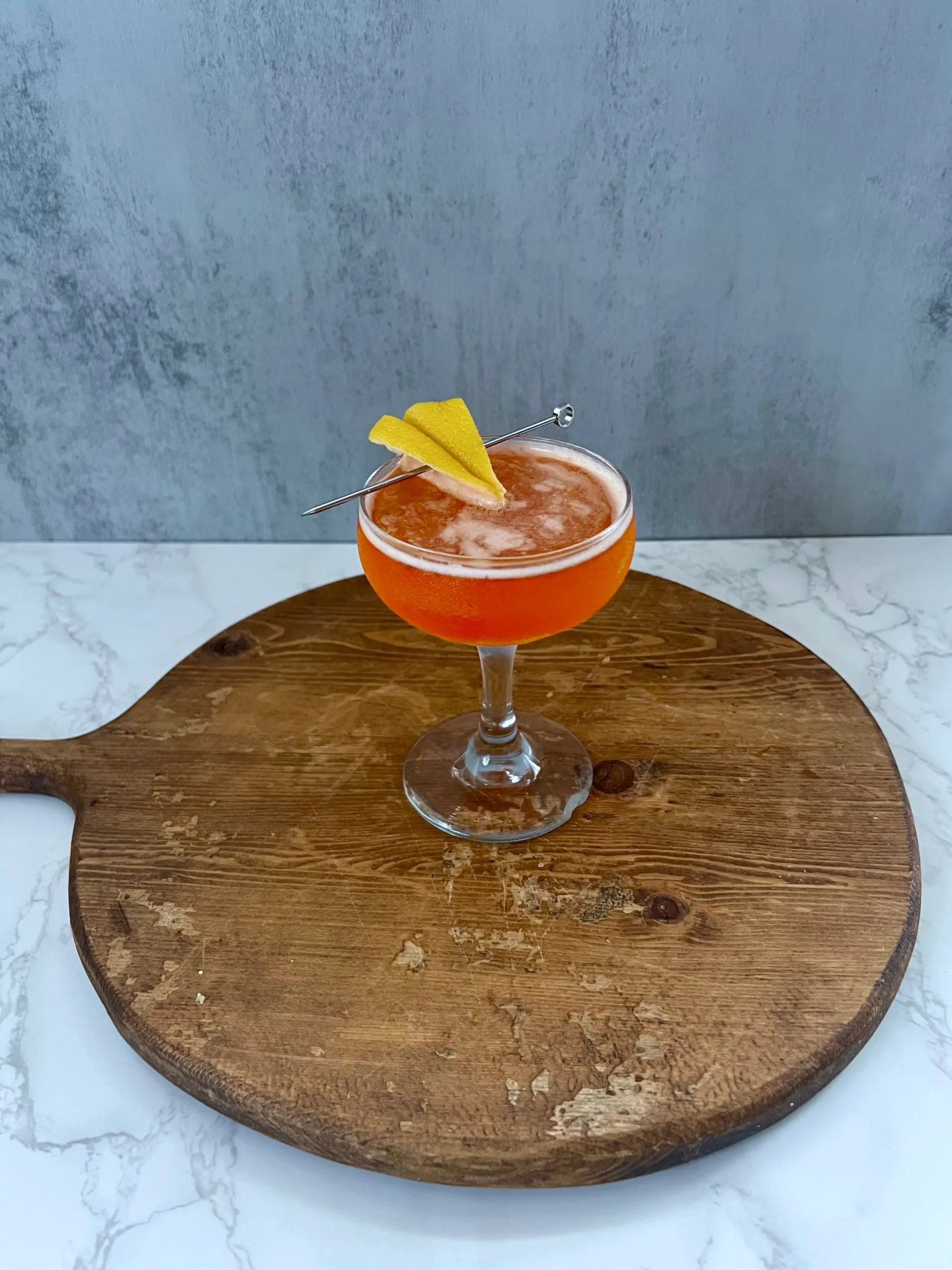 I still remember the first time I tried a Paper Plane a few years back. It was one of the first warm days in March, and my partner Ethan whipped up a cocktail to celebrate. He came out to the deck holding a vivid reddish cocktail garnished with a tiny paper plane, which was immediately soaked by the drink. It turns out soggy paper planes can't fly, but the cocktail itself took my taste buds on a TRIP! I loved its bittersweet, tangy flavor, and today the Paper Plane is still one of my all-time favorite cocktails. So if you love zingy whiskey cocktails like me, you need to give it a try! My take on the Paper Plane cocktail also includes a paper plane garnish made out of a lemon peel, and while it's optional, it's so festive and makes the drink that much more fun!
Paper Plane quick facts
Level of difficulty: Easy! It's a straight-forward shaken cocktail that whips up in 5 minutes and you don't need any fancy equipment to make it.
Number of ingredients: Four, along with an optional (but very fun!) lemon peel garnish that looks like a paper plane.
Main spirit(s): Bourbon, Amaro Nonino, and Aperol.
Season or occasion: With its bright color and citrusy, refreshing taste, it's a perfect cocktail for spring or summertime! That said, the bourbon gives it a warming quality that makes it a versatile cocktail you can enjoy any time of year
Type of cocktail: Modern cocktail/variation on a Last Word.
The history behind the Paper Plane cocktail
The Paper Plane is a modern cocktail created in 2008 by renowned bartender Sam Ross for the opening of The Violet Hour bar in Chicago. Since it was so well-received at the opening, Ross took the recipe back to the renowned bar Milk & Honey in New York, where it skyrocketed in popularity.
While the Paper Plane is a variation on the Last Word cocktail, which is made with equal parts gin, lime juice, maraschino liqueur, and green chartreuse, it doesn't actually contain any of the same ingredients. Instead, it adapts the Last Word's template of four ingredients in equal parts, but calls for bourbon, lemon juice, Amaro Nonino, and Aperol. Originally, Ross made the cocktail with Campari, but he ended up swapping it out for Aperol to make the drink a little less bitter. Together, the ingredients result in a cocktail that's just as balanced, herbal, and tangy as its predecessor, but warmer from the bourbon and more bittersweet from the Amaro and Aperol.
The name of the cocktail came from the source you're likely thinking of: M.I.A.'s hit song Paper Planes. As the story goes, the song was super popular at the time and playing non-stop, so it was easy inspiration for Ross to draw from when developing his new cocktail. And much like the song it's named after, the Paper Plane is punchy with layers of complexity. (I was a music major, so just let me have this metaphor 😂).
Even though The Paper Plane's only been around a little over a decade, it's now a ubiquitous cocktail that you can order at any cocktail bar.
Ingredients in the Paper Plane
Since the Paper Plane is a riff on the Last Word, it uses equal parts of four ingredients: bourbon, lemon juice, Amaro Nonino, and Aperol. The bourbon gives the cocktail warmth and a whiskey bite, the lemon juice provides a tart acidity, Amaro Nonino adds depth with bittersweet botanical notes, and the Aperol brings in zesty, bittersweet orange. When all of these flavors come together, you end up with a cocktail that's refreshing, bittersweet, citrusy, and dangerously drinkable.
My Paper Plane recipe stays true to the original, but with the addition of super fun lemon peel paper plane garnish that takes the presentation to the next level. See the TLDR breakdown of what you need to make it below!
Bourbon
Lemon juice
Amaro Nonino
Aperol
Lemon peel paper plane, for garnish (optional)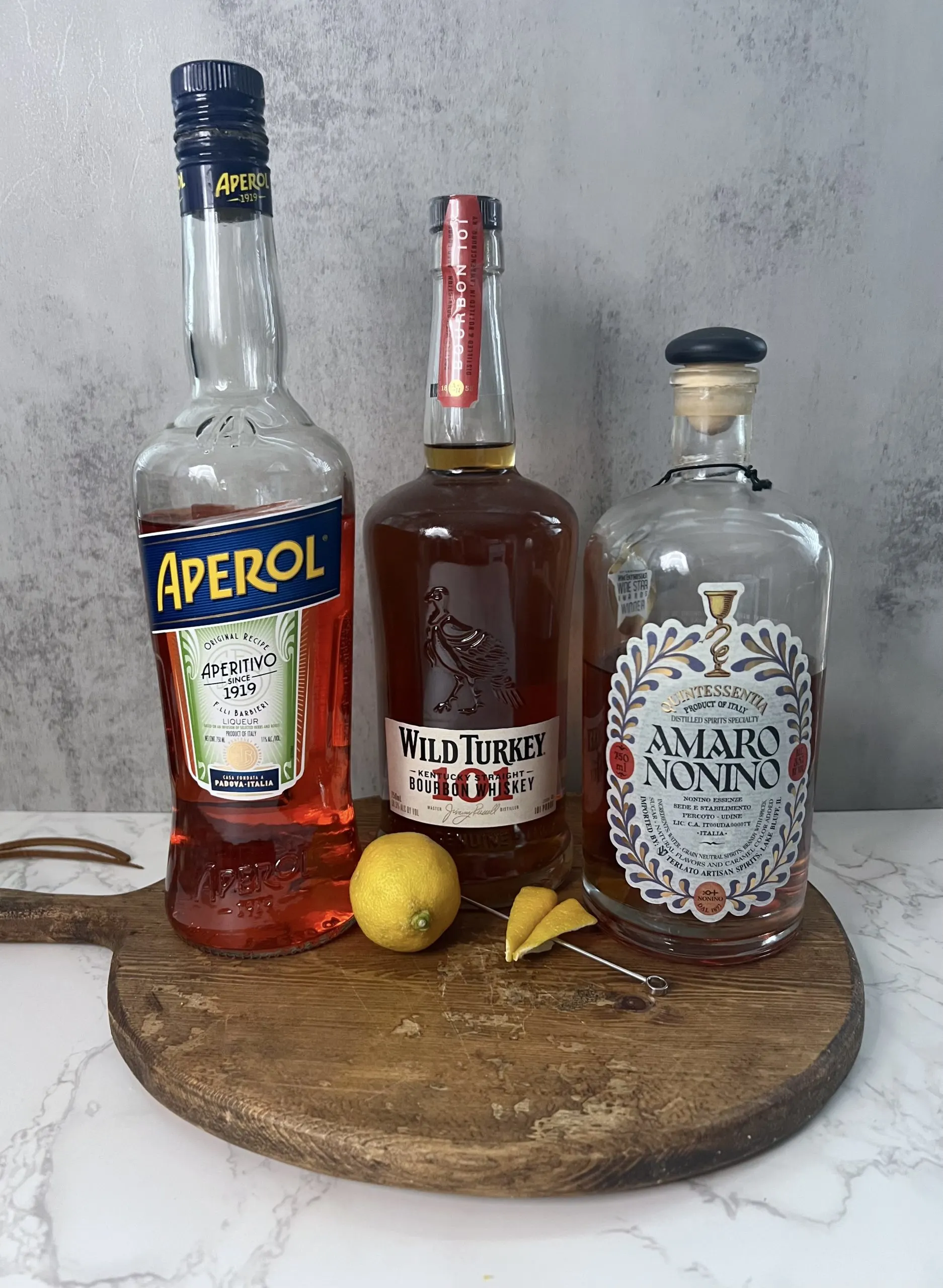 The best bourbon for the Paper Plane
Bourbon is the backbone of the Paper Plane cocktail, so it's important to choose a bottle that adds the right amount of bite and weight to the drink. While you don't need a top-shelf bourbon, the cocktail's creator Sam Ross does recommend a higher proof bottle that falls between 43-46% ABV to make the drink more full-bodied. I've tried it with lighter bourbons and the difference is almost imperceptible, but the higher proof does ultimately better balance out the citrusy, bittersweet elements of the cocktail. With that in mind, here are my specific bottle recommendations!
Wild Turkey 101
Evan William's White Label
Buffalo Trace Kentucky Straight Bourbon
Bulleit Bourbon
Again, this isn't a cocktail that specifically showcases bourbon, so you don't need an expensive bottle. You can find all of the above bottles easily at any liquor store and they're all great bourbons for the price. My go-to is Wild Turkey 101 because it blends well with other ingredients while still delivering a whiskey bite.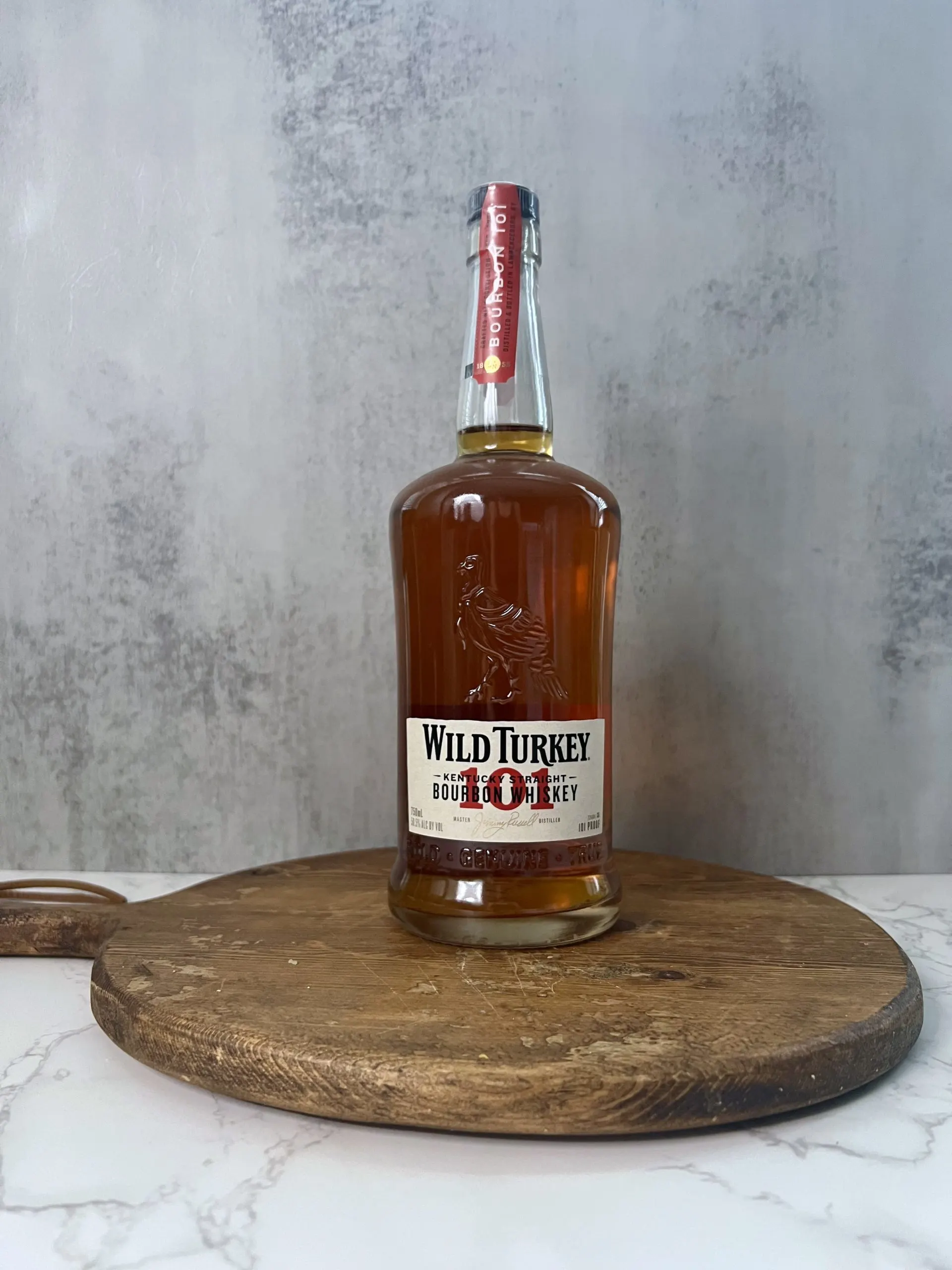 What exactly is Amaro Nonino?
The term "amaro" refers to a family of Italian bitter liqueurs made with a base of neutral alcohol, wine, or grape brandy and infused with botanicals. Amaro Nonino, also known as Amaro Nonino Quintessentia, is a specific brand of amaro that has a base of grappa, which is a type of grape brandy. Learn more about it below!
What does Amaro Nonino taste like? Bittersweet, herbal, and complex, with notes of orange, caramel, quinine, and gentian.
What can I substitute for Amaro Nonino? Since Amaro Nonino isn't always easy to find, you might need to substitute it with a different amaro. Your best options are Amaro Averna, Amaro Montenegro, Meletti Amaro, or Amaro Ramazzotti. Amaro Averna is probably the closest in taste to Amaro Nonino, but any of these amari would do the trick. The drink will taste a bit different, but it'll still be delicious and recognizable as a Paper Plane.
What's the ABV of Amaro Nonino? Amaro Nonino sits at 35% ABV, so it's on the stronger side of the spectrum for an amaro and is almost as potent as other spirits like vodka or whiskey.
How much does Amaro Nonino cost? A 750ml bottle of Amaro Nonino costs around $52. So it's pricy, but you'll only use a little bit at a time. Plus, it's absolutely delicious and you can make so many fun cocktails with it!
What else can I use Amaro Nonino for? The Paper Plane is the most popular Amaro Nonino cocktail, but I like to experiment and use it in place of other amari in cocktail recipes. For example, using Amaro Nonino instead of the amari typically used in a Black Manhattan, Negroni, Rusty Nail, or Aperol Spritz is SO good. It's also wonderful served neat or on the rocks as a digestif!
More about Aperol
Aperol is a vibrant orange Italian bitter apéritif made with rhubarb, gentian, and cinchona, which is what gives tonic water its bitter taste. It adds citrusy, bittersweet flavors and aromas to cocktails, and is best known for being an ingredient in the Aperol Spritz, the Naked and Famous, and the Paper Plane. Here's what else you should know about the Italian liqueur!
What does Aperol taste like? Refreshing, bittersweet, and herbal. You'll primarily taste flavors of zesty orange, rhubarb, spices, and a hint of vanilla.
What's the ABV of Aperol? Aperol is only 11% ABV, so even though it has a ton of flavor, it's a lighter, more mellow spirit.
What's the difference between Aperol and Campari? While both are Italian bitter liqueurs made with similar ingredients, Campari is more bitter and less sweet than Aperol, has a darker color, and has a higher ABV of 28%.
How much does Aperol cost? For a 750ml bottle, you'll pay about $25. It's a staple for any home bar and you can make so many cocktails with it, so it's a fair price in my opinion.
Take it to the next level with a lemon paper plane garnish!
While the Paper Plane's creator Sam Ross says a garnish isn't necessary and you can just use a slice of grapefruit or orange, I decided to try to make my own original lemon peel paper plane and it turned out SO fun. It takes a little bit more time, but just look at it — it's 100% worth the extra effort and really makes the presentation of the cocktail that much more impressive.
To make it, you peel an entire lemon and cut it into two long triangles. Then you fold up the sides of the triangles to make "wings" and trim off any extra peel. To put it all together, use a cocktail pick and the tips of toothpicks to connect any parts that aren't flush together. For visuals and more in-depth instructions, check out the complete tutorial on how to make the paper plane garnish or see the how-to at the bottom of this post!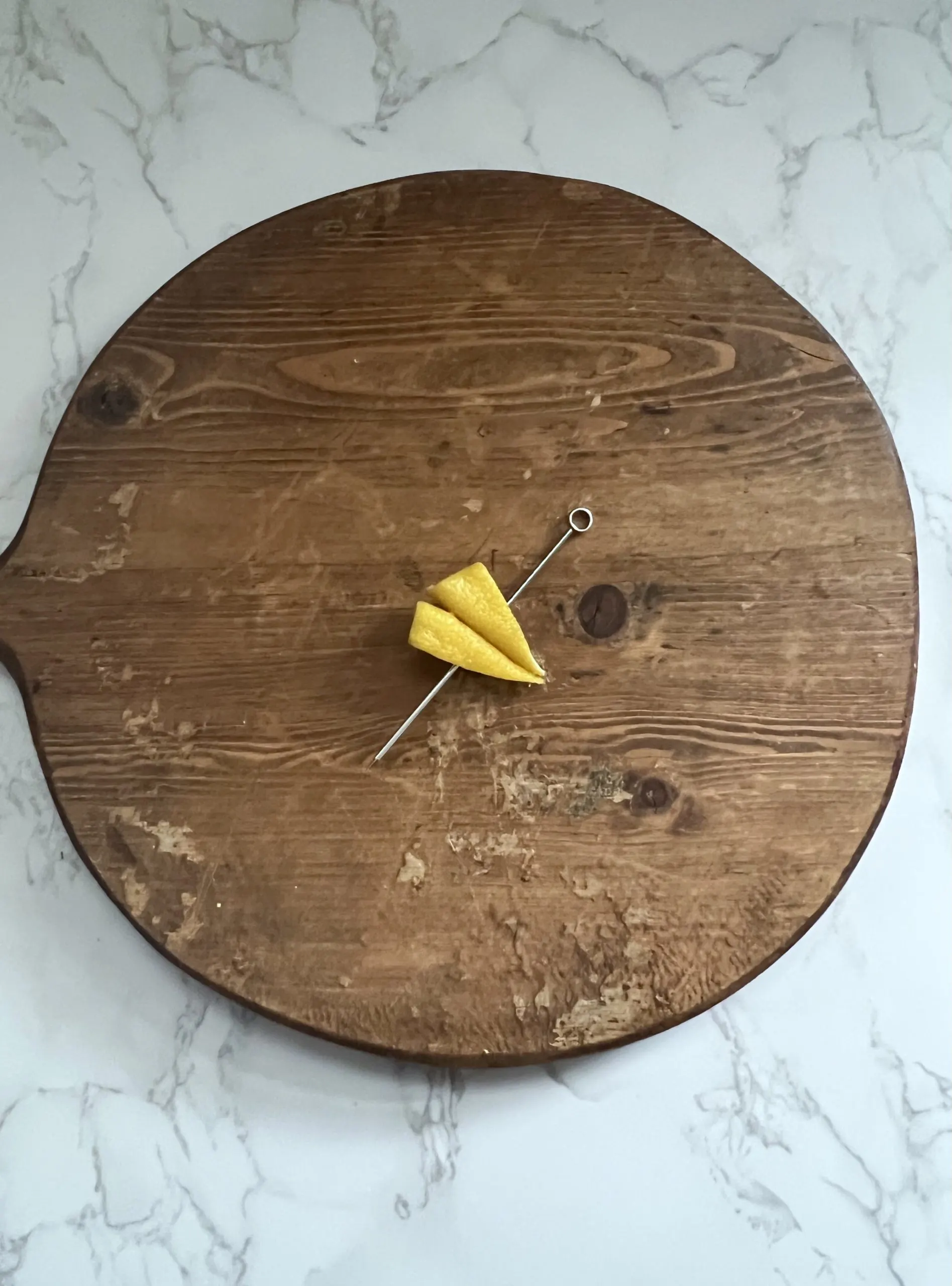 Other garnish ideas for the Paper Plane
If you don't have time to make the lemon peel paper plane garnish (or are just feeling lazy), but don't want to leave the cocktail garnish-less, here are a few other great garnish options to check out that are a little bit easier!
Keep it simple with a citrus twist
One easy option that elevates the overall presentation with a pop of color is a citrus peel twist. Since the Paper Plane has notes of lemon, orange, and grapefruit, you can use any of these peels for a citrus twist garnish. Simply cut a piece of peel into a uniform ribbon, twist it around a chopstick, and hold it there until it maintains a spiral shape. It's super simple, but here's the full guide to making a citrus twist garnish if you want step-by-step instructions.
Make an actual paper plane
Another popular garnish for the cocktail is (unsurprisingly) a tiny paper plane! It's how the drink was first introduced to me, and you can see Ethan modeling the cocktail with a paper plane in the picture below. You can put a notch in the bottom of the plane and sit it on the rim of the glass, tack it on with a mini clothes pin, or poke a cocktail pick through it and set it on the side of the glass. If possible, try using a thicker paper so it better maintains its shape and doesn't immediately fall apart if it gets wet. (Which is exactly what happened to the ones pictured below 😂). If you don't know how to make a paper plane, here's a quick guide!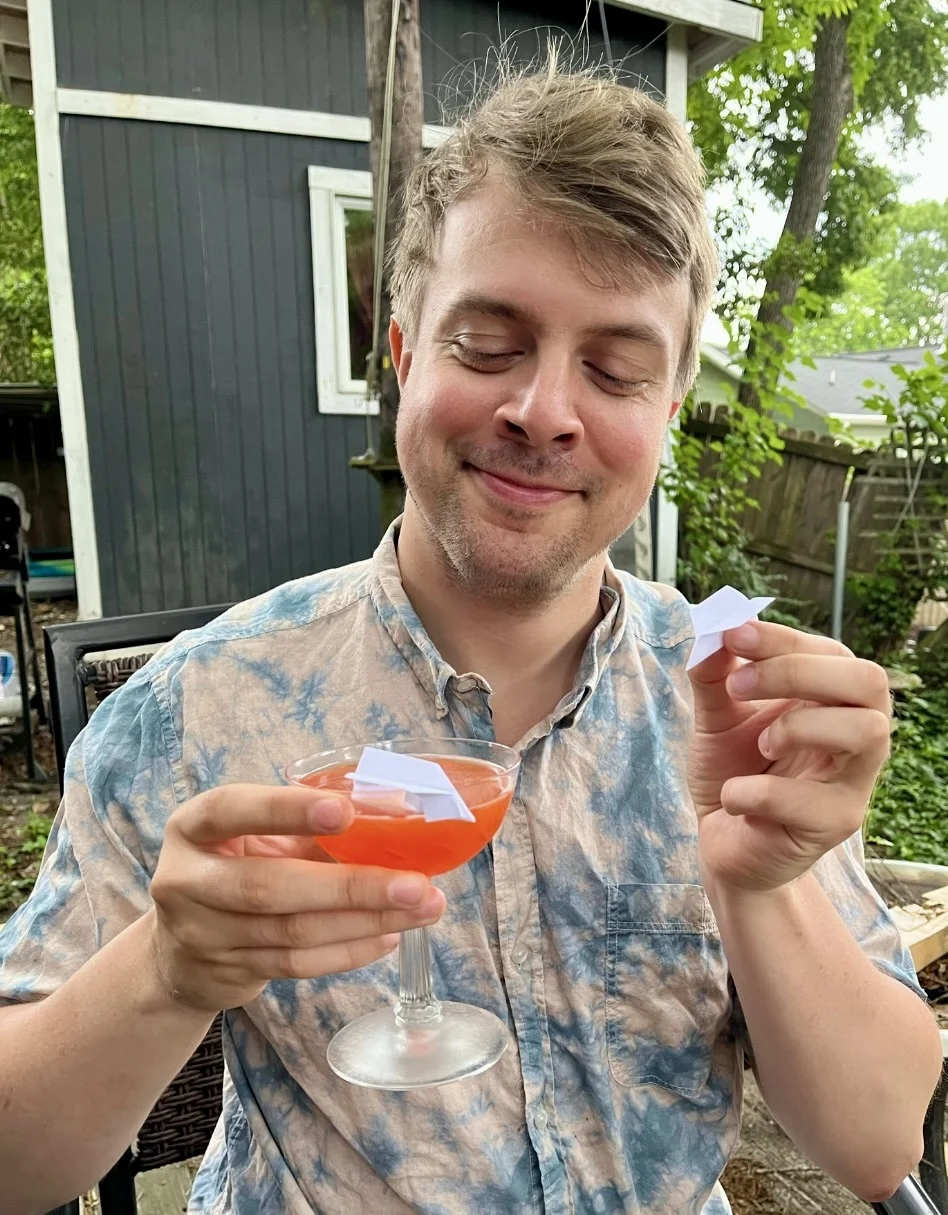 How to make the Paper Plane cocktail
The Paper Plane is a simple shaken cocktail served up that's approachable for any bartending skill level! All you need for tools are a cocktail shaker, cocktail strainer, fine mesh strainer, and a coupe glass. Here's the full rundown on how to make it!
Shake the cocktail: Add the bourbon, lemon juice, Amaro Nonino, and Aperol to a shaker with ice and shake until you feel it get ice cold.
Double strain it: Double strain the drink through a cocktail strainer and fine mesh strainer into a chilled coupe glass.
Garnish (optional): Garnish with a plane made from a lemon peel, or other garnish of your choice.
More warm weather cocktails
There's nothing better than sipping on a bright and refreshing cocktail when it's hot outside! Here are a few more of my favorite cocktails for spring and summertime that are always a hit.
Love frozen drinks? Try the Saturn cocktail! It's a frozen blended gin-based cocktail that's super unique and perfect for summertime.
For another tangy, citrusy cocktail, check out the Hemingway Daiquiri! It's a tasty riff on the classic daiquiri that's tart and complex.
If you're looking for a rum-based tropical cocktail that will transport you right to the beach, give the Mai Tai a try!
Paper Plane Cocktail
If you're looking for a refreshing bourbon cocktail that's always a crowd-pleaser, you need to try the Paper Plane! It's a brightly-colored, zingy, and elegant modern cocktail with a super fun garnish that resembles a paper plane.
Ingredients
3/4 ounce bourbon
3/4 ounce fresh lemon juice
3/4 ounce Amaro Nonino
3/4 ounce Aperol
Lemon peel paper plane, for garnish (optional)
Instructions
Add the bourbon, fresh lemon juice, Amaro Nonino, and Aperol to a shaker with ice and shake until you feel it get ice cold (about 10-15 seconds).
Double strain the drink using a cocktail strainer and fine mesh strainer into a coupe glass.*
Optional: garnish with a paper plane made out of a lemon peel.
Nutrition Information:
Yield:

1
Serving Size:

1
Amount Per Serving:
Calories:

165
Total Fat:

0g
Saturated Fat:

0g
Trans Fat:

0g
Unsaturated Fat:

0g
Cholesterol:

0mg
Sodium:

1mg
Carbohydrates:

9g
Fiber:

0g
Sugar:

8g
Protein:

0g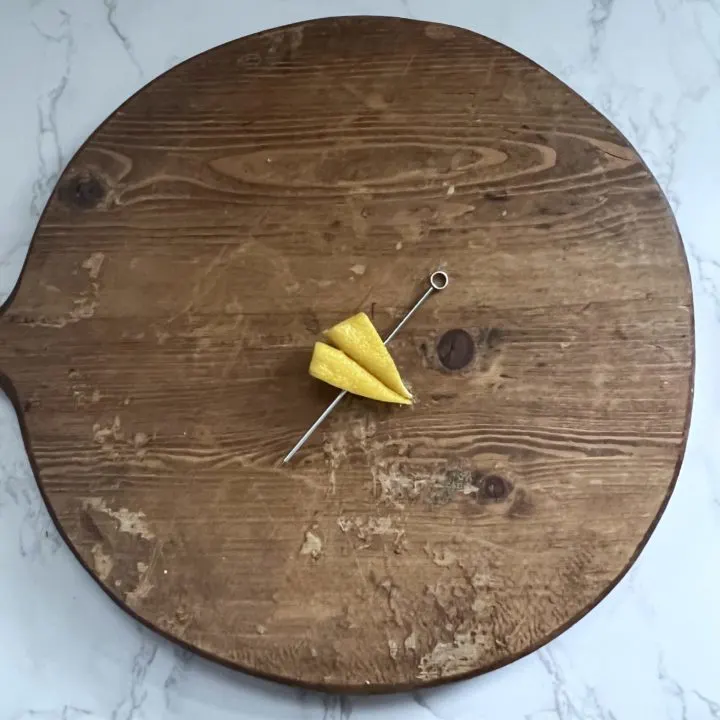 How to make the perfect paper plane cocktail garnish
Yield:
1 paper plane garnish
Estimated Cost:
~2.50 (or the price of one lemon)
Here's how to make a fun and festive lemon peel cocktail garnish that looks just like a paper plane!
Tools
Sharp knife
Cocktail pick (or toothpick)
1-2 toothpick tips
Instructions
Roll the lemon under your hand on a cutting board to loosen up the skin and make it easier to peel. Then cut a slit down the length of the lemon with a knife and peel the skin off, making sure to keep the skin in one piece.
Cut two long, evenly sized triangles out of the peel for the wings of the plane.
Fold down the sides of the triangles into two smaller triangles and join them together with a cocktail pick. If they aren't staying folded, lightly run a knife along the fold's creases to make them easier to bend.
Trim off the extra peel with a knife so you're only left with the folded "wings". Then break off the tip of a toothpick and put it through the tips of the wings to connect them.
If there are any other parts of the paper plane that aren't flush together, use another broken off toothpick tip to connect them.
Depending on where you have the cocktail pick, it's possible the plane will be off-balance when you add it to the cocktail. To avoid it nose diving into the drink, cut a small notch on the bottom of the plane and rest the notch on the rim of the cocktail glass.