These 7 Christmas sangria recipes are festive, delicious, and perfect for any holiday event! They're also extremely easy to make, so they're guaranteed not to add any extra holiday stress to your plate.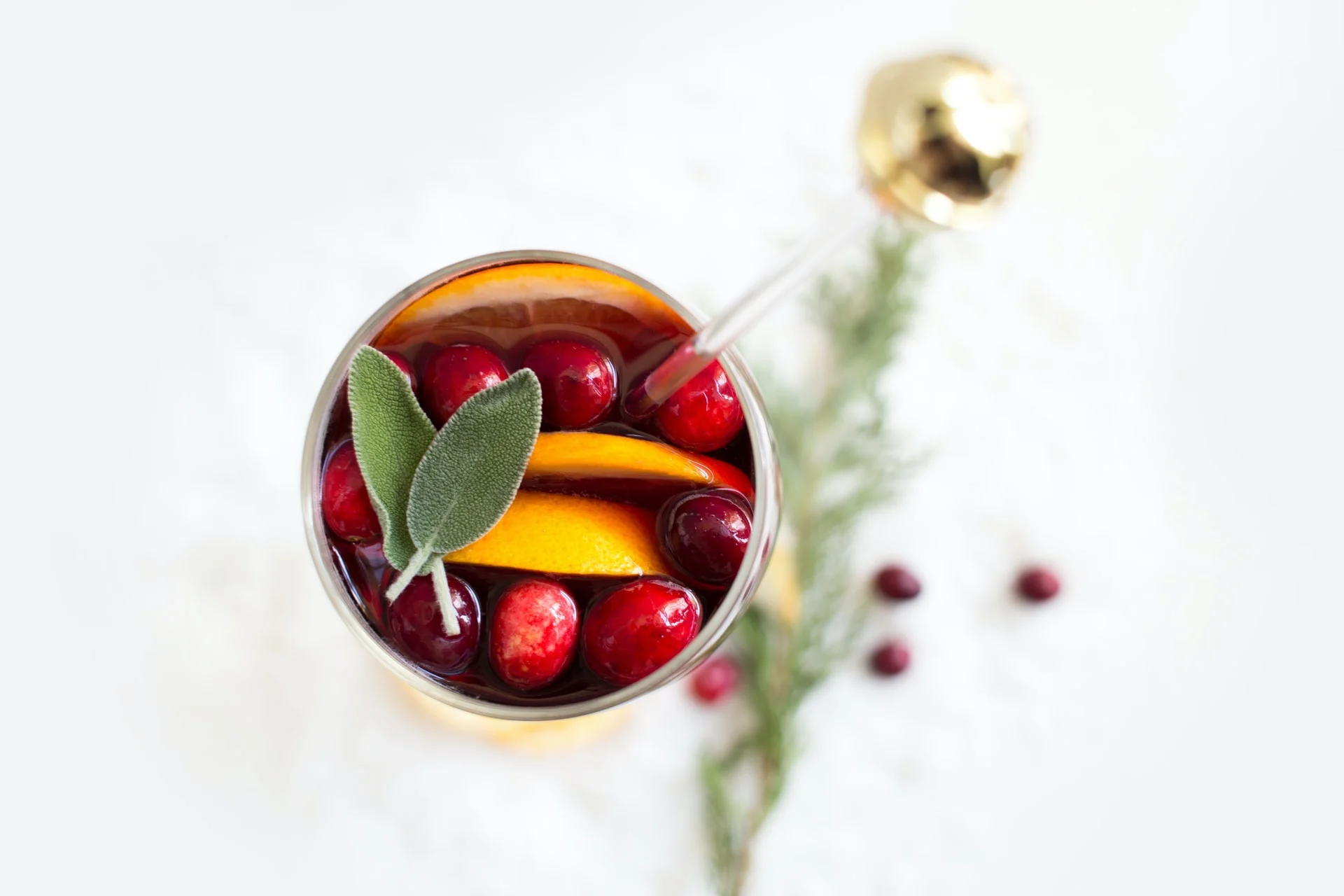 Nothing says Christmas to me like a bowl of something filled with seasonal spices, fruity liqueurs, and all of the wine! I absolutely love celebrating the holidays with friends and family, and few things bring people together like a big batch cocktail.
What is Sangria?
Sangria is one of the most festive drinks and is SO versatile. It originated in Spain, and traditionally is made with Tempranillo red wine, chopped fruits, bandy, and a little sugar. While this is still a popular way of making sangria, you can really make sangria with any color and type of wine, juices, spices, herbs, liquors, spirits, and so on.
This is all to say there are so many different flavor and ingredient options/combinations, and there's almost never a wrong answer. You can get as creative as you want, which is why I love looking up sangria recipes!
When looking for sangrias, I picked out recipes with two criteria in mind:
1. They have to be easy to make (10 minutes or less to mix together, not including the time it needs to sit in the fridge)
2. They have to be almost obnoxiously Christmasy and festive
I also wanted to choose recipes that were unique and featured different juices, wines, and flavors to make sure there's a sangria on this list for everyone! This means you'll find white, red, pink, and sparkling sangrias.
So with all of this in mind, let's get right into the recipes!
7 Easy and Delicious Christmas Sangria Recipes
I don't know about you, but these sangria recipes have me SO excited for my next holiday party. Which of these recipes piqued your interest the most? Or do you have a go-to holiday sangria that you think blows these recipes out of the water? Either way, let me know in the comment section below!
Also, If you're looking for even more boozy Christmas inspiration, check out these 10 easy to make Christmas punch recipes or these 7 Grinch-themed punch recipes.
And for those who don't drink, here's a roundup of 12 Christmas mocktails and 10 non-alcoholic Christmas punch recipes.
Wishing everyone a very merry, boozy, and happy holiday season!
---
Read also: