These cocktails all highlight Drambuie, and are perfect for anyone who knows and loves the delicious Scotch-based liqueur or those just being introduced! They're easy to make, approachable, and will impress cocktail amateurs and aficionados alike.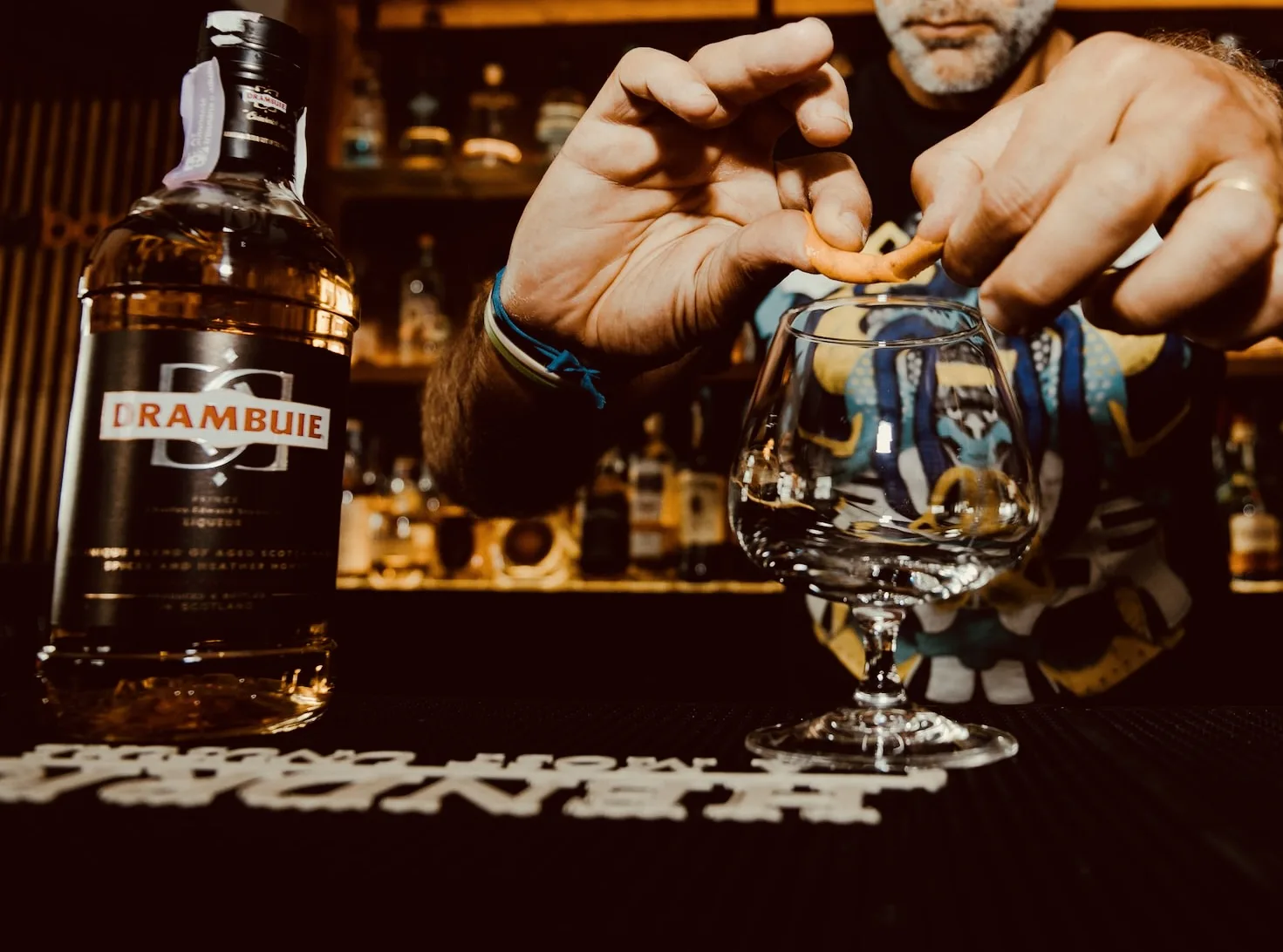 What Is Drambuie?
Drambuie is a 40% ABV liqueur made with Scotch whisky, heather honey, spices like clove & ginger root, and herbs. It's perhaps best known as being the star ingredient in the Rusty Nail cocktail, where it's paired with Scotch.
Only three people know the actual recipe for Drambuie, and they guard it like I guard the last flat in a chicken wing basket. So we'll never know the exact ingredients, but we don't need to in order to enjoy it!
For a bit of history: Prince Charles Edward Stewart allegedly gave his secret recipe for Drambuie to Captain John MacKinnon of Clan MacKinnon in 1746 after being granted sanctuary on Scotland's Isle of Skye. Whether or not this is true or a tall tale created for marketing purposes, Drambuie has undoubtedly been around for a VERY long time.
Even though the recipe first appeared in the 1700s, it wasn't commercially produced until 1910, when it passed hands to the MacKinnon family (coincidentally, no relation to the MacKinnon clan). They owned the brand for 100 years until they sold it to William Grant & Sons Scotch distillery in 2014.
Today Drambuie is the most popular Scotch-based liqueur on the market and it's won several renowned awards. Most recently, it won double gold at the International Spirits Challenge in 2020 and a gold medal at the International Wine & Spirit Competition in 2021. As far as price point, a 750ml bottle of Drambuie costs between $33-$37, so it's not too expensive as far as nice liqueurs go!
What Does Drambuie Taste Like?
Drambuie pours a clear gold and immediately hits you with aromas of warm honey, malty whisky, anise, and vanilla. On the palate, Drambuie is a sweet and complex explosion of flavor with a velvety, round texture. You'll predominately get notes of rich honey, clove, vanilla, saffron, and orange zest with a whisky bite at the finish.
So even if you aren't a fan of Scotch, that shouldn't scare you away from Drambuie since it tastes completely different!
What Can I Mix With Drambuie?
Drambuie is great on its own or on the rocks, but it's also a super versatile cocktail ingredient! Below are some of the more popular mixers/flavors to pair with Drambuie, but it's by no means an exhaustive list.
Scotch whisky
Citrus
Grapefruit juice
Apple juice/cider
Ginger beer
Ginger ale
Coffee
Mint
Alrighty friends, now let's check out these delicious Drambuie cocktails!
17 Delicious Cocktails That Show Off Drambuie
I hope these cocktails gave you some fun ideas on how to use up your next bottle of Drambuie! It's cold out right now, so I'm personally super excited to whip up a Brandy Snap.
And if you have a favorite Drambuie cocktail that I need to try, please let me know in the comment section below 🙂