These classic apple brandy cocktails are so easy & delicious that they're sure to make you "fall" in love! Bad puns aside, apple brandy — specifically Applejack and Calvados — is a wonderful cocktail ingredient if you're craving a drink that tastes like fall in a glass!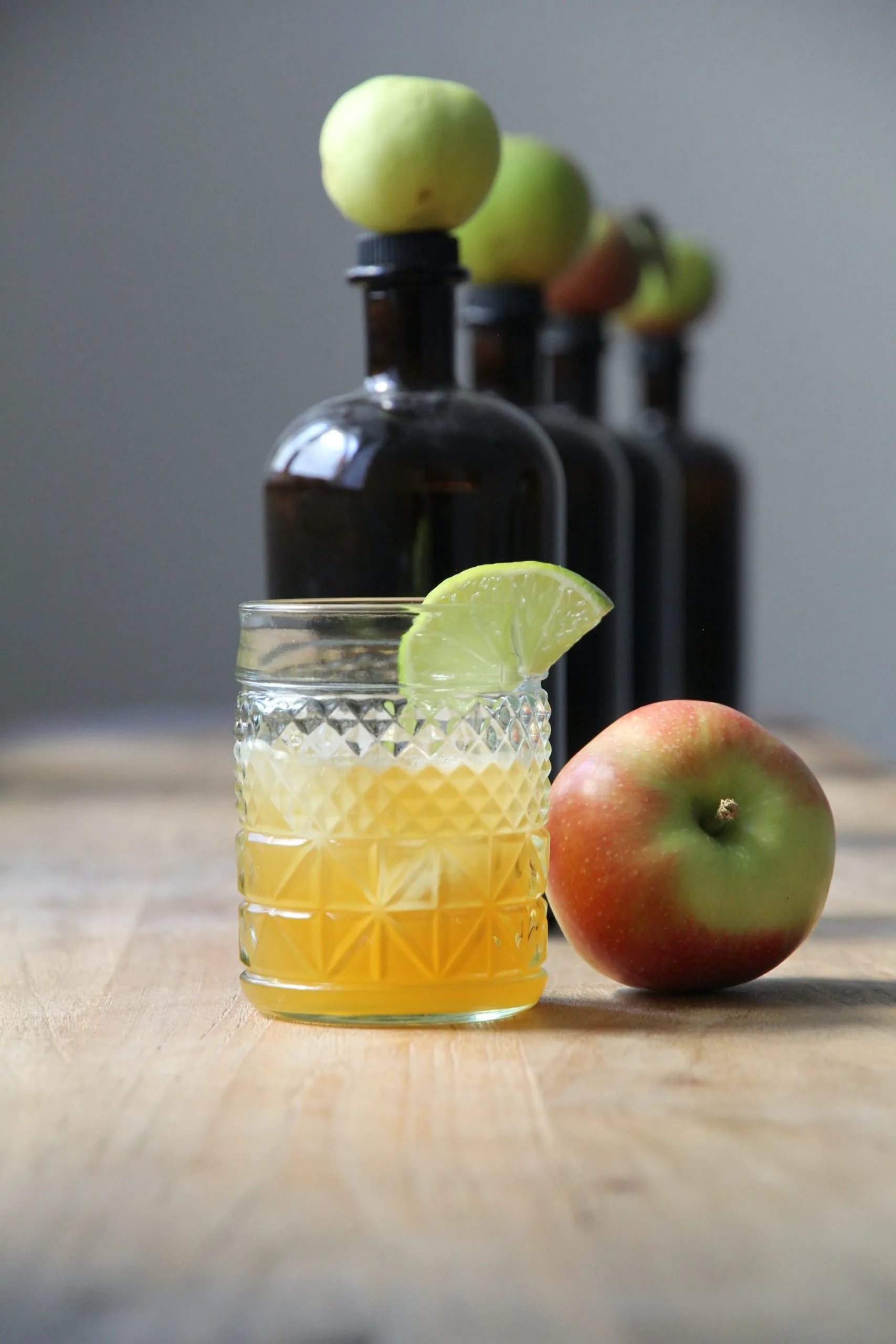 What is Apple Brandy?
Apple brandy is a tasty spirit made from apples that has a long history in both France and the USA. While all apple brandies are distilled from apples, there are differences depending on the region, production method, aging process, and type of apples.
In France, they've been making apple brandy (called Calvados) since the 16th century. However, it only had its golden age after the 19th century Phylloxera epidemic decimated vineyards all over Europe. Without a steady supply of wine and Cognac, people turned to Calvados and it experienced a huge surge in popularity.
Apple brandy in the States (also known as Applejack) was first produced in 1780 when a Scottish immigrant named William Laird started the first apple brandy distillery — Laird & Company — in New Jersey, making it the oldest licensed distillery in the USA.
Fast forward to today, and Laird & Company is STILL the top producer of apple brandy in the states. That's nine generations of Lairds holding it down for apple brandy. NINE YA'LL! I can barely make it to my family reunion and they've been doing this for more than two centuries 😂
Types of Apple Brandy
The three main types of apple brandy are Calvados, American apple brandy aka Applejack, and blended Applejack.
Calvados
Calvados is apple brandy from Normandy, France made with cider apples or pears and aged in french oak barrels. Since it has an Appellation d'Origine Contrôlée status, Calvados has far more requirements and regulations when it comes to production than American apple brandy. The main requirements are that it has to be:
Aged a minimum of 2 years in oak barrels
Produced in a designated area
Made with approved apple and pear varietals
At least 40% ABV
American Apple Brandy/Applejack
Applejack is a historical term that comes from the freeze distillation process used to make apple brandy in colonial times called "jacking". Jacking separates the frozen ice from the hard cider, which increases the alcohol content of the apple brandy. Nowadays, apple brandy and Applejack are synonymous terms in the USA.
You can find apple brandy distilleries all over the States, and while most are aged at least two years in charred bourbon barrels, there are very few specific production or geographic rules. ABV will vary between 35%-60% depending on the bottle.
Blended Applejack
To make matters a bit confusing, blended applejack has a specific federal definition. It has to contain at least 20% apple brandy and be aged a minimum of two years in oak. The rest of the blend can be neutral grain spirit, which makes it mellower and less concentrated than straight apple brandy/Applejack made with 100% apple distillate. Typically, it sits between 40%-50% ABV.
What Does Apple Brandy Taste Like?
Every apple brandy is unique, so the taste will vary depending on the region, production methods, aging process, and type of apple.
In general though, apple brandy tastes predominantly like apples with notes of baking spices from barrel aging and a brandy-like finish. American apple brandy tends to be more apple-forward and sweeter than Calvados, while Calvados is usually more earthy, spicy, and rich. In both cases, apple brandy develops stronger notes of oak, spice, caramel, and vanilla the longer it's aged in barrels.
Choosing An Apple Brandy for Cocktails
For a well-priced American apple brandy/Applejack that will add fresh apple flavor and hints of spice to your cocktails, go for Laird's Apple Jack ($22-$25 for 750ml). I also highly recommend any of Laird's apple brandies. You really can't go wrong!
As for Calvados, I would go for Berneroy VSOP Calvados ($22-$25 for 750ml) or Père Magloire VS ($37-$40 for 750ml). Both of these bottles are widely distributed and a great quality for the price. Compared to Laird's, these Calvados are richer in flavor and will add more notes of vanilla, hazelnut, and butterscotch to cocktails.
The bottom line is you don't need to pick a SUPER nice bottle since you're mixing it with other ingredients. I would personally just avoid blended Applejack since the flavor isn't as concentrated, but otherwise pick a bottle under $40 from a reputable brand and call it a day!
20 Classic Apple Brandy Cocktails You'll Fall In Love With
WHEW! Okay, with all of that covered, I think we're ready to check out some classic, easy, and delicious apple brandy cocktails for fall!
I've divided the cocktails into two sections with 10 recipes each. The first are cocktails made with American apple brandy/Applejack, and the second are cocktails made with Calvados. That said, they can be used interchangeably in a pinch 😊
I hope this gave you some new ideas on how to use apple brandy in cocktails and cleared up the difference between apple brandy, Applejack, and Calvados! Sure, it's a little confusing, but it's because it's had such a long history, and that's part of the fun!
PS: if you have a simple apple brandy cocktail (classic or not!) that you love, please share it in the comment section below so I can try it out 🙂