These easy and elegant Chambord cocktails prove that a drink doesn't need to be complicated to be absolutely delicious! All of these cocktails highlight Chambord black raspberry liqueur as a main ingredient, require four ingredients or less, and always please a crowd.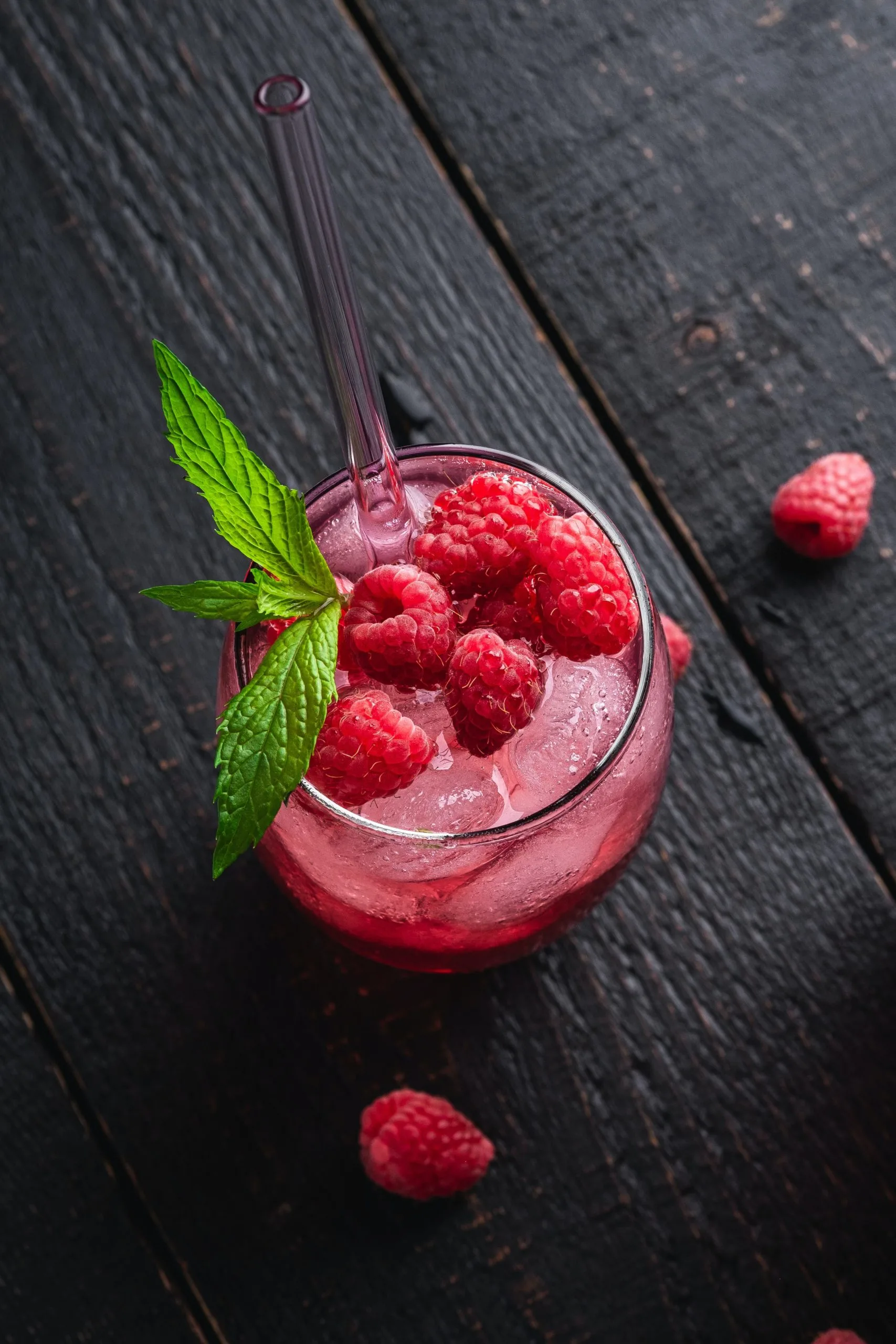 What Is Chambord?
Chambord is a black raspberry liqueur from the Loire Valley region in France that was developed in 1982. It's a cognac-based liqueur, but it's only 16.5% ABV so it's fairly light in alcohol content!
Chambord is by far the most popular black raspberry liqueur on the market, and you can always spot it thanks to its iconic spherical bottle that's modeled after an orb and cross (aka a globus cruciger — I'll give $5 to whoever can pronounce this correctly 😂).
As for price, you can expect Chambord to cost you $20-$23 for a 350ml bottle or $35-$38 for a 750ml bottle.
While Chambord is a modern liqueur, the recipe is actually based on a French raspberry liqueur recipe from all the way back in the 1680s! So it's a fun mix of tradition and innovation, and it contains the following ingredients:
Berries (raspberries, blackberries, & blackcurrants)
Cognac
Madagascan vanilla
Moroccan citrus peel
Honey
Warm spices (cinnamon, nutmeg, ginger, & cloves)
What Does Chambord Taste Like?
Chambord pours a vibrant, clear burgundy color and immediately hits you with aromas of raspberry, blackcurrant, and vanilla. On the palate, it has a velvety texture and strong flavors of sweet berries, warm honey, spiced vanilla, and citrus. So it's truly a perfect balance between sweet, tart, rich, and fruity!
What to Mix With Chambord
Chambord is delicious on its own, but it's also a super versatile mixer that's used in a wide range of cocktails. The following are some popular mixers to use with Chambord, but it's by no means an exhaustive list!
Sparkling wine
Club soda
Citrus juice
Pineapple juice
Lemonade
Berry juice
Grape juice
Muddled berries
Keep in mind that for the most part these mixers shouldn't be used alone with Chambord, but rather are flavors that work well with the liqueur in cocktails.
Substitutes for Chambord
The closest alternative to Chambord is crème de cassis, which is a French blackcurrant liqueur. Other good options are crème de mûre blackberry liqueur or a raspberry liqueur such as Di Amore Raspberry.
Now with that covered, let's check out some deliciously easy Chambord cocktails!
21 Easy & Elegant Chambord Cocktails
Which of these simple cocktails are you going to make this weekend? (Or week.. lord knows I'm not here to judge 😂).
Regardless, I hope this gave you some fun cocktail inspiration and broadened your idea of what cocktails you can make with Chambord!
PS: if you have a simple Chambord cocktail you love, share it in the comment section below so I can try it out 🙂