These unique and delicious cocktails all use Skrewball Peanut Butter Whiskey as a main ingredient and are a peanut butter lover's DREAM.
Whether you love tropical drinks, decadent martinis, or more elegant, balanced cocktails, these peanut butter whiskey cocktail recipes will surprise you and prove that everything really IS better with peanut butter!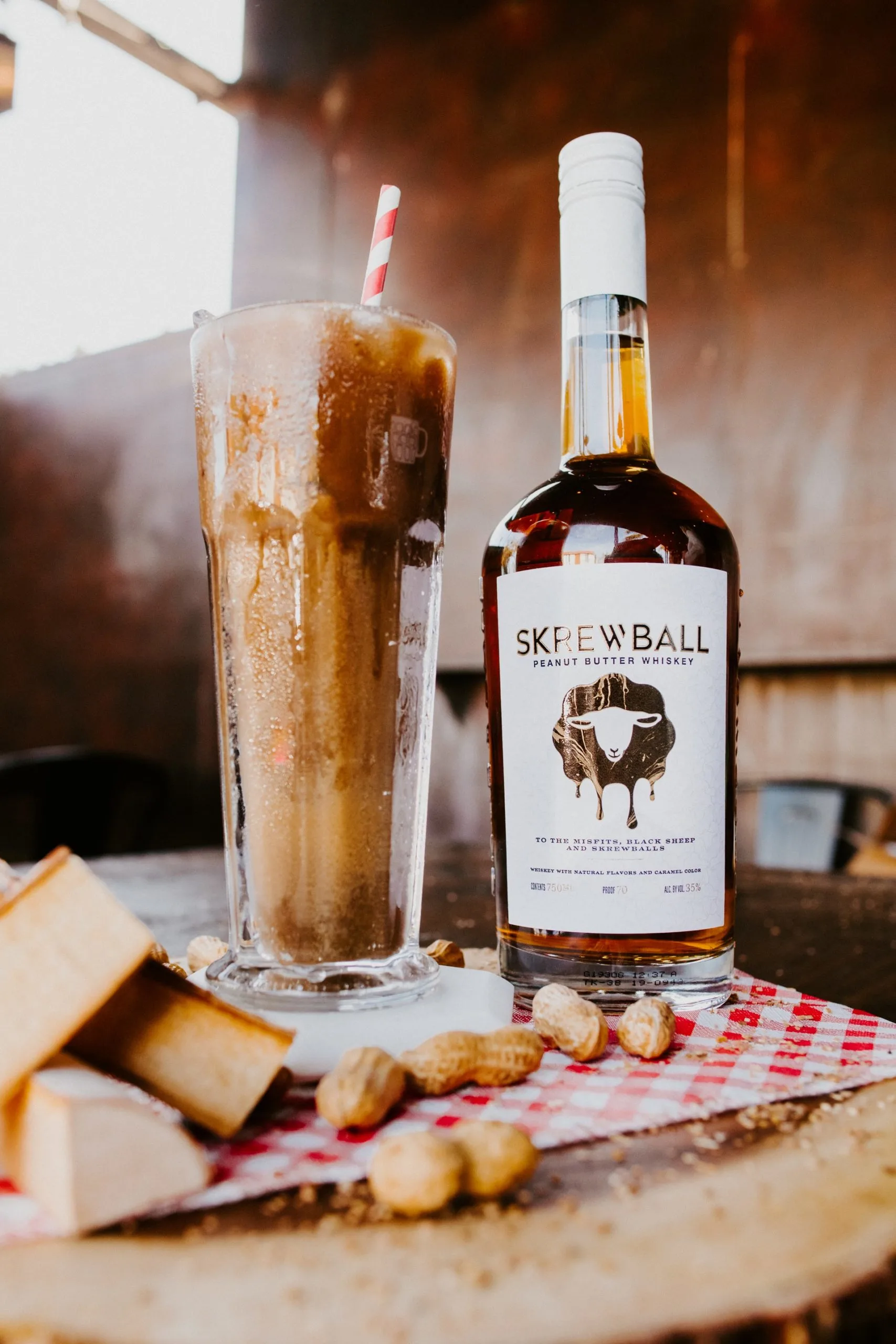 What is Skrewball Peanut Butter Whiskey?
Skrewball Peanut Butter Whiskey is a 70 proof, peanut butter flavored whiskey made by a husband (Steve) and wife (Brittany) team based in San Diego, California.
The idea for Screwball came about after Steve made a peanut butter whiskey cocktail to serve at his bar and restaurant. It was a HUGE hit with his customers, so he and Brittany, who as luck would have it is a lawyer and chemist, decided to produce a peanut butter infused spirit.
Thus, Skrewball was born. #couplegoals for REAL.
It was the first peanut butter whiskey to hit the market in 2018, and in 2019 it won a double gold medal for Best Flavored Whiskey at the New York World Wine and Spirits Competition.
Is Skrewball Actually "Whiskey"?
Since it's only 70 proof, Skrewball is technically not a whiskey. Instead, it's more accurately described as a flavored spirit made with alcohol from grains that are used to make whiskey.
So even though it's labeled as "Whiskey with natural flavors and caramel color", it's ultimately a flavored spirit. They can get away with calling it whiskey because regulations around spirit labeling in the USA are surprisingly lax.
What Does Skrewball Taste Like?
When you first try Skrewball, you'll immediately smell sugary nuts, honey, vanilla, and caramel.
It has a thick texture, to the point where you can drizzle it over ice cream.
Tastewise, Skrewball is exactly what you would expect: sweet honey, roasted nuts, and just a subtle bite from the alcohol.
It's beyond delicious in cocktails, as a topping for desserts, or even on its own.
What Can You Mix With Skrewball?
Skrewball is surprisingly versatile and works well with a wide range of mixers. Some popular mixers to use with Skrewball are the following:
Fruit Liqueurs
Dessert Liqueurs
Coffee/Coffee Liqueurs
Ice Cream
Milk/Cream
Seedless Fruit Jelly
Dark-Colored Sodas

Fruit Juices
These are just to name a few. For specific Skrewball cocktail recipes and more mixers that you can use with Skrewball, read on!
More Fun & Unique Cocktail Recipes
21 Unique Skrewball Peanut Butter Whiskey Cocktails
And that's a wrap! I don't know about you, but reading about all of these delicious cocktails makes me want to run to the store ASAP to get some of these ingredients. It is Friday, after all!
Which of these peanut butter whiskey drinks are you excited to try? Or do you have a favorite Skrewball cocktail recipe that I missed? If so, please let me know in the comment section below so I can check it out 🙂