If you're looking for some of the all-time best Frangelico cocktail recipes, you've come to the right place!
Whether you have a sweet tooth and love decadent cocktails or you prefer your drinks on the lighter, drier side of the spectrum, these Frangelico cocktails are easy to make, beyond delicious, and always please a crowd.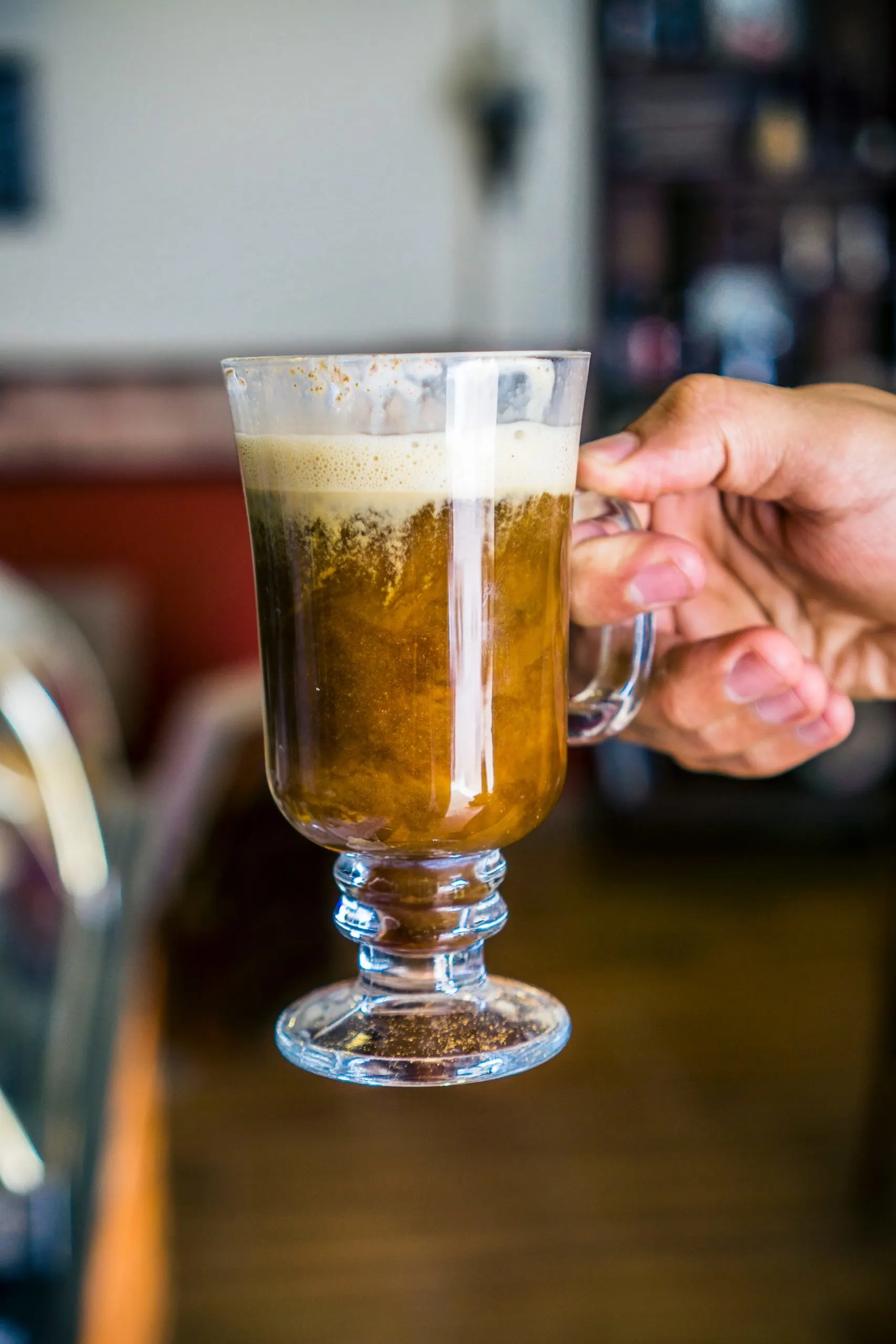 What Is Frangelico?
Frangelico is a sweet Italian liqueur made with hazelnuts, cocoa, and vanilla berries that first entered the market in 1978.
Many can spot Frangelico from a mile away thanks to its super distinctive bottle that's shaped like a monk's habit. (It even has a little white rope belt around its waist to complete the look!) The name and bottle shape are both a reference to Fra' Angelico, a hermit monk who created unique liqueurs in 18th century Northern Italy.
Frangelico sits at just 20% ABV, so it's on the lighter side of the spectrum as far as sweet liqueurs go. As far as price, a 750ml bottle of Frangelico costs around $30 in the States depending on where you live, and you can easily find it at any local liquor store or online.
It's the most well-known nut liqueur brand on the market, and for good reason — it's really tasty for a great price!
What Does Frangelico Taste Like?
Frangelico pours a light amber color and has aromas of sweet roasted hazelnuts with a hint of mocha.
It has a smooth and lightly syrupy texture, which makes it great for drizzling on top of ice cream!
When you take a sip, it tastes a LOT like it smells. You'll get strong notes of sweet roasted hazelnuts, mocha, vanilla bean, and a little bit of citrus.
The finish is clean with a nutty sweetness that lingers pleasantly on the palate.
Substitutes for Frangelico
The best substitutes for Frangelico are other nut liqueurs, and the following are what I would recommend!
Disaronno: Tastewise, the number one substitute for Frangelico is Disaronno Amaretto, which is an Italian almond liqueur. Disaronno is a little bit darker and stronger than Frangelico at 28% ABV, but it has very similar nutty and sweet flavors.
(PS: If you love Disaronno, I have a roundup of my favorite easy Disaronno cocktails here!)
Nocello: Another great substitute for Frangelico is the Italian walnut liqueur Nocello. Nocello is also a bit darker and stronger than Frangelico and has a more bitter finish, but it's still sweet and nutty with notes of vanilla and chocolate.
Aside from the above substitutes, you should be able to find other hazelnut-flavored liqueurs at your local liquor store from big brands like DeKuyper.
What Can You Mix With Frangelico?
While Frangelico is delicious on its own straight up or on the rocks, it's also a super versatile cocktail ingredient!
Thanks to its hazelnut flavor, Frangelico goes with pretty much any mixer that pairs well with nuts, as well as most hard liquors. Some popular mixers used with Frangelico are the following:
This is just to name a few mixers that go well with Frangelico, and often several of the above mixers will be in a cocktail recipe. For specific recipes and more pairing inspiration, read on!
20 Easy & Delicious Frangelico Cocktails
And that's all, folks! Which of these Frangelico cocktails is calling your name? Now that it's getting chilly in North Carolina, I'm excited for ALL the hot cocktails and will definitely be making a batch of the Nutty Irishman. YUMMMM.
If you have a fave cocktail recipe with Frangelico, please let me know in the comment section below so I can give it a try 🙂