Whether you have a sore throat or just want a cozy drink to warm you up this winter, there's nothing better than a good hot toddy!
While the traditional hot toddy recipe is always a safe and tasty go-to, there are a ton of wonderful hot toddy variations that use different spirits, liqueurs, spices, and juices. In fact, there's a hot toddy recipe for every preference and day of the month!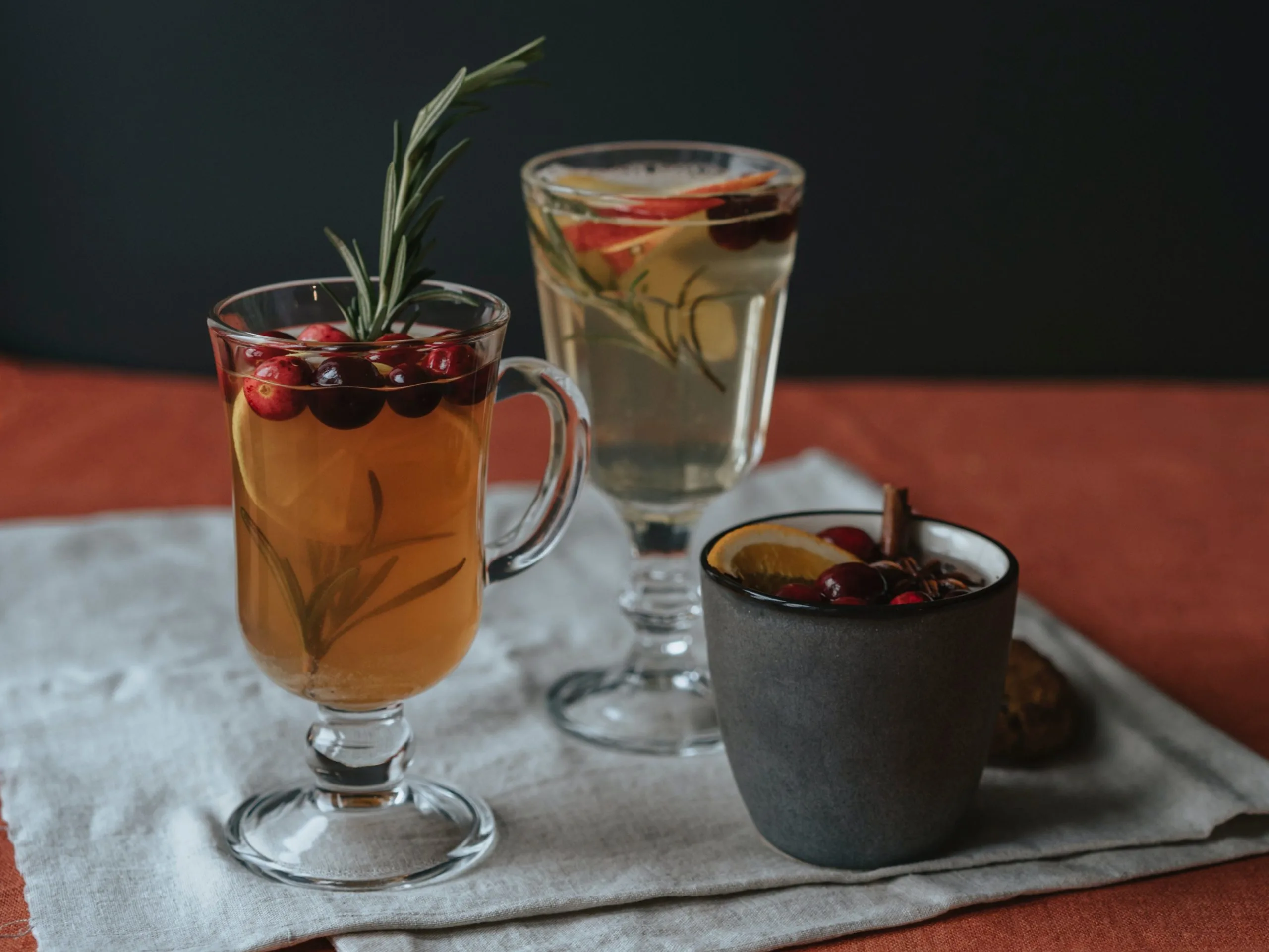 Let's face it: winter isn't easy for everyone. Winter colds and coughs are the worst, it gets dark super early, and the seasonal depression is REAL ya'll. So let's infuse some joy back into the wintertime with 31 cozy hot toddy recipes for every day of the month!
What Is a Hot Toddy?
A hot toddy is a classic cocktail made with water, whiskey, honey, and lemon.
They're famous for being the ultimate boozy cure for colds and sore throats, and it turns out there's actually a fair amount of truth to this! The alcohol dulls aches and pains, the hot liquid and honey soothe the throat and help with congestion, and the lemon provides some much needed vitamin C.
Now I'm not a doctor and don't necessarily think a hot toddy is an all-cure. BUT it's still a super comforting drink that can take the edge off when you have a cold, and if that's not medicine, I don't know what is 😂
The Best Whiskey For Hot Toddies
This is a heavily debated subject, but in my opinion, it doesn't need to be so complicated. Pick your favorite whiskey and call it a day, people. They all have the same "medicinal" qualities, so the best whiskey for a hot toddy is going to be the best whiskey for you.
If you aren't super familiar with whiskey though, I've outlined the taste profiles of the 5 main types of whiskey. I've also provided my favorite bottle recommendations with different price points so you can find the perfect whiskey for your budget! (Keep in mind all prices are for 750ml bottles and will vary depending on where you live).
1. Bourbon
Bourbon is one of the smoothest and sweetest types of whiskey, and it will add notes of caramel, vanilla, and oak to a hot toddy.
Best Bourbon For Hot Toddies:
If you love bourbon, check out these all-time best 2-ingredient bourbon cocktails!
2. Tennessee Whiskey
Tennessee whiskey tastes similar to bourbon, but is a little bit mellower and smoother, which makes it great for those who don't want their hot toddy to have too strong of a bite.
Best Tennessee Whiskey For Hot Toddies:
3. Rye Whiskey
Rye whiskey is going to be less sweet than bourbon or Tennessee whiskey, and is characterized by its spicy, peppery flavor. If you do like your drinks to have a bite to them, use rye whiskey in your hot toddy.
Best Rye Whiskey for Hot Toddies:
4. Blended Whiskey
The most popular example of blended whiskey is blended Scotch whiskey, which will add maltiness, spiciness, and smokiness depending on the bottle to a hot toddy.
Best Blended Scotch Whiskey for Hot Toddies:
5. Irish Whiskey
Irish Whiskey is less sweet than bourbon, less malty than scotch, and overall super drinkable. In fact, many consider it to be the smoothest and easiest to drink of all the types of whiskies. So it's great for those who are just starting to dip their toes into whiskey and want a lighter tasting hot toddy.
Best Irish Whiskey for Hot Toddies:
All of these options are perfectly suitable for a hot toddy! The "best" whiskey will just come down to preference and the other ingredients in the recipe.
If you want to learn even more about whiskey, I have a more detailed post on the best whiskey for cocktails here!
Other Spirits for Hot Toddies
It's important to note that it's the 21st century and you don't have to just use whiskey in a hot toddy!
There are so many other great options like cognac, brandy, rum, gin, tequila, and more that we'll explore in the recipes below 🙂
31 Days of Hot Toddy Recipes To Keep You Cozy This Winter
If this doesn't get you excited for the winter, I don't know what will! Even if you don't make all 31, I hope this inspired you to branch out with your hot toddy recipes and try something new.
And if you have a hot toddy recipe that you think I need to try, please let me know in the comment section below 🙂