If you're looking for the best ways to spike hot chocolate, you've come to the right place! From amaretto to red wine, there are so many fun spirits and liqueurs that will take your adult hot chocolate to the next level.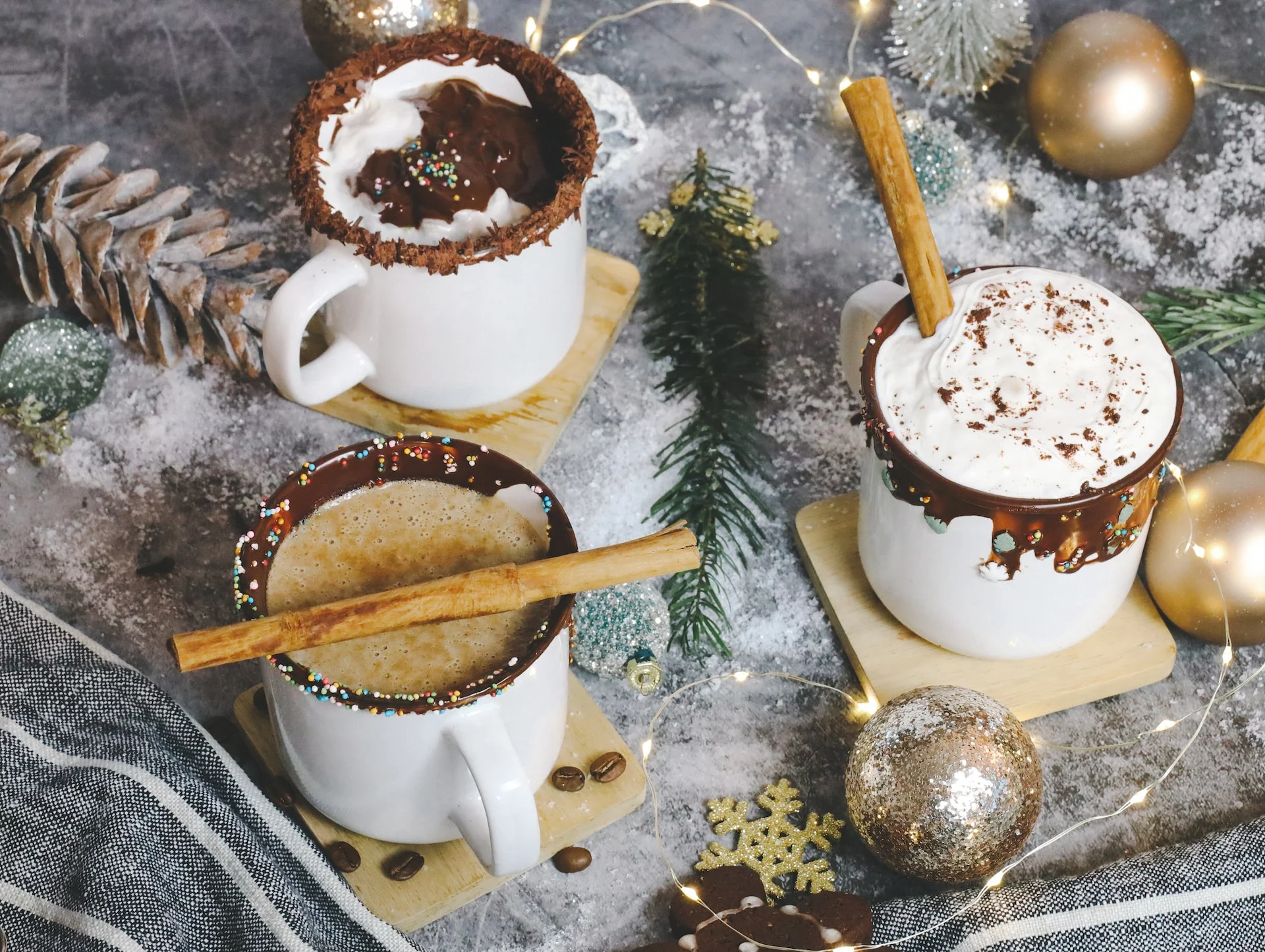 Hot chocolate definitely isn't only for the kids nowadays!
For me, nothing hits better than a good cup of boozy adult hot chocolate in the wintertime. It's a great treat during the holidays, or whenever you just want a comforting and delicious cocktail to warm you from the inside out.
It's almost intimidating to have to choose what spirit or liqueur to add to your hot cocoa though because there are a ton of great options. So let me make things easier!
I've put together what I consider the 16 best liqueurs and spirits to add to hot chocolate, along with my all-time favorite adult hot cocoa recipes. The list starts with sweeter, lower ABV liqueurs and moves on to drier, stronger spirits.
All of the below liqueurs and spirits can be used alone in hot chocolate, but many of them pair wonderfully together and you can get super creative with recipes!
For each spirit, I've included at least one easy recipe along with a more unique recipe that features multiple spirits and/or other fun twists. I've also added bottle recommendations for each so you don't have to guess when you go to the liquor store!
So with all that said, let's spike some hot chocolate, shall we?
16 Best Liqueurs and Spirits For Spiked Hot Chocolate
1. Irish Cream
Irish cream and hot cocoa were simply meant to be together! The most popular brand of Irish cream is Baileys, and this is my personal go-to.
Irish cream has a fairly low alcohol content (around 17% ABV), so it's ideal if you don't want your cocoa to be too booze-forward.
If you haven't had Irish cream, it's made with Irish whiskey, cream, and cocoa. So aside from the alcohol, it'll add creaminess and sweetness to your hot chocolate along with notes of vanilla.
Irish Cream Hot Chocolate Recipes:
2. Amaretto
Amaretto is a sweet almond-flavored Italian liqueur. Interestingly enough though, many amarettos aren't actually made with almonds. Instead, they get their nutty, sweet flavor from apricot kernels.
Amaretto adds a wonderful almond flavor and light nuttiness to hot cocoa, along with a little extra sweetness.
A well-known and really good amaretto is Disaranno, which sits at 28% ABV and is a bottle I always have on hand.
Amaretto Hot Chocolate Recipes:
3. Hazelnut Liqueur
Hazelnut liqueur is another fantastic addition to hot cocoa if you like nutty flavors in your drinks!
While hazelnut liqueur is similar to amaretto in that it's a nut liqueur, there are some key differences that set it apart. Hazelnut liqueur in general is lighter in ABV and color, sweeter, and will add strong notes of nuts and coffee to hot cocoa.
I always have a bottle of Frangelico hazelnut liqueur at my home bar because it goes well with so many different mixers, including hot chocolate!
Hazelnut Liqueur Hot Chocolate Recipes:
4. RumChata
While there are a few rum cream liqueurs on the market, you really can't beat RumChata for the quality and price.
If you're not familiar with RumChata, it's a 15% ABV rum cream liqueur made with Caribbean rum, Wisconsin cream, cinnamon, vanilla, and sugar.
It's supposed to taste like a combination of rum and the traditional spiced Mexican drink horchata (hence the name RumChata), and it definitely delivers.
Taste-wise, it's super sweet and creamy, and will add flavors of vanilla and cinnamon to hot cocoa.
RumChata Hot Chocolate Recipes:
5. Coffee Liqueur
Coffee plus chocolate ALWAYS equals happiness, and this is no exception. I love adding coffee liqueur to hot chocolate as an after dinner treat so I can feel a little bit fancier about my life choices 😂
I have two go-to coffee liqueurs. The first is Kahlua, which has a low ABV and is creamy and very sweet with notes of vanilla. If I want my cocoa to be less sweet and more booze-forward though, I use Mr. Black Cold Brew Coffee Liqueur, which tastes just like cold brew, bitter espresso, and roasted coffee.
Coffee Liqueur Hot Chocolate Recipes:
6. Chocolate Liqueur & Crème de Cacao
You can't go wrong adding even more chocolate to hot chocolate! That's just science, people.
Though I'm lumping them together, there's definitely a difference between chocolate liqueur and crème de cacao.
In general, chocolate liqueur is rich, syrupy, and usually contains cream. So it will add creaminess, hints of vanilla, and a velvety texture to your cocoa. Compared to chocolate liqueur, crème de cacao is not as rich or thick in texture and adds more nuanced notes of nuts and mocha to cocoa. Both are delish, so it just comes down to your preference!
For chocolate liqueur, I recommend the Godiva liqueur brand. For crème de cacao, you can't go wrong with the Giffard liqueur brand. Both brands also have a white chocolate flavor, which is just as good in hot cocoa if you like white chocolate!
Chocolate Liqueur & Crème de Cacao Hot Chocolate Recipes:
7. Peppermint Schnapps & Crème de Menthe
Peppermint schnapps and crème de menthe are similar in that they will both add a great peppermint flavor to cocoa. That said, they have notable differences in how they taste.
Peppermint schnapps in general has a higher ABV and more pronounced minty flavor. On the other hand, crème de menthe is usually sweeter and lighter tasting than peppermint schnapps, with a more subtle mint flavor.
Bottles I like are DeKuyper Peppermint Schnapps and Bols Crème de Menthe. They aren't the nicest bottles I own, but they don't need to be for this purpose. They're both also inexpensive and easy to find at any liquor store!
PS: there's a white and green version of crème de menthe that taste almost identical, but I like to use the white for hot chocolate so it doesn't turn a weird color!
Peppermint Schnapps & Crème de Menthe Hot Chocolate Recipes:
8. Banana Liqueur
Hear me out on this one: banana and chocolate are a match made in flavor heaven, and this is no exception! If you've ever had a chocolate banana split, you know how well this works.
My favorite banana liqueur is Giffard Banane Du Bresil, which is made with overripe Brazilian bananas and a touch of oak-aged cognac. It will give your cocoa a pleasant tingling pepperiness from the cognac along with strong notes of banana and vanilla.
Banana Liqueur Hot Chocolate Recipes:
9. Butterscotch Schnapps
Butterscotch schnapps tastes just like butterscotch syrup and caramel, so you know it's going to be tasty in hot cocoa. While there are other caramel liqueurs, I prefer butterscotch schnapps in a cocktail if I'm going for a strong, nuanced caramel flavor.
In hot chocolate, it'll add a silky texture with flavors of caramel, brown sugar, and salted toffee. YUM.
My favorite bottle is Bols Butterscotch. It has a mid-level ABV at 24%, and is an inexpensive but great quality liqueur.
Butterscotch Schnapps Hot Chocolate Recipes:
10. Cinnamon Liqueur
If you want to make your hot chocolate taste like the holidays, cinnamon liqueur is an excellent choice!
The most well-known brand of cinnamon liqueur is by far Fireball Cinnamon Whiskey, and this is always my go-to.
It's a fairly strong liqueur at 33% ABV, which will make your cocoa have a warm, burning finish that's reminiscent of a Red Hot candy. The whiskey and cinnamon will also add spiciness and sweet cinnamon flavors.
Cinnamon Liqueur Hot Chocolate Recipes:
11. Vanilla Vodka
Vanilla vodka is a very popular and tasty mix in for hot chocolate! It won't add anything texturally to the cocoa, but it will add strong aromas and flavors of vanilla. Since it's vodka, it also has a higher ABV at around 35-40%, so it'll result in a bigger boozy kick than some of the above liqueurs.
Smirnoff Vanilla Vodka is my bottle recommendation here since it's easy to find and a good quality for the price!
Vanilla Vodka Hot Chocolate Recipes:
12. Whipped Cream Vodka
If you love topping your hot chocolate with whipped cream, you NEED to try adding a shot of whipped cream vodka to your cocoa.
Seriously, whoever decided to combine whipped cream and vodka is a true genius. In cocoa, it tastes like melted whipped cream with a boozy kick, and who could turn that down??
Pinnacle Whipped Vodka is the best whipped cream vodka you can buy, and it tastes exactly like sweet, boozy whipped cream.
Whipped Cream Vodka Hot Chocolate Recipes:
13. Red Wine
Bitter dark chocolate and jammy red wine already go together like a dream, so it only makes sense to put red wine in hot chocolate!
Though it's hard to choose, red wine might be my #1 favorite way to spike hot chocolate. It sounds strange, but trust me: it's SOOO good. In cocoa, it adds richness and fruitiness, while perfectly balancing out the decadent chocolate.
When choosing a wine, just make sure to get a fruit-forward bottle like a red Zinfandel or jammy red blend. For this purpose, I often use 7 Deadly Zins or the 19 Crimes Red Blend.
Red Wine Hot Chocolate Recipes:
14. Rum
Onto the harder stuff! If you want your hot chocolate to give you a more of a buzz, then rum is a great choice.
Dark rum is the most common type of rum used in hot chocolate, but spiced rum and Caribbean rum are also great in cocoa depending on the recipe.
In hot chocolate, rum will add a strong, boozy kick and a spicy lingering finish.
I'm personally partial to dark rum, and my favorite bottle for cocoa is Goslings Black Seal Rum because it's smooth and approachable.
Rum Hot Chocolate Recipes:
15. Irish Whiskey
Anyone that loves Irish Coffee (i.e. Irish whiskey, coffee, and sugar) is guaranteed to be a fan of Irish whiskey in hot cocoa!
Irish whiskey is one of the smoothest, mellowest tasting whiskeys, so it's great for those who want a stronger cocktail without it being too booze-forward.
It's great for spiking hot cocoa during the holidays, but it's also perfectly festive for St. Patrick's Day! My Irish whiskey of choice is Jameson, which shouldn't surprise anyone since it's the best Irish whiskey on the market for the price and caliber.
Pro tip: put both Irish whisky AND Irish cream in your hot cocoa and thank me later 🙂
Irish Whiskey Hot Chocolate Recipes:
16. Bourbon
To finish off our list, we have one of the most quintessential spirits for hot chocolate. Bourbon is an obvious choice for hot cocoa because it blends in great with chocolate and adds wonderful flavors of burnt caramel and vanilla.
You can opt for a less expensive bottle like Evan Williams Black Label or Wild Turkey 101, but Bourbon is always good to keep around the house! So don't be afraid to get a higher end bottle like Four Roses Small Batch or Angel's Envy Kentucky Straight Bourbon Whiskey.
Bourbon Hot Chocolate Recipes:
And that's a wrap! I hope this inspired you to try some new recipes, liqueurs, and spirits and showed you how many possibilities there are when it comes to adult hot chocolate!
PS: if you have a favorite spirit, liqueur, or recipe that I didn't include, pop it in the comment section below so I can try it out 🙂