These 2-ingredient bourbon cocktails are delicious, refreshing, and so easy to make at home when you need a non-fussy drink and you need it STAT.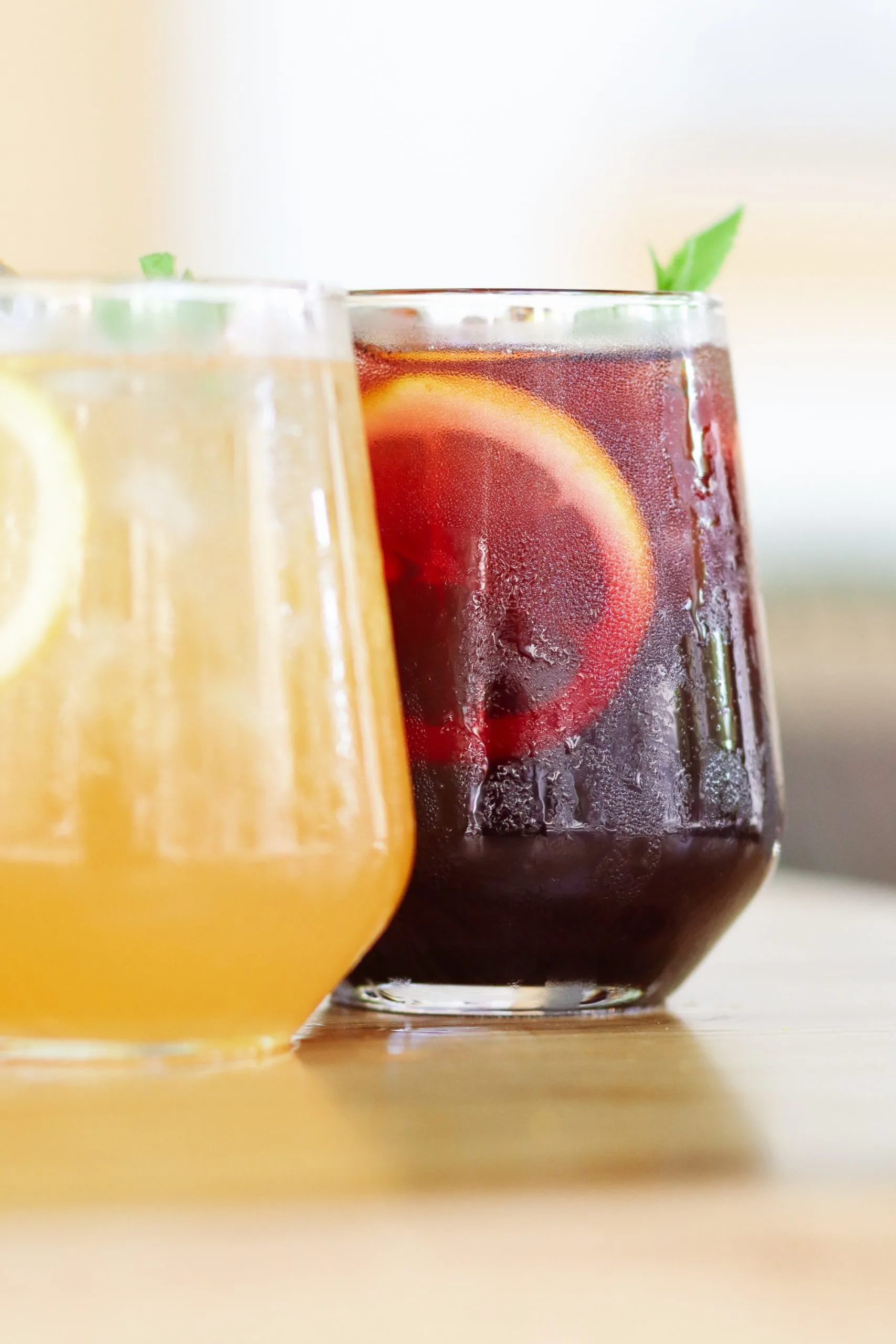 What To Mix With Bourbon
Bourbon is a flavorful, nuanced spirit that's great on its own, but also goes well with so many different mixers. The following are some of the most popular mixers you can use in bourbon cocktails.
Lemonade
Ginger Beer/Soda
Ginger Liqueur
Coffee
Beer
Soda (i.e. Coke, Sprite, Dr. Pepper)
Tea (i.e. Iced, Sweet, Peach)
Citrus Juices and Sodas (i.e. Grapefruit, Lemon, Orange)
This is just to name a few! If you want to see specific 2-ingredient bourbon cocktail recipes as well as other mixers that go with bourbon, read on.
What is Bourbon?
Bourbon is a barrel-aged, distilled dark liquor that's made from a mash of primarily corn. Tastewise, it's characterized by flavors of caramel, oak, and spices.
It's important to note that all bourbon is whiskey, but not all whiskey is bourbon.
As a rule, whiskey is aged in barrels and made with fermented grains, but the type of barrel and grain are what determines the type of whiskey.
In order for a whiskey to be considered bourbon, it has to meet the following criteria:
Be made with at least 51% corn
Contain no additives
Be distilled at 160 proof (80% ABV) or less and aged in barrels until it reaches 125 proof (62% ABV) or less
Be aged in new charred oak barrels
So despite popular belief, bourbon does not have to come from Kentucky and can be made anywhere in the USA.
Best Bourbon For Cocktails
When picking a bourbon for cocktails, you don't want a super expensive, nuanced bottle that's made for sipping alone. You also don't want a bourbon with a super high proof or strong flavor profile that will overpower the mixer.
Instead, you want to choose a smooth, more balanced bourbon that will complement the flavor of the mixer without completely masking the taste of the mixer.
For a quality bourbon at a reasonable price ($20-$30 for 750ml) that you can find anywhere, you can't go wrong with Evan Williams Black Label, Maker's Mark, or Wild Turkey 101.
At the next price tier ($40-$50 for 750ml), Four Roses Small Batch and Angel's Envy Kentucky Straight Bourbon Whiskey are fantastic options and agreed to be two of the best bourbons for cocktails you can buy.
More 2-Ingredient Cocktail Recipes
21 Tastiest 2-Ingredient Bourbon Cocktails
These recipes yield one serving unless otherwise specified. You can make them with any bourbon you'd like, but I'd recommend an affordable bottle that's smooth and will play well with other mixers.
1. Bourbon Lemonade
Nothing beats a bourbon lemonade in the summertime! Just stir the lemonade and bourbon together in a glass with ice, then kick back and enjoy.
Ingredients:
1 part Bourbon
2 parts Lemonade
2. Bourbon and Lemon Lime Soda
Bourbon and lemon lime soda is a classic, delicious pairing! You can use your favorite lemon lime soda, but I personally recommend Sprite.
Ingredients:
1 part Bourbon
2 parts Lemon Lime Soda (like Sprite or 7up)
3. Bourbon and Coke
You can never go wrong with a bourbon and coke. Classic, simple, and tasty.
To make it, stir the ingredients together in a highball glass with ice and you're done!
Ingredients:
1 part Bourbon
2 parts Coke
4. Bourbon and Root Beer
Root beer goes so well with bourbon thanks to its creaminess and notes of licorice and mint. The combination is absolutely delish!
Like most cocktails that involve bourbon and soda, mix in a highball glass with ice and serve.
Ingredients:
1 part Bourbon
2 parts Root Beer
5. Bourbon and Ginger
Ginger is another flavor that goes fantastically well with bourbon. For a stronger spicy ginger flavor, make this cocktail with ginger beer. If you want a less biting, more mellow cocktail, use ginger soda instead.
In either case, stir the ginger mixer with the bourbon over ice.
Ingredients:
1 part Bourbon
2 parts Ginger Beer or Soda
6. Bourbon and Cream Soda
This isn't a recipe you'll see a lot out in the wild, but trust me when I say it is fabulous.
The vanilla in the cream soda really brings out the vanilla notes of the bourbon, so it's great if you want to bring some softness to aged, woodier bourbons.
Make it by stirring the ingredients together in a highball glass with ice.
Ingredients:
1 part Bourbon
2 parts Cream Soda
7. Bourbon and Dr. Pepper
Dr. Pepper has 23 flavors and pretty much all of them go really well with bourbon. Cola, cherry, licorice, and amaretto are just a few flavors that will complement the bourbon, and I actually prefer this cocktail to a bourbon and coke!
Stir the ingredients together in a highball glass with ice and serve.
Ingredients:
1 part Bourbon
2 parts Dr. Pepper
8. Bourbon and Cheerwine
Cheerwine is a cherry-flavored soda from North Carolina that's absolutely delicious. If you haven't had it before, then bless your heart...
But really, prepare to have a new favorite soda. It goes great with any bourbon, but especially a bourbon with cherry notes.
Stir the Cheerwine and bourbon in a glass with ice and sip away.
Ingredients:
1 part Bourbon
2 parts Cheerwine
9. Bourbon and Sweet Tea
Here's another cocktail inspired by the flavors of the South! It doesn't get a whole lot more southern than sweet tea, and this cocktail is great for brunch or when it's hot outside.
Pour the ingredients over ice, stir, and serve.
Ingredients:
1 part Bourbon
4 parts Sweet Tea
10. Bourbon and Tea
If you like your drink on the drier side of the spectrum, bourbon also goes great with unsweetened teas.
I personally like bourbon with Earl Grey or peach flavored tea, but it's also nice with any black tea or fruity tea.
Make the tea as you normally would and add in lemon or sugar to taste, then stir with bourbon over ice.
Ingredients:
1 part Bourbon
4 parts Earl Grey (or tea of your choice)
11. Bourbon and Ginger Liqueur
This cocktail is also know as a Two Left Feet. The ginger liqueur goes so well with bourbon and adds both spicy and sweet notes to the cocktail.
Shake the ingredients in a shaker with ice, then pour in a highball glass over ice or serve up (without ice) in a coup.
Ingredients:
2 ounces Bourbon
3/4 ounce Ginger Liqueur
12. Bourbon and Tonic
I'm pretty sure there isn't a spirit that doesn't go great with tonic water! The tonic adds bitterness, but also makes the cocktail super refreshing.
Mix the ingredients together in a glass with ice. Bonus points if you squirt some lemon juice on top.
Ingredients:
1 part Bourbon
2 parts Tonic Water
13. Boilermaker Cocktail
The Boilermaker is a great cocktail that always gets the job done. You can use any type of beer, but I'd recommend a pilsner if it's hot out and a porter if it's chilly.
You can either drop the shot into the beer, or serve them side by side.
Ingredients:
14. Kentucky Coffee
If you need a pick me up, there's nothing better than a Kentucky Coffee, which is just bourbon and coffee however you like it.
You can use cold brew, mocha, black coffee... whatever your preference is, bourbon will only make it that much better!
I like mine with a mocha cold brew in the summer and black coffee in the winter. With this combo, you really can't go wrong!
Ingredients:
1 part Bourbon
4 parts Coffee
15. Rusty Spike
This cocktail is a riff on the Rusty Nail, which is a popular cocktail made with scotch and Drambuie. If you're not familiar with Drambuie, it's a sweet Scotch whiskey liqueur with honey, herbs, and spices.
Using bourbon in place of scotch makes the drink less dry and smoky, and more mellow, sweet, and caramel-y.
To make it, stir the ingredients together in a mixing glass with ice until chilled. Then strain into a cold rocks glass with one large ice cube.
Ingredients:
2 parts Bourbon
1 part Drambuie
16. Apple Manhattan
This cocktail is 100% booze, but surprisingly approachable and smooth. It's a little sweet and perfect for the fall. You can even use an apple bourbon if you want it to be extra fruity.
Stir the ingredients together in a mixing glass with ice until chilled, then strain into a chilled cocktail glass.
Ingredients:
17. Bourbon and Grapefruit
Grapefruit juice is one of the most versatile mixers and I love mixing it with bourbon in the summer!
This cocktail is also known as a Blushing Betty or Betsy, and you can use freshly squeezed grapefruit juice or store-bought. If you want the drink to have a little carbonation, you could even use grapefruit soda.
If using juice, add ingredients in a shaker with ice then serve in a cocktail glass. For soda, simply stir the ingredients together with ice.
Ingredients:
1 part Bourbon
2 parts Grapefruit Juice or Soda
18. Apple Cider Bourbon Slush
This is a perfect cocktail for autumn parties or even for Thanksgiving.
It's also beyond easy to make. Just stir together the apple cider and bourbon in a punch bowl, throw it in the freezer overnight, then take it out and stir for a minute or two before serving.
This recipe makes 4 servings and you can refreeze any leftovers if somehow you don't finish it in one sitting!
Ingredients:
1 cup Bourbon
4 cups Apple Cider
19. Orange Bourbon Slush
In my opinion, there could never be too many slushy cocktails! This recipe yields 8 servings and is wonderful for holiday parties.
Add the bourbon and the frozen orange concentrate to a punch bowl, stir it all up, and then pop it in the freezer for at least 8 hours.
When you're ready to serve, stir the mixture until it's your desired consistency (this usually takes a minute or less).
Ingredients:
1 cup Bourbon
1 can (12 ounces) Frozen Orange Concentrate
20. Bourbon Eggnog
Bourbon eggnog is one of the best and easiest drinks to make during the holidays! You can adjust the ratio based on your preference, but I like my eggnog on the stronger side.
Simply mix the eggnog and bourbon together over ice and strain into a cocktail glass.
Ingredients:
1 part Bourbon
2 parts Eggnog
21. Whiskey Sour
Whiskey sours are always a crowd pleaser and surprisingly easy to make with pre-made sweet & sour mix!
Add the ingredients to an old-fashioned glass with ice, stir, and serve.
Ingredients:
Which of these 2-ingredient bourbon cocktails speaks to you?? Or do you have a favorite bourbon drink that only uses two ingredients and wasn't included here?
If you do, let me know in the comment section below so I can check it out!