From classics you know and love to unique, unexpected combinations, these 2-ingredient gin cocktails are delicious and beyond easy to make from the comfort of your own home!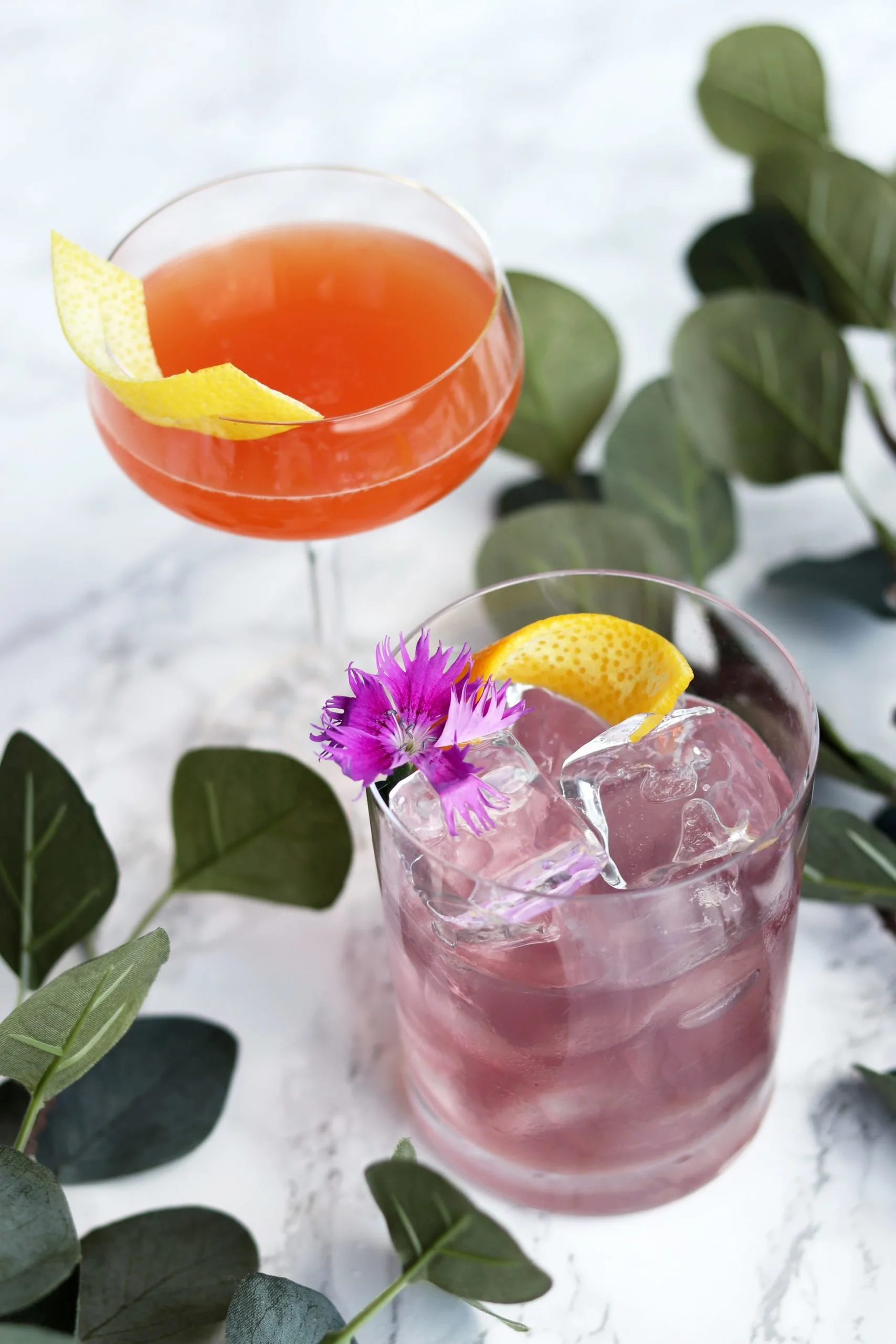 What Can You Mix With Gin?
Gin is a versatile spirit that works with a ton of different mixers, but these are some of the most popular mixers that go with gin:
Tonic
Soda Water
Bitter Lemon
Citrus Juices (Grapefruit, Orange, etc)
Fruit Juices (Apple, Pineapple, etc)
Lemonade (any flavor)
Ginger Beer or Soda
Cola
Vermouth
Elderflower Tonic/Liqueur
Cucumber Tonic/Liqueur
These are just to name a few! Read on for 22 specific cocktail recipes you can make with gin and just one other mixer, as well as even more gin mixer ideas.
Types of Gin For Cocktails
All gin is made with the juniper berry, which is what gives it its resinous, piney taste, and there are four main types of gin used in cocktails.
1. London Dry Gin
London Dry Gin is by far the most popular type of gin and it's what you'll see used in most gin-based cocktails. It's very juniper forward, so it smells and tastes kind of like a Christmas tree with a little bit of citrus.
London Dry Gin is also known as English or London Gin, and there are no added artificial flavors. Some examples are Tanqueray and Bombay Sapphire.
2. Plymouth
Only the Plymouth Gin Distillery produces Plymouth gin, but that doesn't mean it isn't popular.
It's similar to London Dry Gin in taste, but it's even more juniper forward and has an earthier flavor that comes from the addition of dried orange peels, cardamom, coriander seed, angelica root, and orris root.
3. Genever
This type of gin comes from Holland and is made with malted grains, which gives it a taste akin to whiskey.
Compared to London Dry Gin, Genever is maltier and richer without the strong notes of citrus. Popular examples are Bols and Rutte.
4. Old Tom Gin
Old Tom Gin is often said to fall between the maltier Genever and the sharp London Dry. So it's more mellow and sweet in taste, and it has a richer flavor that works great in bitter cocktails. Some examples are Ransom Old Tom Gin and Sacred Old Tom Gin.
Best Type of Gin For Cocktails
The above are the four most common types of gin, and London Dry Gin is by far the most popular for cocktails.
That said, all of these gins can be used in cocktails and will add different flavors.
As far as brands, you can't beat Tanqueray Gin, Hendricks Gin, or Beefeater for the price and quality. These are all London Dry gins, so they'll be juniper-forward and have stronger floral and citrus notes as well.
Plymouth Gin is also a great gin for cocktails if you want an earthier flavor profile.
For those looking for a maltier gin, Bols Genever Gin and Ransom Old Tom Gin are very popular choices that you can't go wrong with.
More 2-Ingredient Drink Recipes
22 Best 2-Ingredient Gin Cocktails
These 2-ingredient gin cocktails make one serving unless otherwise specified. They can be made with any gin you already have on hand, but a London Dry or Plymouth gin will be the most versatile.
1. 2-Ingredient Gimlet
This is the easiest Gimlet recipe ever and it's beyond tasty. Just add the ingredients in a glass and stir together for a citrusy, refreshing gin cocktail.
Ingredients:
2 parts Gin
1 part Lime Cordial or Sweetened Lime Juice
2. Easiest Tom Collins
Traditionally, a Tom Collins is made with gin, club soda, simple syrup, and lemon juice.
This recipe brilliantly uses lemon soda in place of the club soda, simple syrup, and lemon juice for the same taste with less hassle.
Ingredients:
3. Gin and Tonic
Nothing beats a classic! Gin and tonics are one of the most popular drinks in the world and one of the easiest to make. I recommend picking a high quality tonic water like Fever Tree to take your G&T to the next level.
Ingredients:
1 part Gin
3 parts Tonic Water
4. Gin and Tea
Speaking of G&Ts, have you ever tried a Gin and Tea? They're becoming more and more popular since the earthiness of the tea complements gin so well. I recommend Earl Grey, but green tea or any floral, earthy tea would be just as good.
To make it, brew the tea (add sugar if you like your cocktails on the sweeter side), then just stir the tea and gin together in a highball glass with ice.
Ingredients:
2 parts Gin
3 parts Earl Grey Tea
5. Classic Gin Martini
The golden ratio for gin martinis in my opinion is 3 ounces of gin to a half ounce of dry vermouth. You can serve it shaken, stirred, up (no ice), or on the rocks (with ice). I personally like my martini shaken and served up in a martini glass!
Ingredients:
3 parts Gin
1/2 part Dry Vermouth
6. 50/50 Gin Martini
If you want a martini but don't want to be tripping over your own feet, the 50/50 martini is a perfect choice! It tastes almost the same as a classic martini, but it's lower in ABV thanks to the higher ratio of vermouth.
This martini can also be served shaken, stirred, up, or on the rocks depending on your preference.
Ingredients:
1 part Gin
1 part Dry Vermouth
7. Gin and Bitter Lemon
Bitter lemon is pretty much exactly what it sounds like: a bitter lemon flavored soft drink. It's basically a lemon version of tonic water that tastes like lemon pith with a bit of sweetness, so it goes fantastically well with gin.
Just pour the gin and then top with a bitter lemon soda of your choice.
Ingredients:
8. The Salty Dog
Here's another popular gin cocktail that uses a citrus juice as its base. The pine from the gin complements the grapefruit juice SO well.
It's also a great cocktail if you don't love the taste of alcohol since the grapefruit juice is fairly overpowering. Stir together in a highball glass and enjoy!
Ingredients:
1 part Gin
2 parts Grapefruit Juice
9. Cucumber Gin and Tonic
This is one of the most refreshing cocktails of all time! Cucumber tonic and gin were made for each other, and this drink is great for the summertime.
You make it like any other G&T: simply pour the ingredients in a glass with ice.
Ingredients:
10. Elderflower Gin and Tonic
If you haven't had a cocktail with gin and elderflower before, I'll assume you're living under a rock.
Elderflower tonic is floral, sweet, and bitter from the quinine. It brings out the floral qualities of the gin and is a fantastic summer sipper. Just pour the ingredients into a glass with ice and stir.
Ingredients:
11. Gin and Ginger
This cocktail always perks me up! The ginger beer goes perfectly with gin and adds extra spiciness and carbonation to the cocktail. If you want the cocktail to be less spicy but still have the ginger notes, any ginger soda would work just as well.
Whatever your preference, stir the ingredients together in a glass with ice and serve.
Ingredients:
1 part Gin
3 parts Ginger Beer or Soda
12. Gin and Coke
I actually prefer gin and coke to rum and coke because the gin adds such great citrus and botanical flavors to the cocktail. Pour the ingredients over ice and garnish with a lime wedge if you're feeling fancy.
Ingredients:
13. Red Snapper Cocktail
The Red Snapper is just a Bloody Mary made with gin instead of vodka. Unlike a vodka Bloody Mary where the booze is easily masked though, the gin stands out in a Red Snapper and adds extra flavor.
So if you're a big fan of gin, try this at your next brunch and serve with your favorite Bloody Mary accoutrements!
Ingredients:
1 part Gin
3 parts Bloody Mary Mix
14. Gin and Orange
Orange juice and gin is a simple but tasty combination. It's another great brunch drink if you're tired of mimosas and Bloody Marys!
Ingredients:
1 part Gin
2 parts Orange Juice
15. Simple Mulled Gin Cider
Nothing is better than a mulled cocktail when it's cold outside, and this one is beyond tasty. It's also easy to make in a big batch and is great for fall or winter parties.
Just heat up the apple cider in a sauce pan until hot and then add the gin before serving. You can also throw in any warm spices you have on hand (like cinnamon, allspice, or cloves) to the apple cider while it's heating up for a little extra flavor.
Ingredients:
1 part Gin
4 parts Apple Cider
16. Gin and Lemonade
Since gin goes so well with citrus, it only makes sense to mix it with lemonade!
For this cocktail, you can really use any type of lemonade: blueberry lemonade, raspberry lemonade, pink lemonade... they're all delicious and great for the summertime.
Ingredients:
1 part Gin
2 parts Lemonade (any flavor)
17. Gin and Soda
This cocktail is similar to a G&T, but without the bitter taste of quinine that comes from tonic water.
Using soda water makes the cocktail have no sweetness to it, so it's drier and even more refreshing than a G&T in my humble opinion.
Ingredients:
1 part Gin
2 parts Soda Water
18. Gin and Cranberry Cocktail
It doesn't get much more festive than a gin and cranberry! Cranberry is already a major winter flavor, and the gin adds pine notes that are also perfect for the holiday season.
So it's a great, easy cocktail for Christmas or wintertime parties!
Ingredients:
1 part Gin
2 parts Cranberry Juice
19. Gin and Pineapple Cocktail
This is one of the more tropical gin drinks you can make! It's fruity, floral, tart, and perfect if you need a simple drink to sip by the pool.
Ingredients:
1 part Gin
2 parts Pineapple Juice
20. Gin Limeade Slush
Another gin drink that's perfect for warm weather! Everyone loves a boozy slushy, so this cocktail is great for a crowd.
This recipe makes 6-8 servings. To make it, blend the frozen limeade together with 2 cups of ice until smooth, stir in the gin, then kick back and relax!
Ingredients:
1 cup (8 ounces) Gin
1 can (12 ounces) Frozen Limeade Concentrate
21. Gin and Watermelon Slush
There can never be enough slushy cocktails, so here's one more! This will yield 4 servings, and you can increase or decrease the amount of gin to taste.
For a more frozen texture, freeze the watermelon or blend everything together with ice. If you prefer a more liquid-y texture though, just blend the watermelon until smooth. In either case, stir in the gin after blending.
Ingredients:
1/2 cup Gin
4 cups Seedless Watermelon
22. Gin and Strawberry Purée
Strawberry purée is easy enough to make with frozen or fresh strawberries, water, and sugar. That said, you can usually find pre-made strawberry purée mix at some supermarkets or liquor stores.
Whether you buy it or make it from scratch, add the ingredients to a shaker with ice, shake, shake, shake, then pour into a chilled martini glass for a fancy, fruity treat.
Ingredients:
1 part Gin
2 parts Strawberry Purée
Which of these gin cocktails are you going to make next?? There's no wrong answer — they're all delicious!
And if you have a favorite 2-ingredient gin cocktail that wasn't included above, please let me know in the comment section below so I can check it out 🙂