These delicious 2-ingredient coconut rum drinks are so easy to make and will have you feeling like you're lounging on a beach in no time!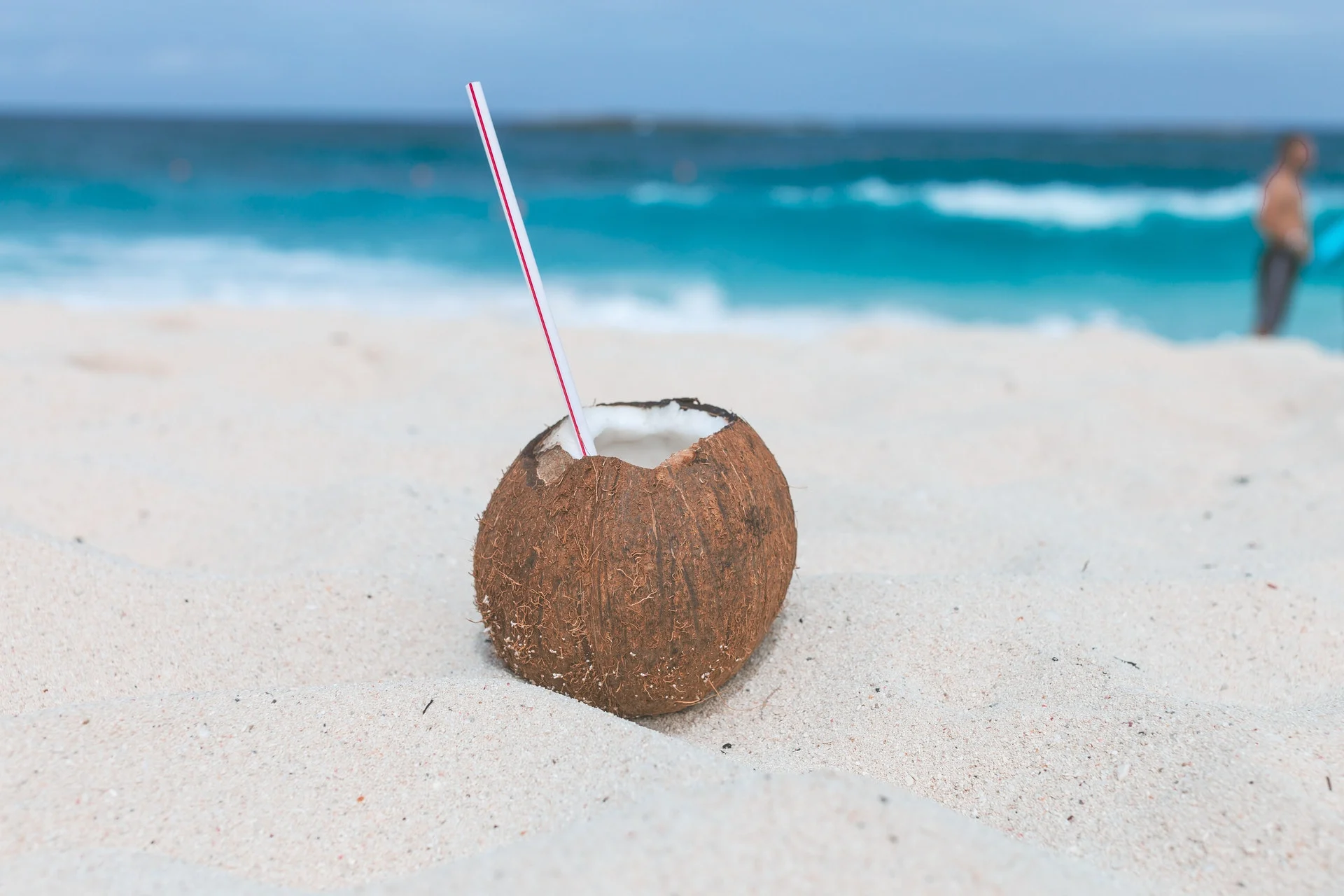 What Is The Best Coconut Rum?
Malibu Rum is without a doubt the most popular coconut-flavored rum in the world.
There are other options on the market, like Bacardi Coconut Rum or Captain Morgan Coconut Rum, but nothing comes close to Malibu for the quality and price.
Technically speaking, Malibu is actually a liqueur instead of a rum because it's only 21% ABV. It's perfect for easy cocktails because it adds a ton of flavor and goes well with SO many different mixers.
What To Mix With Coconut Rum like Malibu
Like I said, coconut rum mixes fantastically well with all types of juices, sodas, and even other spirits. Some popular mixers that go with coconut rum are:
Cola
Tropical Fruit Juices
Lemon Lime Soda
Puréed Fruit
Pre-made Daiquiri or Margarita Mix
Frozen Fruit Concentrate
Soda Water
Lemonade (any flavor)
RumChata
Jello (here are the 10 best jello shots made with Malibu!)
This is just to name a few. Read on for more mixer ideas and specific recipes you can make with coconut rum and only one other ingredient!
More 2-Ingredient Drink Recipes
20 Easy 2-Ingredient Coconut Rum Drinks
These recipes make one drink unless otherwise specified. They can be made with any coconut rum you have on hand, but if it's not obvious, my recommendation would be Malibu!
1. Coconut Rum and Coke
We'll start off with a coconut rum and Coke! It's basically a classic rum and Coke that went on a vacation to a tropical island, and who doesn't want that?
Ingredients:
1 part Coconut Rum
2 parts Coke
2. 2-Ingredient Healthy Pina Colada
This is my favorite drink to make at the beach! Mix the two ingredients together and you have an insanely easy, healthier version of a Pina Colada.
Ingredients:
1.5 parts Coconut Rum
3 parts Pineapple Coconut Juice (like R W Knudsen Pineapple Coconut Juice)
3. Pineapple Coconut Martini
This martini is fruity, refreshing, and beyond tasty. Just add the ingredients in a shaker with ice, shake it up, and pour into a martini glass.
Ingredients:
1 part Coconut Rum
2 parts Pineapple Juice
4. Coconut Rum and Soda
Rum and soda is a classic, easy, and refreshing cocktail that's great when you want a tropical drink that isn't too sweet.
Ingredients:
1 part Coconut Rum
2 parts Soda Water
5. Coconut Rum and Tonic
If you love a good gin and tonic, you should give a coconut rum and tonic a shot! The bitterness of the tonic balances out the sweetness of the coconut rum perfectly.
Ingredients:
1 part Coconut Rum
2 parts Tonic
6. Coconut Rum and Sparkling Rosé
You wouldn't necessarily think to put coconut rum with sparkling rosé, but it's a truly wonderful combination. Bubbly, refreshing, and pretty in pink!
Ingredients:
1 part Coconut Rum
5 parts Sparkling Rosé
7. Frozen Strawberry Coconut Daiquiri
Who doesn't love a good frozen strawberry daiquiri when it's hot out?
This recipe has all of the flavor with zero of the hassle. Just put the ingredients in a blender with a cup of ice, blend it up, and enjoy.
Ingredients:
1 part Coconut Rum
3 parts Strawberry Daiquiri mix (like Master of Mixes Strawberry Daiquiri/Margarita Mixer)
8. Frozen Coconut Rum Limeade
Another frozen drink that's perfect for summer sipping! To make it, add the ingredients in a blender with a tray of ice cubes and blend until smooth.
This recipe makes 6 servings, so it's great if you're hosting a group of friends!
Ingredients:
12 ounces Coconut Rum
1 can (12 ounces) Frozen Limeade Concentrate
9. Watermelon Coconut Rum Slush
This is my go-to pool drink because it's refreshing, won't make you feel bloated, and tastes like a dream. Just add the watermelon chunks and coconut rum to a blender, blend it up, and you're ready to get your tan on.
This recipe yields about 4 servings, and you can add ice while blending if you want it to have a more frozen texture.
Ingredients:
1 cup Coconut Rum
4 cups Seedless Chopped Watermelon
10. Malibu Spiked Strawberry Lemonade
Everyone loves strawberry lemonade in the summertime, and they'll love it even more with a shot of Malibu! It's tart, fruity, and deliciously refreshing.
Ingredients:
1 part Malibu
2 parts Strawberry Lemonade
11. Orange Coconut Rum Punch
This cocktail is a great substitute for a mimosa and so fun to serve at a brunch! It's also easy to make in a big batch since you can add the ingredients to a pitcher and then pour in glasses over ice.
Ingredients:
1 part Coconut Rum
2 parts Orange Juice
12. Tropical Salty Dog Cocktail
This is a fun twist on the Salty Dog cocktail, which is usually made with gin and grapefruit juice. The coconut rum gives it a more tropical flavor, which makes it perfect for the beach.
To make it, you add the ingredients to a shaker with ice, shake shake shake, and then pour it up!
Ingredients:
1 part Coconut Rum
1 part Fresh Grapefruit Juice
13. Coconut Cream Pie Cocktail
This is the ultimate coconut rum dessert cocktail!
If you're not familiar with RumChata, it's a rum cream liqueur with flavors of cinnamon and vanilla. When you combine it with coconut rum, it basically takes like a coconut cream pie, and who could say no to that?
You can either make it in a shaker with ice, or just pour the ingredients into a glass with ice. They're both delicious, so it just comes down to your preference!
(PS: here are 20 more decadent drinks made with RumChata that you need in your life ASAP.)
Ingredients:
1 part Coconut Rum
1 part RumChata
14. Coconut Rum and Cranberry Cocktail
Most wouldn't think to combine the flavors of cranberry and coconut, but trust me. It works.
The tart cranberry and sweet coconut flavors go together beautifully. It's simple, unexpected, and sure to please a crowd.
Ingredients:
1.5 parts Coconut Rum
2 parts Cranberry Juice
15. Malibu Mango
It doesn't get much more tropical than a Malibu Mango! You can shake it up or serve over ice. Either way, it's a wonderful cocktail for a hot summer day.
Ingredients:
1 part Malibu Rum
2 parts Mango Juice
16. Kombucha On A Beach
If you haven't tried Kombucha, it's a bubbly fermented tea that's filled with probiotics. Besides being good for you, it's also delicious.
Grab a tropical flavor (like Health-Ade Tropical Punch) and combine it with coconut rum for a fizzy, fruity, and unique cocktail. I know this one might sound strange -- but TRUST ME. It's so good.
Ingredients:
1 part Coconut Rum
3 parts Tropical Kombucha
17. Raspberry Coconut Cocktail
Raspberry purée is easy to make at home with frozen or fresh raspberries, water, and sugar if you like your drinks extra sweet. But you can also find pre-made raspberry purée at most supermarkets.
Even if you have to make it from scratch, this tart but sweet, beautiful dark pink drink would be 100% worth it!
Ingredients:
1 part Coconut Rum
3 parts Raspberry Purée
18. Ginger Coconut Rum Cocktail
Ginger beer and ginger ale both go so well with coconut rum, so feel free to use your favorite bubbly ginger beverage for this recipe.
The ginger beer/soda makes the cocktail spicy and fizzy, which balances out the sweetness of the coconut. It's a perfect drink if you're serving Thai curry!
Ingredients:
1 part Coconut Rum
2 parts Ginger Beer or Soda
19. Coconut Rum and Lemon-Lime Soda
Citrus and coconut were made to go together! This cocktail always pleases a crowd and is super refreshing on a hot day.
Ingredients:
1 part Coconut Rum
2 parts Lemon Lime Soda (like Sprite)
20. Easy Banana-Colada
This drink is a banana lover's dream! The coconut rum and sweetness of the banana make for a healthy, but still creamy and sweet, take on a Colada.
This recipe yields one serving and to make it, you just blend everything together with a cup of ice.
Ingredients:
3 ounces Coconut Rum
1 Medium Ripe Banana
Which of these coconut rum drinks speaks to you? I love a good Colada any time of year, so I'll be whipping up a batch of the Banana Colada on my next beach trip.
If you have a favorite 2-ingredient coconut rum or Malibu drink that wasn't included here, please let me know in the comment section below so I can try it out 🙂