If you love spicy drinks, Ancho Reyes Chile Liqueur is about to become your new favorite cocktail ingredient! From mezcal to whiskey to gin and beyond, Ancho Reyes pairs well with so many spirits and these cocktails are all packed with delicious smoky, spicy flavors!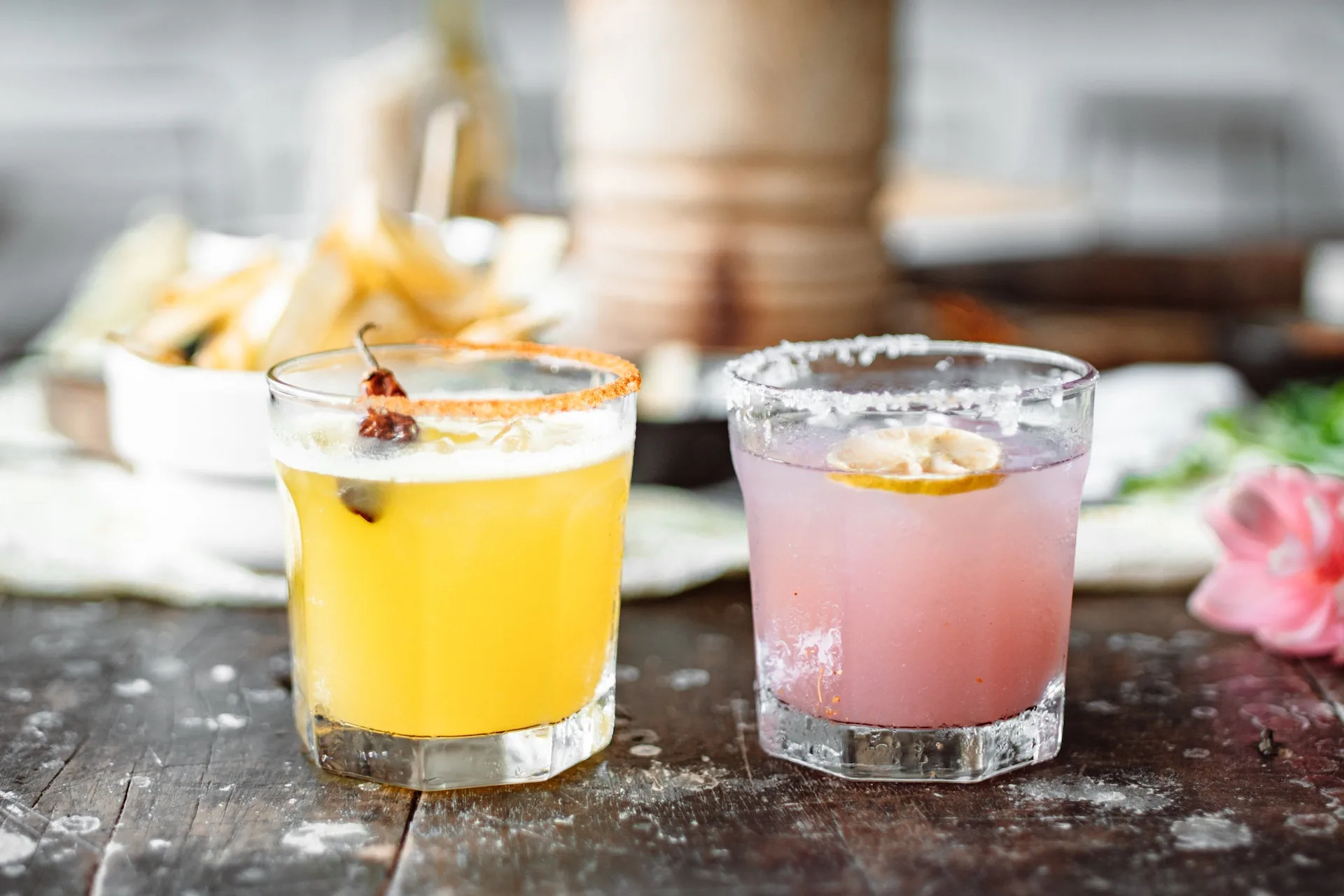 What Is Ancho Reyes Chile Liqueur?
Ancho Reyes Chile Liqueur is a hand-crafted liqueur made in Puebla, Mexico that launched in 2012. It comes in two varieties: Ancho Reyes Original (red) and Ancho Reyes Verde (green).
The original is made with late harvest poblano peppers, which are laid out to dry for several weeks until they become smoky, sun-dried ancho chilies. For the Verde, they use early harvested poblano peppers, which are green instead of red. They also fire roast a portion of the peppers to give the liqueur a bright, fresh flavor.
In both cases, the chilies are then macerated in a neutral cane spirit for six months before being hand-blended and bottled.
The recipe is based on a 1927 liqueur recipe from Puebla, and they still use techniques from the 1920s to make Ancho Reyes like growing, picking, slicing, and blending the chilies all by hand. It's a time consuming process, and it results in a truly artisanal and complex liqueur!
Both liqueurs are spicy and delicious, but today we're going to focus on cocktails made with the original Ancho Reyes.
What Does Ancho Reyes Taste Like?
The original Ancho Reyes liqueur pours a copper color, and immediately hits you with aromas of smoky dried ancho chilies, cinnamon, and dark chocolate. On the palate, you'll taste warm, sweet baking spices and smoky, spicy chilies. Since it's 40% ABV, there's also a nice boozy kick to it.
While it does have a good amount of heat, it also has a light sweetness and silky texture that balance out the spiciness of the chilies perfectly. I would say it's no spicier than Sriracha, so you don't have to worry about burning off your taste buds!
It's far more complex flavor-wise than most chile liqueurs you'll find on the market, which is what makes it such a fun cocktail ingredient.
What To Mix With Ancho Reyes
Ancho Reyes is wonderful in margaritas and palomas, but it can add great nuance and flavor to so many of your favorite cocktails! Below are some spirits and flavors that work great with Ancho Reyes.
Tequila
Mezcal
Whiskey
Citrus juice
Tropical fruit
Cucumber
Chocolate
Coffee
This is just to name a few, and Ancho Reyes is usually best in a recipe with multiple ingredients/flavors!
Where To Find Ancho Reyes
Ancho Reyes is distributed by the Campari group, so you should be able to find it at your local liquor store or Total Wine. It's about $37 for a 750ml bottle, so it's on the pricier side, but it's by far the best chile liqueur on the market so it's definitely worth it for the quality!
Substitutes For Ancho Reyes
It's tricky to find a good substitute for Ancho Reyes with the same spicy, smoky ancho chile flavor and subtle sweetness.
The closest alternative that's widely available is likely Giffard Piment D'Espelette, which is a chile liqueur from France with a similar spicy and sweet flavor profile. That said, it's by no means an ideal substitute since it uses a different type of pepper (Espelette) and contains Rhum Agricole.
Now with all of that covered, let's spice up your week with some Ancho Reyes cocktail recipes!
16 Best Ancho Reyes Cocktails
Who's feeling the heat!? I'm psyched to make the spicy frozen margarita this weekend because I'm feeling festive, but these all look beyond tasty.
Do you have a favorite Ancho Reyes cocktail that I didn't include here? If so, let me know in the comment section below so I can try it out!