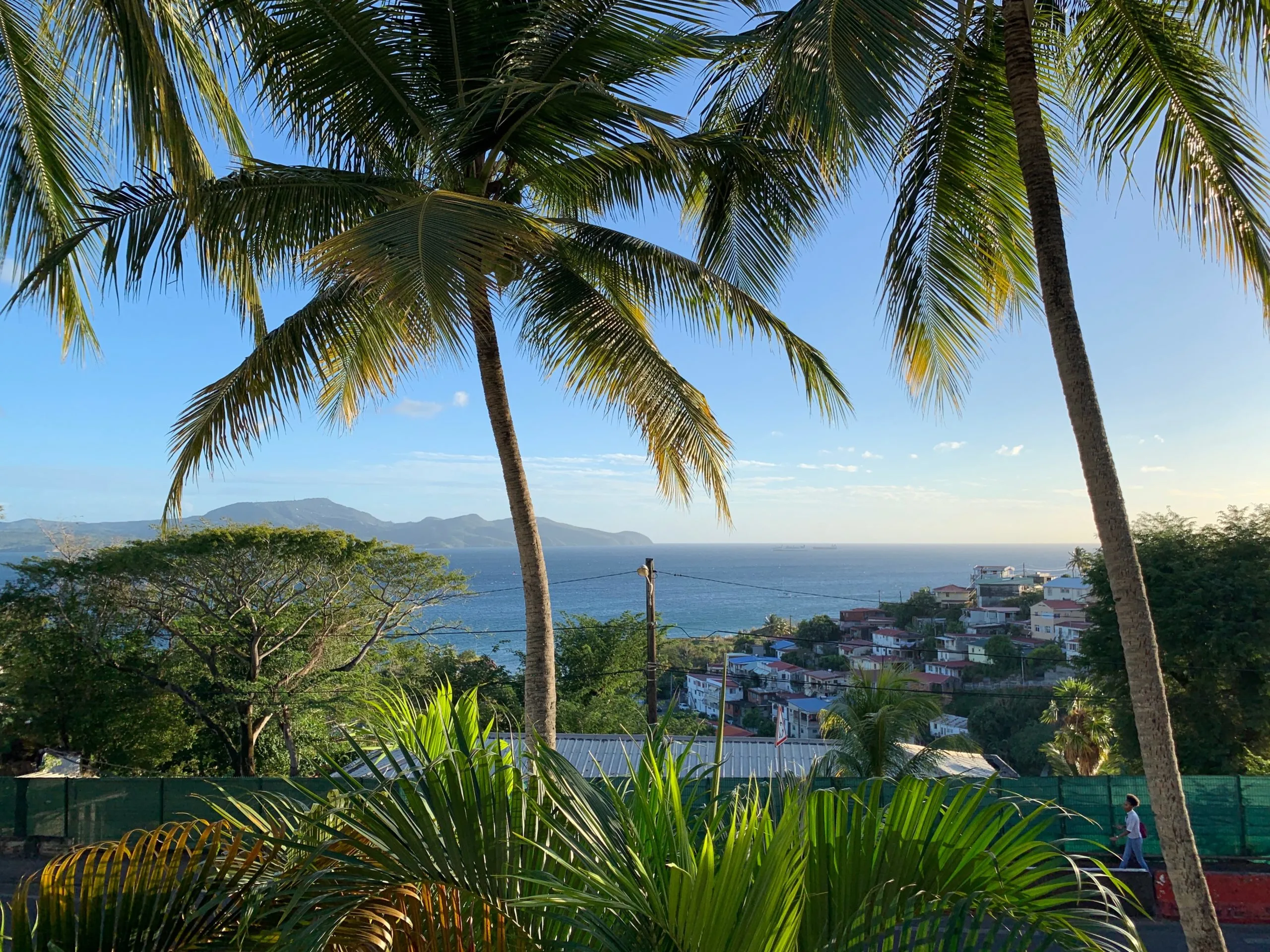 Welcome to day one of my perfect long weekend Itinerary in Martinique!
Martinique is hands down one of my favorite places I've ever been. The combination of French and Caribbean culture makes for some of the best food, scenery, and drinks you can imagine.
Though it isn't a touristy island, there are endless things to see and do and I spent a TON of time researching before heading over to figure out what I should prioritize over a 4 day trip.
In this research, I realized there were very few guides or blog posts in English on what to do in Martinique, so I really hope this makes planning the trip easier for the rest of you 🙂
To start, I would read my post on where to stay in Martinique so you can plan around where you'll be based. I would strongly suggest staying a few nights in a more central location and a few in the south, as it's the best way to see as much as you can of the island.
So with all of that said, let's get to the itinerary!
Day 1: Fort-de-France, Le Prêcheur, and Le Carbet
Explore the central and northern parts of Martinique the first day you're on the island. This day includes rainforests and jungles, beautiful gardens and flowers, delicious food, and a waterfall.
Fort-de-France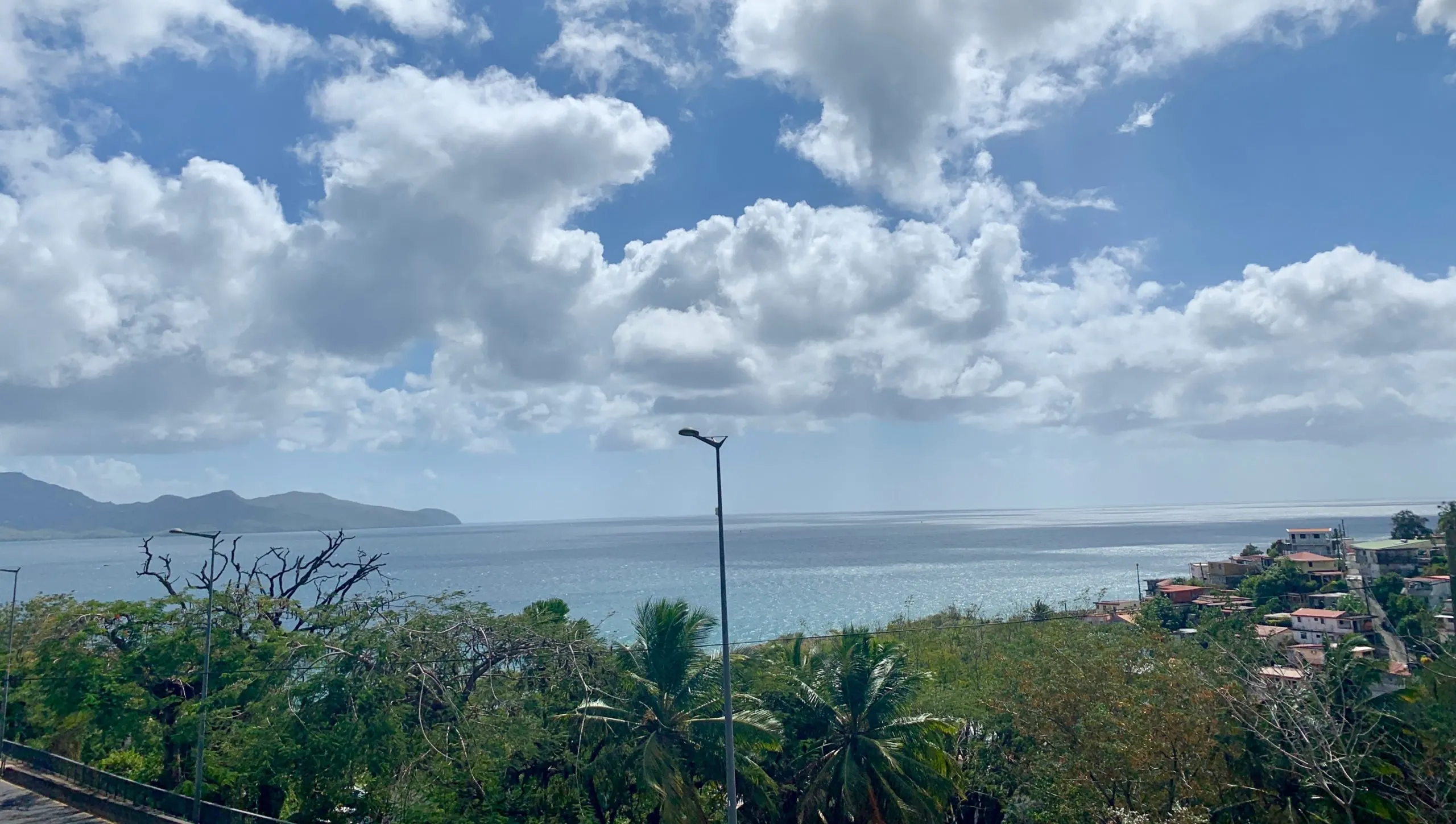 On your first day, drive into the city to le Grand Marché Couvert de Fort-de-France (Fort-de-France's Covered Market) to pick up a quick breakfast of conch or banana fritters, or a fresh bowl of fruit. You can find nearby street parking and it's totally worth it just to be able to walk around the main downtown area of Fort-de-France for a bit.
From there, take a 15 minute drive to the beautiful Jardin de Balata (Batala Gardens) a little bit north of the city.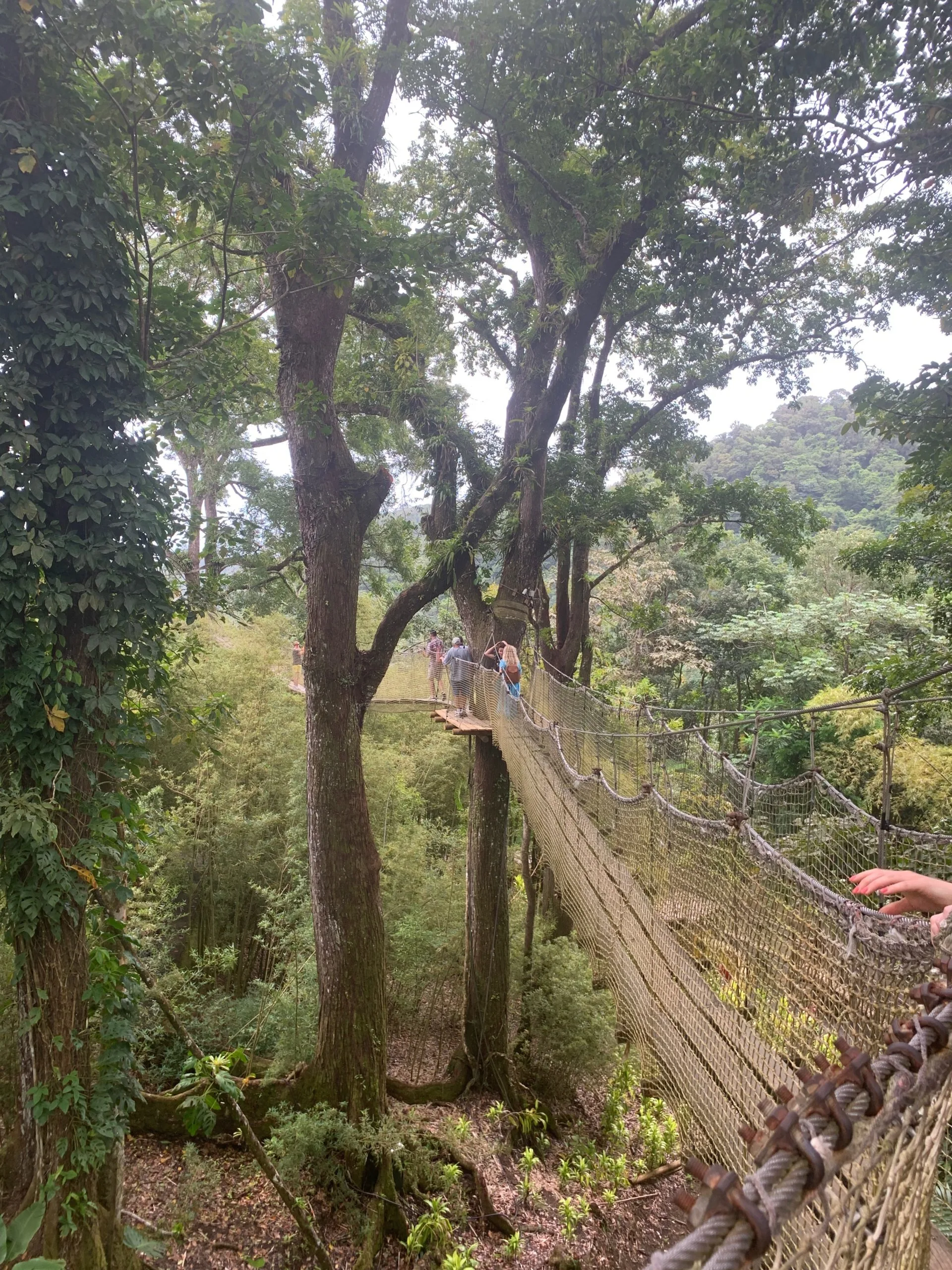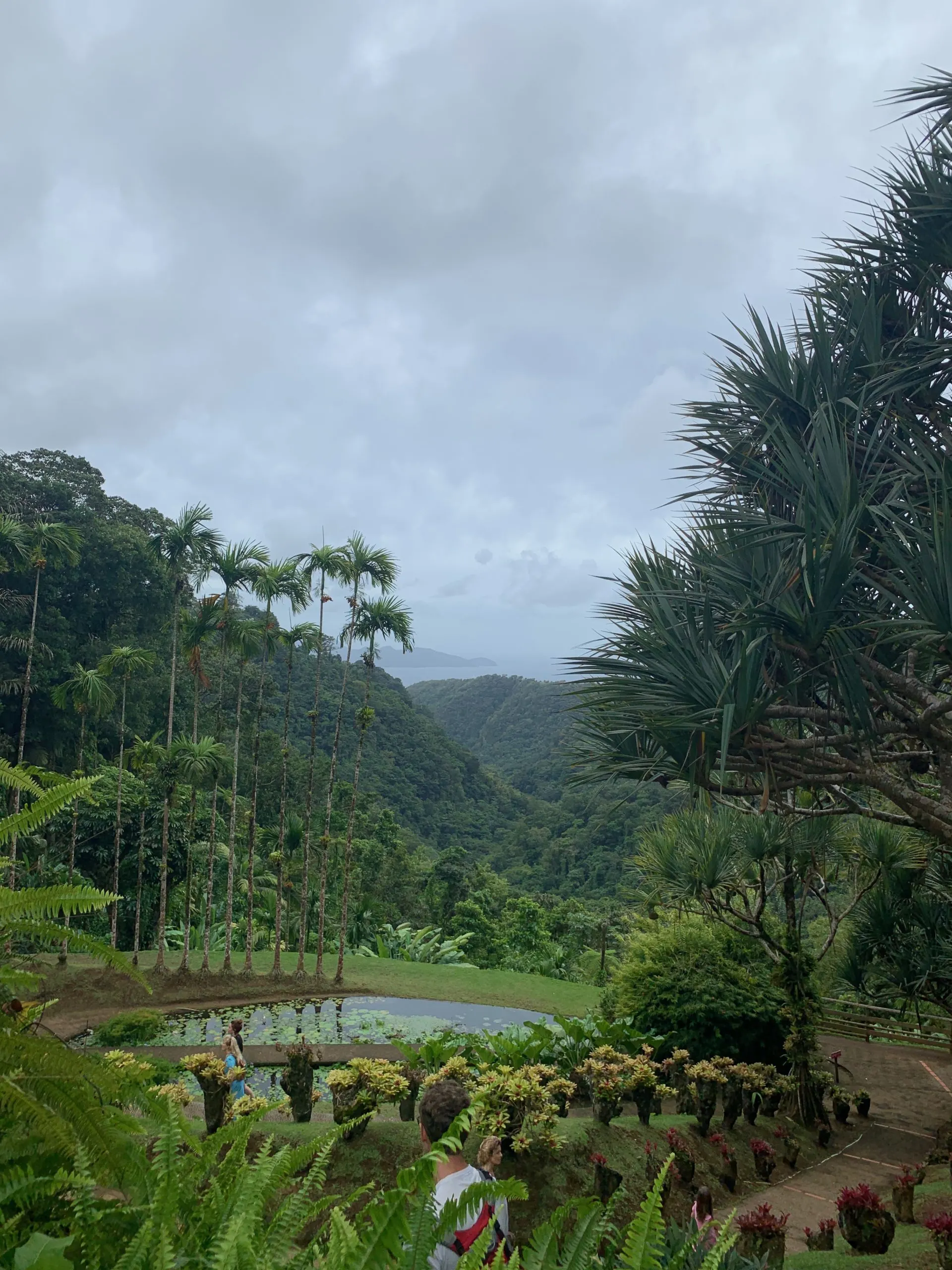 These botanical gardens nestled in the rainforest and surrounded by the impressive Carbet mountains are some of the most beautiful you'll ever see. (Martinique isn't called L'île des fleurs — the island of flowers — for no reason!)
The admission fee is about 13 euros per person, but it's worth every penny. Keep in mind you can't bring food into the gardens and it can be pretty packed during tourist season, so try to go earlier in the morning if you can to beat the crowds.
After seeing some incredible fauna and flora, why not spend a little bit more time in nature?
You would be remiss to go to Martinique without seeing at least one waterfall, but most of them require a long, difficult hike and are pretty far out of the way.
Cascade de la Ravine Baron (Ravine Baron Waterfall) is the perfect solution if you're short on time or don't want to spend half a day chasing waterfalls (sorry, had to), and it's just as stunning as the others.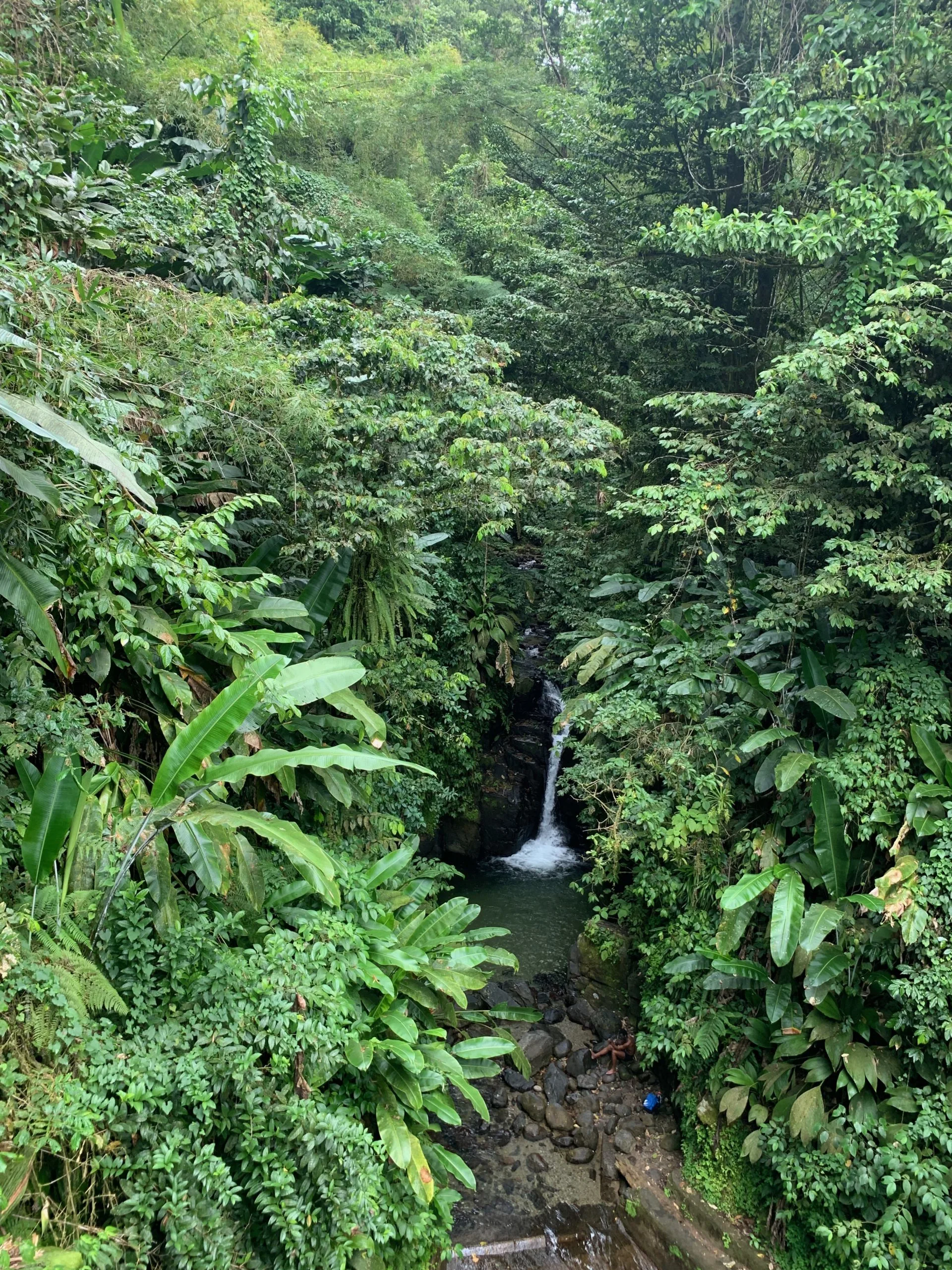 To get there, drive about a 100 meters past the Jardin de Balata. You'll quickly come to a fork on the left side of the road that winds downhill and see the sign "Absalon" (D60). Follow this road all the way downhill until you reach a small bridge, then drive over the bridge and park on the side of the road next to the small stone building. I know this sounds complicated, but it's super easy!
On foot, return to the bridge and you'll find a narrow staircase to your left that will take you directly to the waterfall.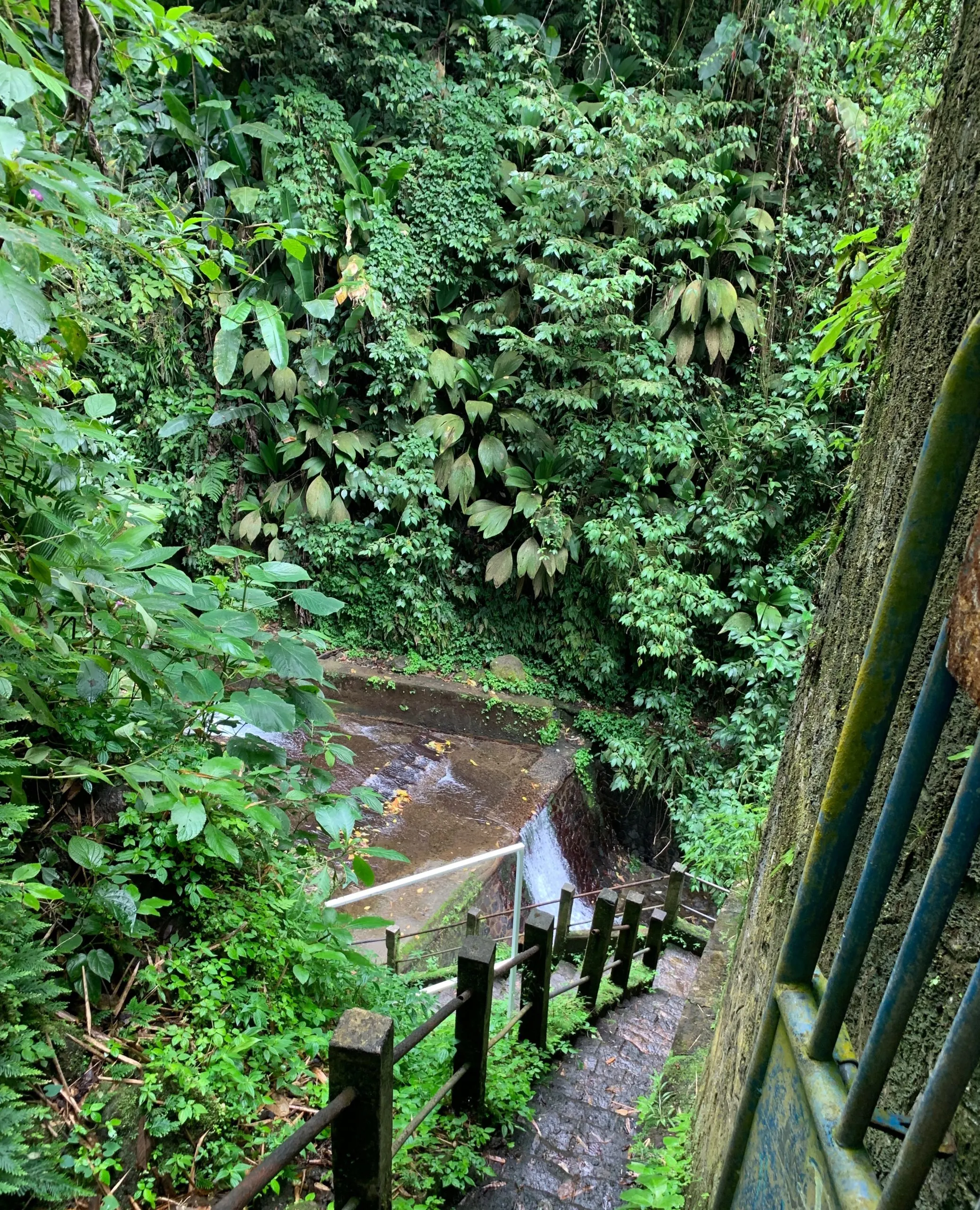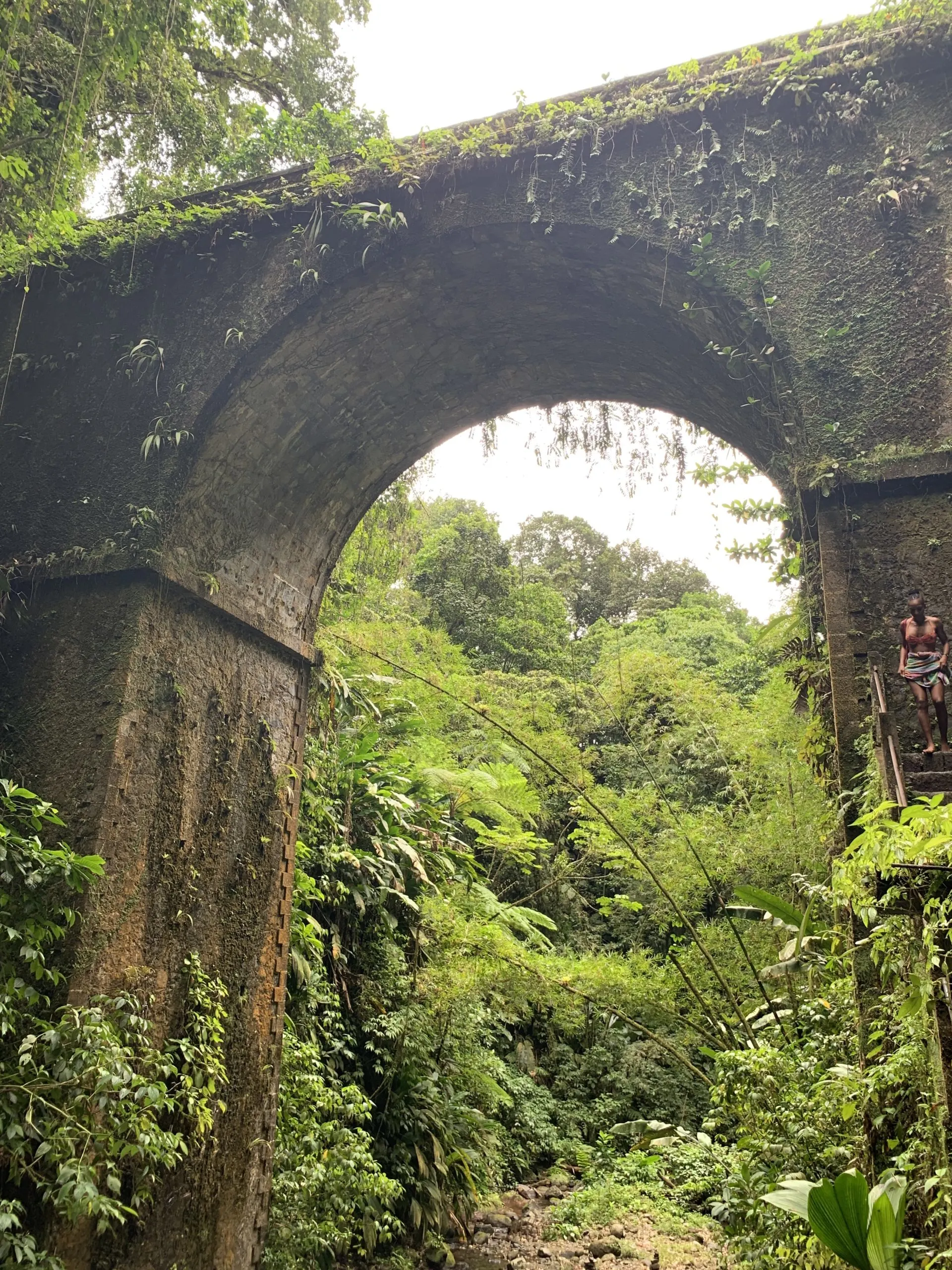 Bring a picnic from the covered market, take a quick dip, or soak it all in however you prefer. We wished we had more time here, because it was super isolated and in the middle of the rainforest, which was both gorgeous and really relaxing.
PS: You can either follow my above directions or put this address: Ancienne Station Spa D'absalon into your GPS, but we found it really simple to get to with the above directions.
Le Prêcheur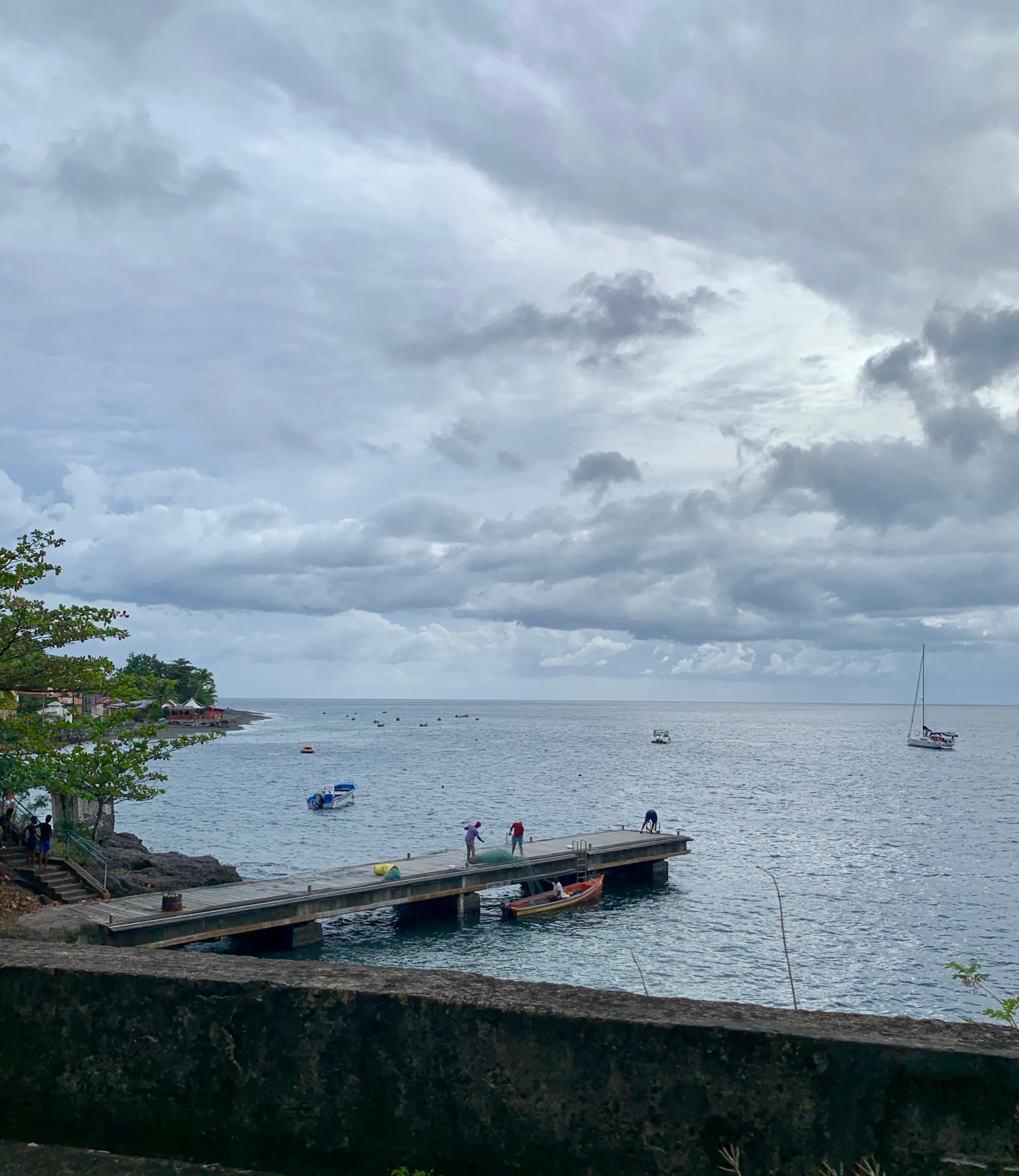 After a morning of walking around and exploring, you'll be ready to eat and drink all of the things!
Take the breathtaking drive on the N3 through the rainforest and jungle of Martinique to Le Prêcheur, a fishing village to the north of the island, for a gorgeous lunch surrounded by nature.
When you approach Le Prêcheur, you'll see the foggy but imposing Mount Pelée looming in the background. This active volcano wiped out the population of the previous capital (St. Pierre) in 1932 and has been dormant ever since.
You can hike up toward the top of Mount Pelée if you're willing to get up SUPER early in order to beat the fog, but we opted for a hike further South to avoid the risk of our view being impeded by clouds.
But back to my main point: lunch! Once you arrive in Le Prêcheur, you absolutely have to eat at Habitation Céron. This sugar refinery turned restaurant/biological reserve serves incredible dishes made with the freshest local ingredients alongside wonderful wine and cocktails.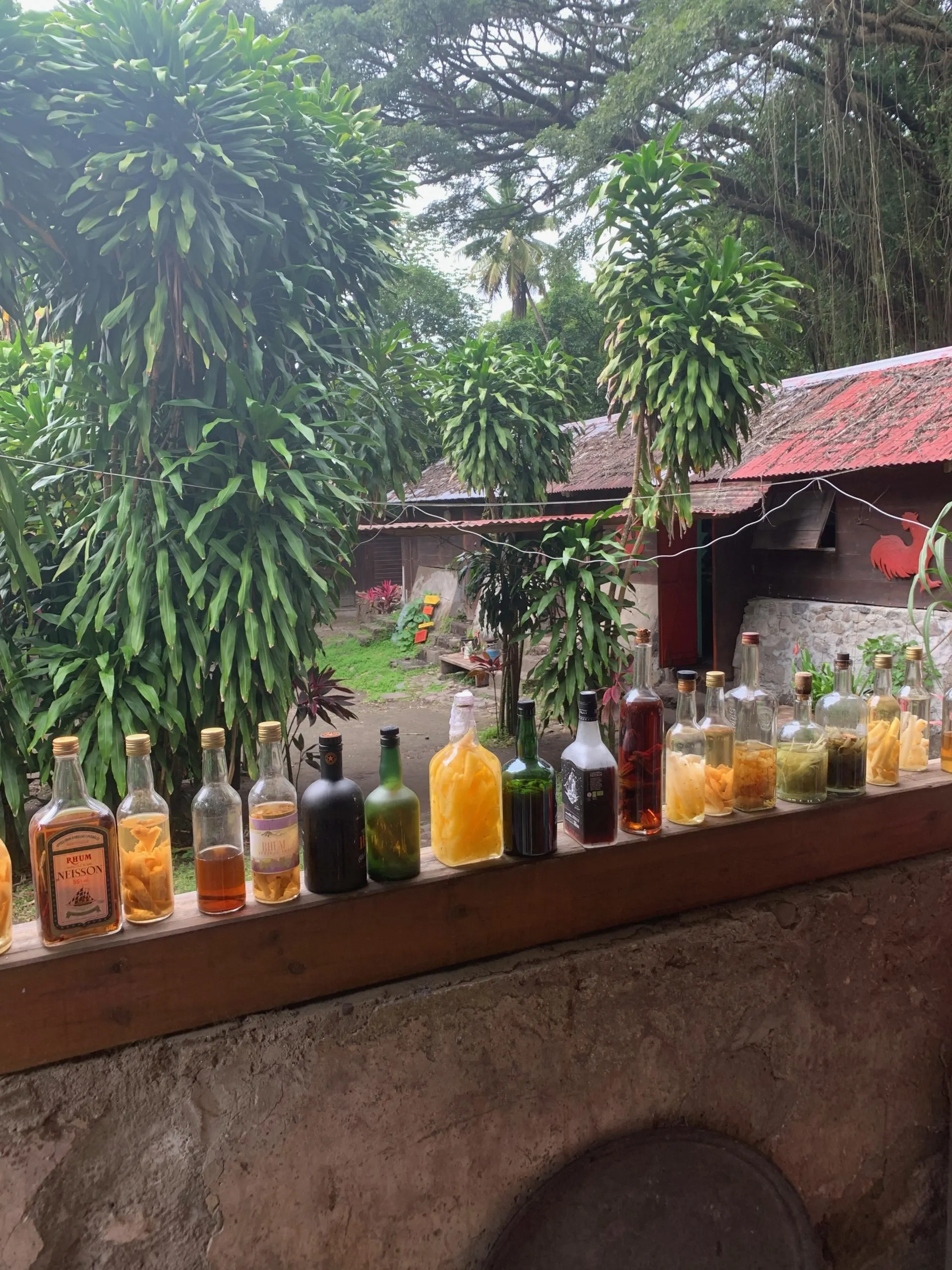 Their menu is consistently rotating based on what's in season. When we were there, I got sting ray in a buttery sauce topped with giant mint leaves — one of my favorite lunches to date.
The restaurant itself is outside on a patio next to their eclectically furnished bar, all of which is surrounded by tropical rainforest.
Once you've finished up lunch, pay the 8 euro fee to walk around the trails of the Habitation Céron estate. You'll find one of the most enchanting, gigantic trees you can imagine along with two acres of gorgeous scenery.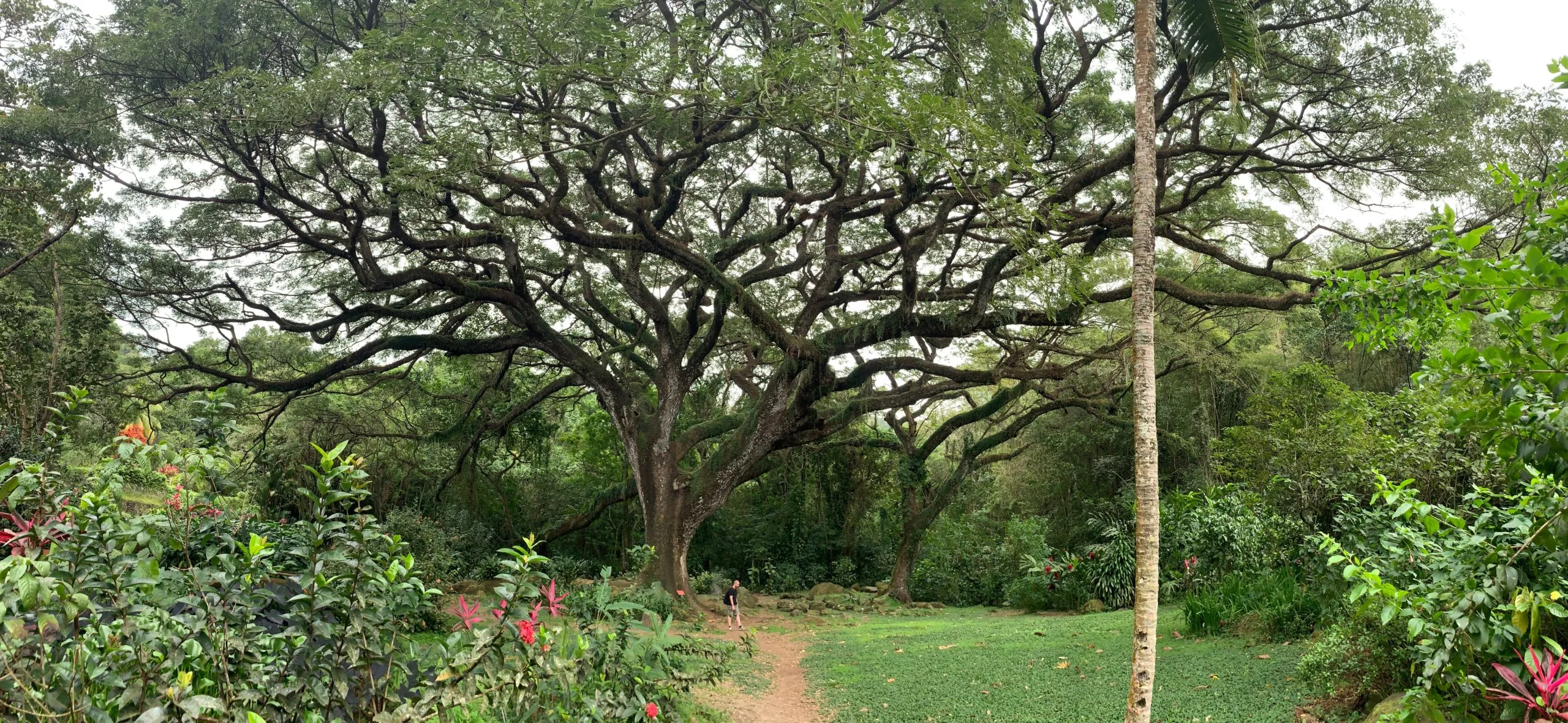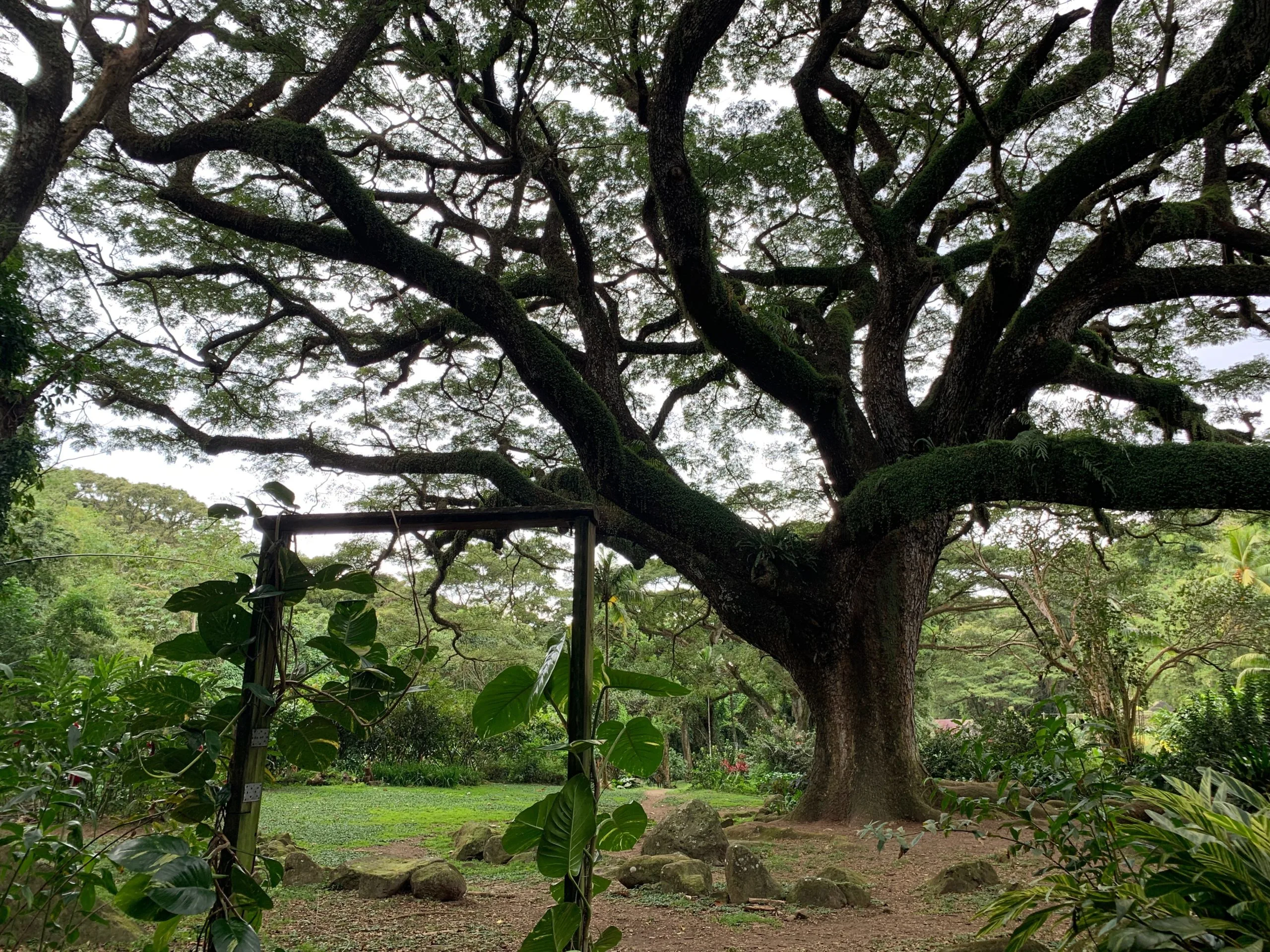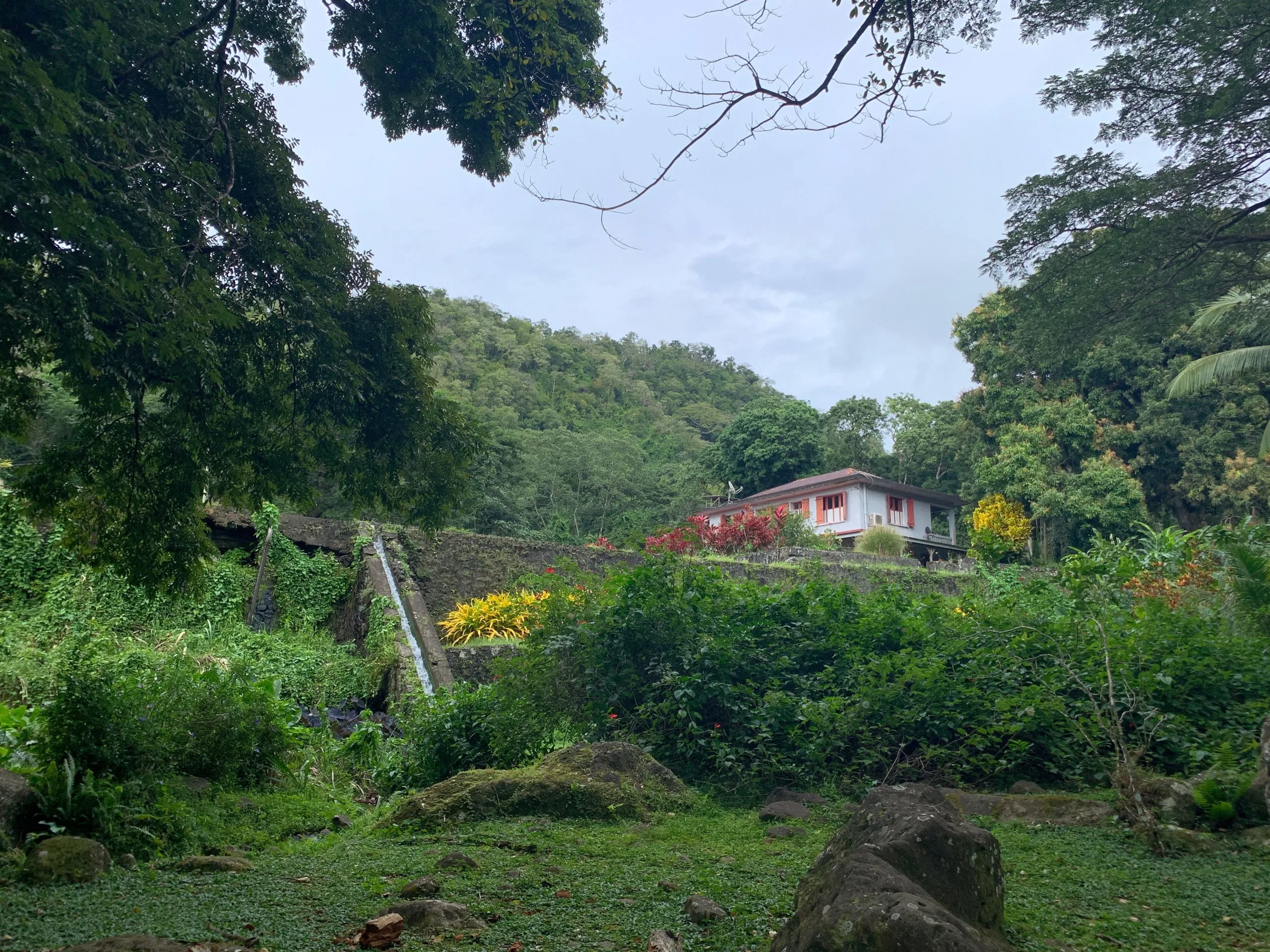 Le Carbet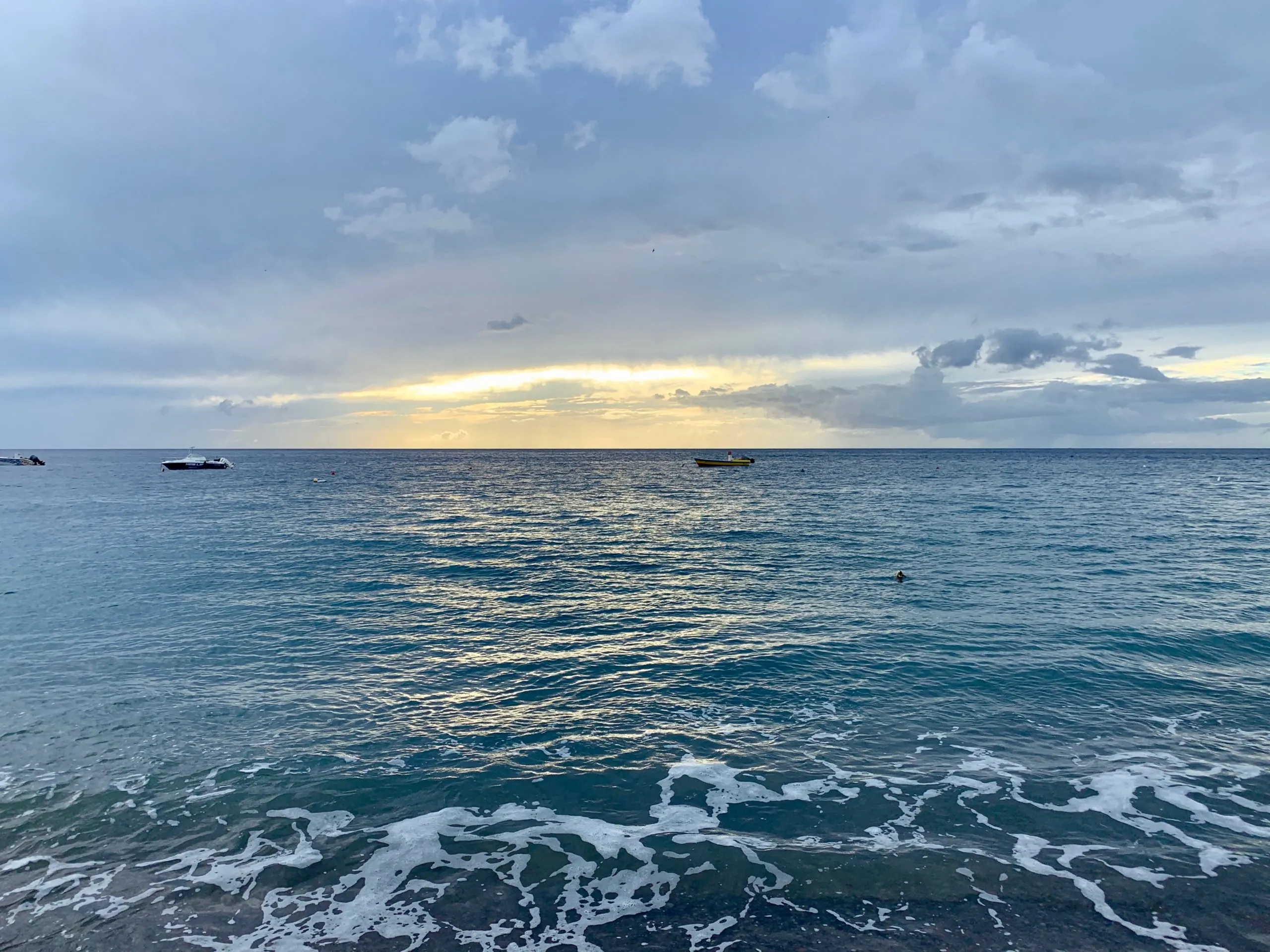 The day should be winding down at this point, which means more drink and food are on the horizon. Drive south toward Le Carbet and pop in any of the bars on the beach for a Planteur (rum and tropical juices) or a Pina Colada and dip your toes in the sand for the first time on the trip. It's also one of the best places to watch the sunset!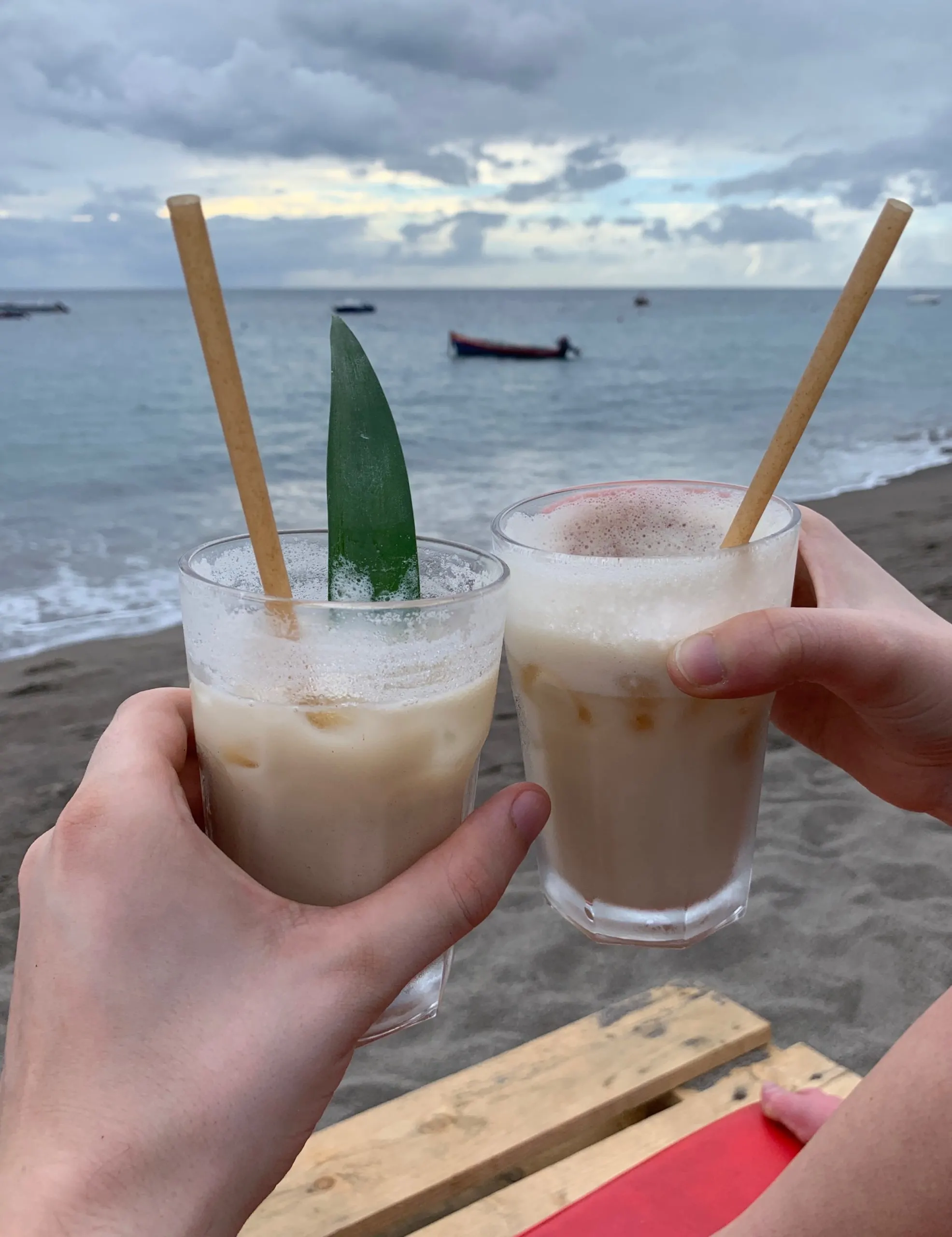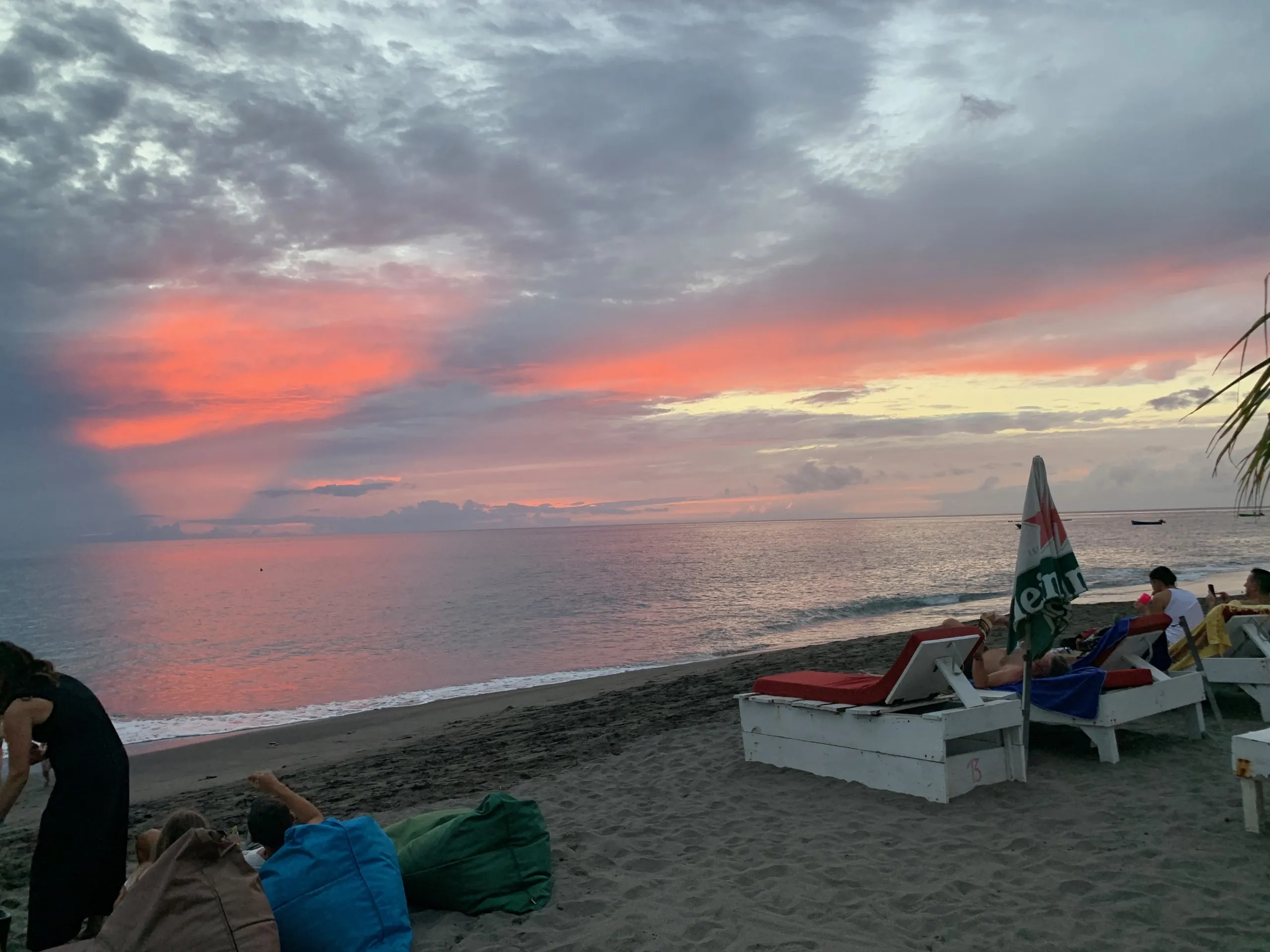 Another option if you still have enough time would be stopping in Distillerie Neisson, which is right in the heart of Le Carbet. They close at 5pm, but it's one of the smaller rum distilleries on the island and has a ton of charm and a super nice owner!
When you're ready for dinner, head over to a beachside restaurant called Le Petibonum. A TON of people recommended eating at this restaurant in Le Carbet, and for good reason.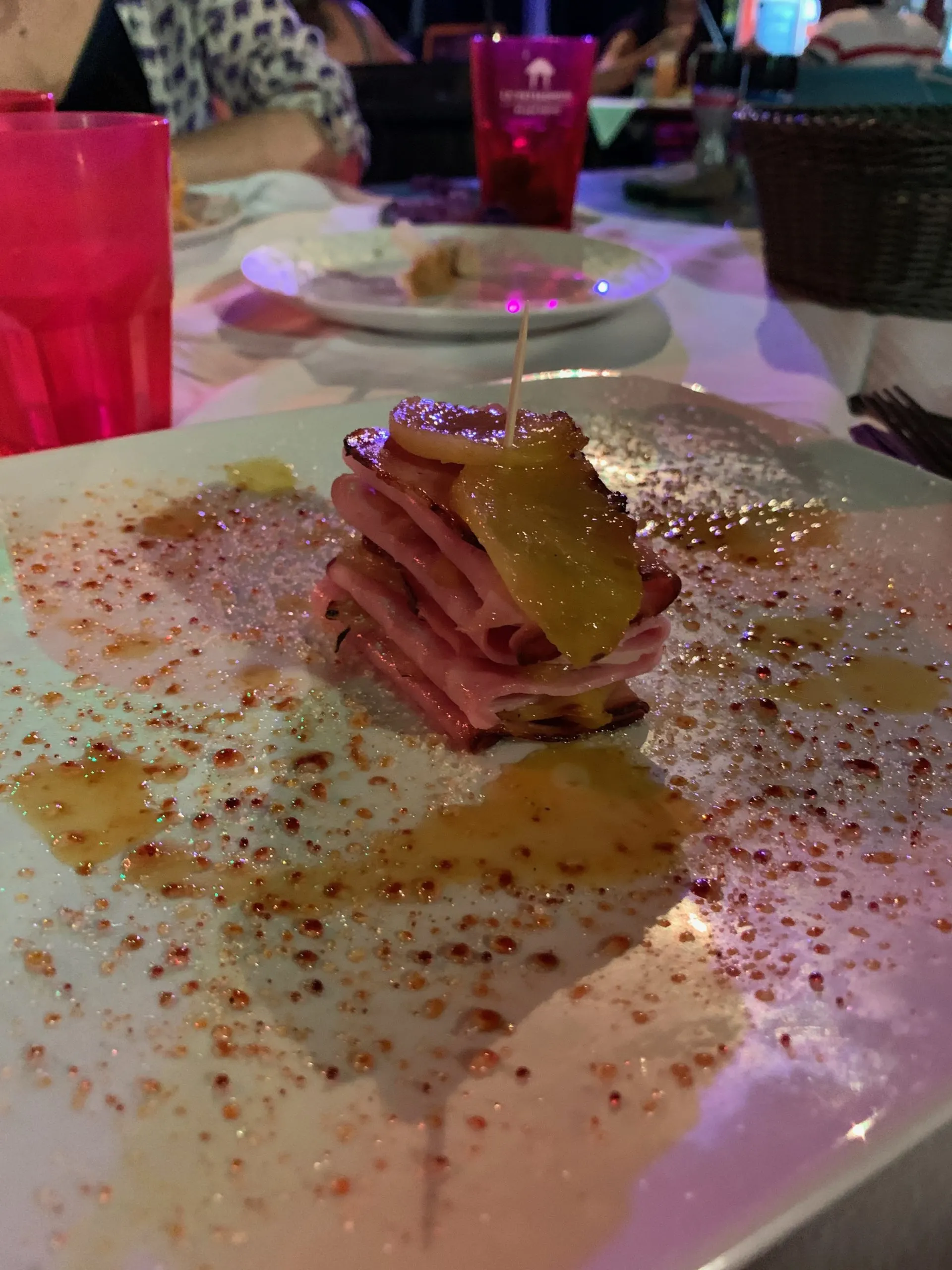 I would say it's a must if you're in Martinique for the quality of the food, the ambiance, and the staff. They also often have DJs/live music when it turns to evening time, so it's also a really fun place to hang out at the end of the day and late at night.
Day 1 Map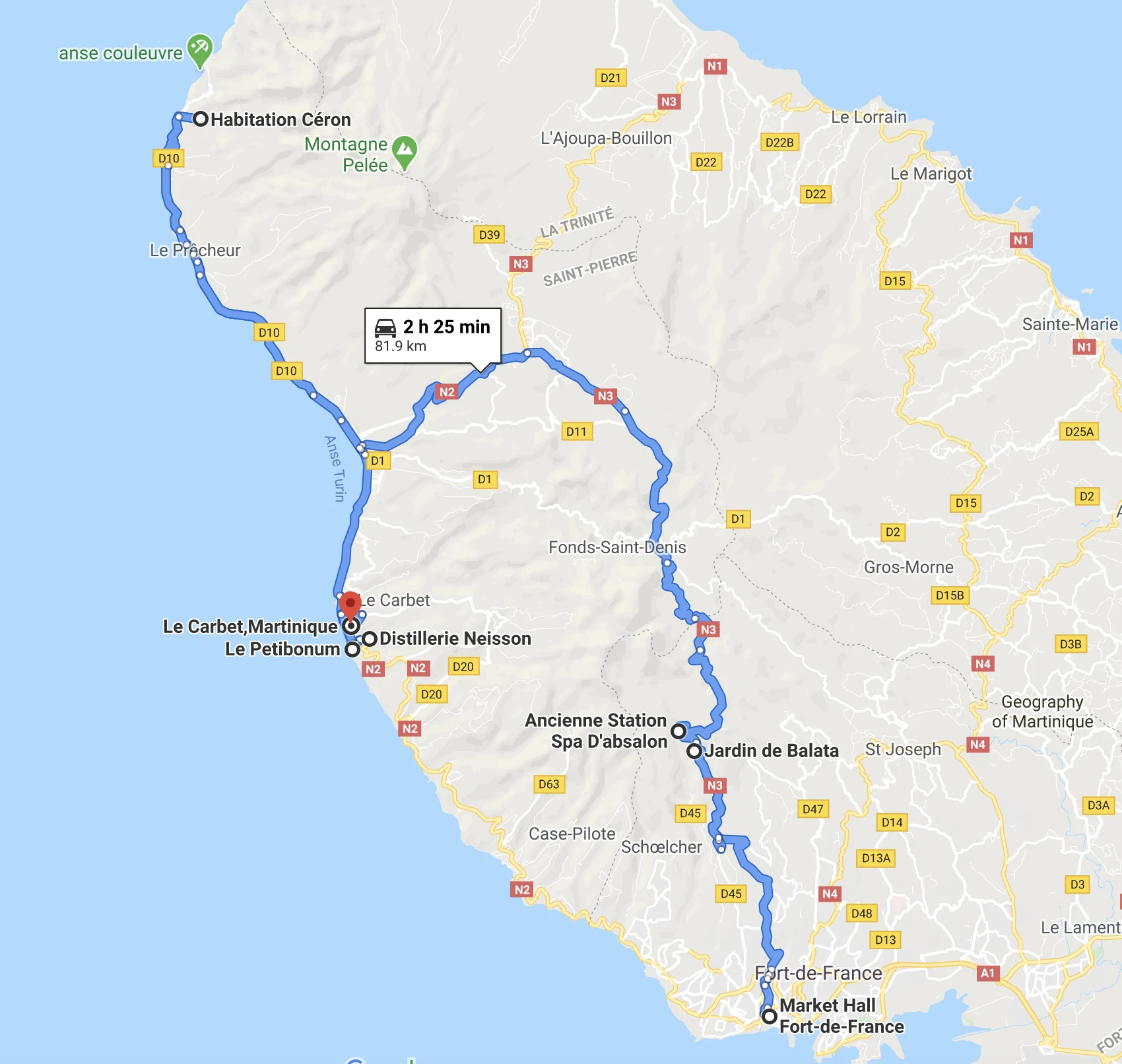 And there you have it! Day 1 is pretty jam-packed, but it's totally doable and you will have a blast.
---
Read Also: