This question comes up in my family every November: what wines really pair best with turkey?
This might be a hot take, but I believe people do Thanksgiving wine all wrong. Like… do you really want to be drinking a room-temp bottle of cab while you're eating piles of steaming hot potatoes and stuffing a hot turkey?
Whenever I'm sweating through my third plate of turkey and my grandpa passes me a glass of dry red wine from a box, I feel like I'm being presented with a true Catch 22. On the one hand: wine. On the other hand: I don't want a warm, heavy liquid contributing to the cinder block of warm, heavy food in my stomach.
If you've ever had a similar experience, take matters into your own hands this Thanksgiving! Bring a bottle of wine that provides refuge from the heat and weight of the bird and its accompaniments instead of compounding on it. Bring a bottle that makes you feel light and merry despite just eating your way through stuffing mountain.
Below are some of the best and most unique wines that go with turkey and Thanksgiving dinner in general. Unique because you likely haven't had or heard of most of these wines, and best because they will complement and cut through the myriad mounds of food on your plate.
No matter how you cook your turkey, these wines are going to be your best bet. I also added in reasonably priced bottle recommendations for each type of wine to make it extra easy on you this holiday season!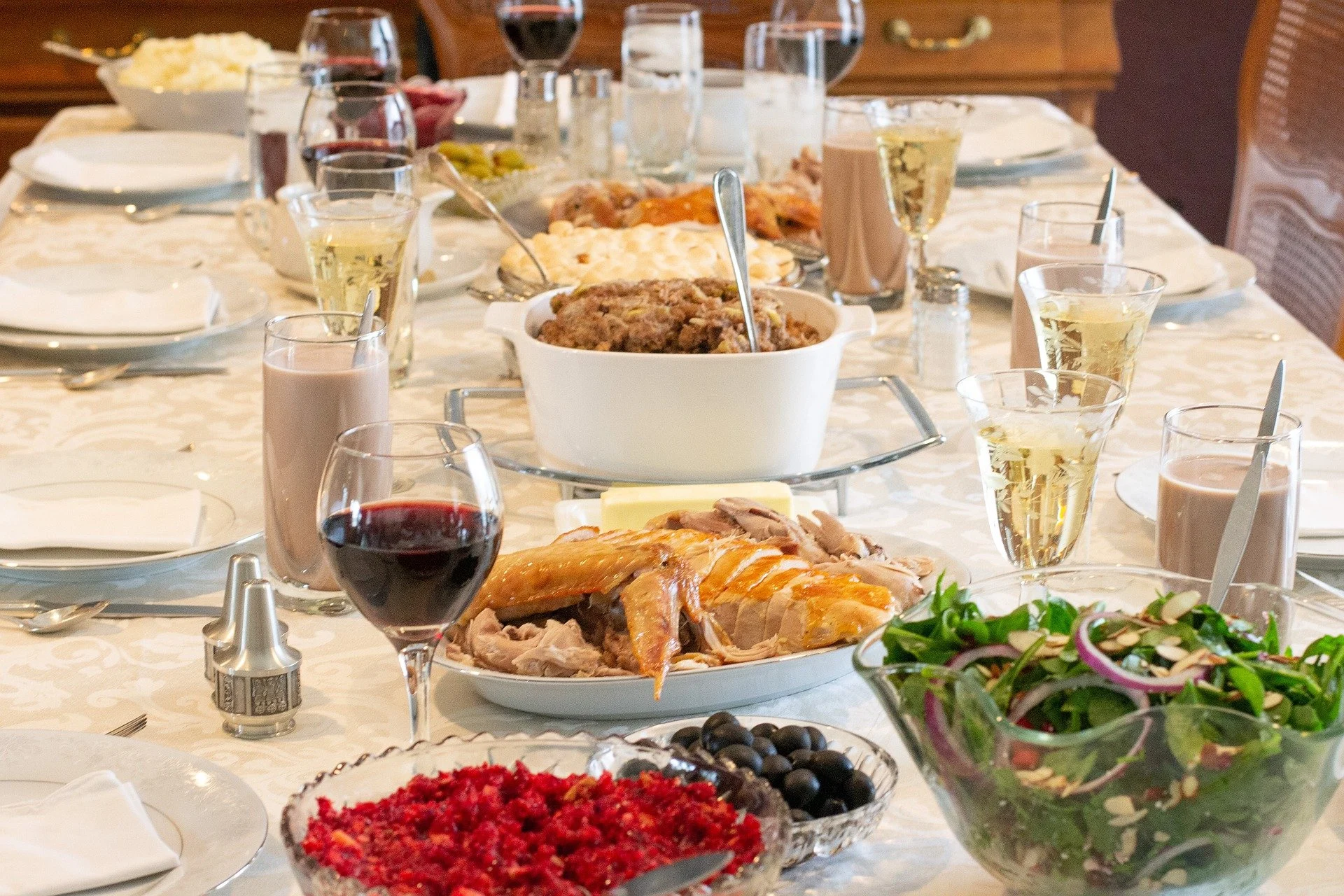 #1. Bugey Cerdon
A dark pink sparkling wine from the Savoie region of France that's slightly off-dry, perky, and incredibly crushable. This wine won't weigh you down and will complement every single component on a Thanksgiving plate, especially turkey.
Get a bite of everything and watch in amazement as this wine marries the flavors of cranberry relish with turkey, stuffing, and your gravy moat.
Due to the slight hint of sweetness, you could even have this wine with apple pie or whatever other fruity dessert your family serves during the holidays.
Personal recommendation: Patrick Bottex Bugey Cerdon Rose La Cueille ($25)
#2. Sparkling Shiraz
A beautiful deep purple, sparkling wine from Australia. Main characteristics are dark purple and black fruits, warm spices, bright acidity, and structured tannins.
This is one of the bolder wines on this list, so it's for those who are reluctant to give up their Cabernet Sauvignon.
It's the perfect weight for holiday meats and gravy, yet light enough on the palate to complement the more delicate dishes like cranberry sauce or a vegetable casserole.
Personal recommendation: The Chook Sparkling Shiraz ($15)
#3. Brachetto d'Acqui
Brachetto d'Acqui comes from the Piedmont region of Italy, and though lesser known, it's one of the most fun wines produced in the region.
It's a lightly effervescent red wine on the sweeter side of the spectrum that's filled with red fruits and is super refreshing. It's considered "frizzante", so it's not quite as bubbly as a Champagne, but it still has a nice spritz-y texture to it.
It's wonderful with turkey, but you can also drink it as an aperitif or with dessert.
Personal recommendation: S Orsola Brachetto D'Acqui ($15)
#4. Châteauneuf du Pape Blanc
Instead of a red Châteauneuf du Pape, why not grab an equally delicious but lesser-known Châteauneuf du Pape blanc?
These wines have a round texture, a beautiful bouquet of flowers and orange fruits, and a distinctive freshness, all of which will complement the many elements on a Thanksgiving plate.
And if Châteauneuf is too rich for your blood, just grab any white Côtes du Rhône for a less expensive but very similar experience.
Personal recommendation: Clos St Michel Chateauneuf-Du-Pape Blanc, 2018 ($41)
#5. Vin Gris
These golden, light pink, or sometimes salmon colored wines are called "vin gris" — or "grey wine" — but they taste essentially the same as rosé.
Vin gris is made with the juice of red grapes, but the grapes spend almost no time in contact with the skin. Since the skin of red grapes gives rosé its color, vin gris is considerably lighter in hue.
I suggest picking up a Vin Gris made with Gamay, Pinot Noir, or Grenache. These wines are beautifully bright, juicy, and refreshing. They'll complement the tart cranberry sauce while cutting right through the heavier items on the buffet like cheesy casseroles or turkey with gravy.
Personal recommendation: Dune Gris de Gris ($11)
#6. Crémant d'Alsace Rosé
Crémant d'Alsace is just what the French call sparkling wines from Alsace. These wines can be pink or white, but I suggest choosing a rosé since they're a bit more festive.
These wines are made with 100% Pinot Noir, so they're powerful and dry in taste, but light in texture and won't be overly filling.
They're FANTASTIC food wines, with bright red berries in the bouquet and an impressive structure. These are produced in Northern France, so they're basically made to accompany hefty, warm meals and chilly weather.
Personal recommendation: Anne De K Cremant Brut Rose ($22)
#7. Sylvaner
Sylvaner is one of the lesser-known grapes from Germany, Austria, Switzerland, and Alsace. It's a perfect Thanksgiving wine for those of you who love Riesling and are looking for something a little bit different this year.
Some people consider Sylvaner a summer-y wine because it's so delicate and crushable, but to me, the golden hue and balance between rich and delicate flavors make this a festive, year-round wine.
Sylvaner has a rich, fruity taste, tingling acidity, and often a bit of residual sugar, which will pair perfectly with a starter salad as well as any type of turkey. Be it smoked, fried, or baked.
Personal recommendation: Alpine Roots Johannisberg AOC Valais ($25)
#8. Vouvray
Vouvray is a wine from the Loire Valley region of France made with the Chenin Blanc grape. It's a real crowd pleaser at all occasions because it's delicious and mega versatile.
These wines are full to medium bodied, with holiday spices like honey, nuts, fig, and ginger, and orange-colored fruits. They have a perky acidity and often a light sweetness that will complement cranberry sauce or sweet potato casserole, as well as provide a contrast to heftier dishes like mac and cheese or honey ham.
For Thanksgiving, I suggest picking up a demi-sec (aka: off-dry & slightly sweet) Vouvray. These will have more of a brightness from the residual sugar that will make all of your favorite dishes pop.
Personal recommendation: Clos Chapon Vouvray Demi Sec ($15)
#9. Sémillon
It's not always easy to find a wine made with 100% Sémillon, but I promise it's worth the search! Sémillon is a grape varietal that originated in France and has migrated over to the USA, South Africa, and Australia. It's the primary grape used to make Sauternes — a sweet wine from Bordeaux — but there's plenty of dry Sémillon on the market nowadays.
This grape often makes light, delicate wines that are lower in ABV and won't contribute to the uncomfortable fullness you're feeling by plate number four. You can drink several glasses with the meal and still feel like your buoyant, festive self.
Sémillon can also be a little bit more robust. If that's what you're looking for, I would suggest a bottle from South Africa, which tend to be full-bodied with a gorgeous deep golden color. Whether you opt for something lighter or fuller, the silky texture and racy tang will cut through the salty turkey wonderfully.
Personal recommendation: The Bunkhouse Semillon ($20)
#10. Late-harvest Pinot Gris
Another wonderful alternative to a sweet Riesling!
Late harvest wines are sweeter because the grapes have had more time to ripen and, as a result, develop more residual sugar.
Late-harvest Pinot Gris is nutty, sweet, and fruity with a bright acidity that keeps it from being overly sugary or cloying. It's also super versatile: you can serve it with pie, turkey, cheese plates, and all of your favorite casseroles.
Personal recommendation: Anne De K Pinot Gris Late Harvest ($23)
---
These bottles will range in cost and availability, but if you go to a Total Wine or a bigger local wine shop near you, you should be able to find any of these at a decent price.
And — as an obvious side note — I am partial to French wines, but it's for a good reason! French wines are intended to go with food and are delicious and deserve thanks.
Ultimately, these wines go perfectly with turkey of any type and will impress your friends and family. They won't let you down or weigh you down.
Bring one of these wines to Thanksgiving, and you can be sure everyone in the room will be throwing up their arms in thanks. To you. Bearer of the good wine.
May you all have a wonderful, wine-filled turkey day!
---
Read Also: