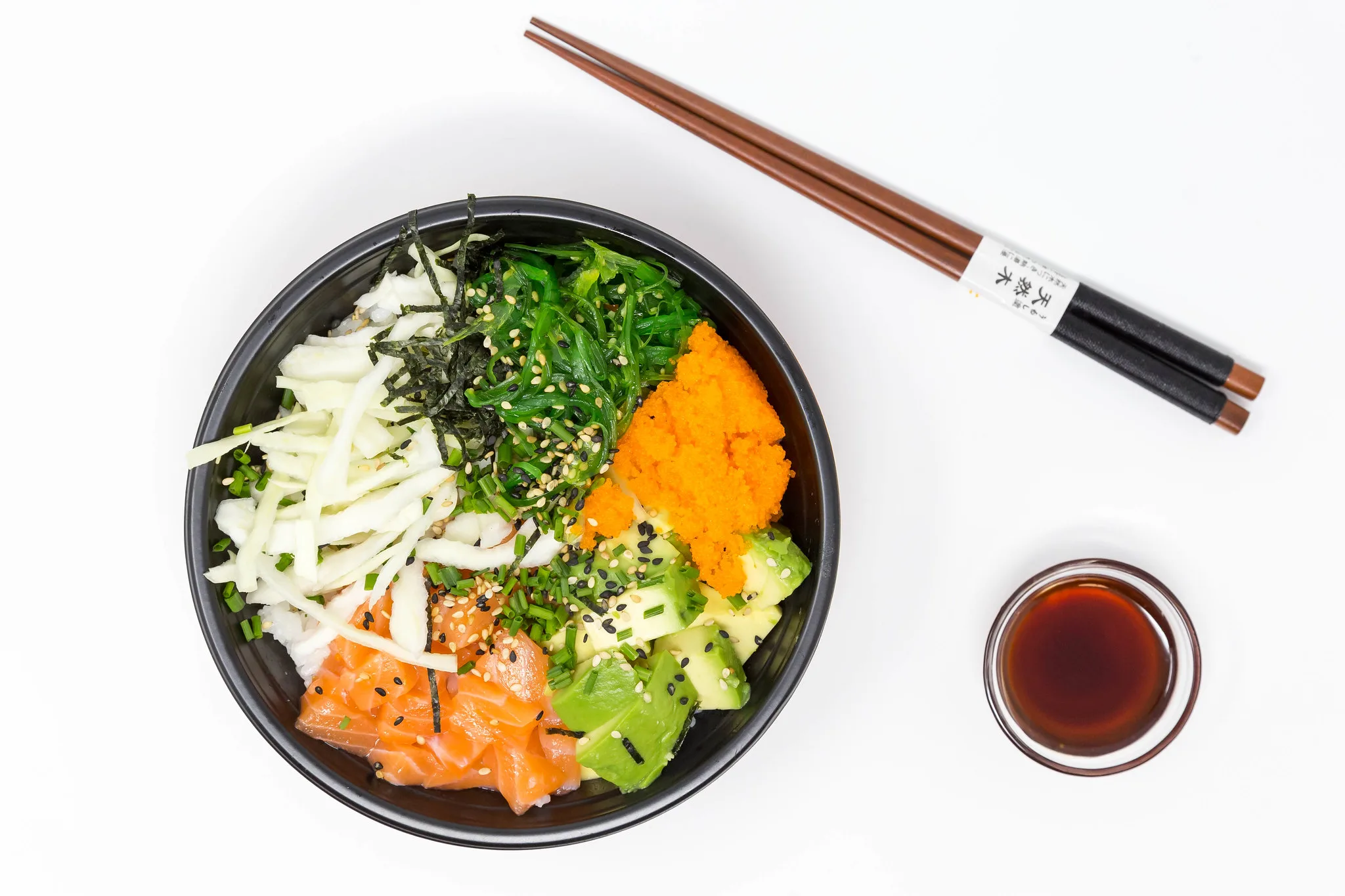 Poke has officially established itself in all our cities and small towns, so I think it's about time we find out the best wines to pair with this delicious bowl of fast-casual goodness.
Poke originated in Hawaii, and the mainland version of it definitely diverges from traditional Hawaiian poke. In Hawaii, they want to make the fish shine in the dish and don't load it up with tons of toppings. In the States though, the toppings are as important — if not more important — to the concept.
Regardless of how you feel about these differences, it's very true that the mainland's "interpretation" of poke is much more difficult to pair with wine due to the vast number of potential toppings.
Fish and rice is easy, but fish, rice, ponzu fresh sauce, wasabi, ginger, mango, orange, red tobiko, wasabi tobiko, kale, rice puffs, garlic crisps, sweet onion, pickled onion… it's just a whole lot of conflicting flavors that are going to be difficult to pair with a wine.
I'm going to avoid the wines that are almost always paired with raw fish dishes, such as Champagne, red Burgundy, and Reisling, to give you some original, fun options.
So, keeping in mind the variety of random ingredients that's put into these bowls, here are 5 unique and delicious wines to try with your next poke bowl with pairing suggestions.
5 Unique Wines That Pair Perfectly with Poke Bowls
1. Metodo Classico
Coming from Northern Italy, Metodo Classico is essentially the Italian version of Champagne. It uses the same grueling production methods as the Champagne region, and much like its French counterpart, is excellent with raw fish.
The main grapes used in these wines are Chardonnay and Pinot Nero, and they have a similar taste profile to Champagne — rich and yeasty with fine, tiny bubbles.
Trento DOC is the most popular appellation producing Metodo Classico, but production of this type of wine has definitely been expanding over the years and it's possible to find if you're willing to do a little searching.
I would suggest picking out a bottle labeled "brut" (low residual sugar) or "brut nature" (no residual sugar), as both allow for the minerality of the wine to shine through and will pair well with briny fish and twangy toppings.
Pairing suggestion: Salmon, tuna, avocado, orange slices, masago, nori
2. Symphony Hawaiian White Wine
If I'm being 100% honest, I've not tried Hawaiian wine myself. It's very difficult to find and distribution outside of Hawaii is minimal. Not only that, but Hawaii only has 3 wineries.
Regardless, I think it's important to have a Hawaiian wine on here since it's where poke originates. 9/10 times, the best wine/food pairings come from places that share a terroir (aka the natural environment of a place, including climate, soil, and culture.)
The main varietal in Hawaiian wines is the Symphony grape, which is a hybrid of Muscat of Alexandria and Grenache Gris. It produces a fruity, slightly sweet white wine.
If you are lucky enough to get your hands on a bottle of Hawaiian wine, I would suggest buying one with the Symphony grape. The tropical fruit flavors and hint of sweetness would combine wonderfully with oranges, mangos, and citrusy dressing while providing a beautiful contrast to the salty, spicy elements in the bowl.
If I had to make a specific suggestion, I'd go with a wine produced by Volcano Winery named "Symphony Mele" that won gold at the 2004 Finger Lakes International Wine Competition.
Pairing suggestion: Ahi tuna, pineapple, mango, cucumber, seaweed salad, sesame seeds
3. Crément d'Alsace
Some of my favorite sparkling wines in the world! A crément is another word for a sparkling wine that's made in the Champagne method, but isn't from the region of Champagne.
In Alsace, créments can be made with Pinot Blanc, Pinot Gris, Pinot Noir, Riesling, Auxerrois, and Chardonnay.
Alsace also produces crément rosés from only Pinot Noir, which are a beautiful shade of orange-y pink and pair incredibly well with poke bowls. The crisp, fine bubbles of the wine cut through the meaty texture of raw fish, while the notes of red fruits compliment the sweeter, fruitier aspects of bowl.
Pairing suggestion: Scallop, shrimp, orange slices, macadamia nuts, avocado, sweet onion
4. Vouvray
Sparkling or still, Vouvray is a fantastic option for poke bowls.
Vouvray is a wine appellation from the Loire valley, located in Central-Western France, that produces white wines made of 100% Chenin Blanc.
These wines range from dry to sweet, and pair fantastically with seafood. I'd opt for a dry (sec) Vouvray, as they tend to have a higher minerality that would nicely pair with the salinity of the fish, fish eggs, and nori.
These wines aren't as bracing as some wines from the Loire valley region, such as Sancerre or Chablis, and they have a rounder texture that will contrast well with the acidic elements of poke.
Pairing suggestion: Spicy tuna, orange slices, carrot, nori, spicy furikake
5. Counoise
Counoise is a red grape with high acidity that's best known for being a blending grape in wines from Châteauneuf du Pape. That said, it's also grown stateside in California and Washington, and it's more than possible to get your hands on a bottle at your local Total Wine.
This varietal has a lower ABV than most reds and makes fantastic rosés and blends, but it's also lovely as a single varietal wine.
Counoise is similar to Gamay in that it's light, fruity, aromatic, and acidic, and it will go perfectly with a poke bowl that contains smoked or cooked fish.
Pairing suggestion: Smoked salmon, crab, edamame, masago, garlic crisps
---
Next time you head out to get a poke bowl, I hope this inspired you to run by your local wine shop and pick out a special bottle of any of these delicious wines! And if you have any unique wines that you think pair particularly well with poke bowls, let me know in the comment section below.
---
Read also: