Day 4: Trois Rivières, Les Anses d'Arlêt, & Fort-de-France
On your last day, drive back up the coast of the island and stop at Trois Rivières and Les Anses d'Arlêt for some rum and a few more gorgeous beaches.
Trois Rivières
Trois Rivières is both the name of a small village in Martinique and a rum distillery. Since it's right on your way to Les Anse d'Arles, stop by and try some of their incredible rums for free. If rum isn't your thing, they also have flavored alcoholic shrubs that are fantastic.
Les Anses d'Arlêt
This area is located about 30 minutes past Le Diamant on the southern peninsula of the island. It's really a chain of villages, all of which have beautiful, unique beaches. I would personally suggest hanging out at one of the following:
1. Plage Anses d'Arlêt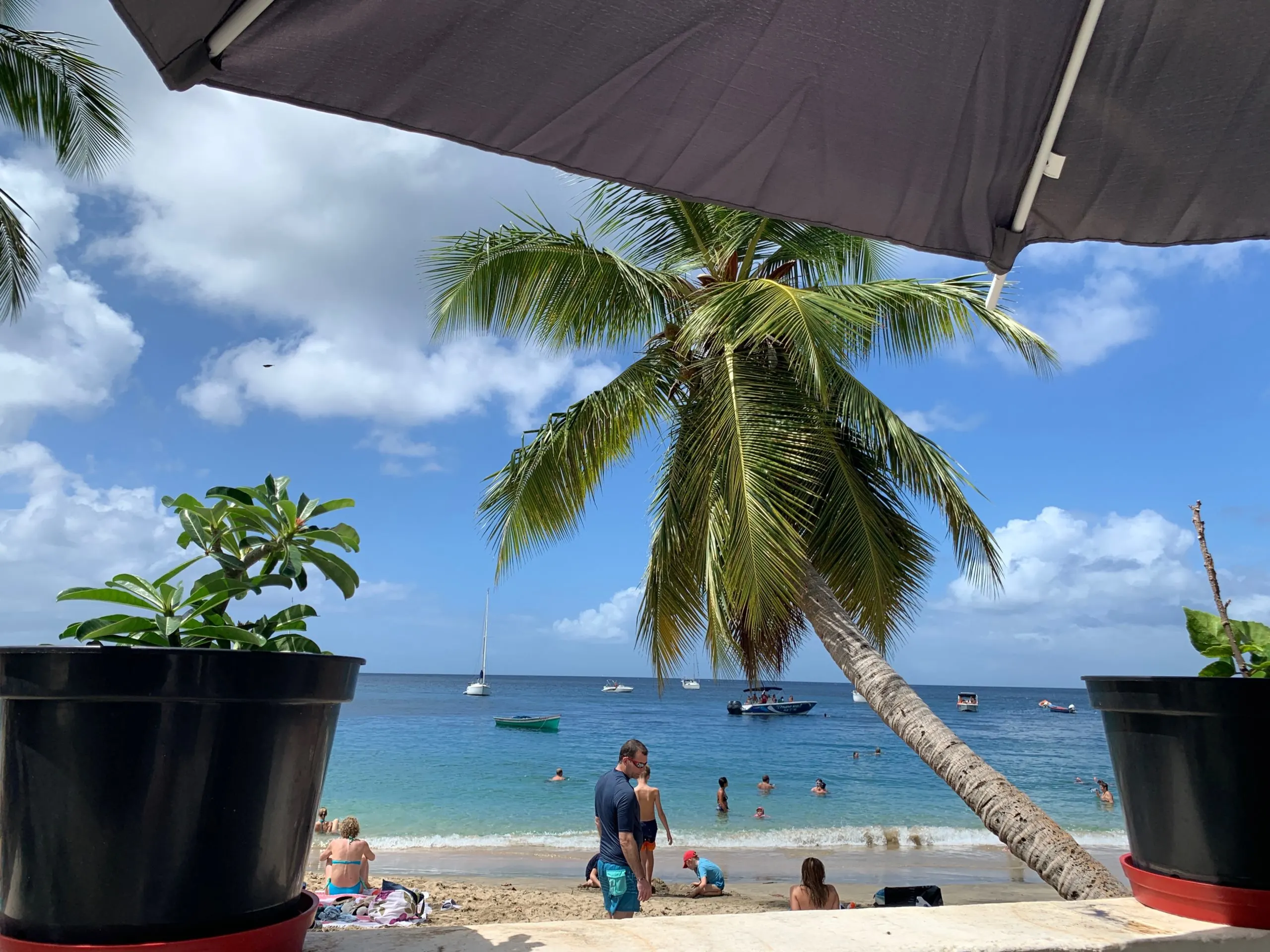 You see this one in pictures a lot, because it has a super photographable church right on the beach. This is a good place to get lunch because the other beaches nearby have less food options, and the few restaurants they have can fill up fast!
2. Anse Dufour
You have a to drive down a super steep narrow road to get to this smaller, white sand beach that's simultaneously crowded and off the beaten path. The beach is pretty isolated and quite beautiful, and has about two places to get snacks.
3. Anse Noire
Located directly next to Anse Dufour is Anse Noire — an equally isolated black sand beach with a more rugged, tree-lined coast and a pier that juts out into the middle of its bay. Even if you don't have time to go down to the beach, where there are no restaurants or amenities, it's nice to just look at because it's so gorgeous.
Stop at any or all or some of the above and get some final beach time in before heading back to Fort-de-France!
Fort-de-France
By the time you're back, it'll be about time for a drink and a snack. I recommend stopping in Le Favela — a Brazilian restaurant higher up on the hill with a gorgeous view of the bay and delicious cocktails and food. This restaurant is outside of the downtown area, so you won't need to worry about parking, traffic, or tourists.
For dinner, drive down to one of (what seems like) everyone's favorite spots in Martinique: Lili's Beach Bar. This bar is sort of part of a hotel, so you'll part in the hotel parking lot, enter the hotel, and then take the stairs on your right down to a dirt path that leads you right to the bar. (This took us a VERY long time to figure out).
Lili's is perfect for watching the sunset and the food and drink are both fantastic. It's SUPER fun at night and has great music, so if you're looking for a place to late night, this is it. They also have a small beach in front of the bar where you can hang out in the sand or relax on a chair. It's truly the perfect place to end a perfect four day trip.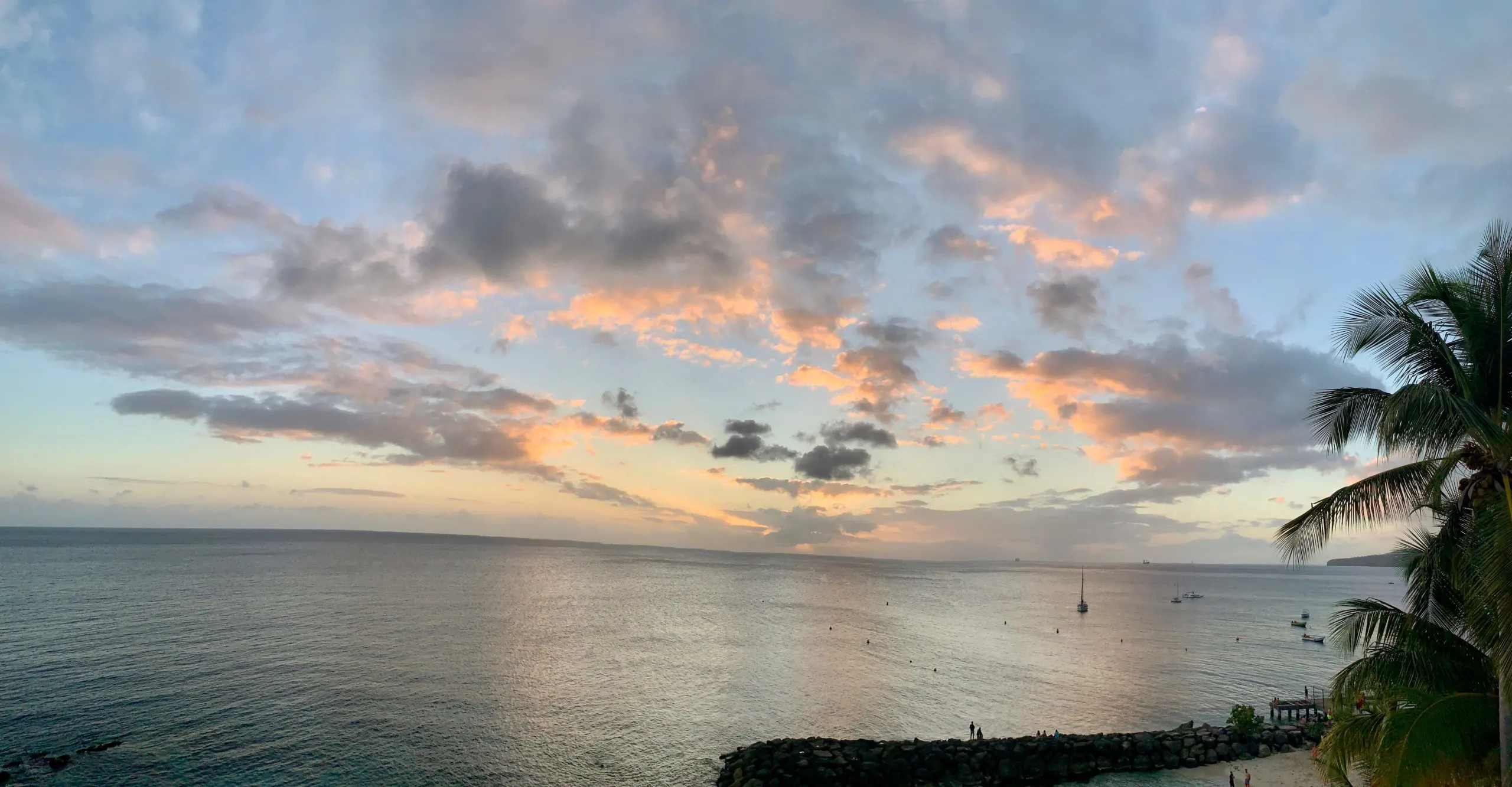 Day 4 Map
Ready to go?
That officially wraps up my itinerary for a perfect long weekend in Martinique! If you were on the fence about Martinique or looking for further recommendations, I truly hope this itinerary helped you make your decision and got you excited to go to this gorgeous island.
If you've been to Martinique and have other suggestions, please leave them in the comments section below! I know that I'll be back one day, and I'd love to hear about your favorite parts 🙂
---
Read Also: