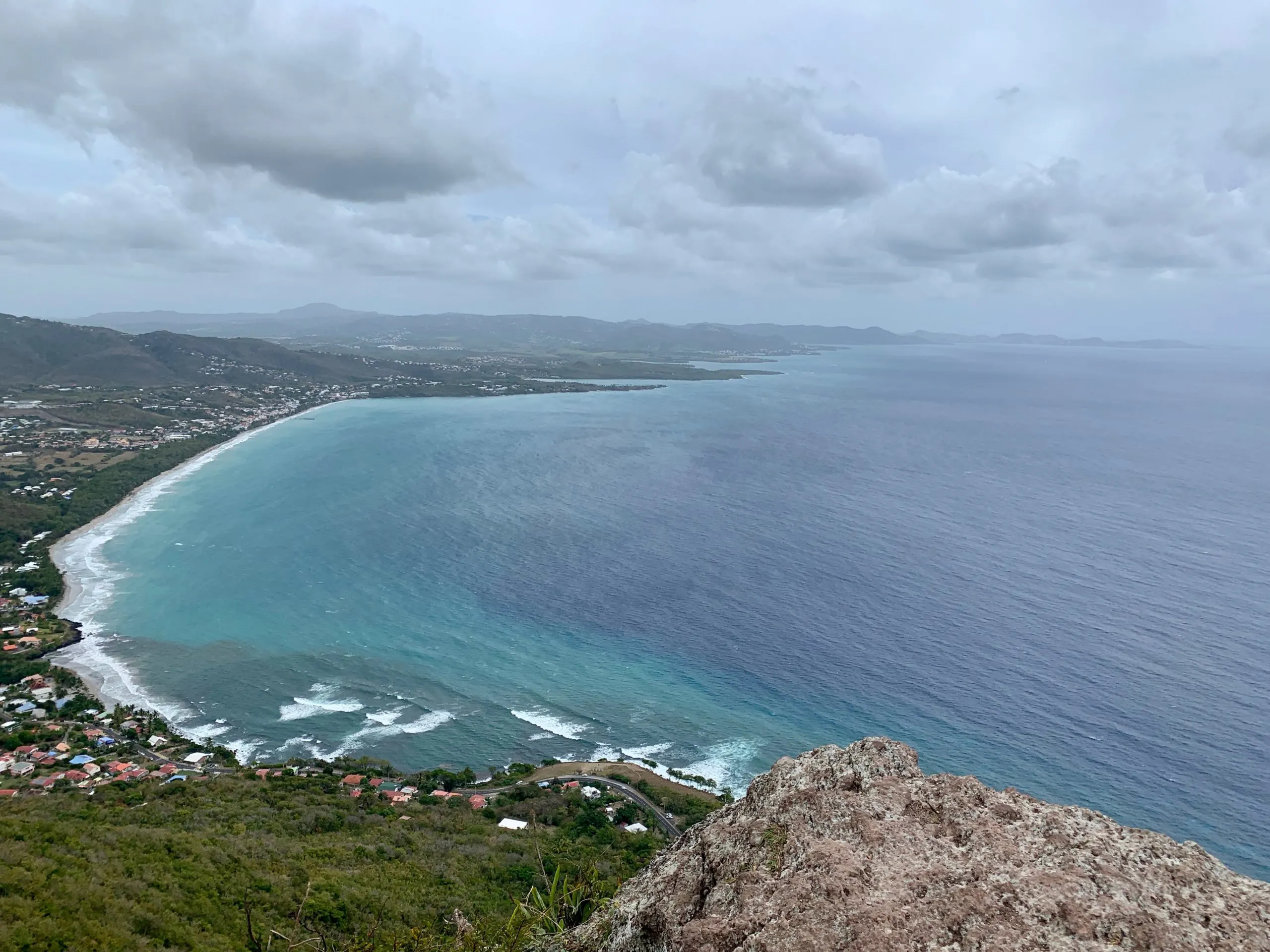 Days 2 and 3 of my perfect long weekend itenerary in Martinique will take you South to Le Diamant, Sainte-Anne, and Les Salines.
I'm combining these days because they're a little bit more laidback and also put you in the same location for two nights. Though less jam-packed than day 1, these days are still full of amazing food, scenery, and — this time — beaches!
Day 2: Le Diamant and Sainte-Anne
On your second day, head toward the south of the Island to go on a hike with panoramic views of the island in Le Diamant. From there, head to the very southern tip and stay the night in the quaint seaside town of Sainte Anne.
Le Diamant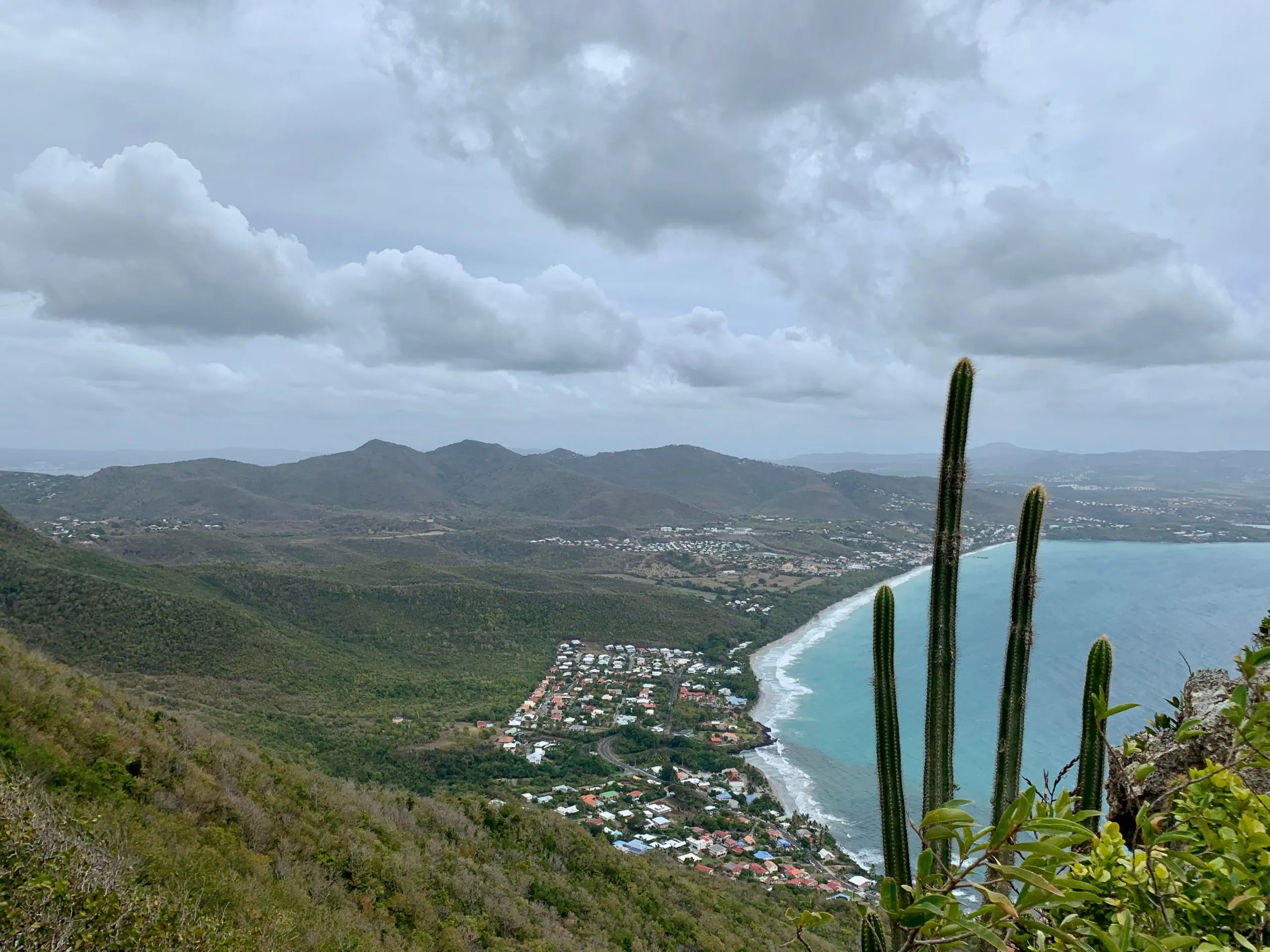 Although day 2 is a little bit less "on-the-go", we're still keeping it active and starting off with a hike.
There are plenty of hikes in Martinique to choose from, but I found the hike up to Morne Larcher in Le Diamant had the best views and the lowest risk of fog that would block said view. The hike only takes about 2 hours out and back, so it's ideal if you don't have all the time in the world.
Le Diamant is also one of the most impressive places in Martinique in terms of the overall landscape, so I really wanted to choose a hike that ended with a view of this area.
To get to Morne Larcher, you'll head to Le Diamant, which is a stunning beach featuring a 570 foot volcanic rock for which it's named. Drive along the coast of Le Diamant and you'll eventually come to a small sign on the right side of the road that says "Morne Larcher."
Park on the side of the street and then take a short walk up the road pictured below until you reach the trailhead. From there, it's an ~80 degree angle hike uphill over rocks and boulders for about 1.5 miles.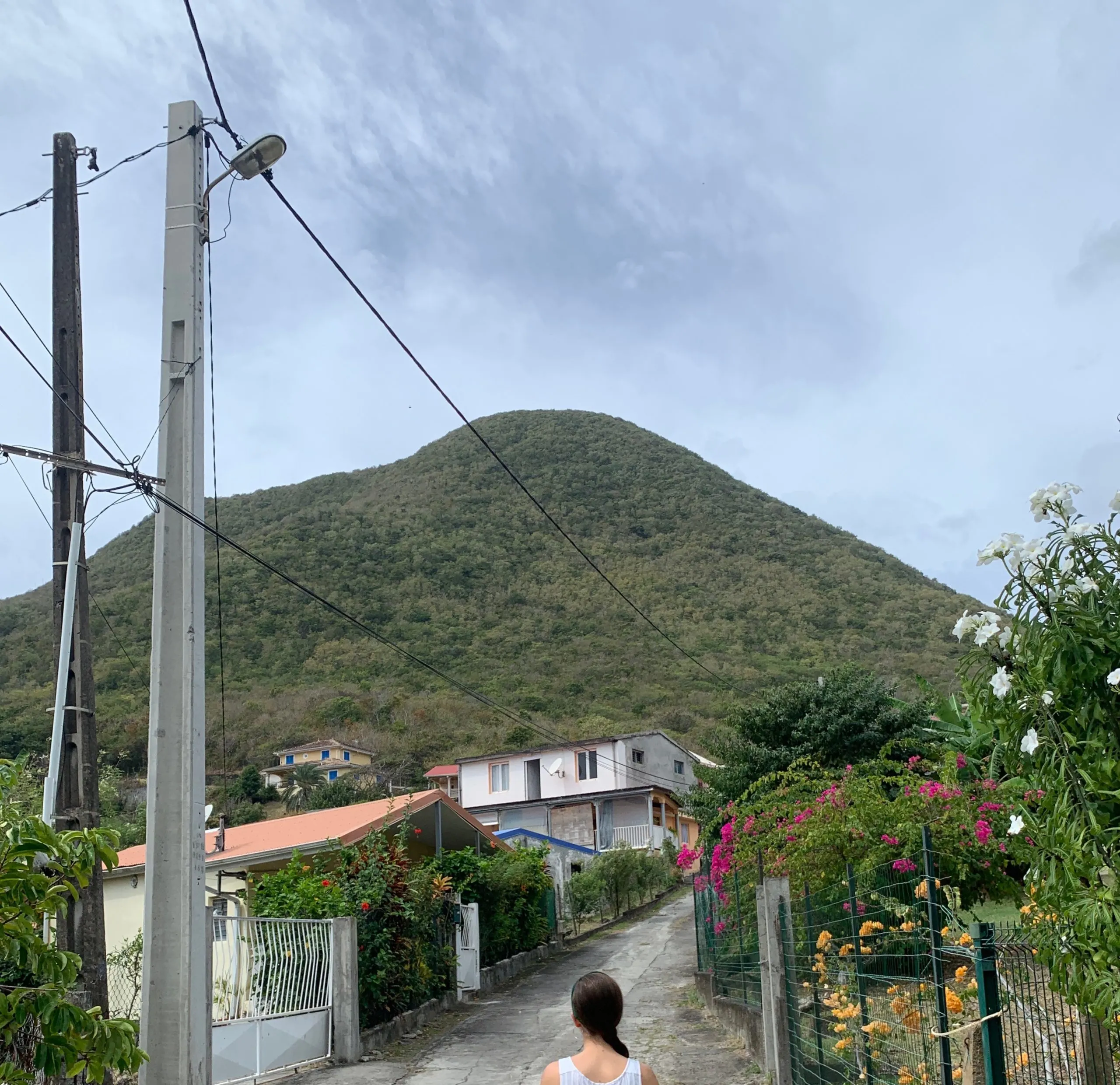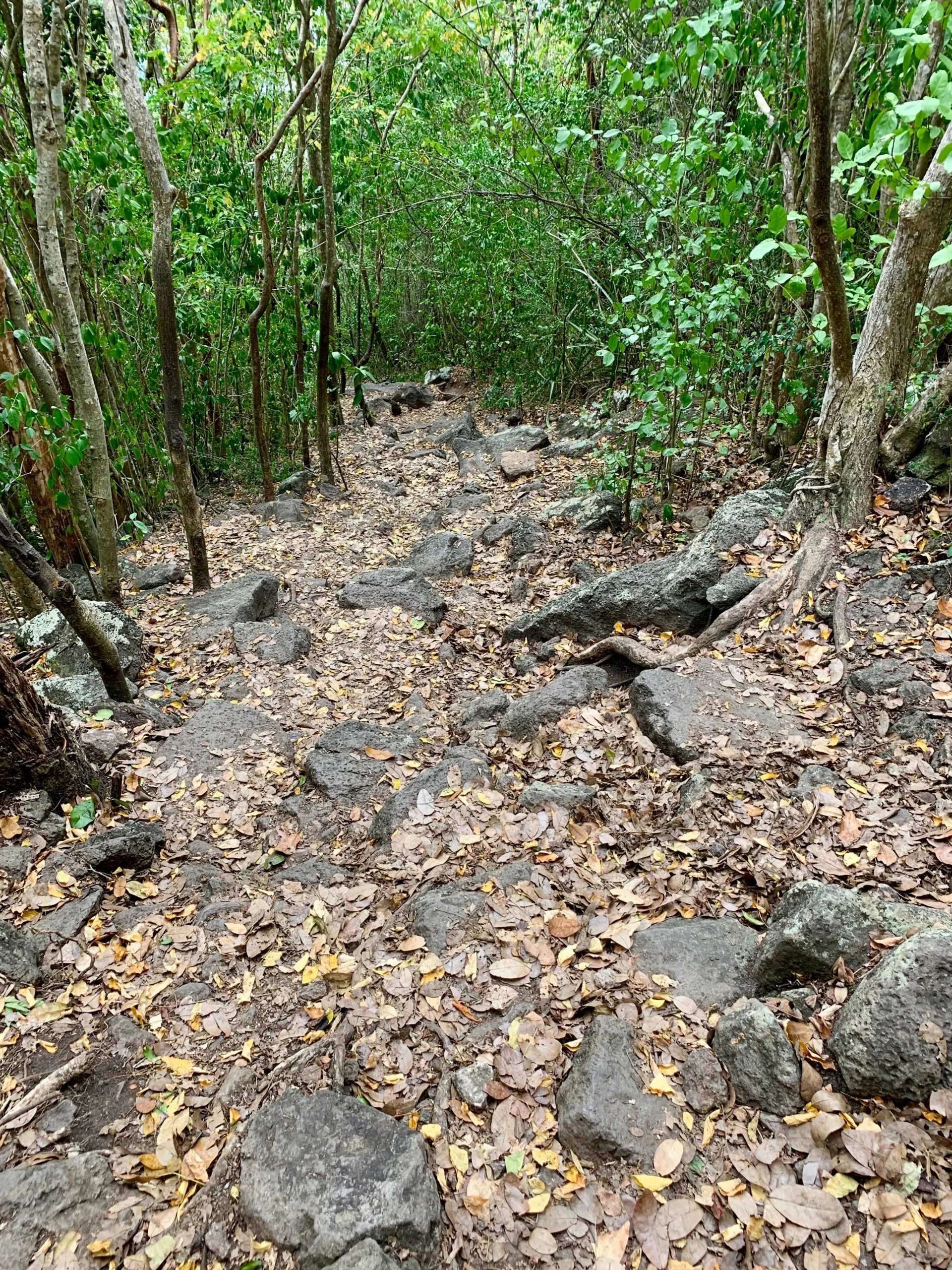 It's honestly the most difficult hike I've EVER done — I've never sweated so much in my life, so be sure to bring at least one water bottle. That said, the French were going about it like it was nothing, so maybe I'm just out of shape ¯\_(ツ)_/¯
Once you reach the top of the mountain, take the small trail to your left to get to the panoramic view. Although the hike is fairly grueling, it's 100% worth it when you get to take in the coastline of Le Diamant and beyond from a bird's-eye view.
Once you make the equally difficult — but less sweaty — hike back downhill (be super careful, because one misstep could end REALLY poorly), you'll be ready to eat a million conches.
Since you're already in town, get lunch in Le Diamant at one of the many excellent restaurants on the beach. We picked La Voile Blanche (it shows as Oceanou on Google Maps — no idea why), which I can't recommend enough.
Alongside two Ti' Punches (the national drink of rum, a lime, and cane syrup), I got the marlin tartar and my partner got tuna in a curry sauce. It honestly might have been even better than lunch at Habitation Céron on the first day, and the beach view was nice too.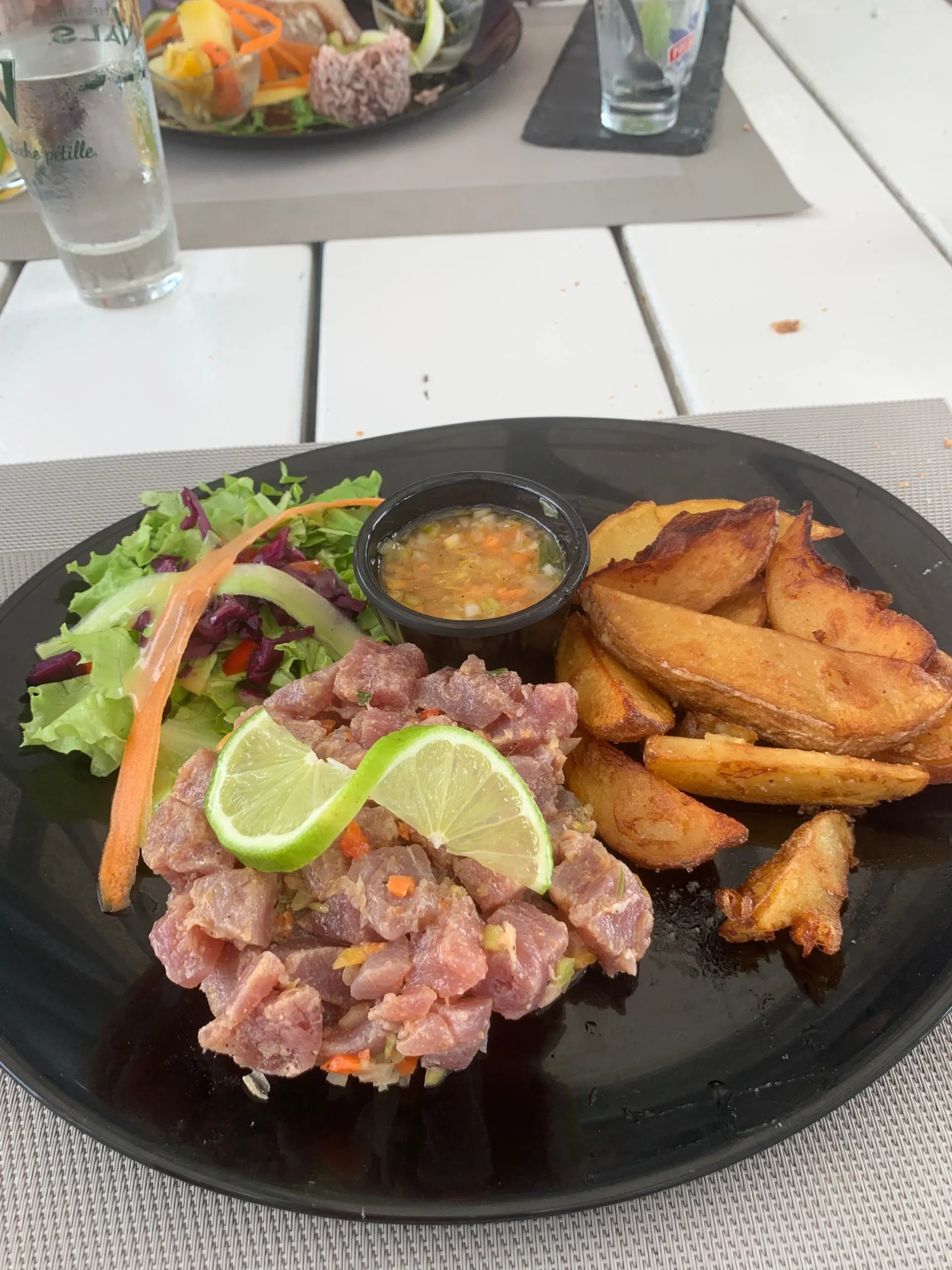 After lunch, hang out on the beach at Le Diamant or get back in the car to head to the charming seaside village of Sainte-Anne.
Sainte-Anne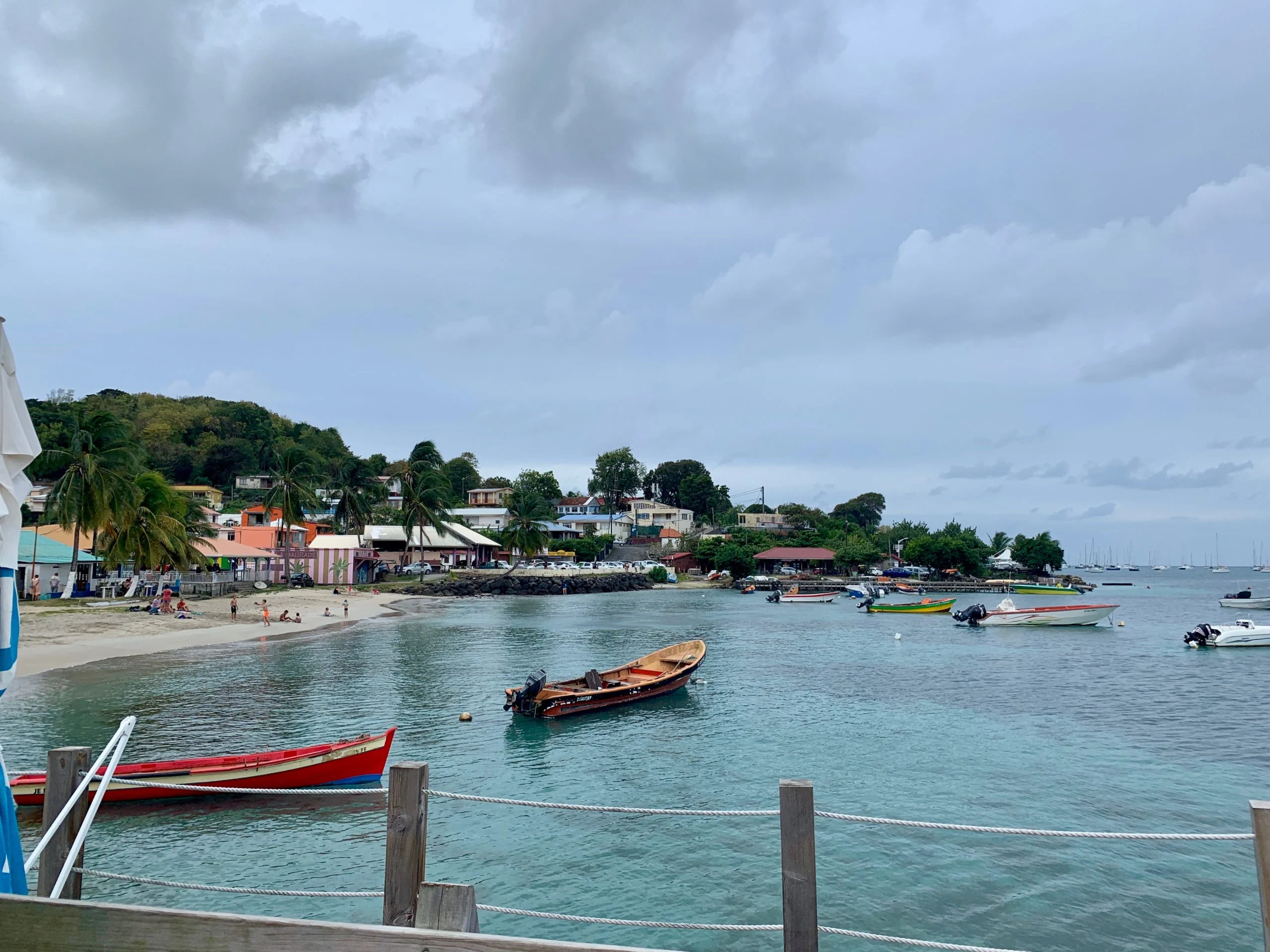 The drive to this lovely small town is only about 45 minutes, and this is where you'll find the best beaches on the island. You'll really feel in the "Caribbean" in Sainte-Anne — the water here just looks a little bit bluer.

We stayed in an Airbnb, and I would definitely recommend doing the same if possible. We lucked out with a studio that had a gorgeous outdoor kitchen and patio, which we totally fell in love with.
There are several apartment complexes right next to each other that are a five second walk to the beaches and a short walk to the town's center. They also have a shared pool and restaurant/bar, which is a big plus. Just look near "Habitation Caritan" on Airbnb and see if there's any availability!
Once you're settled in to your new landing pad, grab a drink by the seaside at Paille COCO or head to the closest beach — most likely that will be Anse Caritan — depending on how much time you have!
When it comes time for dinner, there are so many wonderful restaurants in town, but we loved Otantik — a vegetarian restaurant that's basically in a treehouse overlooking the ocean. The owner was incredibly kind, the prices are reasonable, and the food itself is fantastic.
Day 2 Map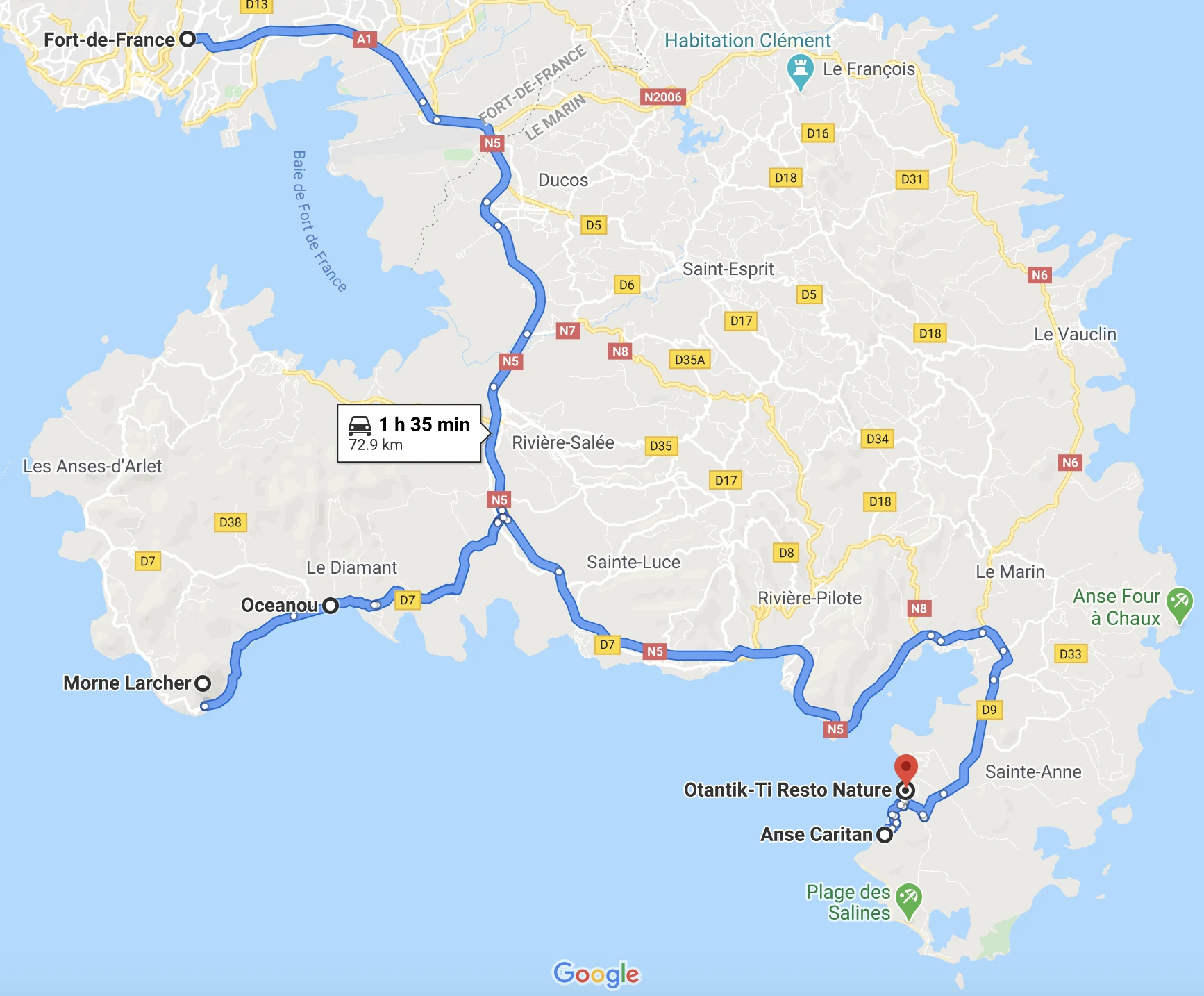 Day 3: Sainte-Anne & Les Salines
After two days of moving non-stop, ditch the car and have a relaxing day on the beach with a picnic!
Sainte-Anne (continued!)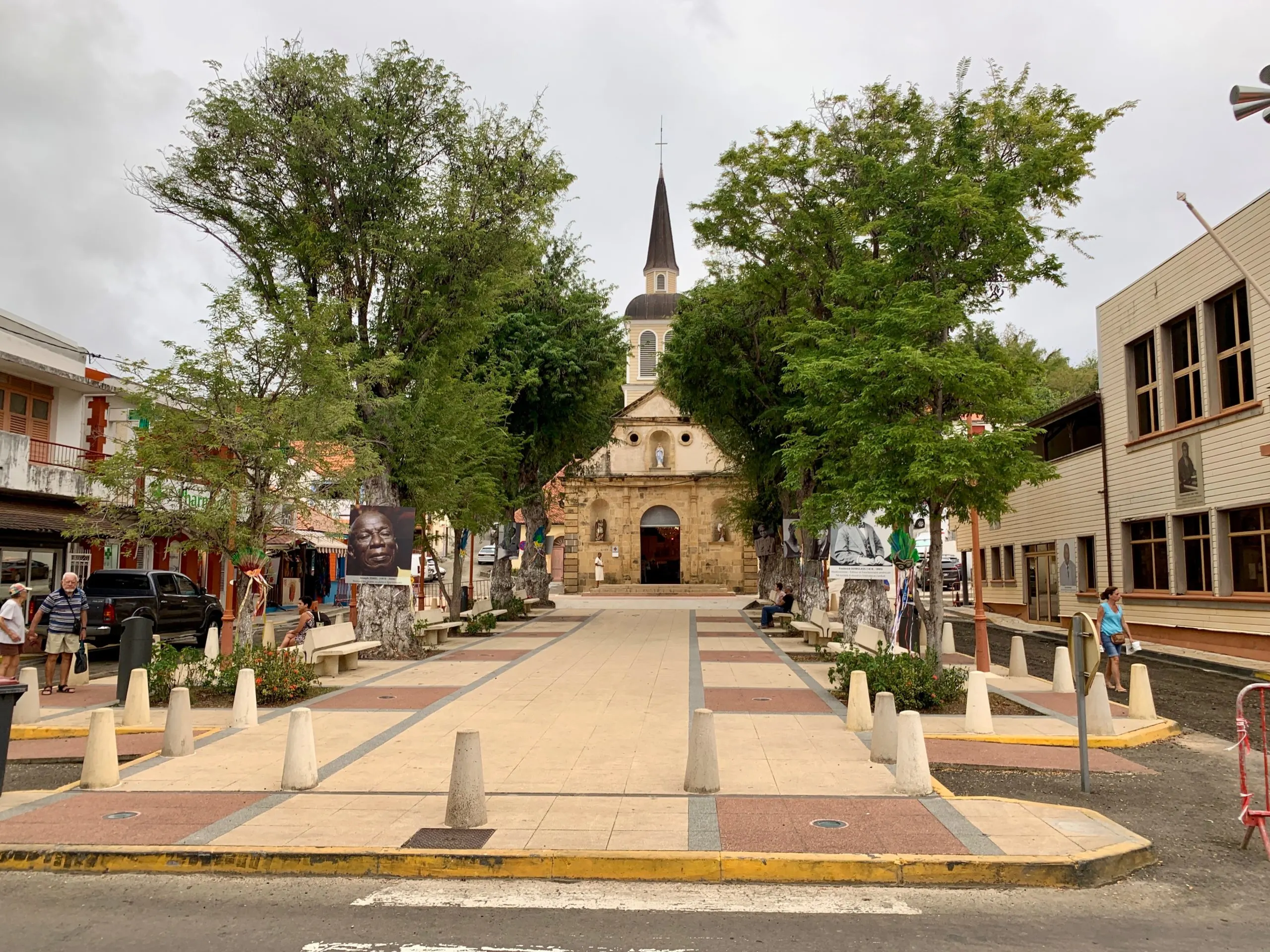 Start off the day at the Marché couvert de Sainte-Anne (Sainte-Anne's covered market) to pick up the makings for a picnic. This market is much smaller than the one in Fort-de-France, but it always bustling and has plenty of fresh produce and rum punches to get your beach day off to a good start.
You'll probably need to go to the store to get things like bread, cheese, and deli meat, so stop by the 8 à Huit supermarket next door as well.
Les Salines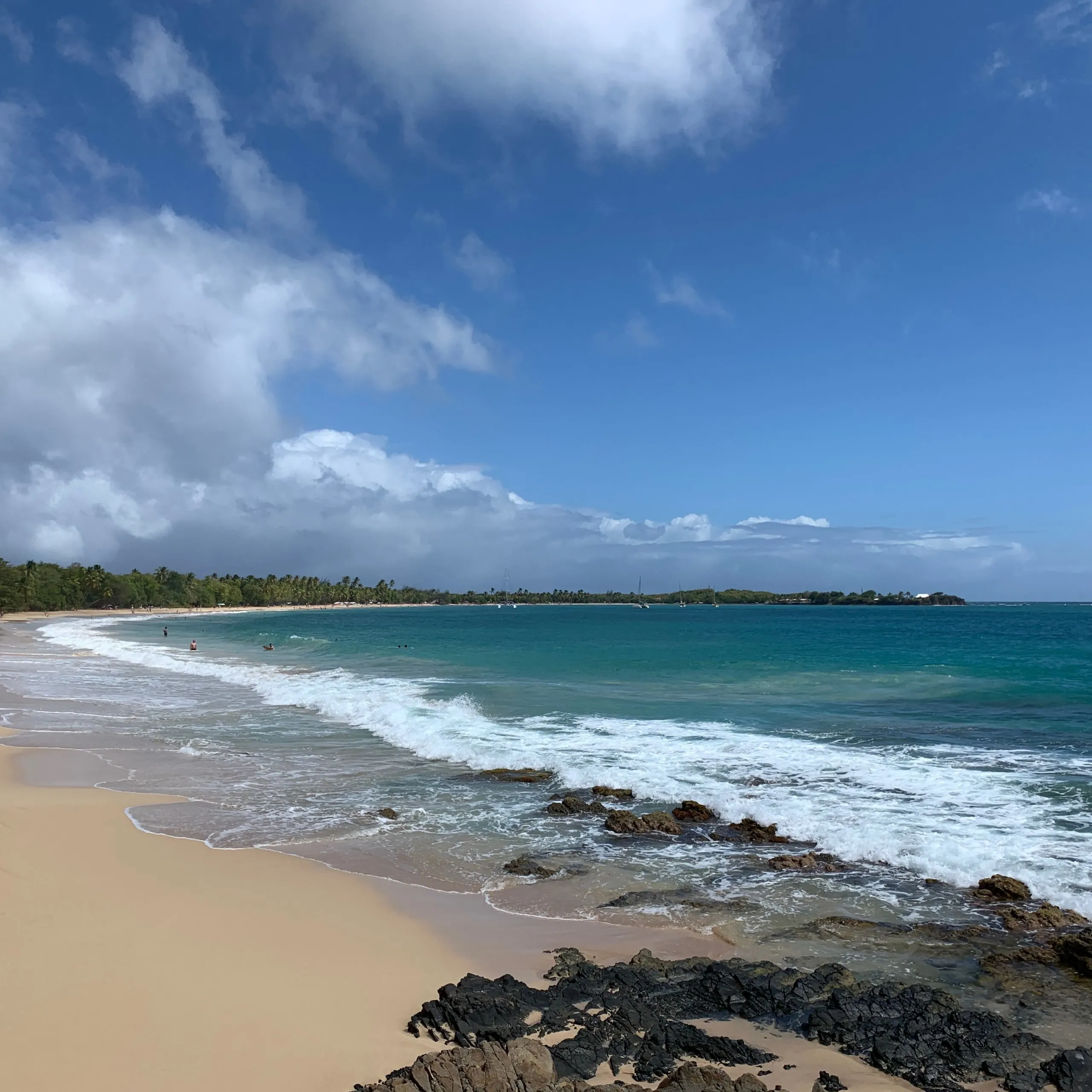 Once your picnic is assembled and packed up, you have no lack of options! Les Salines is the most popular beach in the area, and it's located about 3 miles down the road. It's one of the widest beaches around at the very southern tip of the island, and you can even see Saint Lucia — the island south of Martinique — on a nice day.
There are several other smaller beaches on the way to Les Salines that are less crowded and have more of a bay feel than a vast ocean feel. We liked these just as much if not more, but Les Salines is one of those things you just have to see if you're in Martinique!
To get there, you can either drive directly to Les Salines (or any of the other beaches along the way) OR you can hike through the series of beaches in the direction of Les Salines on La Trace de Caps.
This hike is comprised of a 28k trail that goes all the way around to the eastern side of the island, but you can get just a glimpse of it while walking to the beaches on the southern tip.
We opted to take the hike from Sainte Anne to Les Salines, which was about 3 miles each way. Even though it was a pretty long walk on a day dedicated to relaxation, the viewpoints and wildlife were absolutely worth it.
If you keep going on La trace de caps, you'll eventually come to La Savane des pétrifications. This area looks nothing like the rest of Martinique, with its arid, desert-like landscape, and is the oldest part of the island. We didn't make it this far because it was another couple of miles away, but go for it if you're feeling ambitious!
Once you've made it to Les Salines, bask in the sun and enjoy your picnic with some rum.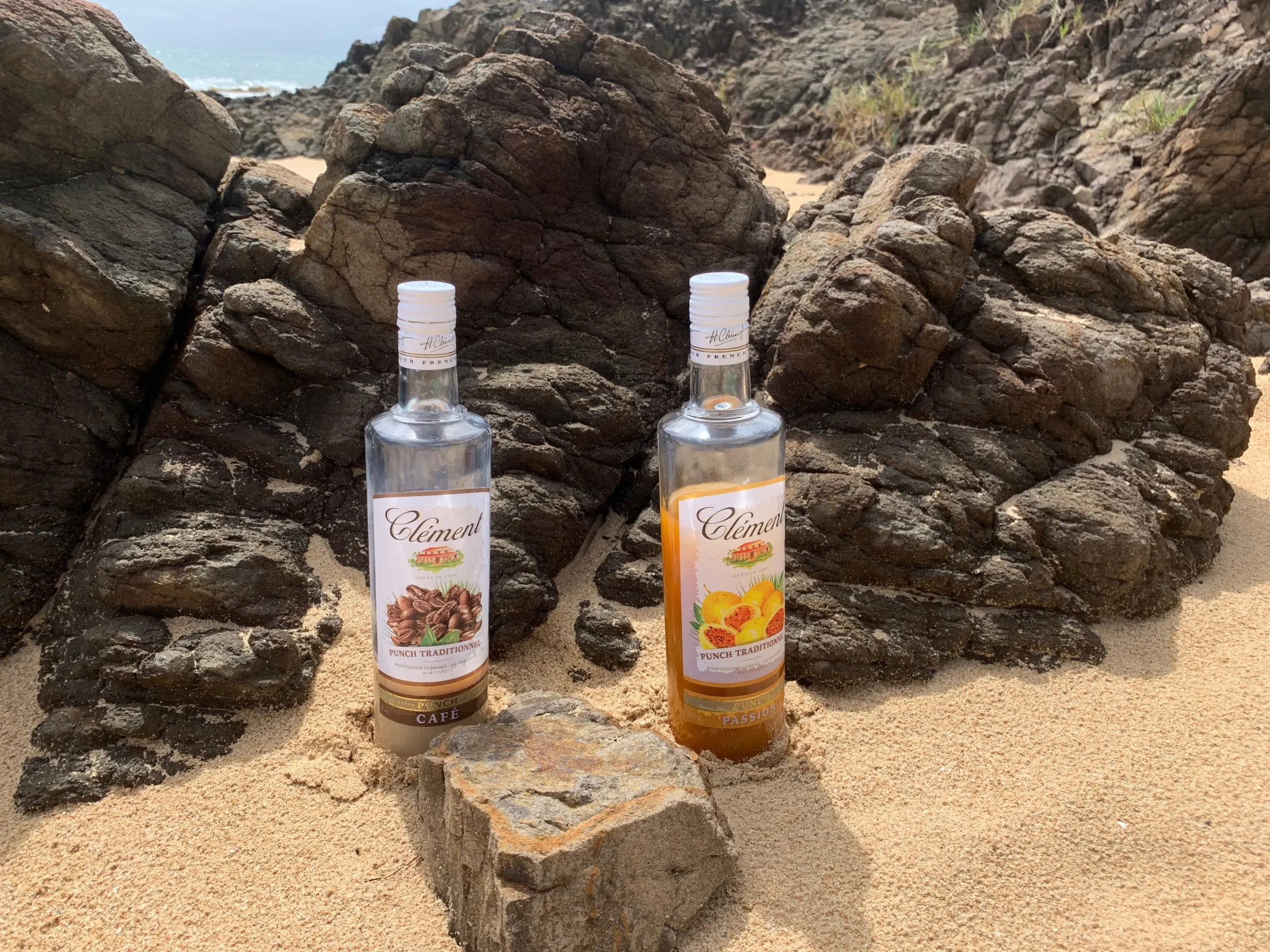 Les Salines definitely lives up to the hype, but we ultimately preferred the smaller beaches along the way.
Since we eventually had to walk back anyway, we stayed a few hours at Les Salines and then made our way to Anse Meunier, which is a beach about halfway between Les Salines and Sainte-Anne with calmer, shallower water.
Come evening time, you'll be ready to head back home and take a shower before grabbing dinner in town. Again, there are so many options to choose from, but my vote would be for Cap Crêpes — a friendly spot in town with delicious savory and sweet crepes.
Day 3 Map
At this point you only have one day left on this beautiful island *sobs*, so let's make it count!
---
Read Also: