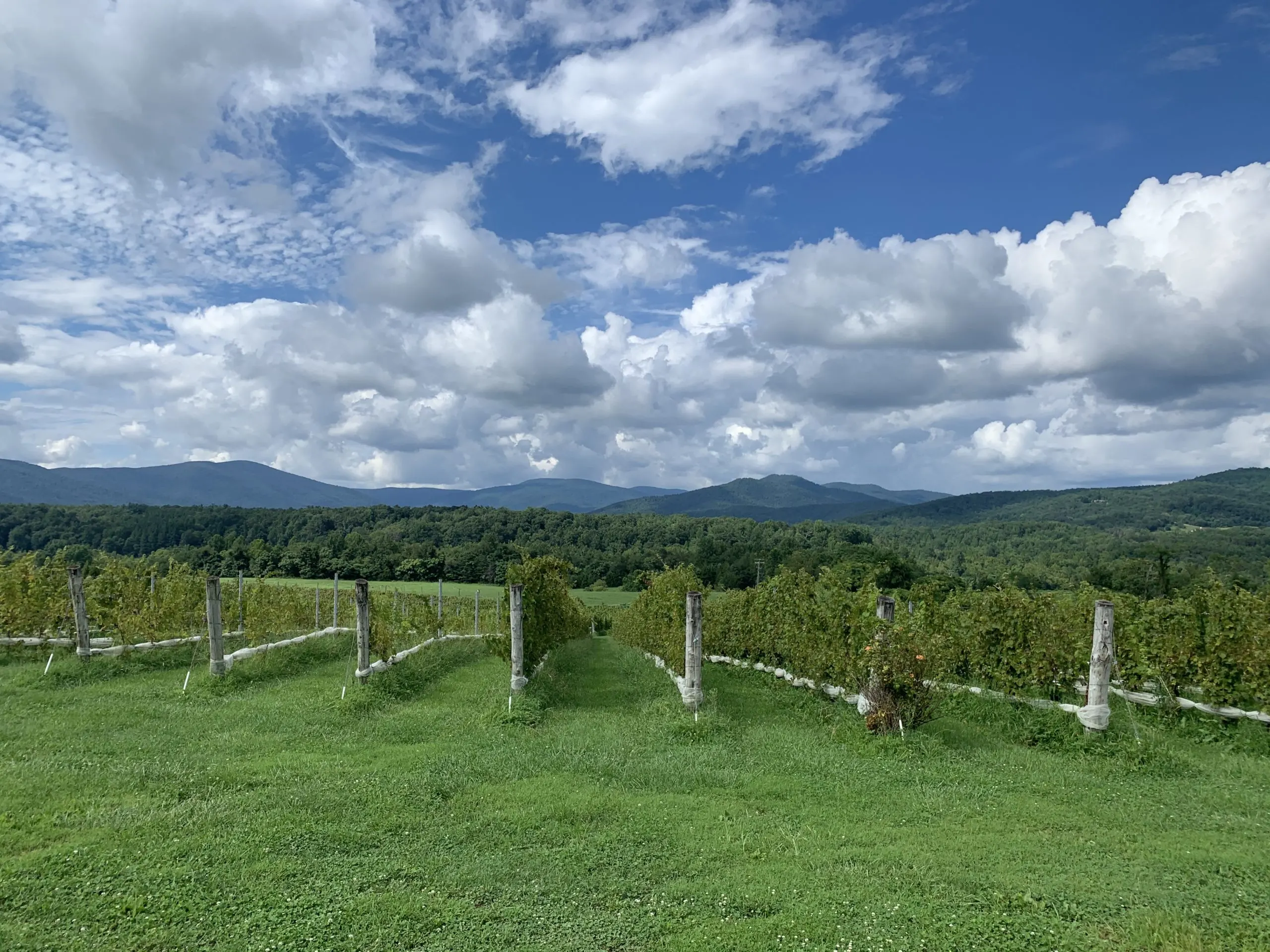 If you're planning a trip to Charlottesville, you're pretty much required to check out a few of the beautiful nearby vineyards!
These wineries are less than a 30 minute drive from Downtown Charlottesville and many are clustered together, which makes them easy to fit into a weekend itinerary. They also boast some of the best views and wines in the State.
All of the vineyards on this list are part of the Monticello Wine Trail, which is considered the "Birthplace of American Wine" and spans around the gorgeous Blue Ridge Mountains.
There are 33 wineries on this trail scattered about in Virginia, but the following seven are my personal favorites due to the quality of the wine, beautiful views, and convenient proximity to Charlottesville.
This list is in no particular order, but I will point out which vineyards are close together so you can make sure to easily hit them all on your next trip 🙂
1. Veritas Vineyards (29 minutes)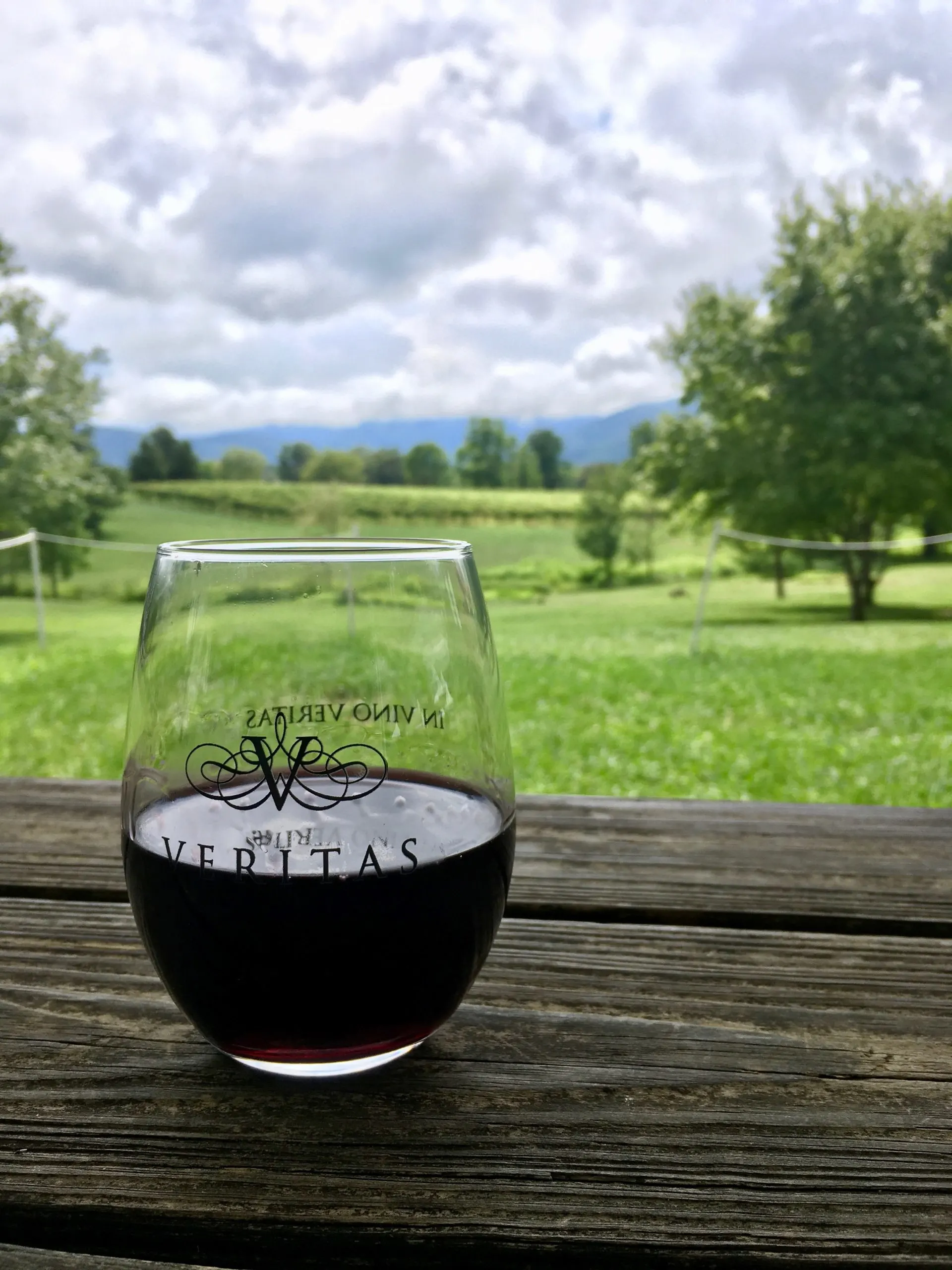 We'll start off with Veritas Vineyards: one of the more popular wineries in the area and the longest drive on this list.
Veritas has a great portfolio by an amazing winemaker: Emily Pelto (always loooove to see a woman winemaker!). They have wines by the glass, flights, bottles, and a great selection of food, like flatbreads and charcuterie.
Veritas doesn't have the best view on this list, but it's still a gorgeous location with rolling hills and green (well, I guess blue…) mountains in the background. The inside is equally beautiful and is a pretty popular wedding venue if you have buckets of money lying around.
I've enjoyed all of the wines I've had at Veritas, but was especially impressed by the 2017 Petit Verdot ($40). If that's a little out of your price range, they also have plenty of delicious wines by the glass for about $10.
2. Afton Mountain Vineyards (27 minutes)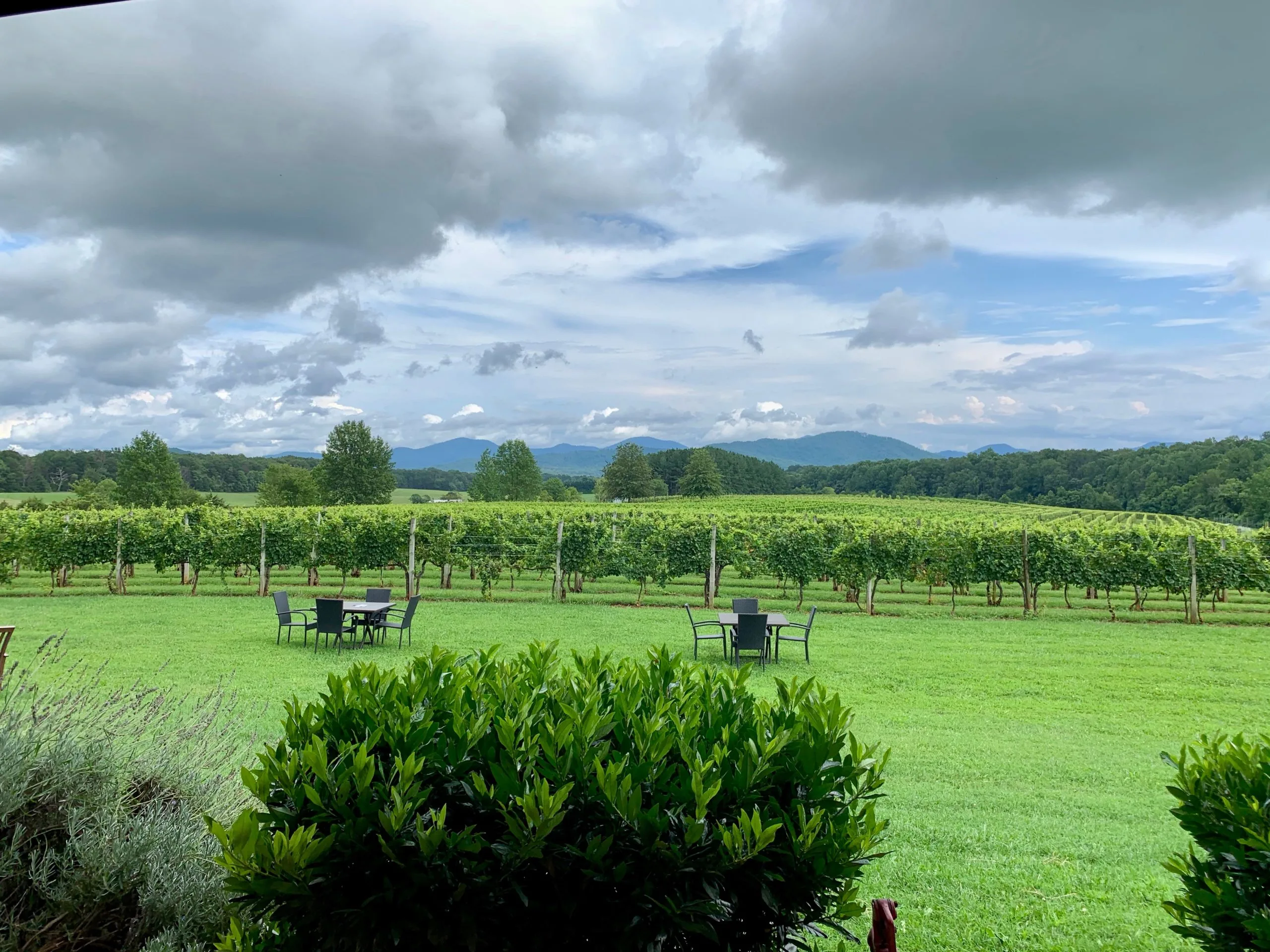 If you drive up the road about 10 minutes from Veritas, you'll find this beautiful, secluded vineyard tucked away in the mountains.
Afton Mountain is one of the area's older vineyards, with the original vines planted as early as 1978. The winery is now owned by a husband and wife from the area, and they've done an incredible job maintaining the vineyards and creating a comfortable area to have a glass of wine or two.
The vineyard is absolutely stunning — there are 360 degree views of mountains and the outdoor patio is perfect for soaking in the scenery.
3. Flying Fox (27 minutes)
From Afton Mountain, take another super quick 10 minute drive to the Flying Fox tasting room. It's not an actual vineyard, but the venue is a welcome change of pace after a day of being outdoors if you're like me and sometimes need to recharge in the AC. The space is intimate and eclectic, with colorful rugs, leather couches, and old maps spanning the walls.
Flying Fox is actually owned by the same family as Veritas and has the same woman winemaker. It's supposed to be her "fun" side project, but the wines are equally (if not more so) fantastic. Compared to Veritas, it's a much more laidback atmosphere. I also think it has a better/more interesting wine list that's wayyyyy more reasonably priced — something like $6-$9 for a glass instead of $10.
I recommend trying the Pinot Gris, Cabernet Franc, or Petit Verdot, but you really can't go wrong here. In my opinion, they have the best wines by the glass in the Afton area.
They also sell Virginia's FIRST locally made Vermouths. The flavors are really creative and range from Strawberry Rhubarb to Orange Peel with Cardamom, Ginger, and Turmeric. You can mix and match 4 cans for $35, which is a pretty decent price given the high quality.
4. Pippin Hill Farm & Vineyards (20 minutes)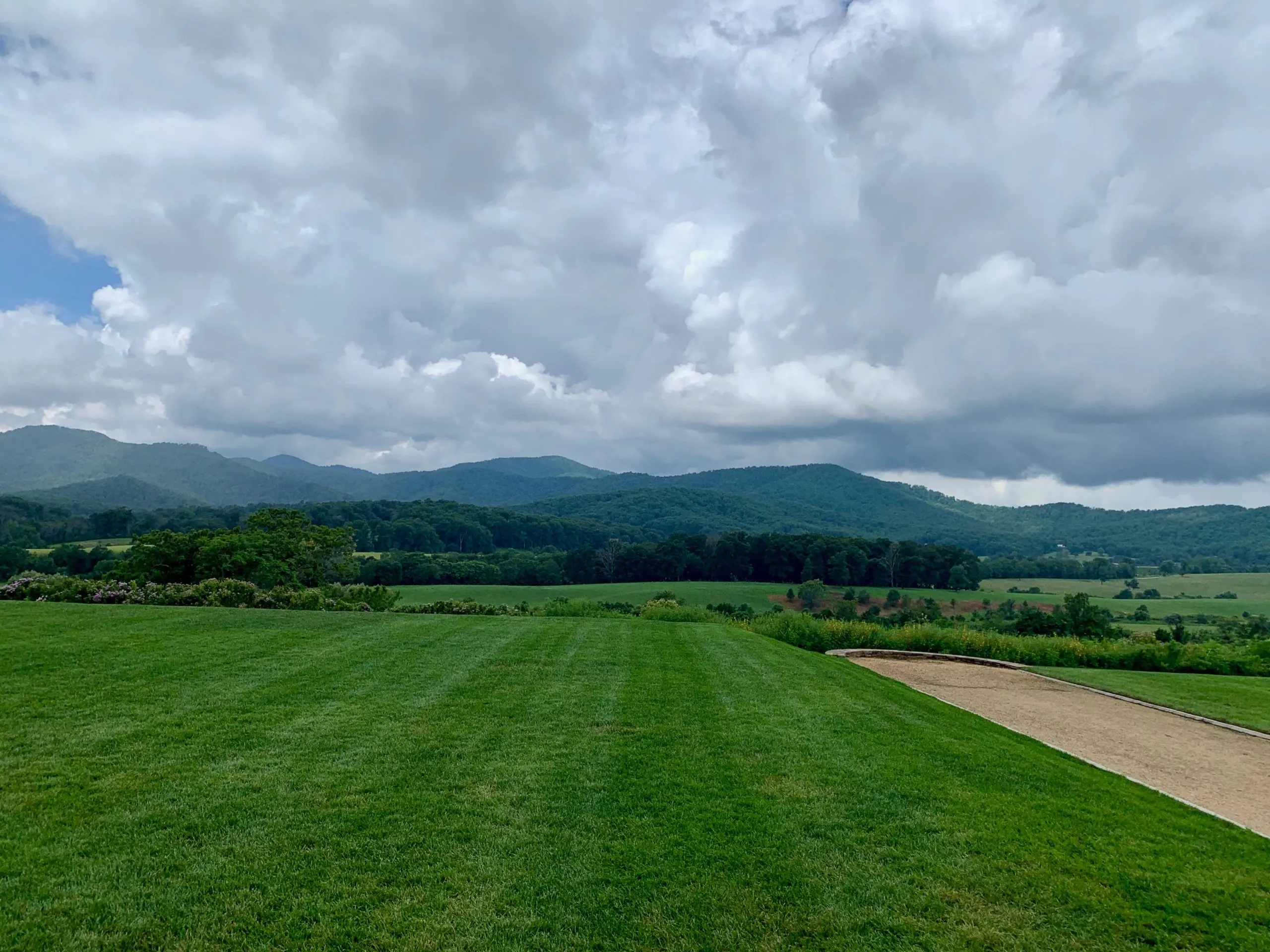 You'll find this stunning vineyard just a little bit east of Flying Fox. Pippin Hill really has it all: great food, fantastic wine, and a breathtaking view. There's a ton of space to spread out, so you can either bring a picnic blanket and chairs or get a table on the patio.
Last time, we went with the first option, and it started to POUR rain about five minutes after we set up our spot on the lawn. The staff was incredibly nice and opened up the ballroom area (the patio was full) just so we could be inside, and were super attentive even though we were dripping rain on their nice hardwood floors.
Aside from awesome service, they have one of my favorite wines that I've ever tried in the area: their 2019 Sparkling Rosé. It's has Tannat in the blend, which gives it a little more depth and power than you'll see in your typical sparkling rosé.
All of their bottles are fantastic though, so feel free to branch out if rosé isn't your thing — you really can't go wrong.
5. King Family Vineyard (22 minutes)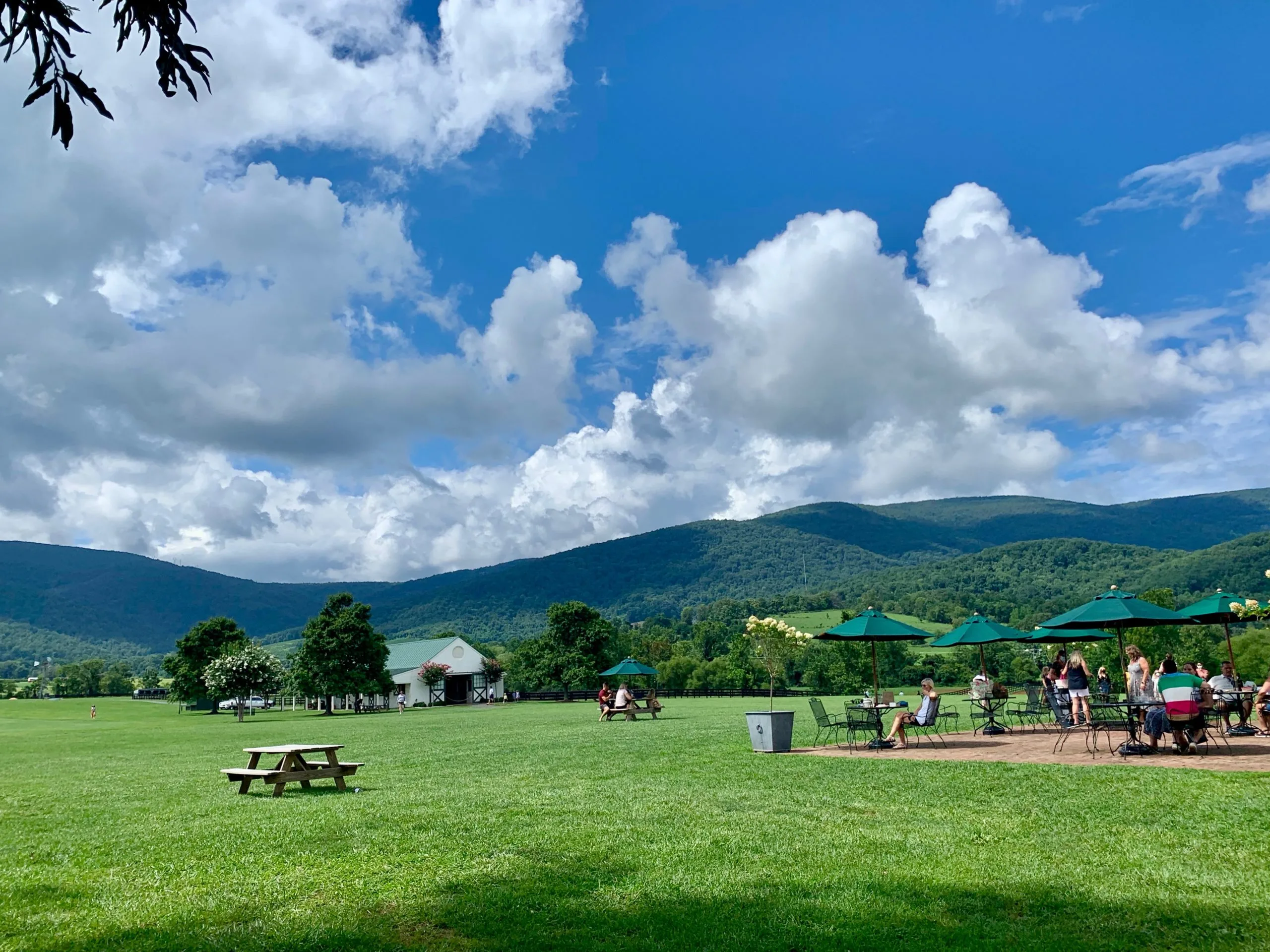 The rest of the wineries on this list are located in Crozet, which is a quick drive from Charlottesville and has the most gorgeous vineyards in Virginia.
The most picturesque of them all, though, is undoubtedly King Family Vineyard. After seeing a ton of Virginia vineyards, I was skeptical that this one could be that much more beautiful, and I was proven wrong. It's located on a huge green field with vineyards dotting the perimeter and mountains extending in the background.
It's honestly so pretty that it's hard not to stay for multiple glasses — you'll never want to leave. The wine is also wonderful and they have a fun selection of snacks if you start to buzz a litttttttle too hard. Their most famous wine is their Crosé Rosé, which is a local favorite and probably the best rosé you'll find in the area.
6. Stinson Vineyards (24 Minutes)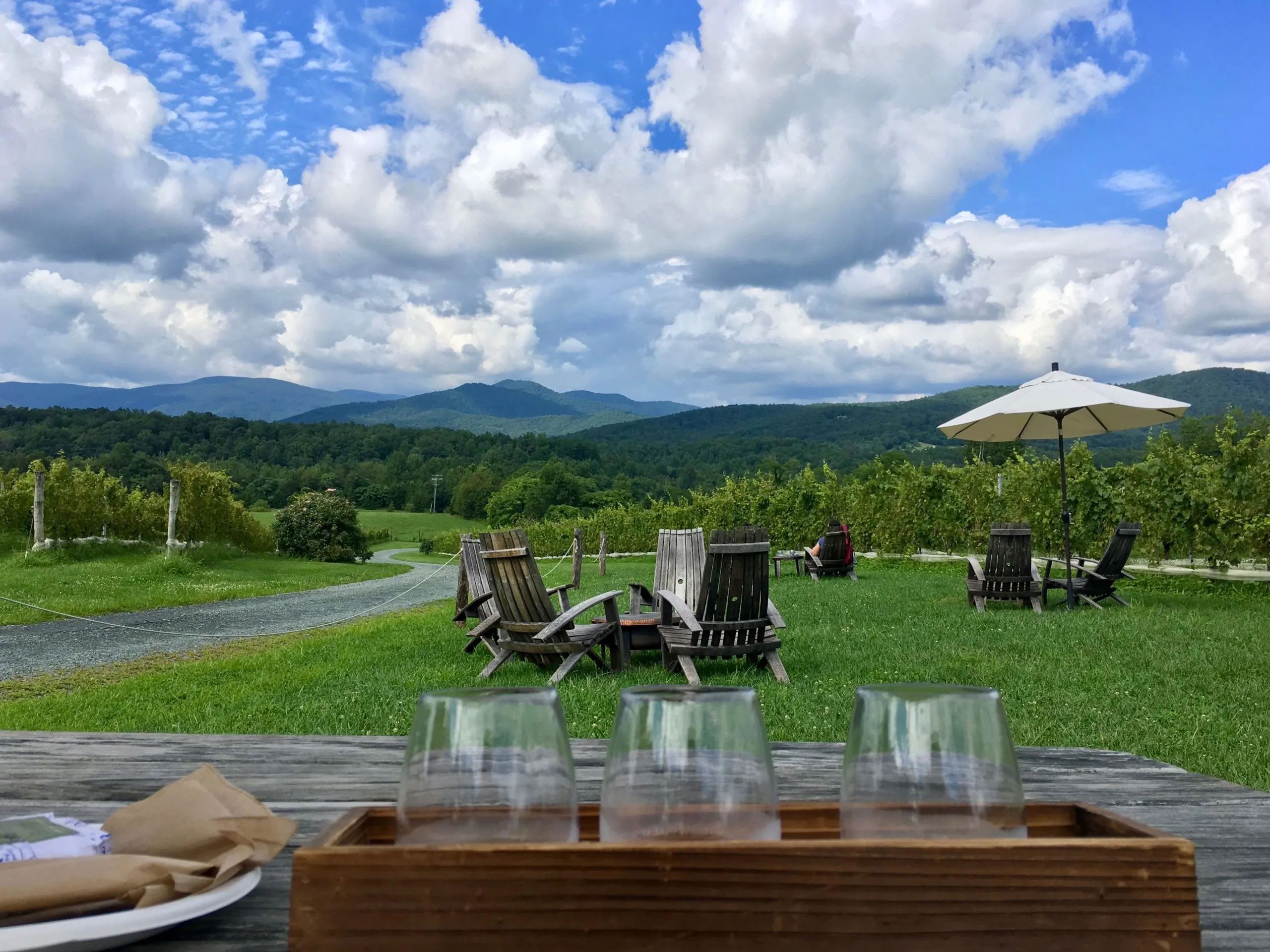 Just up the hill from King Family is Stinson Vineyards. It's a much more intimate venue with fantastic views of the Blue Ridge Mountains. The vibe here is different — it's more peaceful and secluded, and you won't see nearly as many tourists.
The wines are heavily French influenced and have been made by a Father/Daughter team since 2015. You'll find mostly Loire and Bordeaux-style wines, which are some of my personal favorites 🙂
A lot of people consider it one of the hidden gems of the area, and it's hard not to agree when you see the beauty of the location and the wines.
I highly recommend trying their Tannat, but all of their reds are really elegant and it's worth getting a flight or two just to try out their full portfolio.
7. Grace Estate Winery (24 minutes)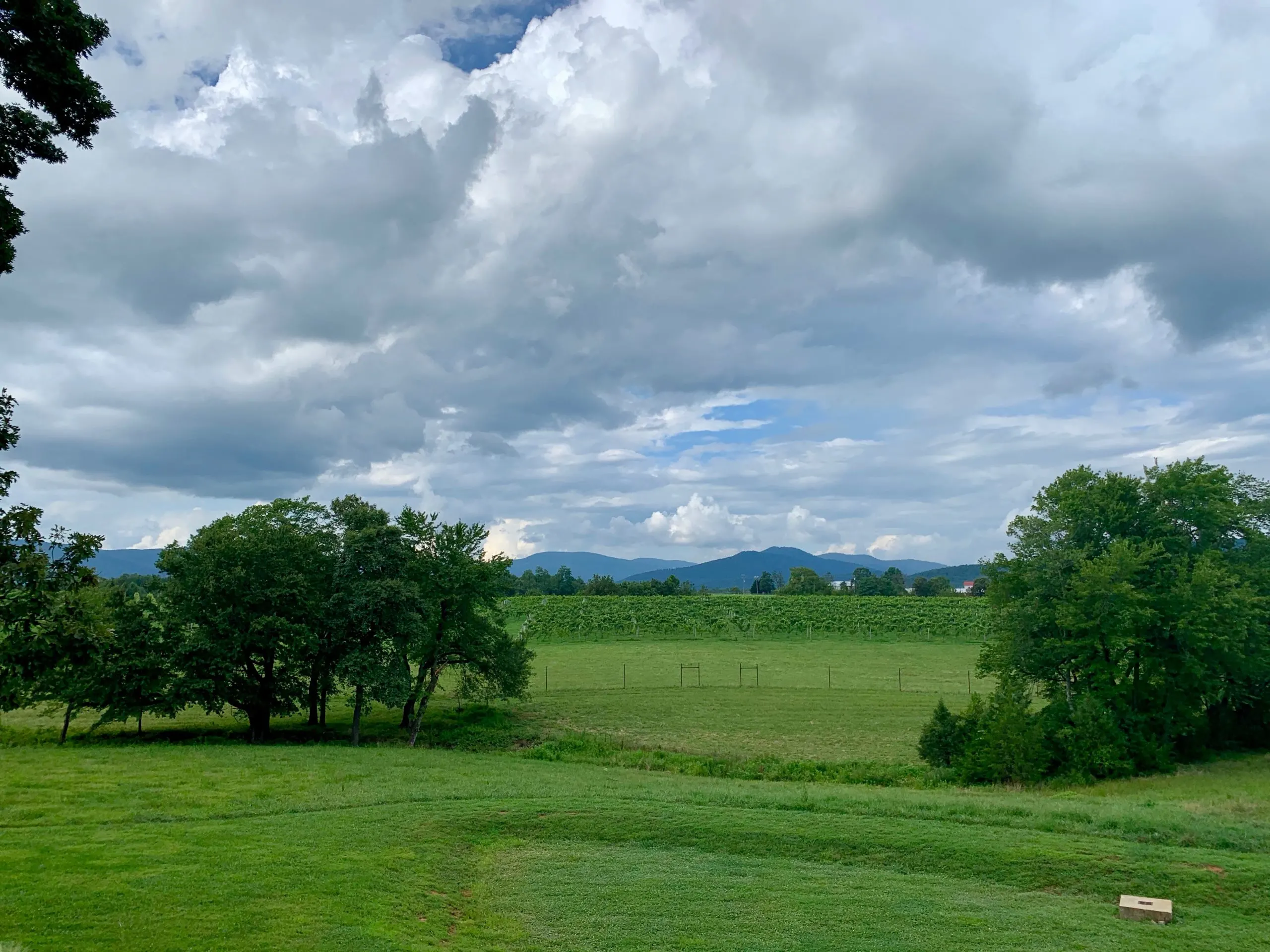 Even further up the mountain is Grace Estate Winery. Much like Stinson, this winery is pretty remote and laidback. They have a great patio with mountain views as far as the eye can see, and tons of lovely wines to go with it.
Grace Estate's winemaker studied at the University of Bordeaux, so you'll also find a heavily French-influenced wine list here.
I really like all of their wines, but I was extra impressed by their Chenin Blanc, which is a varietal you won't see as much at other wineries in the area.
The End!
I hope this gave you some ideas for your next trip to Charlottesville! All of these wineries are fantastic and so close to downtown, so there's no excuse not to see them all!
If you would rather visit multiple at a time, my recommendation would be to stop in Veritas, Afton Mountain, and Flying Fox one day because they're all so close together. The next day I would go to Pippin Hill, which is the only winery on this list that isn't clustered near other wineries, and then drive up to Crozet to visit King Family, Stinson, and Grace Estate.
Any way you choose to do it, enjoy your time in the beautiful Monticello wine region and be sure to take a few bottles for the road!
---
Read Also: