If you're ever in Portugal and love wine, the Douro Valley is an absolutely essential stop. Ideally, you would have more than just one night in this unbelievably gorgeous wine region, but if you're strapped for time and want to see the rest of Portugal, here's how you can really make one overnight stay count.
If you aren't already familiar with the Douro Valley, it's the birthplace of Port wine and is widely considered one of the most beautiful wine regions in the world. The valley is divided by the River Douro, and is characterized by its extremely steep terraces that create an amazing visual textures on the hills throughout the region.
Although best known for Port, this region also makes incredible reds, whites, and rosés. Almost any Quinta (aka: Portuguese winery) will have all three types of wine along with some excellent Port, so never fear if sweet wines aren't your jam.
How To Get To The Douro Valley

From Porto, the drive takes about 1.5 hours, while it's about 2.5 hours by train.
A lot of people suggest taking a car, but having a car in Porto and parking can be complicated, so we opted for the train. I can't recommend this enough.
The train travels directly next to the Douro River and gives you the most incredible views of the valley. I'm sure the car route does the same, but the person driving would definitely miss out on a lot of the scenery to avoid crashing on the crazy, zig zagging roads.
You can catch the train at the Porto – Sao Bento station, and it's only about 15 euros or less depending on your destination.
Where To Stay In The Douro Valley

There are larger towns in the region, such as Régua and Pinhão, but if you're only staying for one night, you HAVE to stay at a Quinta.
Though there are plenty of amazing Quintas to choose from, we stayed Quinta Da Marka*, which was one of the best decisions of the trip.
It was extremely reasonably priced — somewhere around $200 euros for EVERYTHING (lodging, food, wine, etc) — and it would be difficult to beat the service, location, and ambiance.
This Quinta is small, with only about 6 rooms in total, so definitely book in advance if you're interested. If you email them directly instead of booking online, they'll even give you a special price 🙂
*As a quick note: this is 100000% my honest opinion. I chose Quinta Da Marka after reading a ton of reviews and am just writing this because I had an amazing experience.
Douro Valley 24 Hour Itinerary
This itinerary is built with relaxation and time constraints in mind. It's a simple and no frills schedule, but will allow you to soak up the best parts of the experience (i.e. wine, food, and beauty). We personally arrived by 3pm because we were coming from Lisbon and check in wasn't until around that time anyway.
AFTERNOON: ARRIVAL AND WINE TASTING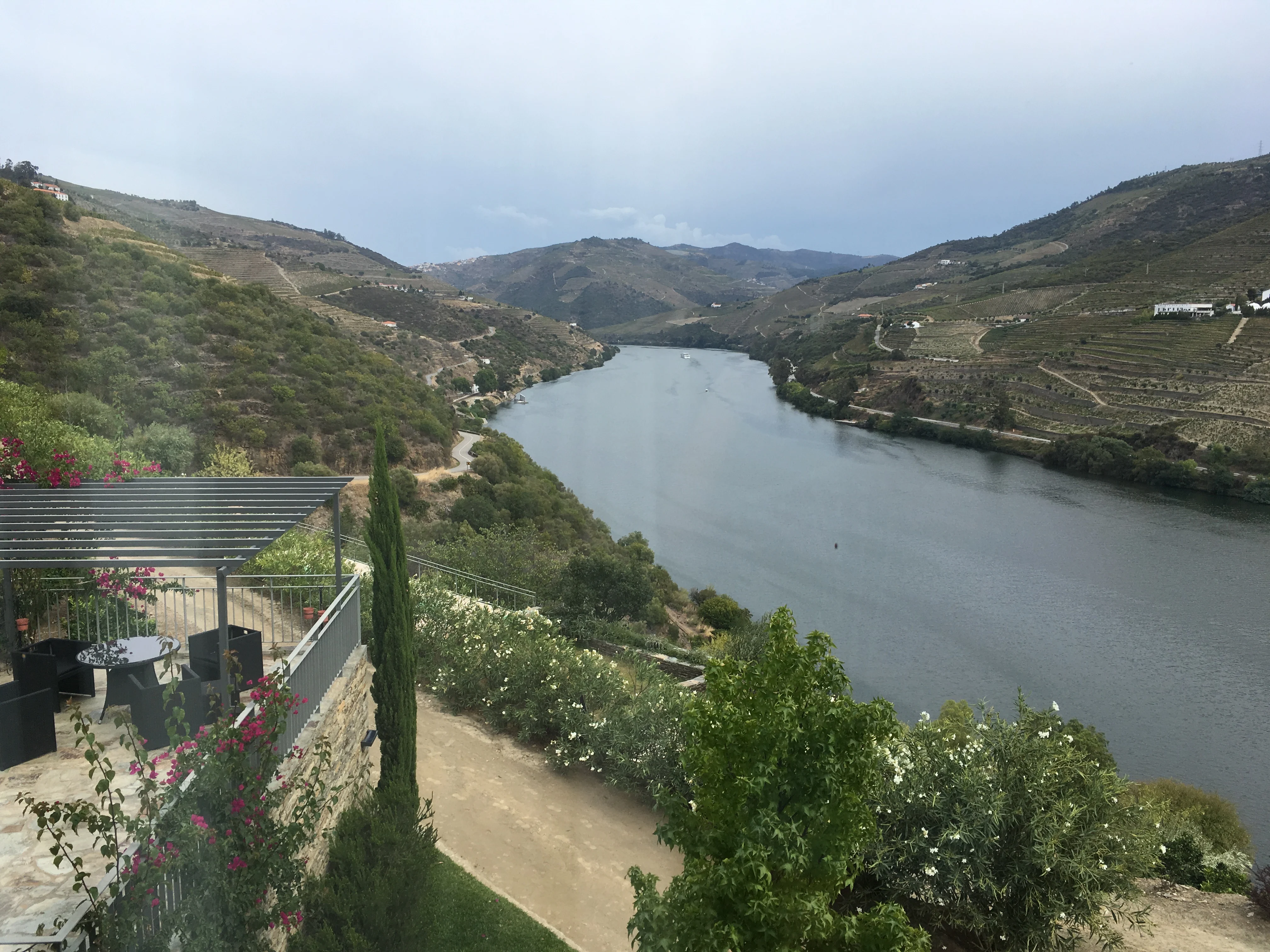 We emailed the Quinta in advance to let them know exactly when we would arrive, and they were there waiting for us with a car when we got off the train. We were told pretty much all of the Quinta's did this, so just make sure to let them know your arrival time in advance.
Once we got to the Quinta a few minutes later, they welcomed us with a glass of rosé and took us to our room.
To say the view was incredible would be a total understatement — we definitely lucked out and got the best room on the property.
From there, we opted to do a wine tasting (they say tasting, but it's essentially full 6oz pours of a white and multiple reds) and ordered a wonderful cheese plate.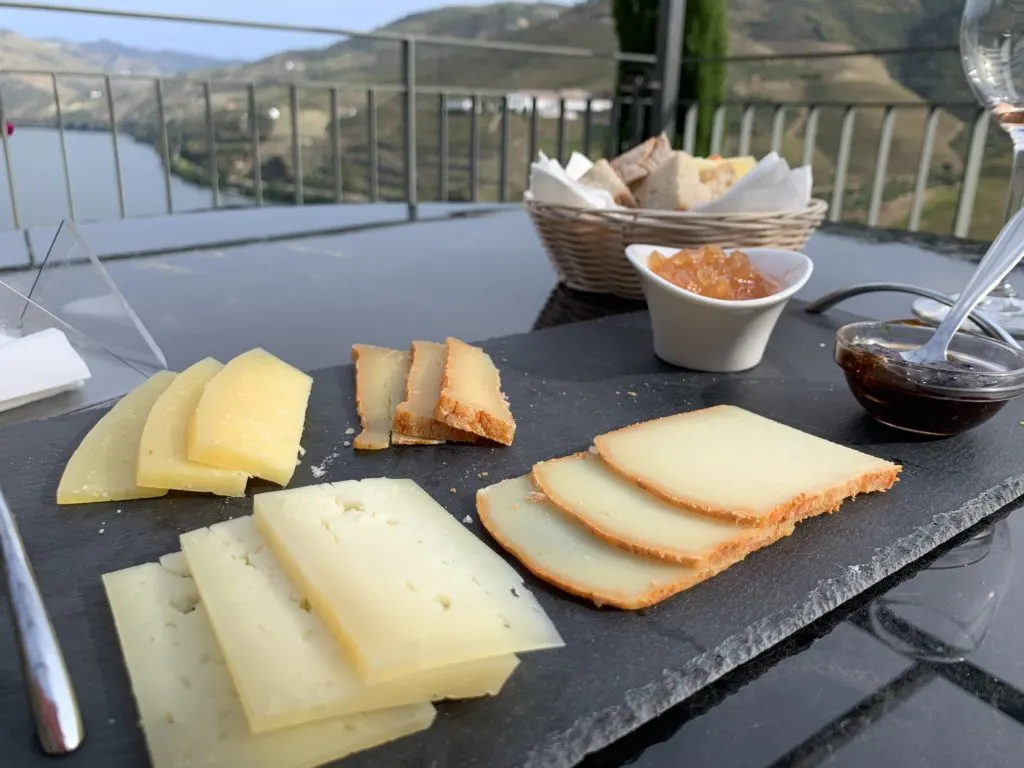 There were plenty of terraces and patios to choose from, and we felt like we had our pick of the lot since there were so few people staying there.
As for the wines themselves, the rosé was truly incredible — we had multiple glasses throughout our stay and couldn't get enough. It was light with a slight tartness that I love in a rosé and a perfect amount of fruit.
The reds were equally fantastic — smooth and highly drinkable, but also complex and very characteristic of the region.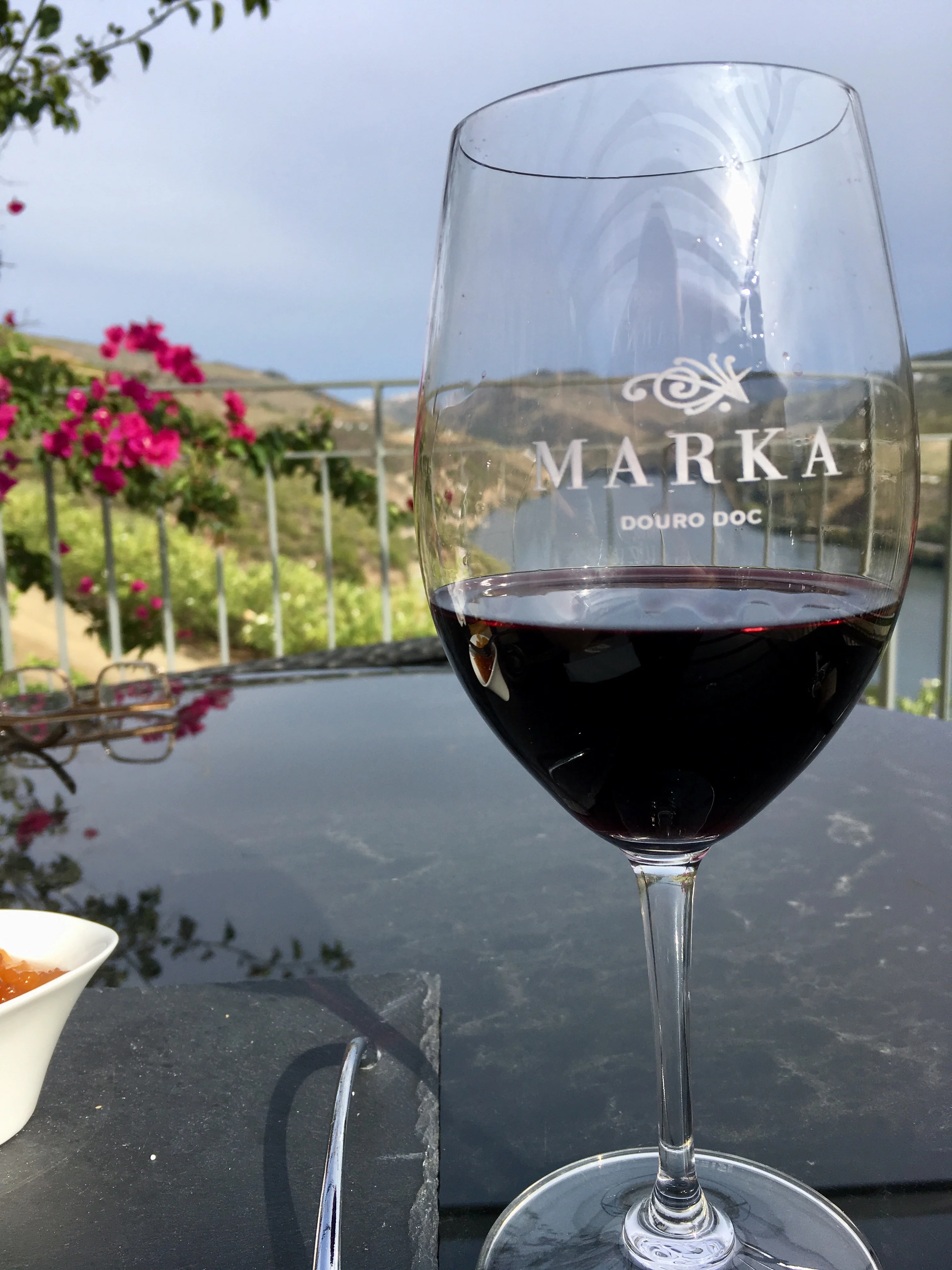 Of the 10 days we spent in Portugal, one of which included a Michelin star restaurant with a 195 euro bottle of wine (I know, I know — it was an accident), these were by FAR the best wines we had on the trip. And to top it all off, they were extremely well-priced. Their second best red that we loved was only $17 euros for the bottle.
LATE AFTERNOON: POOL TIME

After the wine tasting, we suited up for the salt water pool that overlooks the valley. We ordered a bottle of the second red that we tried (all of them were predominately made with Touriga Nacional, but had slightly different blends and vintages), and they said they would bring it to the pool. It was a wonderful way to spend our pre-dinner hours.
EVENING: WINE ON THE TERRACE AND DINNER

After the pool, we showered in our super luxurious bathroom and headed out to yet another terrace for (yet another) bottle of red. The sunset was gorgeous and part of the reason I wanted to come to the Douro valley, so we sat, drank, and watched the colors melt from burnt orange, to red, to navy.
After the sun had set, it was time for dinner. Earlier that day when we checked in, we got to choose from a variety of options. We both went with the 3 course meal plus a bottle of wine of our choice for 35 euros (an INSANELY great price).
Dinner was held outside in a small, glass-walled sunroom. There were only about 6 tables since there are 6 rooms, but it looked like others had come that weren't staying at the hotel just to visit the Quinta.
For the meal, we started off with a fantastic soup that's typical of the region, then moved to the entree (I got a duck, rice and cheese casserole-type-thing — It was DELICIOUS), and then to dessert. Dessert was my second favorite part — wine always wins — because it came with a glass of port that they make off site with another winery. All in all, it was a fantastic meal.
After dinner, we stayed in the dining area and talked with other travelers. Swapping stories with others was a great way to end a perfectly relaxing, wine-filled day.
MORNING: BREAKFAST AND A HIKE
Before breakfast (and despite all the wine we'd had the day before), we decided to get up and go on a quick run around the valley. The run was almost entirely uphill, but it was totally worth it for the views of the various Quintas and the Douro river.
It allowed us to see some different parts of the Valley, which was nice, but we still thought where we stayed was the most stunning location of all.
If you do decide to venture out, just be careful! There's no sidewalk (of course) — it's just a winding road with low visibility between turns, so run at your own risk.
Once we got back, we explored the actual vineyard for a bit and eventually made our way to breakfast.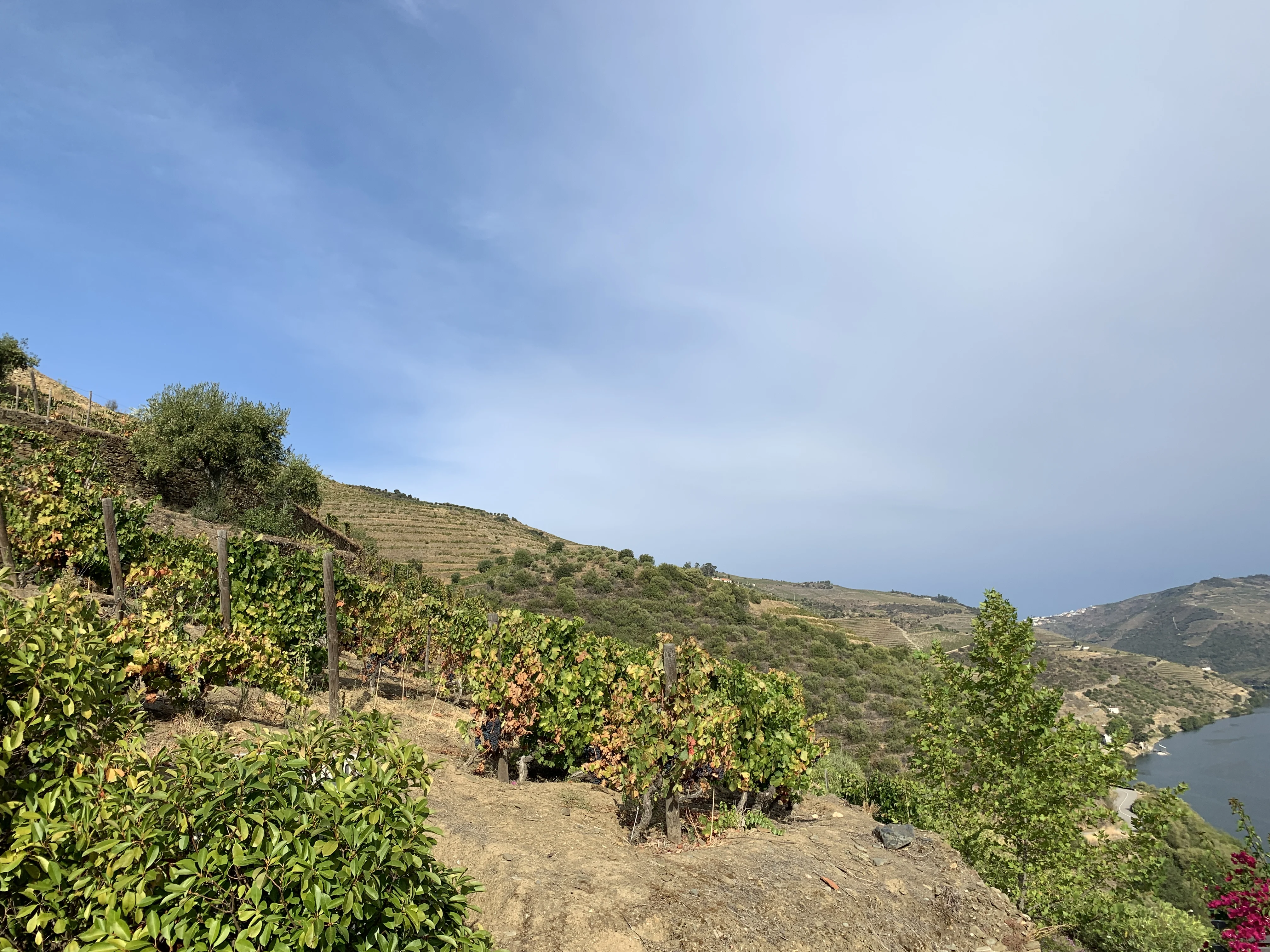 The Quinta offered a complimentary breakfast buffet, and it went above and beyond a typical Comfort Inn spread. There were pastries and cakes, unique jams and preserves, eggs however you like them ordered on demand, and so on.
We were heading out around noon, so we decided to have one more glass of rosé and soak up our last hour at the Quinta. We really wish we had booked more than one night, because it was just so unbelievably pleasant, but we had to get back to Porto for our final night in Portugal.
BACK TO PORTO WE GO

This is just how we decided to spend our 24 hours, but there are of course so many other activities in the Douro Valley: visiting the nearby towns, taking a boat on the Douro, visiting other Quintas, etc. But this was the very last leg of our trip, and after traveling non-stop for nine days, we just wanted to be still for one day and night.
The Douro Valley was the perfect place to take a step back and reminisce about all we had done on our trip, and my only regret is not staying for one more night and not taking more pictures (I know it looks like we took a ton, but I feel like I could've taken a million and still not fully captured the beauty of this area).
So if you're in Portugal and love wine and/or gorgeous landscapes, visiting the Douro is 10/10 an absolute must. Make sure to drink too much Touriga Nacional, take plenty of pictures, and embrace every part of this unbelievable wine region.
---
Read also: