My honest review of Barefoot On Tap Pinot Grigio.
This is a series of posts designed to help you choose the right boxed wine for you. No one would ever pay me to write about this, so you can rest assured my opinions are unbiased.
Overall value of the wine is primarily graded by taste and the number of ice cubes needed to make it drinkable. Wines are rated on a grading scale of F to A+.
So join me as I suffer through three liters of every Black Box, Bota, Barefoot, etc and take myself way too seriously.
Barefoot On Tap Pinot Grigio Honest Review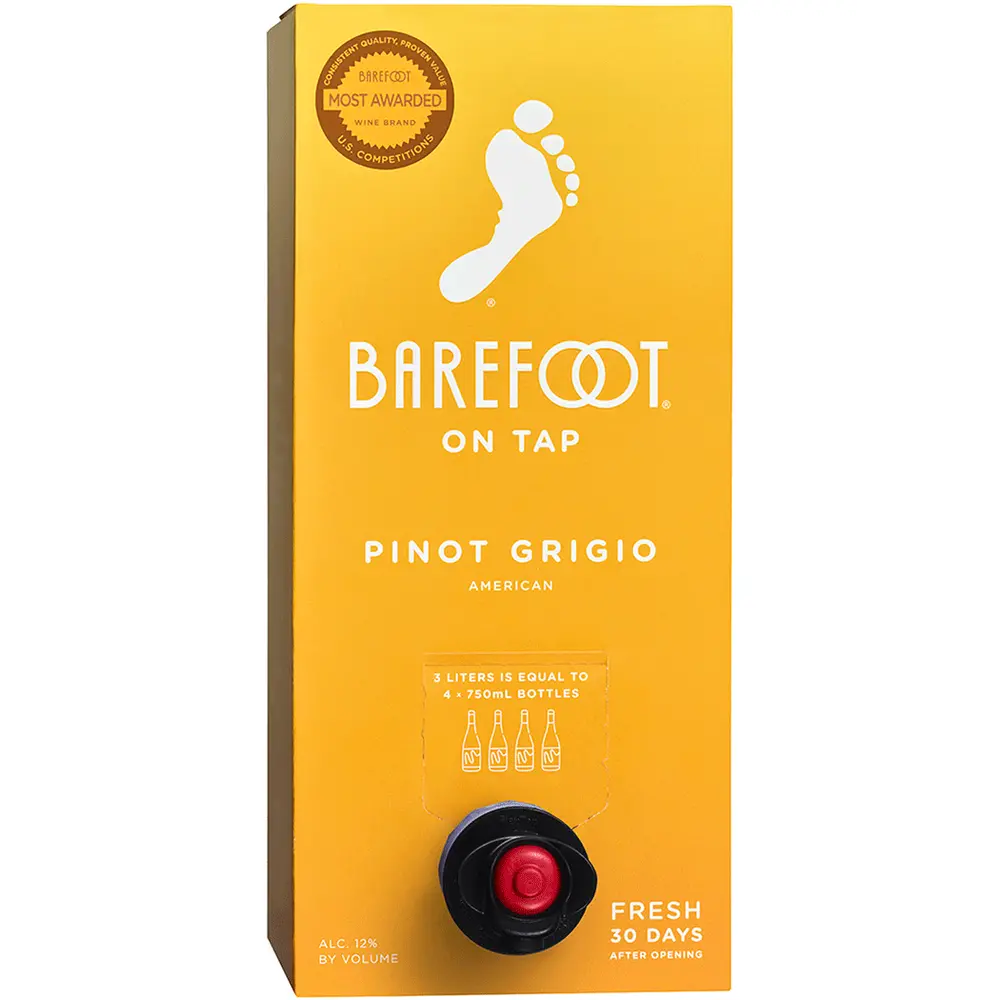 Price Range
$17.99 – 22.99
Origin
California
Packaging
Easy to open and pour. The case is as vibrant and bright as a thousand burning suns or a drum cymbal lit on fire. Basically, just a shade of yellow I didn't realize could exist in nature.
Tastes Like
Honestly, not a whole lot — and that's not a bad thing! I expected it to be overly sweet or taste like wet dog, as is the case with most boxed Pinot Grigio, but it's actually extremely inoffensive.
It smells like apples and lemons, and it pretty much tastes like watery apples and lemons. There's JUST enough acidity to give it more structure than water though, and the overall result is quite pleasant.
I don't have anything bad to say about this wine and it does everything you want a boxed Pinot Grigio to do. It would make a mean sangria or spritzer, you can serve it to anyone without insulting them, and it's a solid wine if you just want a glass of something easy and cheap.
# Of Ice Cubes Needed
I'm surprised I'm saying this because often boxed Pinot Grigio needs the help of my icy friends, but this wine actually doesn't need any cube action. It's already fairly bland and watered down, so the ice won't do it any favors and will likely hurt more than help.
Food Pairings
This is my go-to wine when I go to my local movie theater that serves pints of wine, so my favorite pairing with it is popcorn. Since it's only a few ice cubes away from being lightly flavored water though, it will go with most salty snacks.
Overall Value: B
While I can't find anything particularly bad to say about this wine, I also can't seem to make myself sing its praises.
It's inoffensive to the point that you hardly realize you're drinking wine — it could just be a refreshing lemon-infused water with booze. Since this is kind of a good thing in my eyes, I think this box deserves a solid B.
So I won't be serving it alongside salmon any time soon, but I will be pounding it back when I'm watching Oscar shorts at the theater. And that's really all I ever wanted in a boxed Pinot Grigio.
---
Read Also: