If you love jello and vodka, it only makes sense to combine them into one delicious shot! But what is the best vodka to use for jello shots?
The short answer is: it depends on the jello shot recipe and your budget. For the long answer, read on!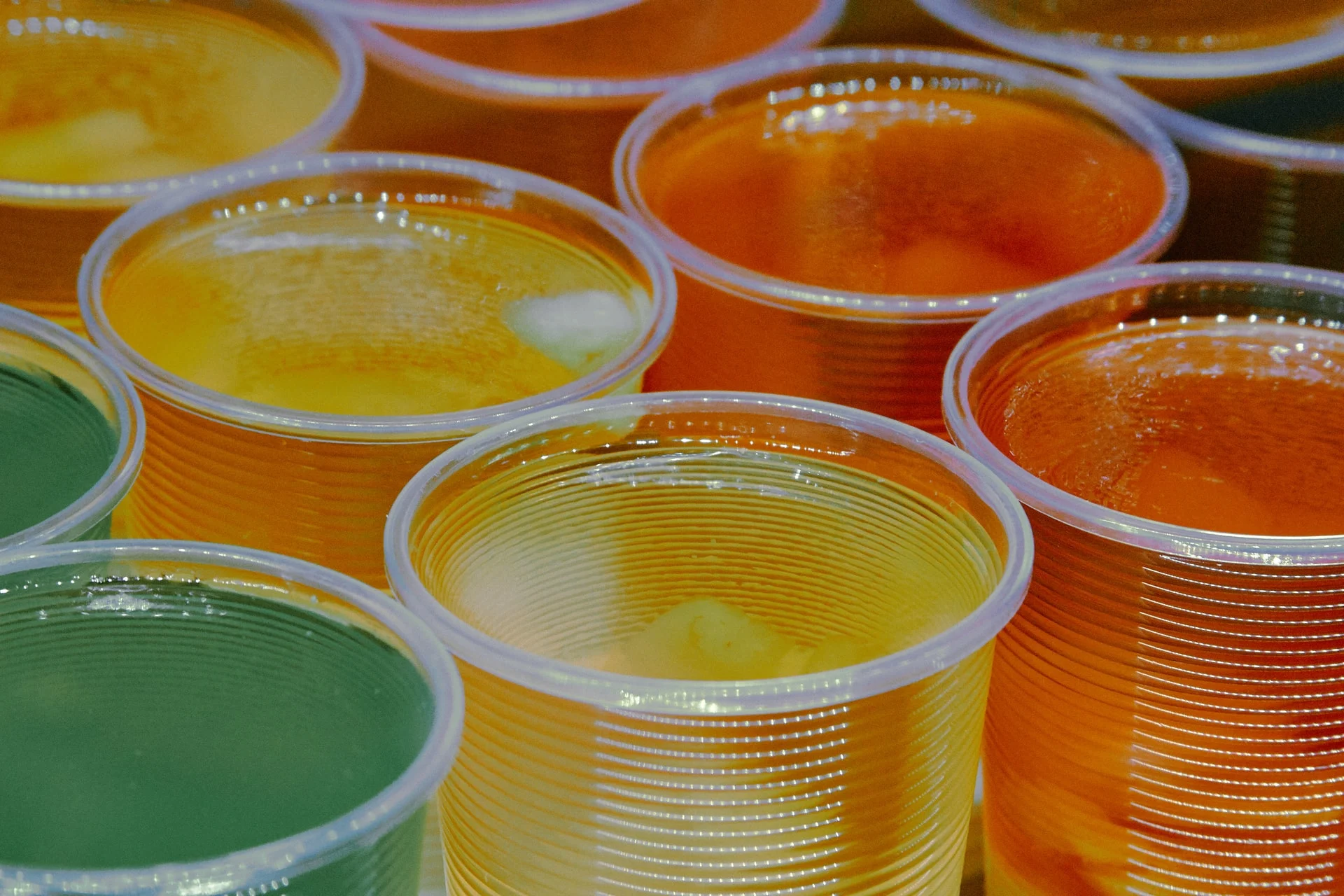 Types of Vodka for Jello Shots
There are three types of vodka: plain, flavored, and infused.
Plain Vodka
Plain vodka is the most popular type of vodka by far. It's essentially made up of just ethanol and water, so the taste is fairly neutral and blends in easily with most mixers. This makes it great for jello shots.
Examples include Tito's, Absolut, and really any other vodka that isn't flavored or infused.
Flavored Vodka
Flavored vodka is vodka with artificial flavoring. From flavors like tobacco to strawberry, the sky is truly the limit.
They're fun to use in jello shots since you can come up with some pretty creative combinations. Flavored vodka is also ideal if you want your jello shot to have a specific strong, condensed flavor.
Infused Vodka
Finally, infused vodka is vodka that's flavored with real ingredients, like herbs and fruits, as opposed to artificial flavorings.
They're considered more sophisticated than flavored vodka, and are made by steeping the ingredient in vodka for a prolonged period of time. Usually, infused vodkas are made at home as opposed to bought at the store, so you won't find a ton of them on the market.
Choosing a Type of Vodka for Jello Shots
It all comes down to what you want the jello shot to taste like.
If you want to make a watermelon jello shot with a really strong watermelon taste, you should combine watermelon flavored vodka with watermelon jello.
However, if you want a more subtle watermelon flavor and for the vodka to come through a bit more so the shot tastes similar to a mixed drink, you would want to use plain vodka with watermelon jello.
TL;DR: For stronger, more condensed flavors in your jello shot, use flavored or infused vodkas. For jello shots that are more subtle in flavor, use plain vodka.
The Best Brand of Vodka for Jello Shots
There are plenty of vodka brands to choose from, but which is the best for making jello shots?
Again, the answer is: it depends. Ultimately, any vodka is going to mix in the same with jello and there isn't a specific brand that's made with jello shots in mind.
That said, not all vodkas are made equal, and the following vodka brands are the best for jello shots depending your price point and what type of vodka you need.*
Best Flavored Vodka on a Budget: New Amsterdam ($11-$14)
New Amsterdam is an excellent vodka for the price and has a solid variety of flavors to choose from. The flavors are simple, but they're very well made and balanced.
Apple, mango, coconut, and peach are just a few of their offerings that work really well in jello shots.
Best Flavored Vodka Overall: Absolut Vodka ($20-$25)
If you're looking for a more "elevated" flavored vodka, Absolut is a great choice. Their flavored vodkas are a step above New Amsterdam's quality-wise, and they come in a wide range of flavors.
They have your staples like mango and vanilla, but they also offer more interesting flavors like blackcurrant, pepper, and blueberry açaí.
Best Plain Vodka on a Budget: Svedka ($12-$16)
It's hard to beat Svedka for the price. If you need a plain and cheap vodka, Svedka is clean, smooth, and won't add any off flavors to your jello shots.
Tito's is not very expensive at all considering the quality, and is by far the best vodka for the price on the market.
If you want a crisp, clean vodka for a jello shot, there's no reason to spend money on an expensive bottle. Grab a bottle of Tito's and you'll be just as happy with the result.
Best Infused Vodka on a Budget: Skyy Infusions ($14-$17)
As mentioned earlier, you won't find a ton of infused vodkas at the store, but there are a few exceptions.
Skyy Infusions use natural flavoring and come in a variety of unique flavors that they update regularly. Some of their flavors that are great in jello shots are Apricot, Blood Orange, and Cold Brew Coffee.
Grey Goose Essences offers three fun and delicious infused vodkas: Strawberry and Lemongrass, Watermelon and Basil, and White Peach and Rosemary.
The addition of herbs in the infusion is perfect if you want to make jello shots with more nuanced taste profiles.
*Prices are based on 750ml bottles and will vary depending on your state.
How to Make Vodka Jello Shots
There are many ways to make jello shots and different ratios you can use, but the most common method is the following:
Combine 1 3oz package of jello with 1 cup of boiling water and stir till the jello dissolves
Pour in 1/2 cup of cold water and a 1/2 cup of vodka to the jello mixture
Stir until combined then pour into shot cups
Refrigerate for 3-4 hours or until the shots are firm
This will make 12-16 shots depending on the size of your shot cups.
While this is the most popular way of making jello shots, there are many variations and it's easy to get creative! Here are a few ways you can mix up the traditional recipe:
Use fruit juice instead of water
Add fresh herbs or spices to the boiling water or juice
Increase the amount of vodka for a stronger jello shot
Add other liquors or liqueurs when adding the vodka
Use multiple flavors of jello (just use half of each pack)
Ultimately, it's all about your end goal and how creative you want to get! The only real rule is you need to have equal parts boiling and cold liquid so it mixes and freezes properly, and you don't want to boil the vodka for obvious reasons.
Vodka Jello Shot Recipe Ideas
If you want a recipe that walks you through the process from start to finish, here are 24 vodka jello shot recipes that are perfect for any occasion or skill level!
But just like with flavors of vodka, the sky is the limit when it comes to jello shot recipes. You can make them as simple or creative as you'd like, but here are some of the all-time best combinations.
Cherry Limeade: Cherry Vodka, Lime Jello
Orange Creamsicle: Vanilla Vodka, Orange Jello
Cosmo Shot: Plain Vodka, Cranberry Juice, Orange Jello
Blueberry Lemonade: Blueberry Vodka, Lemon Jello
Lemon Drop: Lemon Vodka, Lemon Jello
Sour Apple: Plain Vodka, Sour Apple Schnapps, Green Apple Jello
Rosemary's Baby: Plain Vodka, Grapefruit Juice, Lemon Jello, Fresh Rosemary
These recipes are a great place to start, but half of the fun is coming up with your own combinations and getting creative. So next time you're at the store, pick up an interesting flavor of vodka or jello and start to experiment.