If you've ever wondered if you can pair red wine with salmon, the answer is a resounding yes! Although people usually serve salmon with white wine, there are red wines that go just as well with one of the world's most popular fish.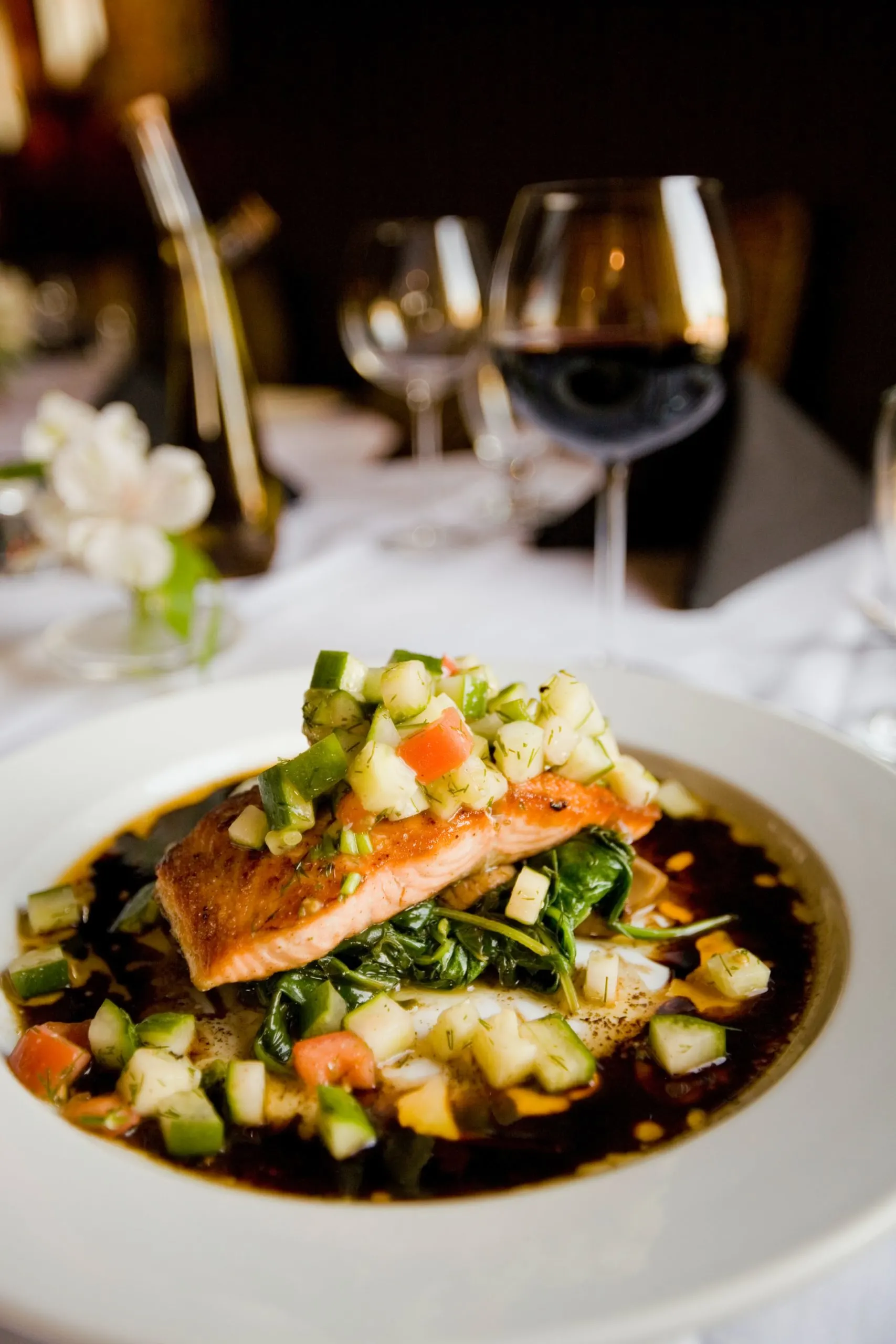 Salmon is a meaty, versatile fish that can be prepared in many different ways, so it stands to reason that it can pair with a wide range of wines, including reds.
These 5 red wines will pair with any type of salmon: whether it's grilled, blackened, poached, roasted, etc.
I also included bottle recommendations under $20 for each type of wine that you should be able to find at a Total Wine or larger local wine store near you.
So without further ado, let's get right into the red wines you need to try next time you're having salmon!
5 Best Red Wines To Pair With Salmon
1. Gamay
Gamay is a red grape that's primarily grown in the Beaujolais wine region of France right below Burgundy. It makes light red wines with low tannins that tend to be fruit-forward. Tastewise, Gamay is a cousin to Pinot Noir and has many similar qualities.
It's one of the lightest bodied red wines you can find, so it wouldn't overpower poached salmon. It also has enough structure to hold up to blackened or tandoori salmon.
If you're feeling fancy, I recommend picking up a Beaujolais Cru from Morgon or Chiroubles, because they have great structure and high acidity that would complement grilled salmon with a fruity balsamic sauce incredibly well.
That said, a Beaujolais Village will have the same qualities, and would be just as good if you're on a budget.
Bottle recommendation: Jadot Beaujolais Villages ($12)
2. Pinot Noir
Given its similarity to Gamay, it's no surprise that Pinot Noir also goes great with salmon. Like Gamay, Pinot Noir is a grape that produces light-bodied wines with high acidity and low tannins.
Pinot Noir can taste very different depending on where it comes from. For example, Pinot Noir from the Burgundy region of France tends to be more savory and earthy than a Pinot Noir from California, which leans toward the jammier side of the spectrum.
To pair with salmon, I personally recommend trying a bottle from Burgundy. The earthy, complex flavors of a Red Burgundy would pair incredibly well with salmon covered in a creamy mushroom sauce.
Bottle recommendation: Dom St Germain Bourgogne Rouge ($17)
3. Lambrusco
Lambrusco is a red sparkling wine from Northern Italy made with grapes of the same name. It's super refreshing and fruity, but also has great body and a little bit of tannin.
Though many Lambruscos are off-dry (i.e. semi-sweet), dry Lambrusco is becoming more and more popular. Either will go well with salmon depending on the preparation.
If you're having salmon with a spicy sauce/rub or a maple glaze, I would opt for an off-dry Lambrusco. For salmon with a lot of herbs or seared salmon, I'd choose a dry Lambrusco.
Bottle recommendation: Lini Lambrusco Rosso ($15)
4. Counoise
Counoise is a red grape with high acidity that's best known for being a blending grape in wines from Châteauneuf du Pape. That said, it's also grown stateside in California and Washington, and it's more than possible to get your hands on a bottle of 100% Counoise at your local Total Wine.
This varietal has a lower ABV than most reds and makes fantastic rosés and blends, but it's also lovely as a single varietal wine.
Counoise is similar to Gamay in that it's light, fruity, aromatic, and acidic, and it would go great with a salmon niçoise salad.
Bottle recommendation: Groundwork Counoise ($20)
5. Primitivo
Primitivo is essentially just red Zinfandel from Southern Italy. It's lighter-bodied and higher in acidity than its American counterpart, but it still has a lot of the juiciness and fruitiness of a California red Zin.
It tastes great with a chill on it, so it's an excellent choice if you're having grilled salmon at a summer barbecue.
Since Primitivo can be a bit bolder than the other reds on this list, I would also recommend trying it with a rich and flavorful pan-seared or blackened salmon.
Bottle recommendation: Caleo Primitivo Salento ($10)
---
Next time you're serving salmon, I hope this inspired you to try one of these reds! Also, if you have a red wine you enjoy having with salmon, please let me know in the comment section below 🙂
More Wine Pairing Ideas