I wanted to share my favorite wines for fall this year with bottle recommendations under $20, because nothing keeps you warm and cozy during the spooky season like a good glass of vino!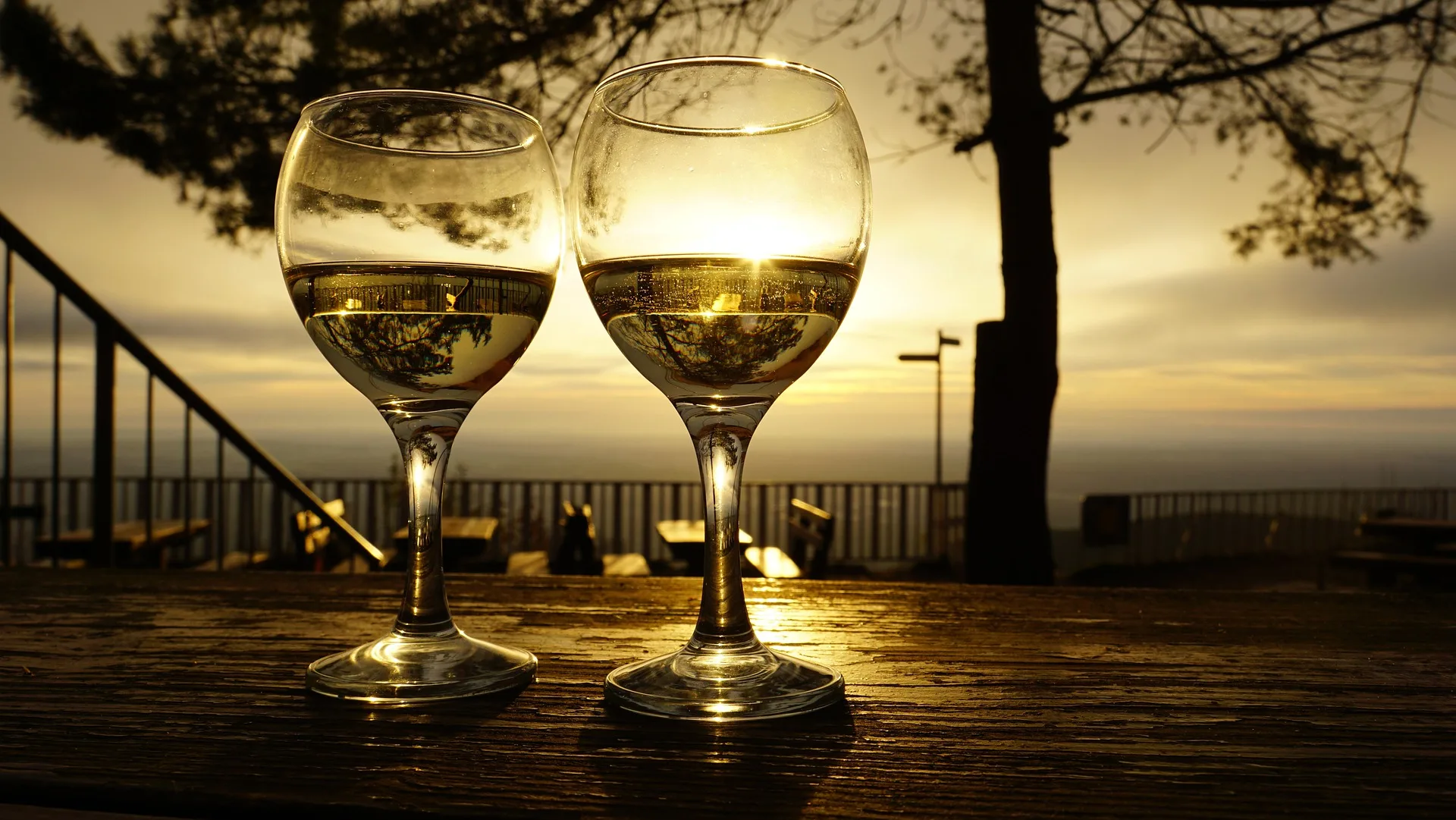 If you live in the south like me, you're more than excited for the fall weather to come around. It was a HOT summer. The swampiness was unending and every time I spent more than 5 minutes outside, I looked like I just emerged from a sauna.
So I am THRILLED autumn is finally here. There's nothing I want more than to cozy up with a glass of something seasonal and delicious without worrying a mosquito might dive bomb into it.
Anyway, I decided to start this series focusing on the best wine for the season because it honestly changes for me every single year (aside from a few staples). I love sharing new wines I've found that are perfect for the weather, along with varietals that I haven't had in a while but still hold up.
As for "criteria", in my opinion a fall wine can be:
Medium to full-bodied

: We're not just trying to beat the heat and stay hydrated, so we can graduate to heftier varietals

.
Earthy: It doesn't have to be like licking dirt, but earthy wines go so well with fall produce (squash, root vegetables, etc.)
Cozy: Hard to measure, but you know it when you feel it. Can involve a higher amount of residual sugar, which results in a slightly sweeter wine. (I'm not talking white zin here — just a hint of sweetness is what we're looking for.)
Blends: Something about autumn makes people crave blends instead of single varietals. Why? I don't know. Is it science? Probably not. That said, I've included plenty of single varietals below too.
This criteria is pretty subjective, but that's okay! Wine is fun and doesn't need to be that serious. My picks won't all be earthy or blends, because these are not hard and fast rules.
You'll also notice that "red" is not a criteria. I believe every type of wine deserves a chance to be drank year-round, be it white, pink, orange, or whatever color they come up with next.
So let's get to the best wines for fall this year! You should be able to find these bottles fairly easily at a Total Wine, but if not, the varietals are common enough that you'll still be able to track down a similar bottle for under $20.
1. Viognier
Viognier is a grape that makes full-bodied, super aromatic white wines. It pours a deep golden color and is has a nice silky texture that goes perfectly with a fall squash dish. If you're a fan of Chardonnay and want to branch out, Viognier is a really nice alternative!
Personal recommendation: Les Piliers Viognier ($17)
2. Pinot Blanc
Heftier than a Pinot Grigio/Gris, Pinot Blanc is the quintessential autumnal white wine in my opinion. It's similar to a Riesling in that it can vary in how sweet or dry it is based on the level of residual sugar, but to me it's a bit rounder and silkier in texture, making it ideal for fall.
Personal recommendation: Trimbach Pinot Blanc ($16)
3. Vouvray
I could add Vouvray to every "best of" list I can think up, but I think it's probably most fitting for fall. It's a French wine made with the Chenin Blanc grape that's full-bodied, ranges from dry to a little sweet to very sweet, and has great acidity.
It's perfect for the season and goes AMAZINGLY well with Thanksgiving dinner (regardless of if it's dry or sweet).
Personal recommendation: Bougrier 'V' Vouvray ($15)
4. "Extra Dry" Sparklings
"Extra Dry" refers to the amount of residual sugar in sparkling wine, be it Champagne, Prosecco, Cava, etc. The term "Extra Dry" indicates that the residual sugar level is between 12 to 17 grams per liter, so these wines are just slightly sweet.
In the summer I love a bone dry sparkling wine, but nothing makes me feel more warm and cuddly inside during Fall than a bubbly wine with a hint of sweetness.
Personal recommendation: St Reine Extra Dry ($15)
5. Tavel Rosé
Tavel is an appellation (aka a geographical area with strict wine growing/production rules) in the Rhone valley in France near Châteauneuf-du-Pape that produces exclusively rosé.
The skins are left on the grapes for a longer period of time than usual when making rosé, and the result is a powerful, deep ruby colored rosé. There's more tannin, structure, spice, and body thanks to the longer contact with the skin, which makes it an absolutely perfect fall rosé. Some can be so dark that they're almost more comparable to a red wine in look and taste!
Personal recommendation: Vignes Des Precheurs Tavel ($15)
6 & 7. White and Red Côtes du Rhone
Speaking of the Rhone Valley, nothing says fall like a white OR red Côtes du Rhone.
The whites are full-bodied, wonderfully aromatic, and generally made with a blend of Viognier, Roussane, and Marsanne.
The reds are also blends made up of primarily Grenache, Syrah, and Mourvèdre. Rhone reds have great body, spice, and earthiness to keep you warm in the briskest of fall weather.
Personal recommendation (white): Pierre Henri Morel Cotes Du Rhone Villages Laudun Blanc ($16)
Personal recommendation (red): Guy Mousset Cotes Du Rhone Reserve ($15)
8.
Red

Bordeaux

Red Bordeaux is usually a blend of Merlot, Cabernet Sauvignon, and Cabernet Franc. It's dry, earthy, and powerful with nice acidity and spiciness, which makes it a perfect for grilled meats with rosemary or other similar fall foods/spices.

Personal recommendation: Chateau De Camarsac Bordeaux Superieur ($16)
9.
Rioja
Rioja is a red blend from Spain that uses Tempranillo as its main grape varietal. Other grapes in the blend are usually Garnacha (Grenache), Mazuelo (Carignan), or Graciano. It has a wonderful spiciness along with warm vanilla notes, making it fall VERY high on the cozy spectrum.
Personal recommendation: Latitud 42 Rioja Ecologico ($10)
10. Red Burgundy
Red Burgundy is made with exclusively Pinot Noir, but it tastes very different from a California or Oregon Pinot. These wines are dry, delicate, refined, and earthy with light tannins, which makes them wonderful for Fall. A nice bottle will cost you a not insignificant amount of cash, but sometimes a beautiful bottle of wine is worth the splurge!
Personal recommendation: Louis Chavy Coteaux Bourguignon ($16)
11. Beaujolais
It's an obvious one, but I had to put Beaujolais on this list.
Beaujolais is a red wine from France that's made with the Gamay grape. You may have heard of Beaujolais Nouveau, which refers to a young wine made with Gamay. Beaujolais Nouveau actually has a holiday centered around it every November where people — you guessed it — drink a lot of Beaujolais Nouveau. It's basically French Thanksgiving.
Beyond the apt seasonal timing, Beaujolais is also a wonderful fall wine thanks to its grippy tannins and juicy dark fruits.
Personal recommendation: Duboeuf Beaujolais Nouveau ($10)
I just realized that all but one of these bottle recs is French so…. oops! French wines are my fave though and so many of them are perfect fo fall, so I stand by my picks 😂
Which of these have you tried and which are you looking forward to trying? If you have a favorite fall wine that I didn't include, please let me know in the comment section below!