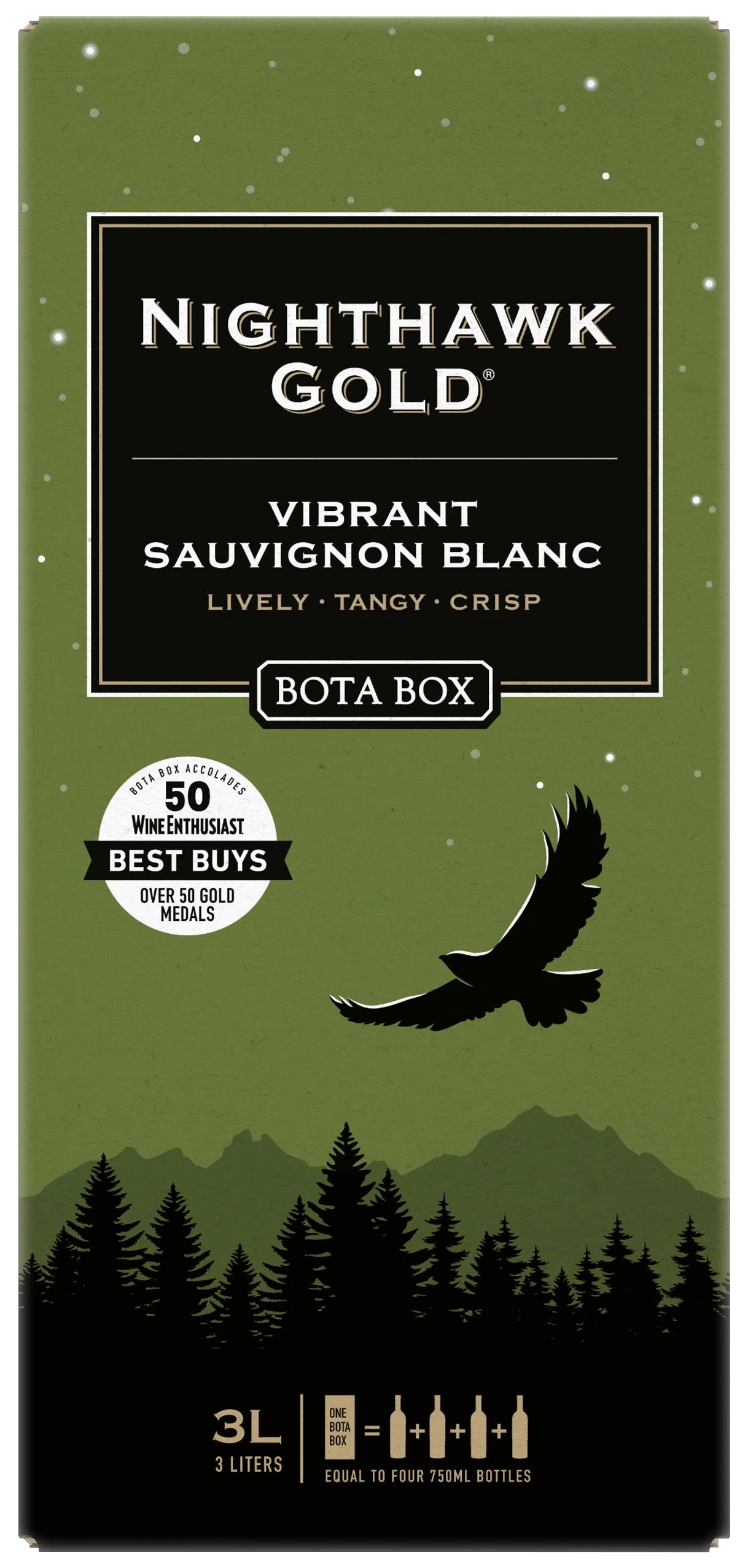 My honest review of Bota Box Nighthawk Gold Vibrant Sauvignon Blanc. (K… that's a mouthful, Bota Box.)
This series of posts is designed to help you choose the right boxed wine for you. No one would ever pay me for my opinions, so you can rest assured my reviews are 100% unbiased ?
Overall value of the wine is primarily graded by taste and the number of ice cubes needed to make it drinkable. Wines are rated on a grading scale of F to A+, because wine rating systems are arbitrary and I like letters more than numbers.
So join me as I suffer through three liters of every Black Box, Bota, Barefoot, and whatever else I find on the shelves of Harris Teeter.
Bota Box Nighthawk Gold Vibrant Sauvignon Blanc Honest Review
Price Range
$16-$20
Origin
All Bota Box wines are produced at Delicato Family Wines' Certified Sustainable California winery. So at least they have that going for them.
Packaging
I've said it before, and I'll say it again: Bota Box has by far the most difficult packaging to open and pour without half the wine spraying down the side of your glass and all over your refrigerator. The spout just doesn't protrude far enough, so you have to do some elaborate thumb yoga if you don't want to spill it all over the everything.
As for aesthetics, I actually really like their "Nighthawk" line of boxes. They're kind of witch-y and use saturated colors that make me feel like I'm camping out in the woods under the starry night sky. Which I would never do, but it's nice to emulate the feeling.
Tastes Like
When I first cracked this box open, I was honestly not impressed. What they marketed as "vibrant" just felt meh. That said, once it became less ice-cold, the fruit started to round out the acidity, and I enjoyed it quite a bit.
As my time with this box drew on, I realized that I liked it better when the box was about a third of the way empty and the wine had a chance to sit outside of the fridge for a second. The taste just becomes mellower and overall more pleasant.
Taste-wise, you can expect a pretty classic New Zealand Sauvignon Blanc even though it's made in California. It's a powerfully fruity wine that's well balanced thanks to the high acidity. The smell and taste is citrusy, primarily lemon and grapefruit. There are also some subtle floral and grassy notes that complement the fruitiness without overpowering it.
Usually I find boxed Sauv Blanc overly citrusy and acidic, but not this one. This box goes heavy on the fruit without smacking you in the face with citrus like HEY I'M A GRAPEFRUIT HI HELLO I'M A FRUITY GRAPEEEEE! And for that, I applaud this box.
Also, I hate it when marketing is on the nose, but as it turns out, "vibrant" is actually a pretty good way to describe this wine. A good batch will perk you up and make you feel like you're drinking a golden ball of sunshine.
# Of Ice Cubes Needed
Zero! This box o' wine is nice on its own and I actually prefer it when it isn't ice cold. Obviously if you're in a pinch and it's still room temp, feel free to throw in a cube friend or two, but they're unnecessary as far as taste is concerned.
Food Pairings
This would go well with the foods you would normally pair with Sauvignon Blanc. Grilled fish, goat cheese, roasted chicken, vegetable pasta, anything with a lemony sauce… the list could go on forever.
Overall Value: A-
This is probably one of my higher scores for a boxed wine, and I'm as surprised as anyone else. Sauvignon Blanc is not my favorite, but this might just become a staple in the Johnson household.
One caveat: as with all boxed wines, the batches can be a bit inconsistent from box to box and even from start to finish within a singular box. If you get a slightly less good box or pour a "meh" glass, don't let it discourage you and try again.
Ultimately, when this wine is good, it's quite good. And when it's less good, it's simply inoffensive. So in the world of boxed wine, it could be much worse. If you're a Sauvignon Blanc fan, definitely try this before Black Box or Barefoot and thank me later.
---
Read Also: