The days are getting shorter and the weather's getting chillier, so I wanted to share the wines I'm drinking this winter along with bottle recommendations under $20!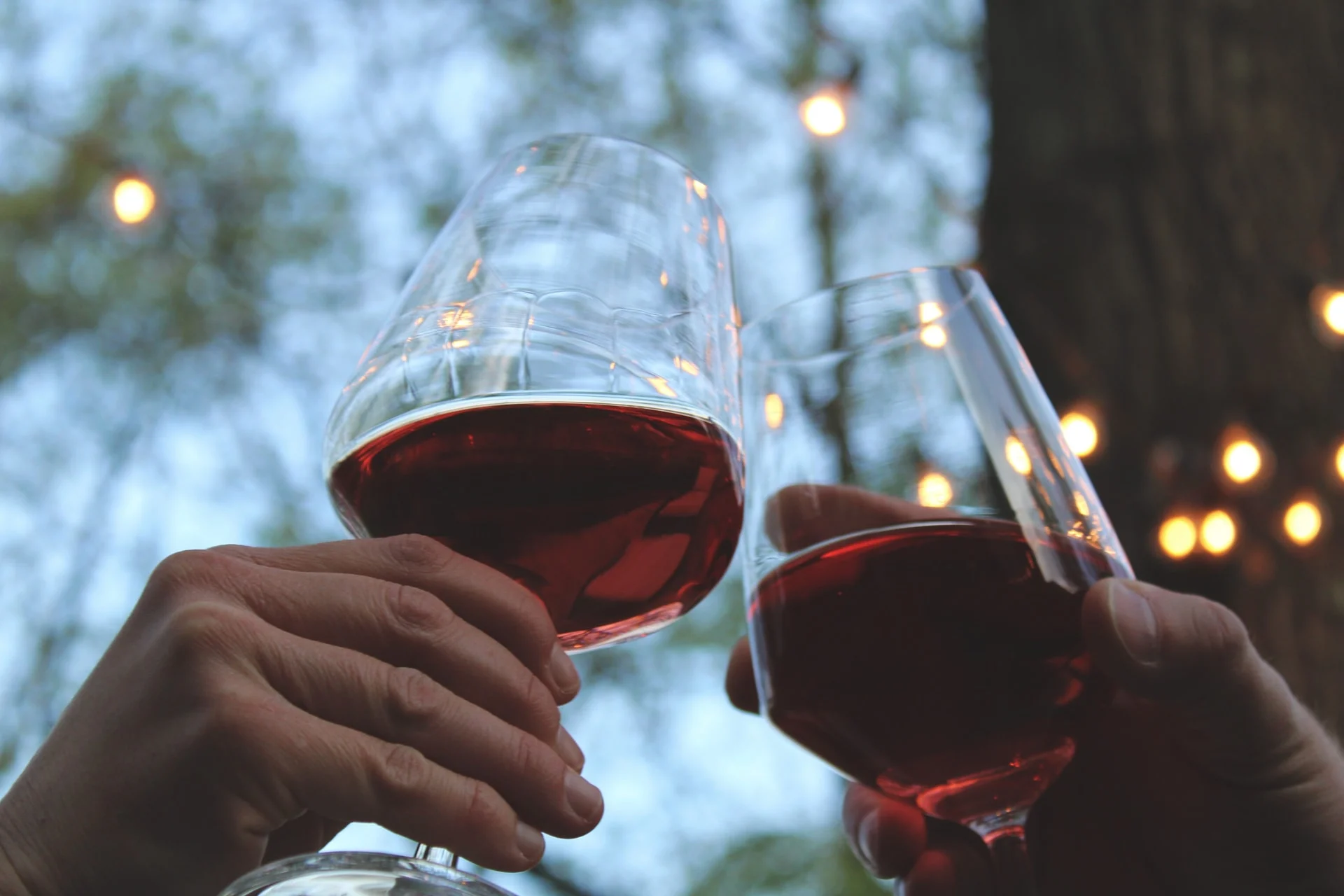 There's truly nothing better than a cozy glass of wine to keep you warm in the wintertime. Curling up next to the fireplace with a nice bottle of vino while watching the snow fall is just one of those feelings that can't be beat.
Or maybe you live in Florida and don't need to warm up, but still enjoy changing it up in the wintertime and drinking something more festive.
Either way, whether you want a unique wine for the holidays or something fun to sip on while whipping up a hearty stew, these wines will all fit the bill.
What is a 'winter wine'?
What constitutes a winter wine is a bit subjective, but here's the criteria I'm looking for:
Full-bodied: We want something with more body to go along with the heftier food we tend to eat in the winter.

Spicy: Wines with spicy notes are festive, will keep you warm, and pair great with seasonal winter herbs and spices.

Tannic: Since the food is heavier and fattier in the winter, we can lean toward more tannic varietals.

Festive: Tis the season to be festive, so I'm looking for wines that are good for holiday celebrations.

Cozy: The wine has to make you feel warm and cozy inside. This is the most subjective criteria of them all, but you know it when you feel it.
The wines I've picked might not have all five qualities, but they'll have at least have three of them!
Winter technically starts on December 21st and ends on March 20th, and I tend to stock up and hoard wine like I'm going into hibernation since I don't love the cold weather. The less I have to journey outside, the better. At the same time, it's the most magical, festive time of the year.
This is all to say I have a love-hate relationship with winter, but these wines should help get me — and hopefully you — through the holiday stress, cold weather, and stretches of winter where nothing happens at all (I'm looking at you, January).
But enough about me: let's get to the best wines for winter this year! You should be able to find these bottles fairly easily at a Total Wine, but if not, these wines are common enough that you'll still be able to track down a similar bottle for under $20.
1. Riesling
There's nothing like a Riesling during the holiday season, and it's my go-to white wine all winter long. Many people assume Rieslings are sweet, but most Rieslings you'll find are actually dry or off-dry (i.e. semi-sweet).
Whether you prefer dry, semi-sweet, or sweet though, Riesling is always a festive and delicious cold weather white wine and I suggest trying one from Alsace or Germany.
Personal recommendation: Mueller Niersteiner Spatlese ($12)
2. Chardonnay
It's no secret that Chardonnay is one of the best winter whites! It's full-bodied, nutty, vanilla-y, buttery… all of the flavors that make you feel warm and cozy on the inside.
I'm actually partial to unoaked Chardonnay, which is a little bit lighter tasting and less buttery, but still great for winter. If you're interested in an unoaked Chardonnay, I recommend picking out a bottle from France or Oregon. For oaked Chardonnay, I'd lean more toward California.
Personal recommendation: Raeburn Chardonnay RRV ($17.50)
3. White Rhone Blend
Though the Rhone valley in France is best known for its red wines, it produces equally delicious white wines! White Rhones are generally made with a blend of Viognier, Marsanne, and Roussane. The result is a beautiful, full-bodied wine with a round texture and tingling acidity.
It pours a gorgeous golden color and is one of the more aromatic white wines around. You can expect strong floral notes along with peach and honey.
Personal recommendation: Chateau De Nages Heritage Blanc Vieilles Vignes ($19)
4. Champagne
Champagne is without a doubt the quintessential sparkling winter wine! It's perfect for Christmas brunch, New Year's Eve, or if you want to just to sip on a sparkling wine with a bit more body to it.
Though people call many sparkling wines "Champagne", the only true Champagne comes from the Champagne region of France. They're a little pricier and the only wine on this list you won't be able to find for under $20, but they're totally worth it. Tis the season to treat yo'self, after all!
Personal recommendation: Mailly Brut Reserve Grand Cru ($23)
5. Tavel Rosé
Tavel is an appellation (i.e. a geographical area with strict wine growing/production rules) in the Rhone valley in France near Châteauneuf-du-Pape that produces exclusively rosé.
The skins are left on the grapes for a longer period of time than usual when making rosé, and the result is a powerful, deep ruby-colored rosé. There's more tannin, structure, spice, and body thanks to the longer contact with the skin, which makes it an absolutely perfect winter rosé. Some can be so dark that they're almost more comparable to a red wine in look and taste.
Personal recommendation: Vignes Des Precheurs Tavel ($15)
6. Petit Verdot
Petit Verdot translates literally to "little green one", but the name does not necessarily reflect the taste! This varietal makes full-bodied wines that pour a gorgeous dark purple color. In my opinion, it's one of the prettiest wines in terms of appearance.
It's traditionally been used as a blending grape in red Bordeaux and California red blends, but it's now being used more and more to make single varietal wines since it's so unique and delicious on its own.
Taste-wise, you can expect black fruits along with herbal and floral notes that remind me of wintertime, such as sage and violet. Though high in tannins, they're extremely drinkable and are sure to get you through the coldest of winter days.
Personal recommendation: Blue Valley Petit Verdot ($20)
7. Syrah
Another hearty red that's wonderful during the wintertime! Syrah originally comes from France, and it makes some of the most full-bodied wines on the market.
Like Petit Verdot, Syrah has strong notes of dark fruits. What makes it great for winter though is its characteristic spiciness that lingers after every sip. This pepperiness goes so well with roasted meats and results in a tingly, warming sensation that's as pleasant as sitting by a fireplace.
Personal recommendation: Fess Parker Syrah ($20)
8. Nero d'Avola
Nero d'Avola is the most widely planted red grape in Sicily, but it's made its way over to California and Australia as well. If you're a big fan of Cabernet Sauvignon or Syrah, you'll probably love Nero d'Avola!
This varietal makes big, bold red wines with notes of black fruits, licorice, and tobacco. So it makes for an ideal pairing with meaty winter stews on a chilly night!
Personal recommendation: NeroOro Rosso Riserva ($17)
9. Port
Port is a sweet fortified red wine that hails from the unbelievably gorgeous Douro Valley wine region in Portugal. It's made with a blend of grape varietals that are indigenous to Portugal, and it's typically considered a dessert wine due to its higher level of residual sugar.
When shopping for Port, you'll mainly see either "Ruby" or "Tawny" on the label. The difference is Tawny port is aged for a longer period and develops a nuttier flavor, while Ruby Port is aged for shorter periods of time and is more fruit forward.
Since Port is fortified, it's stronger than a normal wine and typically has an ABV of around 18-20%, which is sure to keep you warm on a cold winter's eve.
Personal recommendation: Sandeman Founders Reserve Porto ($16.50)
10. Pinotage
Pinotage is a South African grape varietal that makes big, smoky, gamy red wines, making it perfect for the wintertime. It's sometimes described as having a bacon-like taste, but it also has jammy dark fruits that balance out the savory, earthy tones.
It goes fantastically well with smoked meats, and I can't think of a better wine to sip by the fireplace!
Personal recommendation: Neethlingshof Pinotage ($16)
11. Tannat
Tannat is a red grape that originated in the Southwest of France and has since become the national grape of Uruguay. It makes super dark wines that are dry, tannic, intense, and rustic. It's so powerful that it's often used as a blending grape, but a lot of people love Tannat as a single varietal because it makes such unique wines.
Wines made with Tannat are especially great for winter because they're bold enough to keep you warm on the coldest nights, and the strong tannins pair perfectly with heavy winter meats.
Personal recommendation: Domaine Du Moulie Madiran ($15)
---
And that's a wrap! Obviously there are so many excellent winter wines, but these are the ones I'm especially excited to drink this year.
I hope some of these recommendations help keep you warm this winter! And if you have a favorite winter wine — be it white, bubbly, pink, orange, or red — let me know if in the comment section below! Bonus points if you have a bottle recommendation at a decent price point 🙂