Many wine lovers and francophiles have heard the word "Sancerre", but many don't know exactly what it refers to. Is it a grape? A place? Or a vineyard?
The answer is that "Sancerre" refers to more than just one thing, which is why many people can confuse the meaning. So let's get right into it and explore the different meanings of the word "Sancerre"!
1. Sancerre is a Medieval Town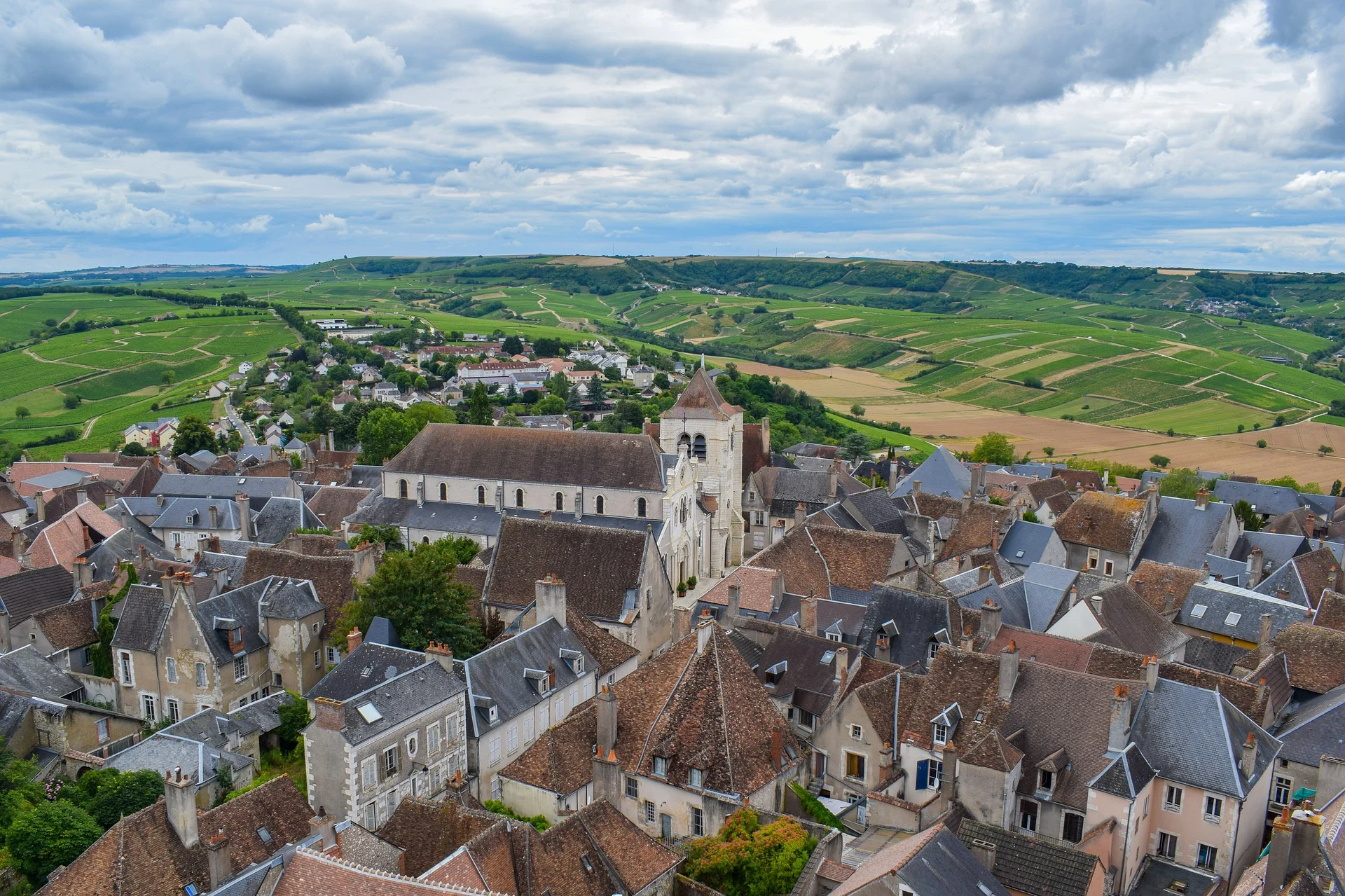 First off, Sancerre is a medieval town in the Loire Valley. It's almost smack in the center of France, and it's located on a hilltop that overlooks the Loire River. This made it an important strategic location for different wars over time, including The Hundred Years' War and the French Wars of Religion. It was also a hub for the French Resistance during WWII!
Nowadays, it's a cute small town that many pass by on wine tasting tours. This brings us to the primary reason the town is famous: wine! Below the hilltop, acres of Sauvignon Blanc and Pinot Noir vines cover the area. While the region is best known for having some of the most renowned Sauvignon Blanc in the world, the Pinot Noir is also widely celebrated.
However, the town of Sancerre isn't the only place Sancerre is grown, which brings us to the next meaning of the word.
2. Sancerre is an Appellation
Beyond being just a small town covered in vineyards, Sancerre is also a French Appellation d'origine contrôlée (AOC) in the Loire Valley wine region that spans across many communes. These communes include Sancerre, Bannay, Bué, Crézancy, Menetou-Ratel, Ménétréol, Montigny, Saint-Satur, Sainte Gemme, Sury en Vaux, Thauvenay, Veaugues, Verdigny, and Vinon.
But what is an AOC? Essentially, it's a geographical area with rules about how a wine can be produced. These rules govern what varietals can be grown, permitted yields, minimum alcohol content, the actual winemaking process, and much more.
The French introduced Appellations after Phylloxera, a vine destroying pest, devastated vineyards in the late 19th century. This led to very low yields, poor quality wines, and a ton of wine fraud. Creating appellations with designated locations and rules was how the French restored quality and trust in winemaking.
Within each wine region, you'll find a different number of Appellations that all that vary in "rank" and have their own specific regulations. Sancerre was one of the original AOCs to receive classification in 1936, and only two grapes are permitted: Sauvignon Blanc and Pinot Noir. Pinot Noir makes up about 20% of production, so Sauvignon Blanc is really the bread and butter of the region.
If you want to have the name "Sancerre" on a bottle of wine, it must meet the following criteria:
The vineyard must be in the delineated geographic area of the Sancerre AOC
The wine can only be made with Sauvignon Blanc and Pinot Noir
White Sancerre (Sancerre Blanc) must have a minimum alcohol content of 10.5%
Red and Rosé Sancerre (Sancerre Rouge/Rosé) must have a minimum alcohol content of 10%
White Sancerre has a maximum yield of 60 hectoliters per hectare
Red and Rosé Sancerre have a maximum yield of 55 hectoliters per hectare
There are other rules as well, but these are the primary Sancerre AOC regulations.
3. Sancerre is a Type of Wine
And of course, Sancerre is a type of wine! Some might mistake Sancerre for a type of grape since we see "SANCERRE" printed boldly on many French bottles of wine. However, this is only referring to the Appellation and not the actual grapes. As we just covered, Sancerre is made with Sauvignon Blanc for white wines, and Pinot Noir for red or rosé wines.
Many consider Sancerre Blanc to be some of the best Sauvignon Blanc in the world, and Sancerre Rouge a unique and wonderful expression of Pinot Noir. That said, Sancerre wines are hardly comparable to a California or New Zealand Sauvignon Blanc, or an Oregon Pinot Noir.
This is partially due to the Old World and New World winemaking styles. Old World wines are from Europe and lean toward a dry, balanced, earthier style, while New World wines are wines from anywhere outside of Europe that tend to be fruitier and more full-bodied.
What does Sancerre taste like?
Sancerre Blanc will probably taste very different from the Sauvignon Blanc you're used to. Sancerre is flintier, earthier, and has more minerality than a "New World" Sauvignon Blanc thanks to the clay and limestone-heavy soil of the region. It's almost like licking a rock, but in a good way!
The Pinot Noir is similar — it will be less fruity and much lighter than a "New World" Pinot Noir. Sancerre Rouge is incredibly lean, has a high acidity, and is truly refreshing.
Does Sancerre age well?
Both White and Red Sancerre can age beautifully. A good bottle can be saved for up to 10 years. This is abnormal for white wines, which usually are best when consumed within a few years.
What food should I pair with Sancerre?
White Sancerre goes amazingly well with soft goat cheeses, foie gras, dishes with heavy citrus notes, smoked white meats, and fish of all types.
Red Sancerre is also extremely versatile and can be paired with almost any entree. It's especially nice with barbecued meats and sushi (sounds weird, but trust me here!)
And that's a wrap! I hope this inspires you to go out and try a bottle of Sancerre Blanc, Rosé, or Rouge and that you love it as much as I do 🙂
---
Read Also: