These RumChata pudding shots are deliciously decadent, super festive, and will always please a crowd. Perfect for holidays, winter & fall parties, or whenever you're craving something sweet and boozy.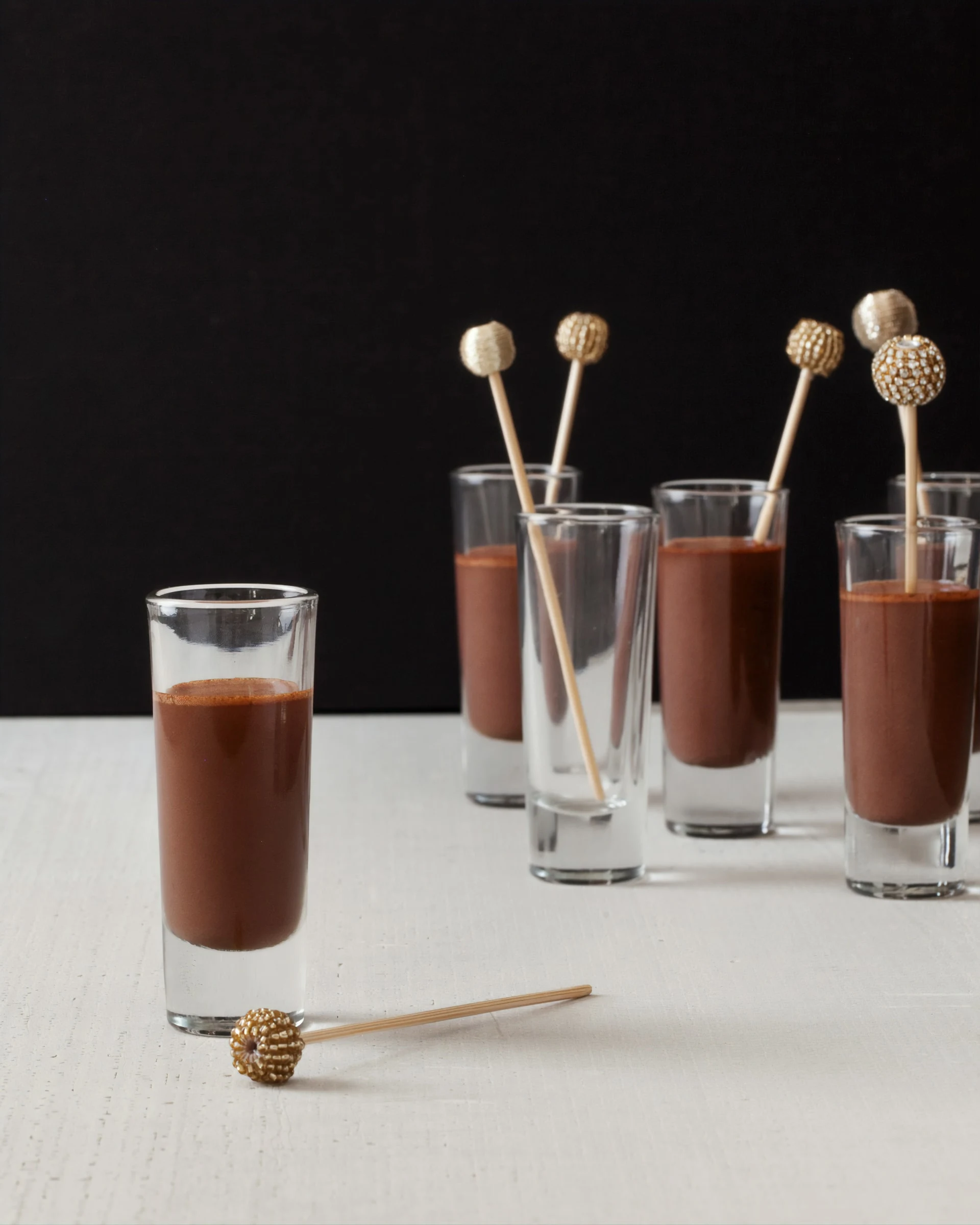 What is RumChata?
RumChata is a liqueur made with dark rum, cream, vanilla, and cinnamon.
It's super sweet and often compared to Baileys Irish Cream, but the addition of cinnamon puts it in a league of its own. Some even compare RumChata to the milk leftover after eating Cinnamon Toast Crunch, and who doesn't love that!?
The name is essentially a combination of Rum and Horchata, which is a traditional Mexican milk drink flavored with cinnamon, vanilla, and sugar. RumChata is intended to taste like a mixture of these two beverages, and boy does it deliver.
It's made in Wisconsin, but you can easily find it at any liquor store in the USA.
As far as alcohol content and price, it has an ABV of 15% and is about $20 for a 750ml bottle. So it's not very expensive as far as liqueurs go!
What Are Pudding Shots?
Pudding shots are essentially shot-sized portions of alcoholic pudding. So it's a dessert and a cocktail all in one!
They're equally as delicious as their cousin the jello shot (if not more so), and they're even easier to make since you don't have to worry about boiling water.
You can also store them for 5-7 days. So they're great if you want to make a fun shot or cocktail for a party well ahead of time!
How To Make Pudding Shots
Recipes for pudding shots will obviously vary, but in general you just need three ingredients: instant pudding mix, your alcohol(s) of choice, and milk.
Most recipes also use whipped cream to give the shot an extra fluffy texture.
To make pudding shots, you whisk the pudding, alcohol, and milk together for a few minutes.
Then you fold in the whipped cream, scoop the mixture into shot cups, and refrigerate for at least 30 minutes before serving.
So they're BEYOND simple and take almost no time to make.
More Delicious, Festive Drink Recipes
10 Best RumChata Pudding Shots
And that's a wrap! Which of these RumChata pudding shots speaks to you and do you want to whip up for your next party or get together?
Also, if you have your own favorite RumChata pudding shot that isn't include here, let me know in the comment section so I can check it out!