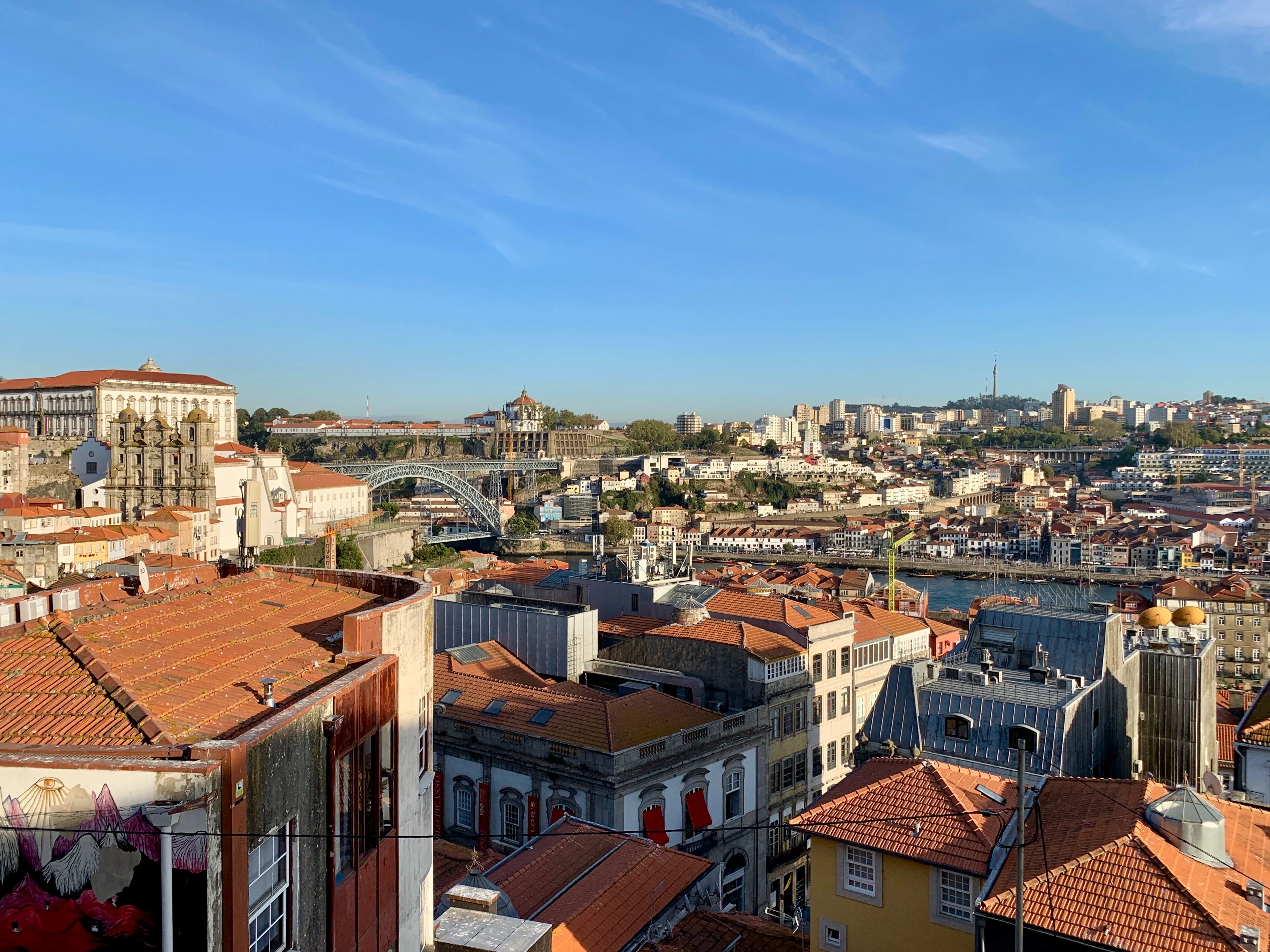 Porto is one of the coolest places I've ever been, and 5 days is a perfect amount of time to see the city and squeeze in a day trip or two.
I've compiled the best things to do in Porto that are non-touristy while also being accessible to everyone. So if you don't speak Portuguese or have a car (which I don't and did not), this itinerary is still definitely for you!
Along with relevant information like where to stay, this itinerary focuses primarily on non-touristy places to eat, drink, picnic, and see the best views and sunsets. This will be a day-by-day guide based on my own experiences, and it should have something for all tastes and travel styles.
For the sake of simplicity, I've given each day a theme: Get Your Bearings, Hidden Gems, Beach Day, The Douro Valley, and Views on Views. This way, you get a little bit of everything but can mix and match as you see fit 🙂
Where to Stay In Porto
There aren't too many wrong answers here, but I think the three following neighborhoods are the best options if it's your first time in Porto.
All of these neighborhoods have tons of bars and restaurants and are walking distance from the city's main attractions, so it just depends on your personal preferences at the end of the day!
Baixa/Sé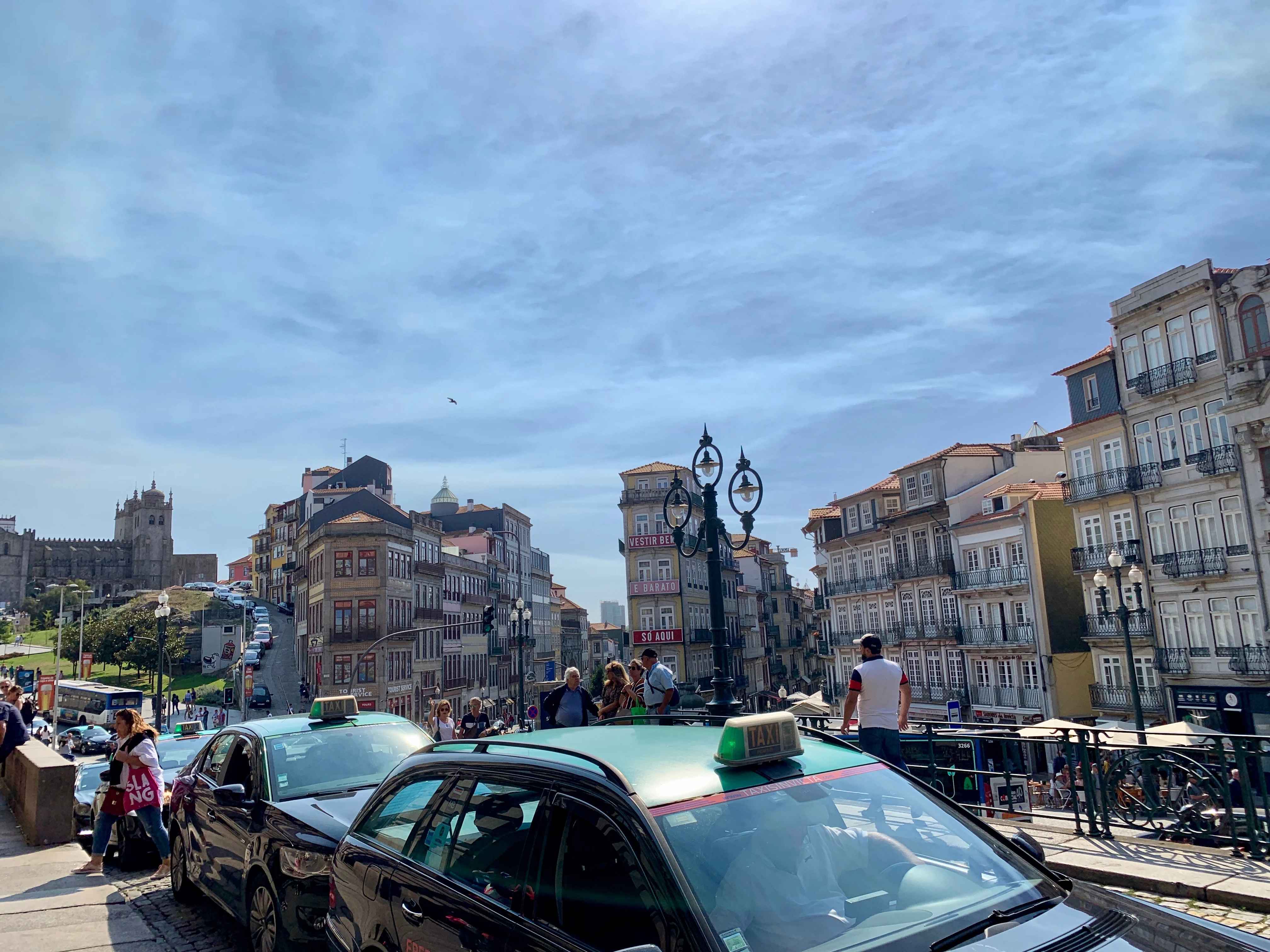 If you want to be in the center of everything and not have to constantly walk uphill (this is unavoidable, but you can mitigate it), I would suggest staying smack in the middle of the city in the Baixa/Sé neighborhood. This is a bustling area near the main train station, Sao Bento, so it's a great hub if you want to take a few day trips.
We stayed on Rua Das Flores and were SO happy with this decision. It was walking distance to pretty much everything and we didn't have any issues with noise at night.
The Ribeira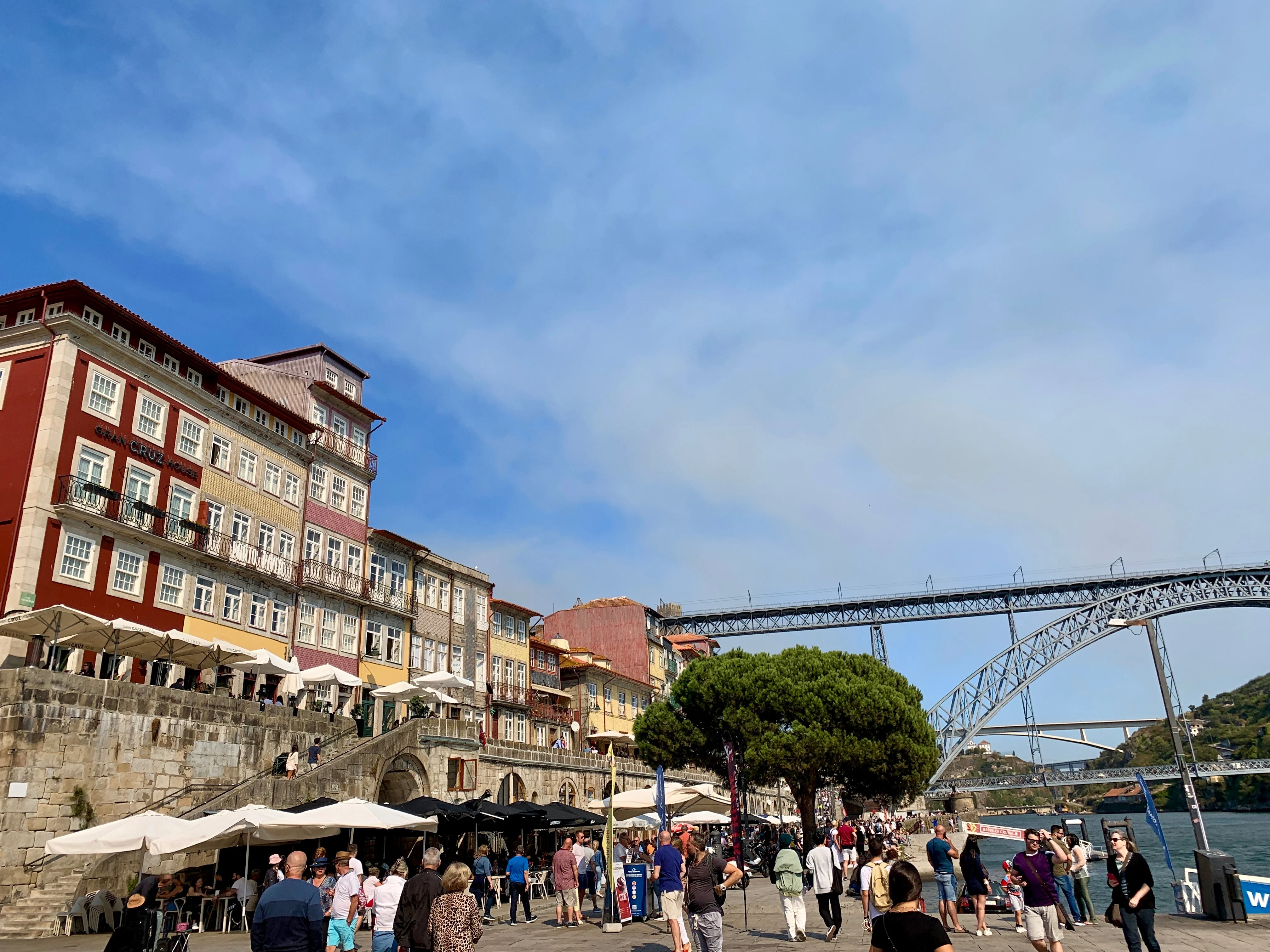 Porto's oldest neighborhood by the river. It's probably the most touristy area in town and everything would be uphill from where you are, but it is undeniably gorgeous with its clear river views and brightly colored buildings.
The bars and restaurants on the main strip next to the river definitely cater to tourists, but there are some excellent spots hidden in the winding cobblestone streets that are absolutely wonderful.
Cedofeita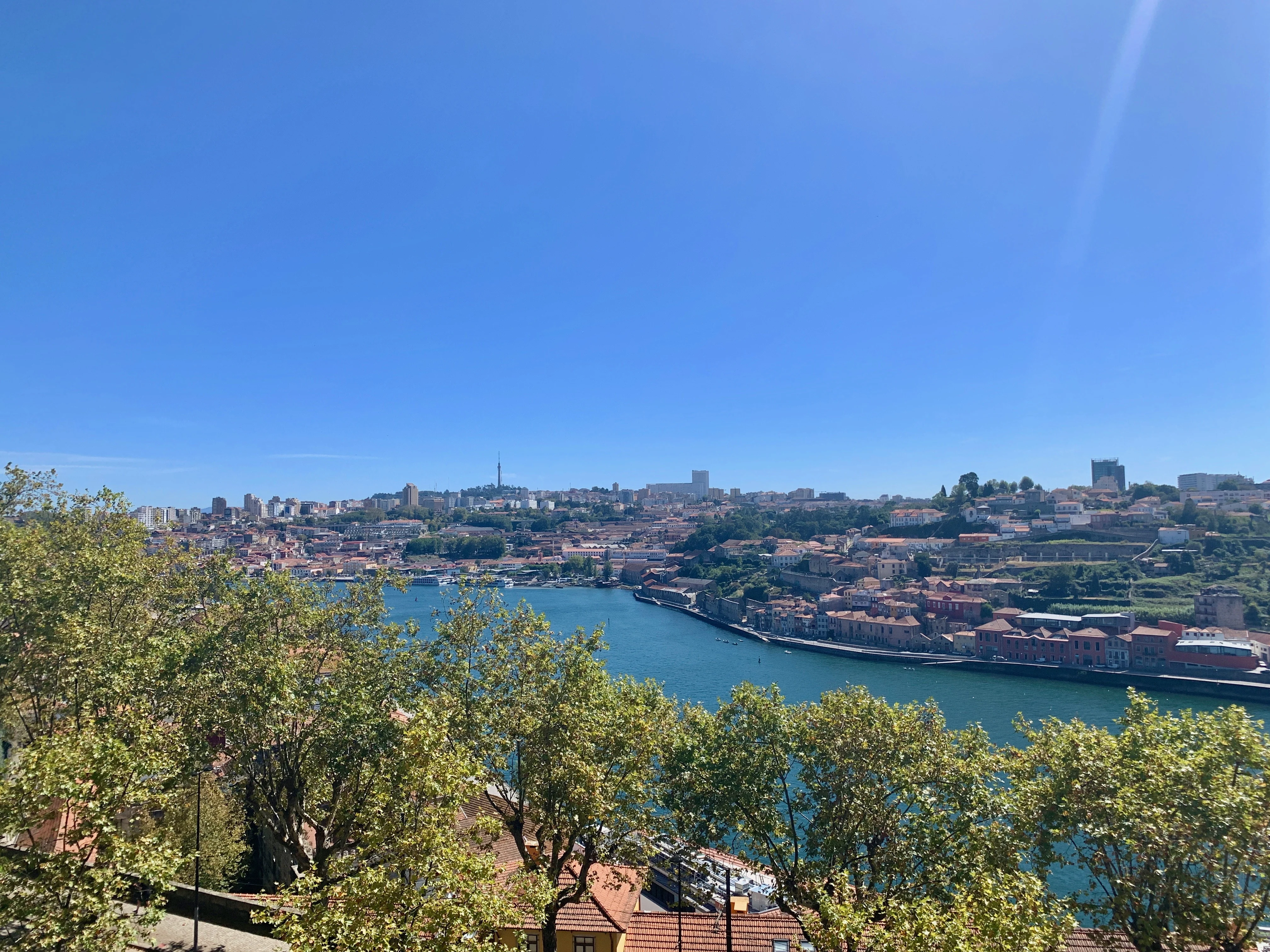 An artsier neighborhood where you'll find the Crystal Palace Gardens and a slightly calmer vibe. It's a trendy, "up-and-coming" neighborhood well-suited for families or larger groups.
What To Do in Porto: A 5 Day Itinerary
Before we get started, a quick disclaimer! The first day is the only day I'll suggest doing anything super touristy. The rest of the days are focused on really experiencing the food/drink/scenery of the city and discovering some hidden gems and beautiful views along the way.
Day 1: Get Your Bearings
See Some History
Sao Bento
I don't include a ton of activities that aren't food/beverage/view related, but it's worth stopping in the Sao Bento train station in the middle of the city to see the gorgeous blue and white tiles. It's truly a work of art.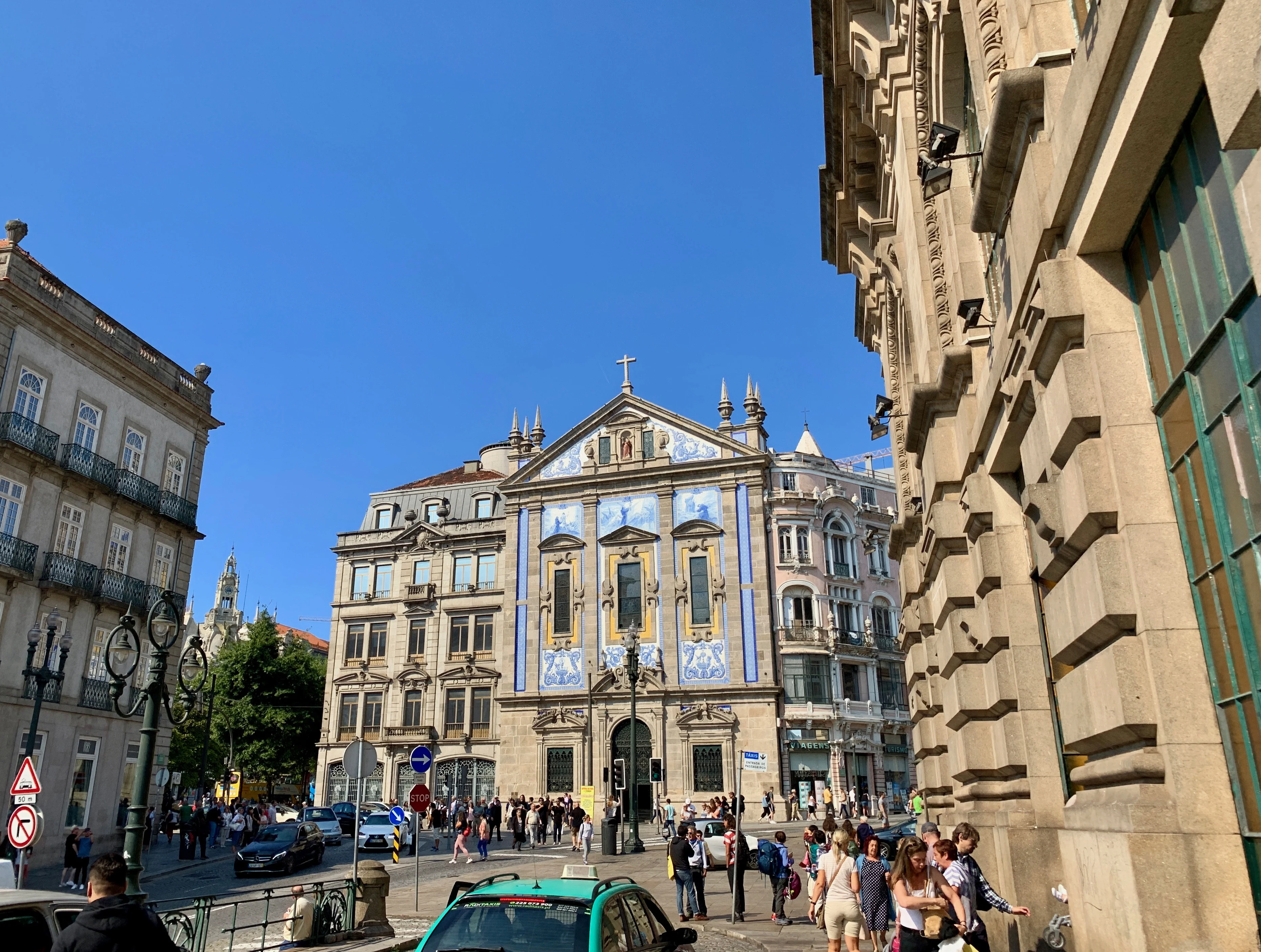 Sé do Porto
While you're in the area, walk about 2 minutes to check out the 12th century cathedral. The Romanesque/Baroque style is really stunning and it has even more of those beautiful blue tiles you'll come to know and love throughout your trip.
Livraria Lello
Tourists flock to this stunning bookstore that inspired the library in Harry Potter. Full disclosure: I did not go all the way inside. There's always a huge line and you have to pay to get in, and I'm not about that life.
Luckily, it's on the way to other cool things, so you can just peak in or wave at it. Or, if you're more patient than I am, stop in to see the whimsical staircase and stained glass skylight for yourself.
Sample Some Port
I don't think I need to specify a Port house, because honestly, there are SO many of them that I found myself accidentally in Port houses when trying to find a restroom.
Here's an article that lists plenty of great Port houses, but we had a great experience everywhere we went. Just make sure to get a full flight with food pairings, because that makes it extra fun.
People say the best Port houses are on the other side of the Douro across from the Ribeira, but we thought the ones in the center of the city were just as nice in terms of the Port offered and the service. It's ultimately up to you and how much of a Port snob you are (;
Lunch on Local Fare: Mercearia Flores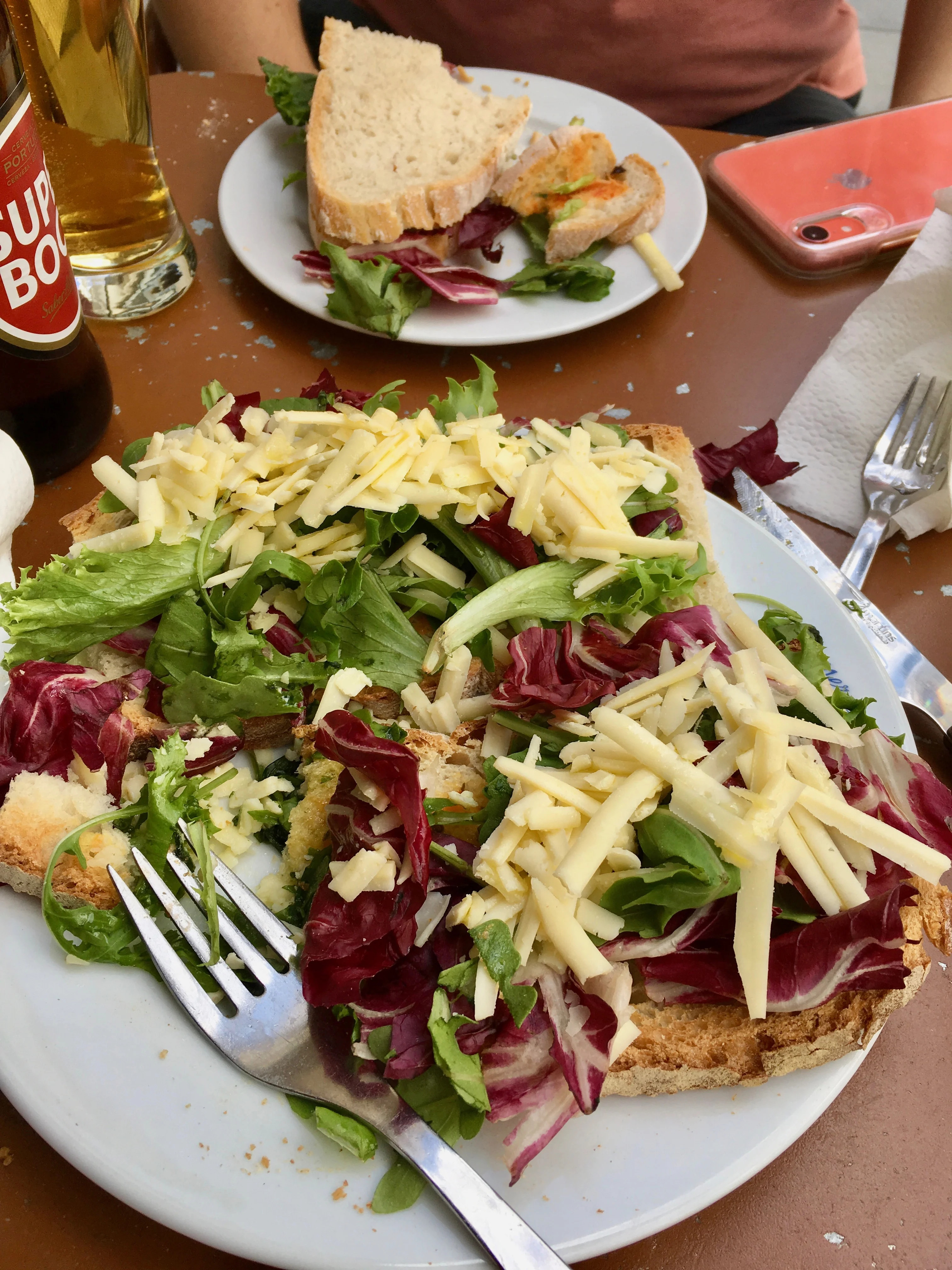 After sipping on Port all day, you'll probably need to eat all the things! Take a quick lunch at Mercearia Flores, a quaint market/lunch spot in the heart of the city on Rua das Flores.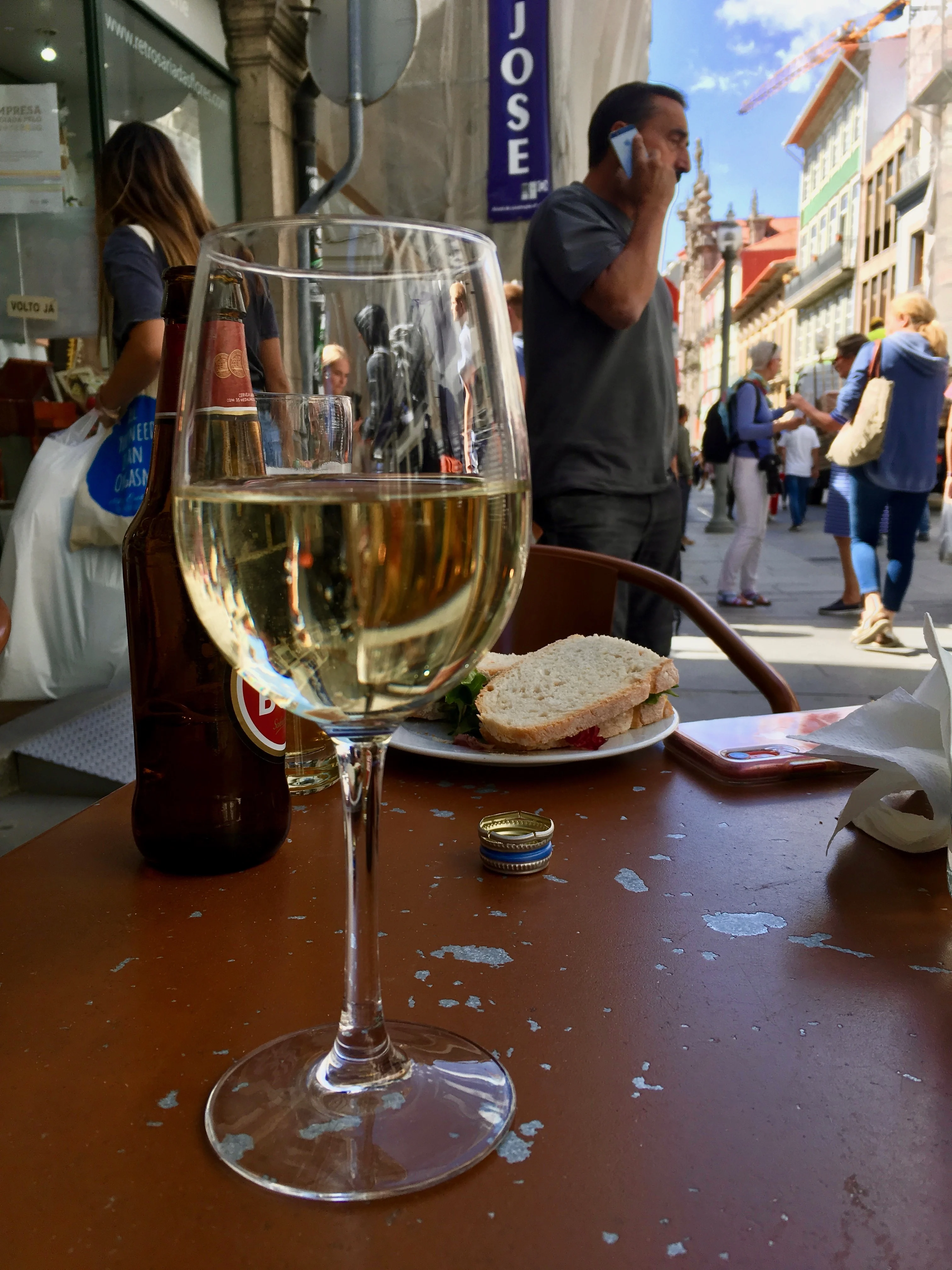 The spot didn't feel touristy at all despite being on a tourist-filled street, and they had a wonderful selection of local food and drink. I got a beautiful Douro white with a tuna and salad toast.
If you're still in a Port mood, they also offer a great Port flight that they pair with small bites. (See, these tastings ARE literally everywhere).
Visit the Ribeira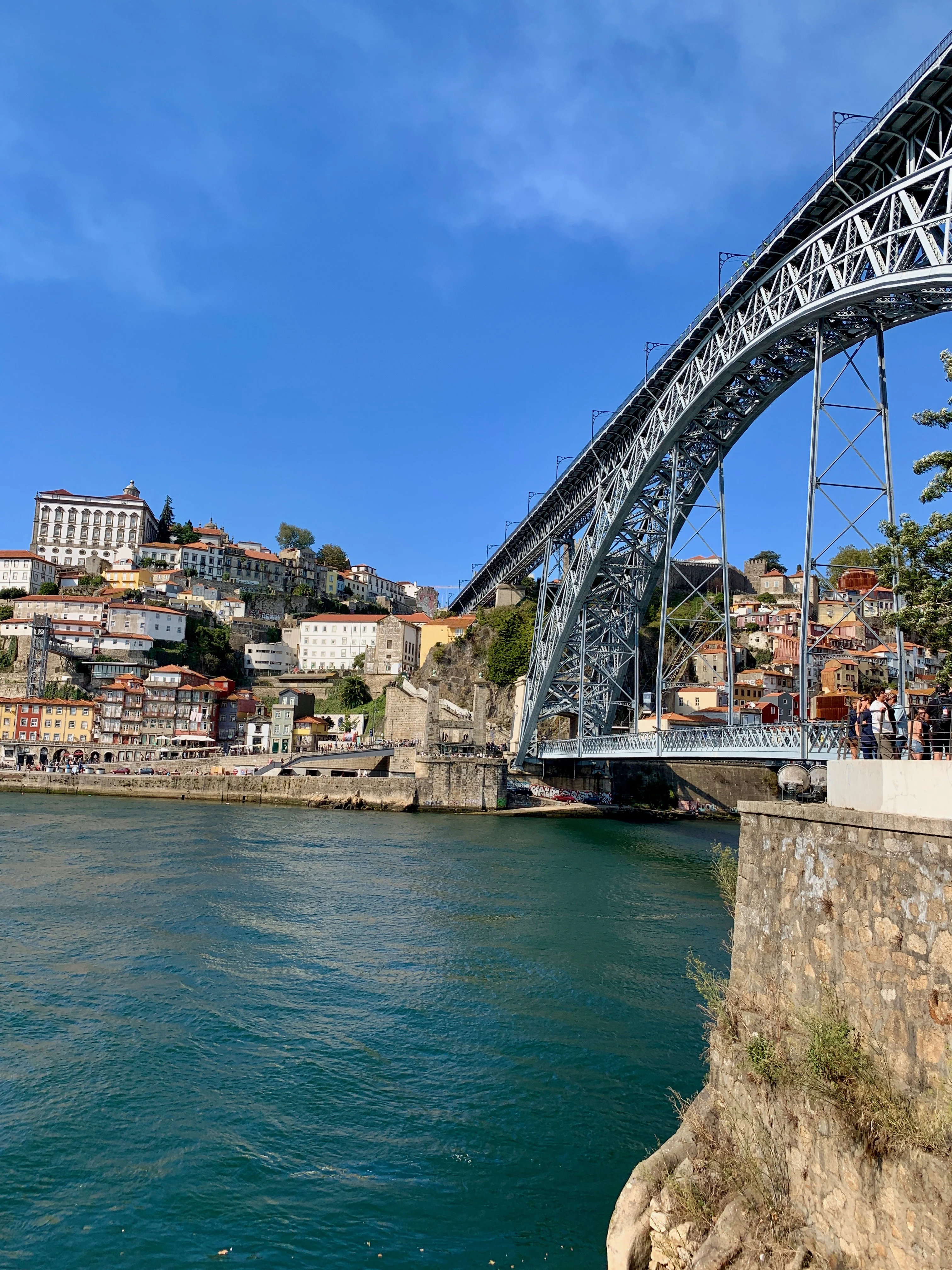 After lunch, head downhill to the Ribeira to see the lovely colored houses and the sun shining off the Douro river. This area is always bustling and it's a gorgeous place to catch the sunset. Speaking of…
Grab a Drink on the River: Bar Ponte Pensil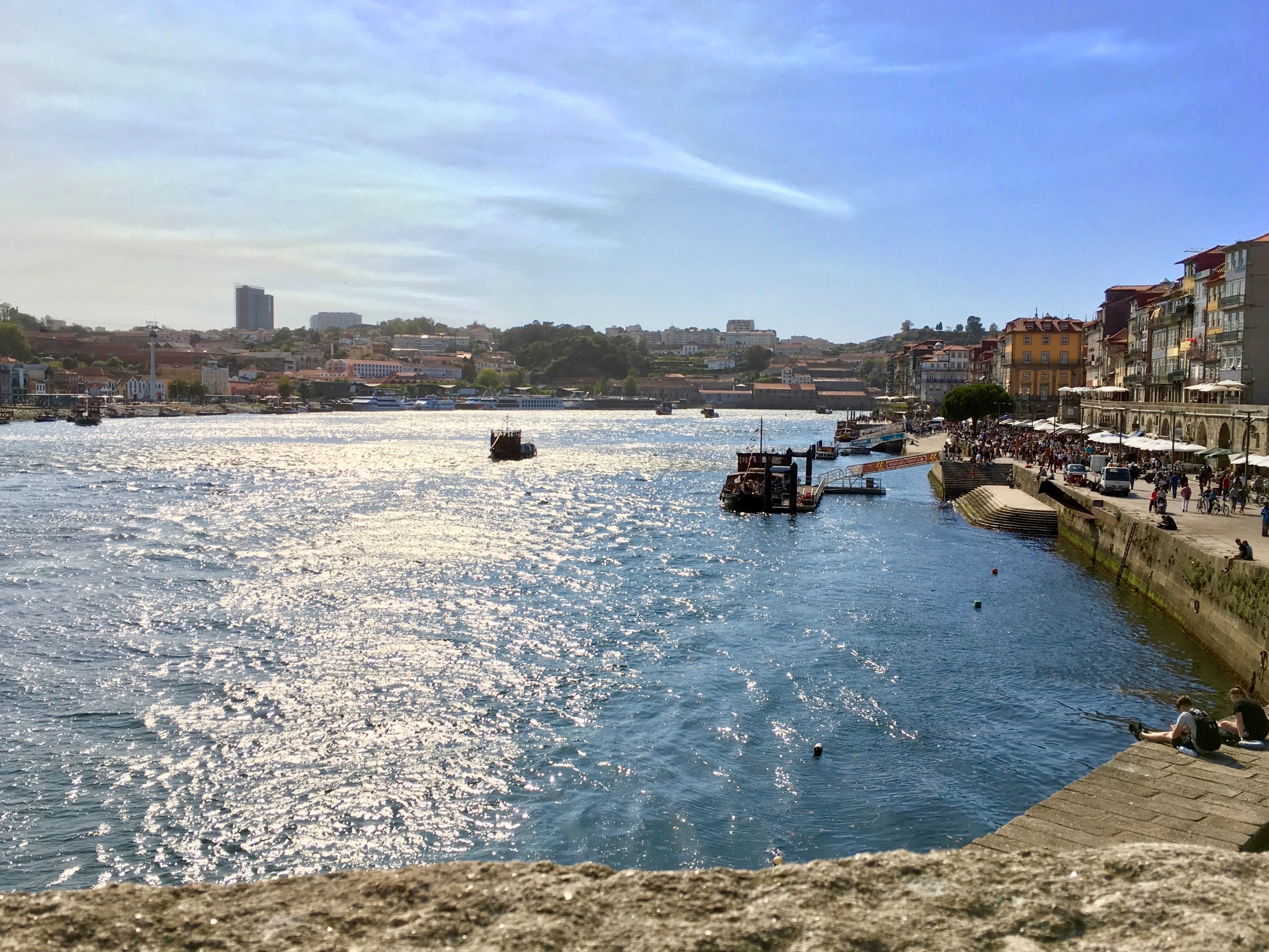 Although touristy and fairly expensive, it is 100% worth getting a Porto Tonico (white port + tonic with citrus) at Bar Ponte Pensil for the view alone. The bar patio juts out directly over the water, giving you a totally unobstructed view of the Douro river and the Ribeira.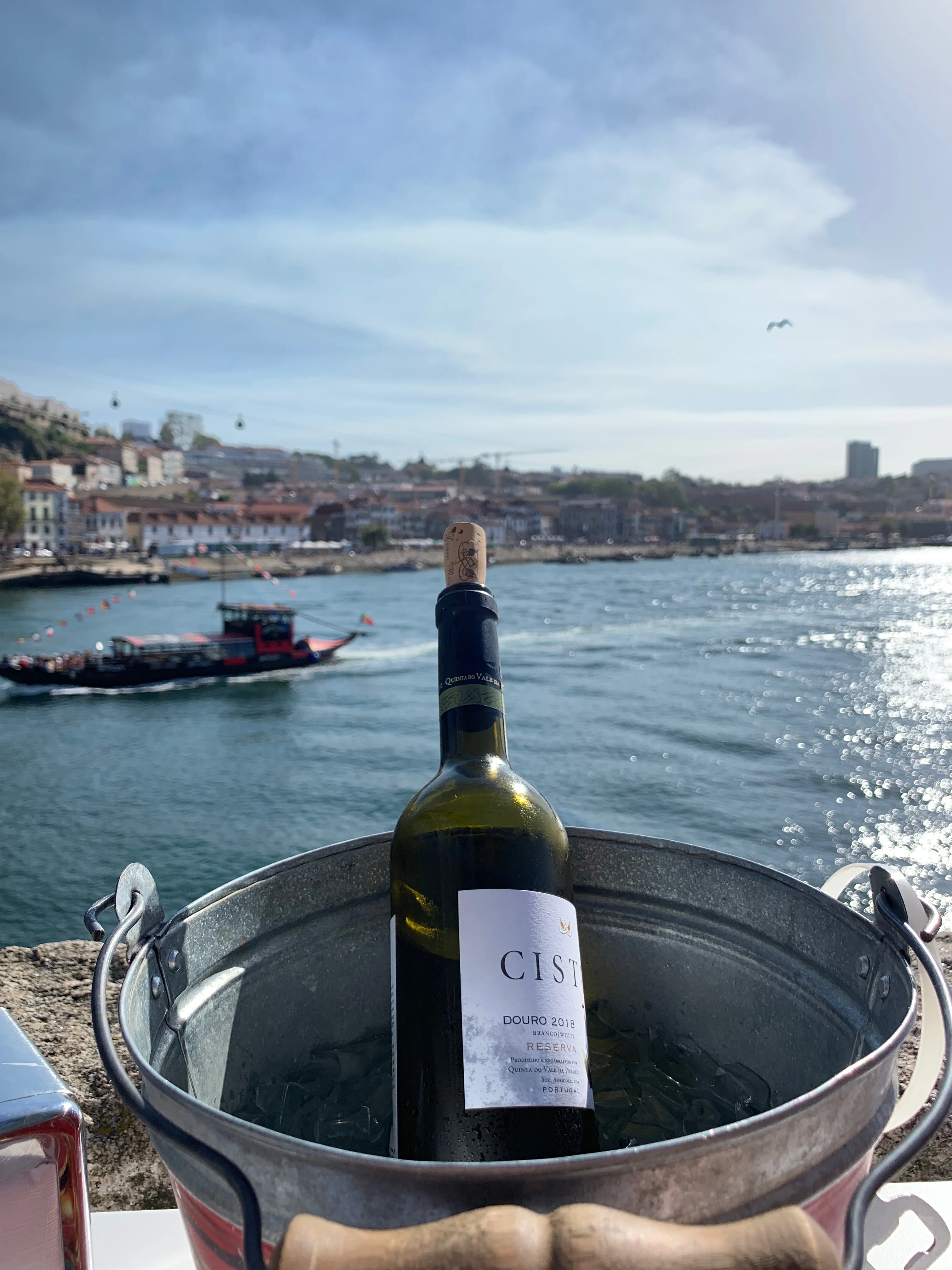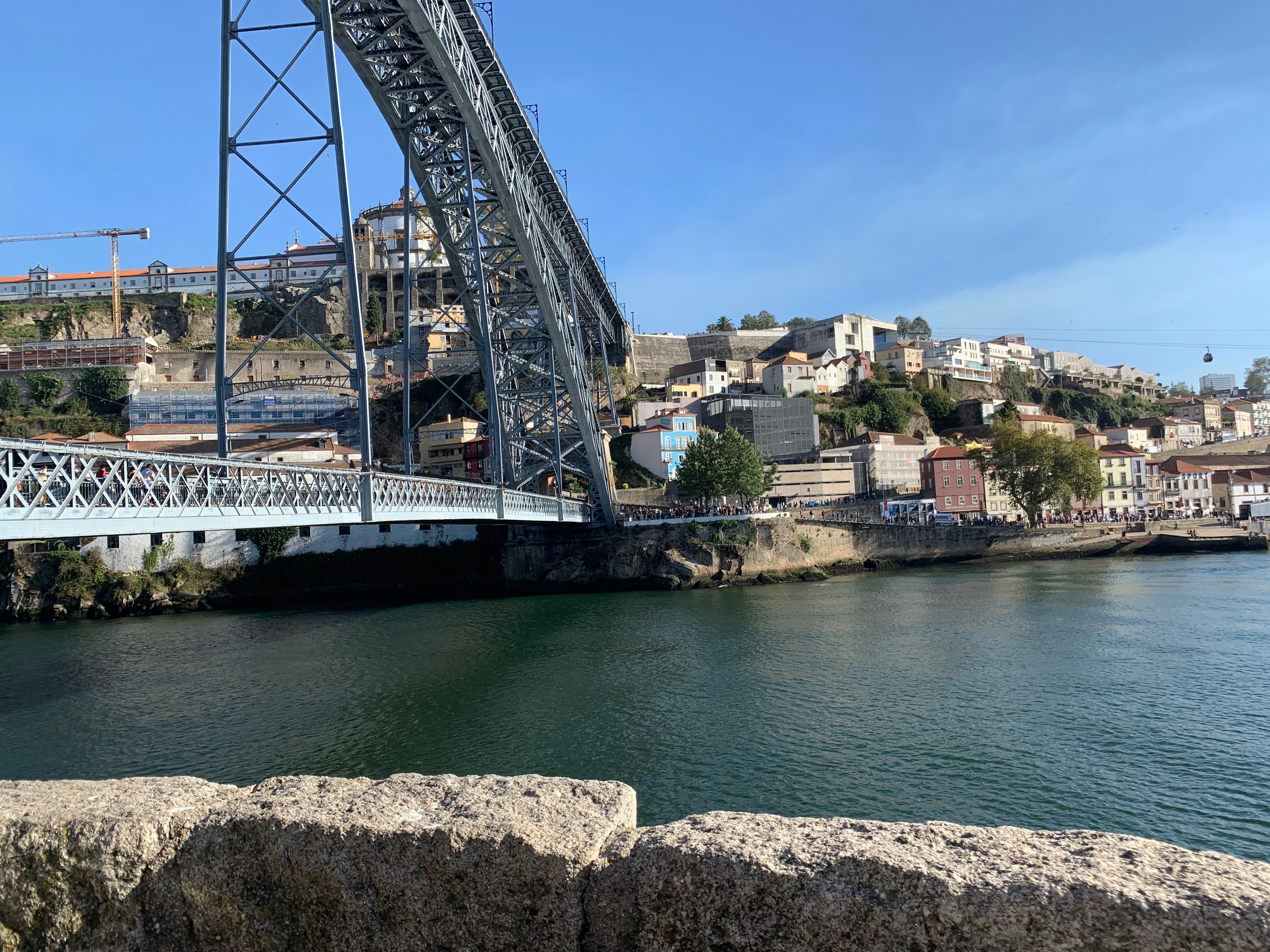 Dinner: Cantina 32
After a long day of exploring the city, jet lag was taking over and we were ready to grab dinner somewhere rolling distance from our Airbnb. This led us to Cantina 32, which had a warm and inviting ambiance and plenty of filling Portuguese specialties to choose from.
We got a variety of dishes, one of which was a Francesinha: a popular Portuguese sandwich filled to the brim with meats, smothered in cheese, and finished off with a tomatoey beer sauce. It's prettttttttty freaking good, but I would suggest splitting one if you don't want to be in too much pain later in the evening ?
Day 2: Hidden Gems
One of my favorite types of days! We stumbled across most of these places by chance or thanks to a local's recommendation, and they are by far some of the coolest spots in the city.
Breakfast: Miss Pavlova
When you first walk into Miss Pavlova, it looks like a small thrift shop that you could definitely kill 30 minutes in. But if you go to the VERY back of the store, it opens up into a super cute restaurant with a beautiful back patio.
It's literally a hidden gem and it has some of the best brunch in town. Get a mimosa + the pancakes and thank me later.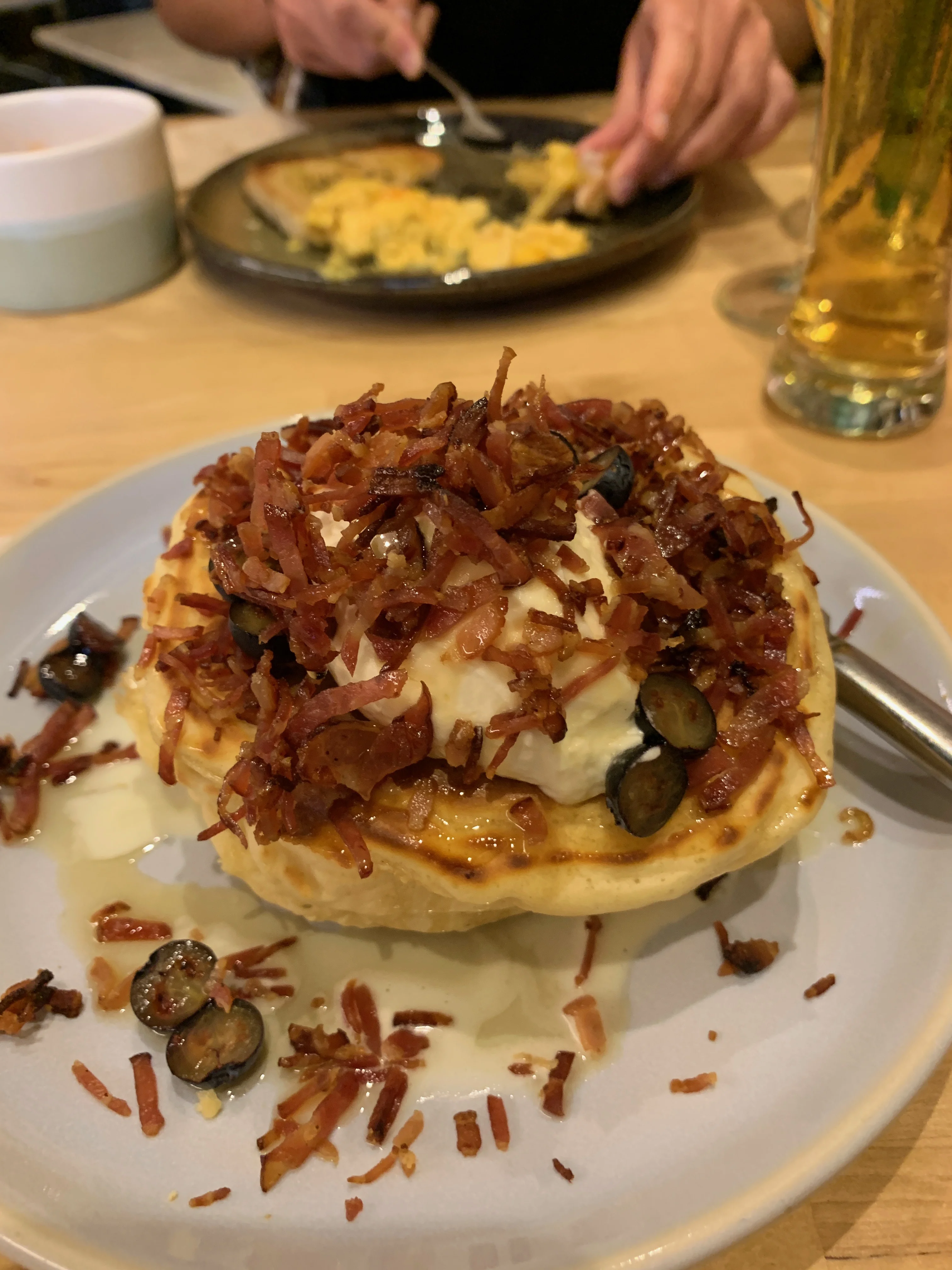 Pack a Picnic Lunch: Parque das Virtudes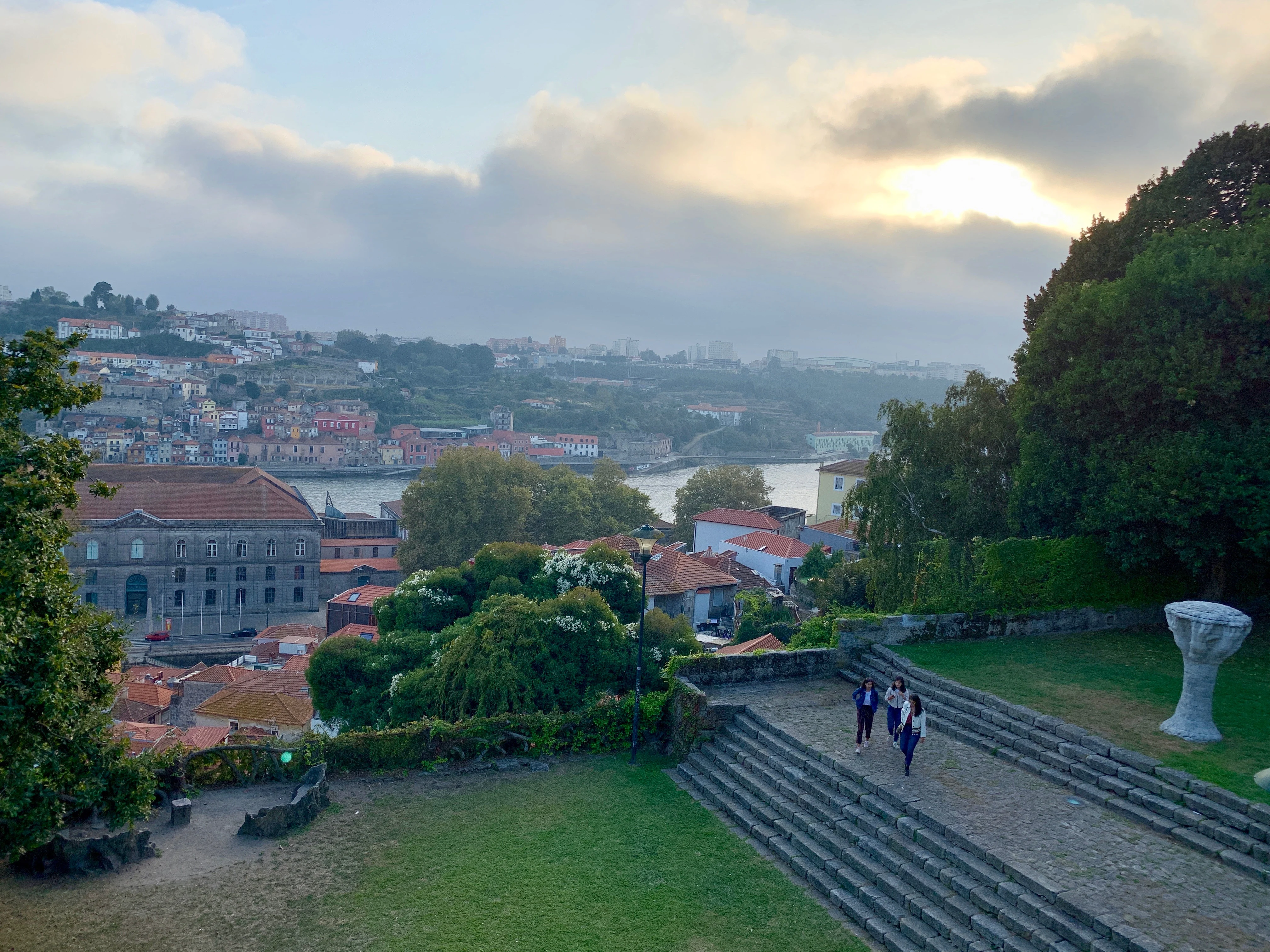 Parque das Virtudes is a gorgeous park tucked away on a hillside in the Baixa neighborhood. It's known for its many grassy terraces that climb toward a spectacular panoramic viewpoint of the city.
Pick a spot to have a picnic and spend a relaxing afternoon lunch gazing over the Douro river.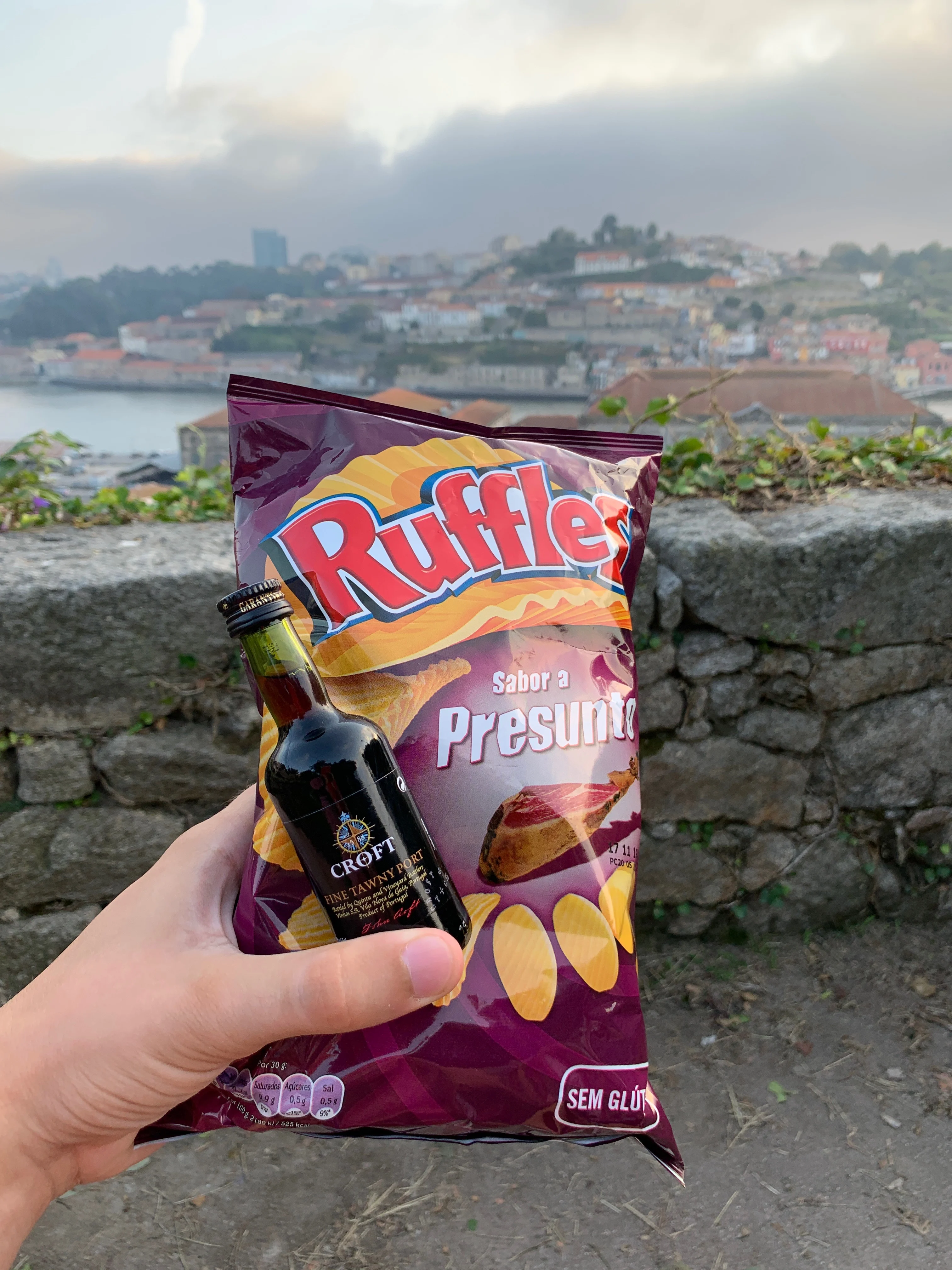 And by lunch, I mean ham-flavored Ruffles and 2 euro Port mini bottles: the picnic of champions.
Drink Wine in a Chapel: Capela Incomum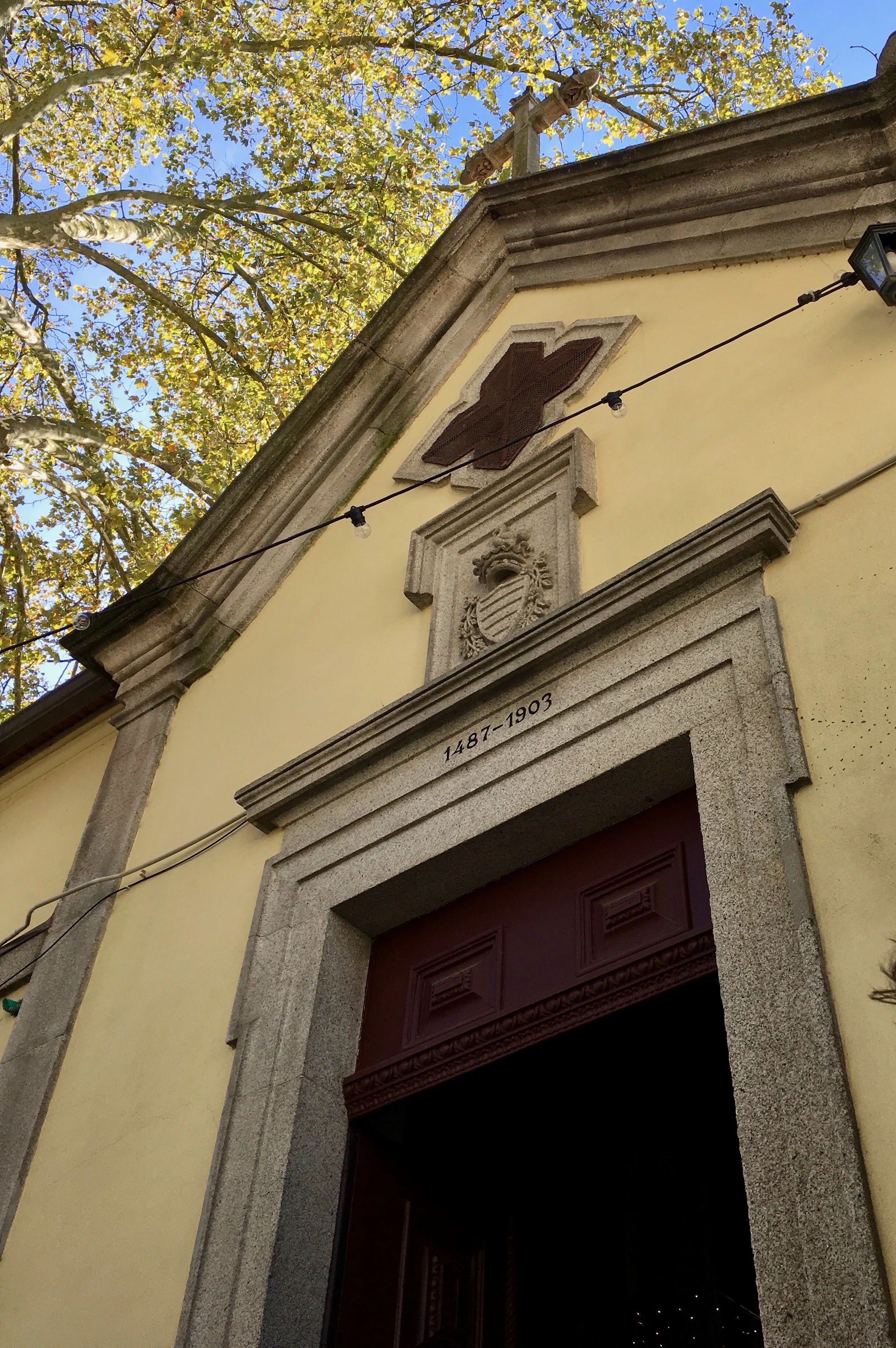 Capela Incomum is a 15th century chapel that was transformed into an insanely cool wine bar. You can sit inside or outside depending on the time of year, and it's a must-see if you're in Porto. The wine list is great and the place itself is unbelievably cool.
Just make sure you have your eyes peeled when you go, because it's tucked away on a more residential street and we probably passed by it 10+ times.
Shop in a Whimsical Warehouse: Armazém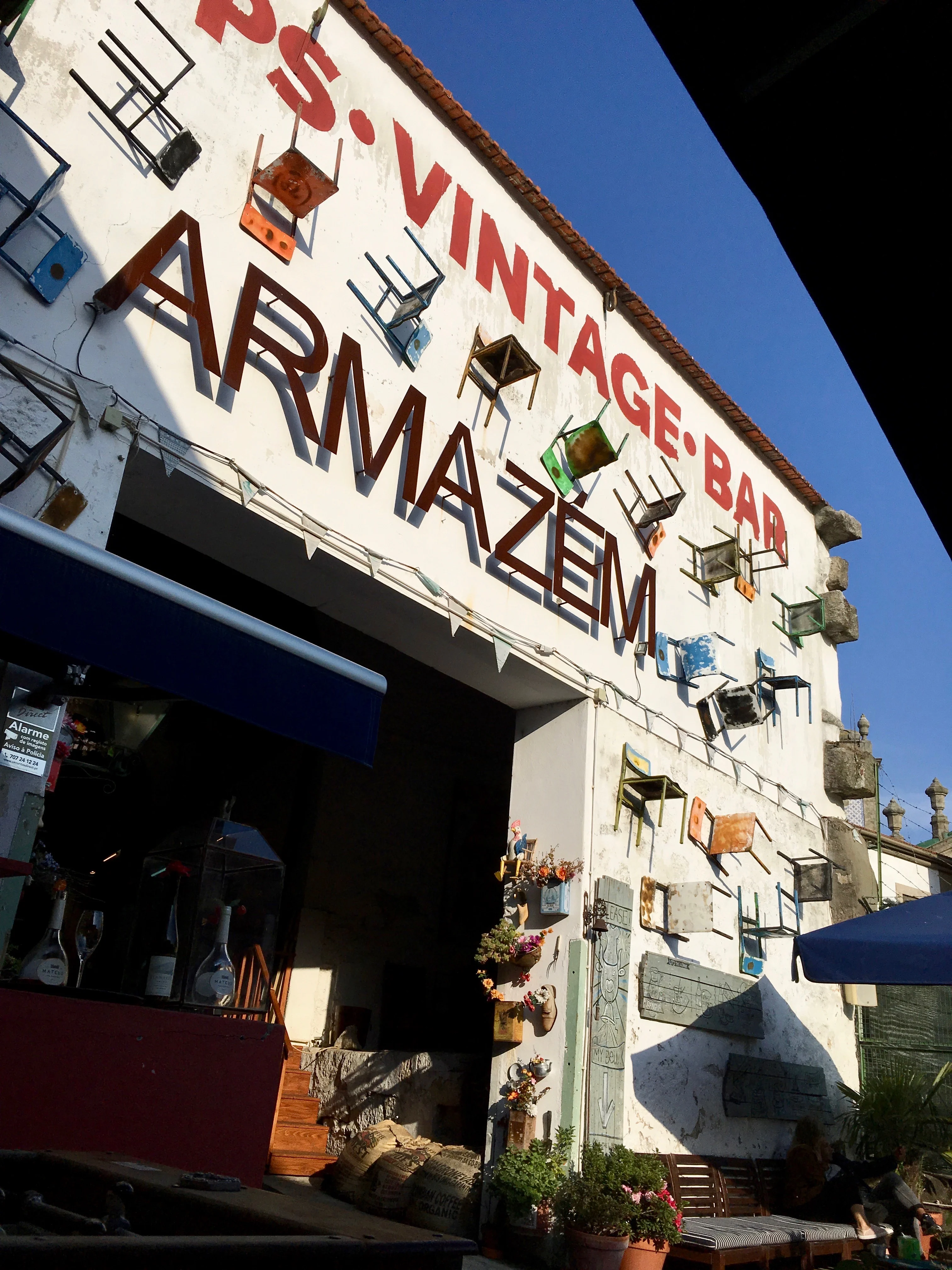 Armazém is a giant warehouse filled with antiques, vintage furniture, a café, and a bar. The outside bar and patio is incredibly charming, with colorful chairs mounted on the wall of the building and plenty of greenery surrounding each table. However, the inside is really what makes this place special.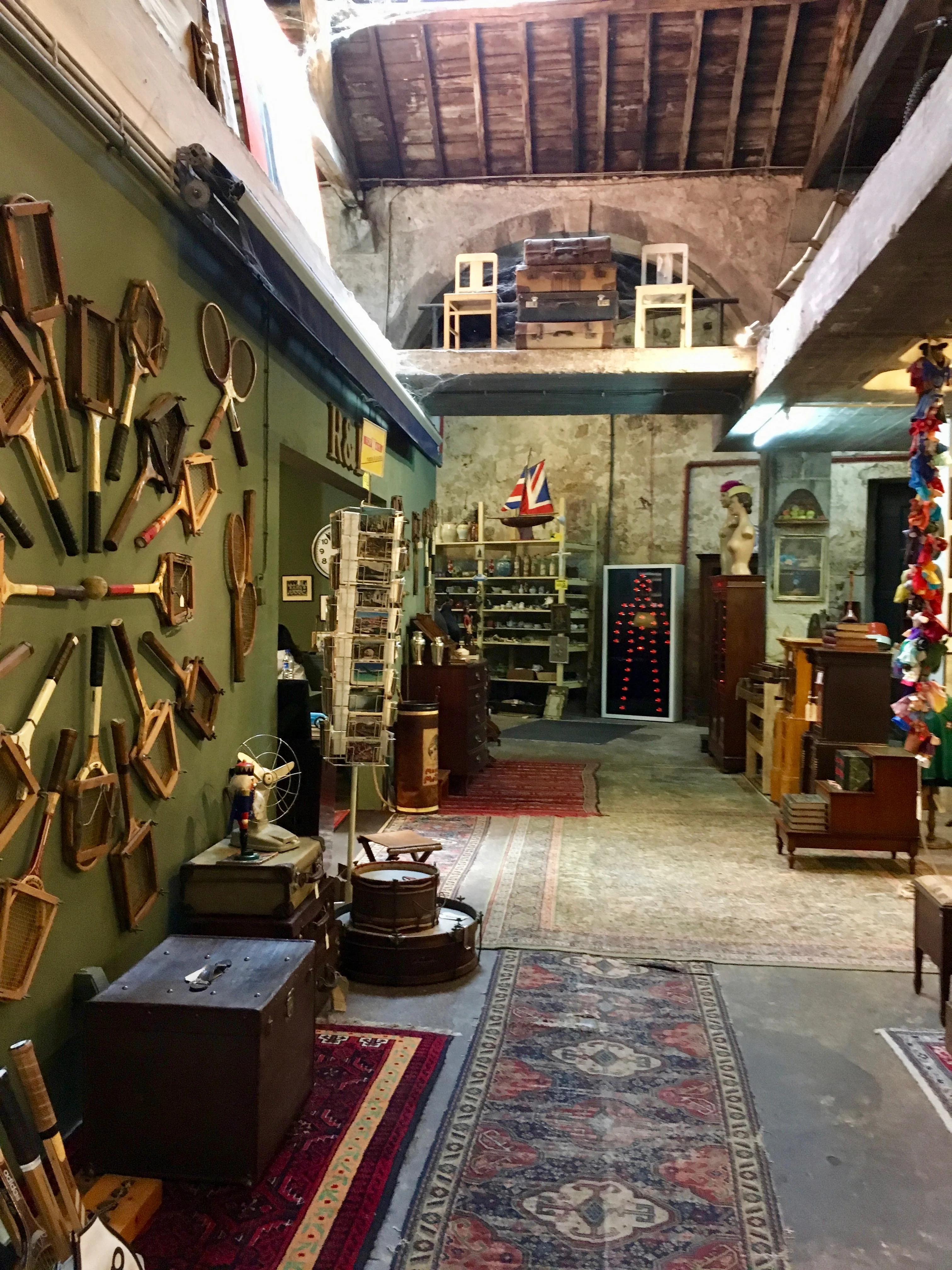 You never know what you'll find inside: a vintage grand piano, a 1920s buggy, an oversized xylophone… anything is possible and it's truly magical. We happened to come across it while wandering around, and we couldn't have been more lucky. It's a perfect place to grab a drink and pick up a souvenir.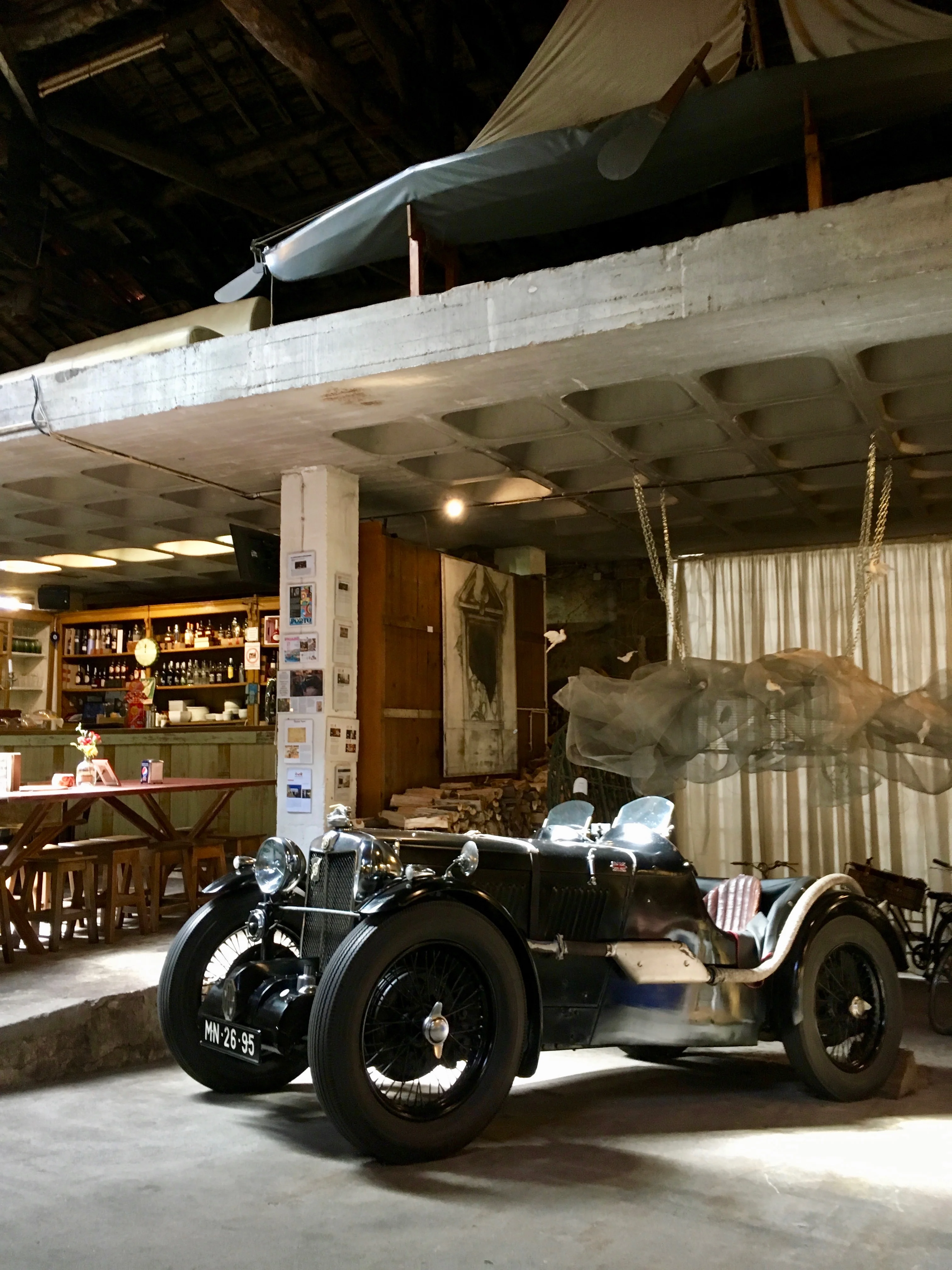 Dinner: Museu D'Avo
If you're looking for a restaurant with typical Portuguese and Mediterranean cuisine and a super unique ambiance, Museu D'Avo is the place for you. It's the perfect spot to end a day full of hidden gems, as it has an "underground" type of vibe and is filled with (and highly recommended by) actual locals.
The restaurant is decorated with eclectic objects like floating bikes, pitchers, and pans, and makes you feel like you're in the basement kitchen of someone's extremely eccentric grandma.
The decor is only second to the food, which is both authentic and delicious. Give the bacalao (dried cod) a try, because you're basically obligated to have this specialty at least once while you're in town.
Day 3: Beach Day at Foz do Douro
Foz do Douro is a lovely beach town just 4 miles down the road from the heart of the city. You can easily take the metro and get there in roughly 20 minutes, or you can walk along the Douro river all the way to the beach.
I highly suggest the latter option if you're able, because it's a really nice walk that will allow you to see some different parts of the city along the way.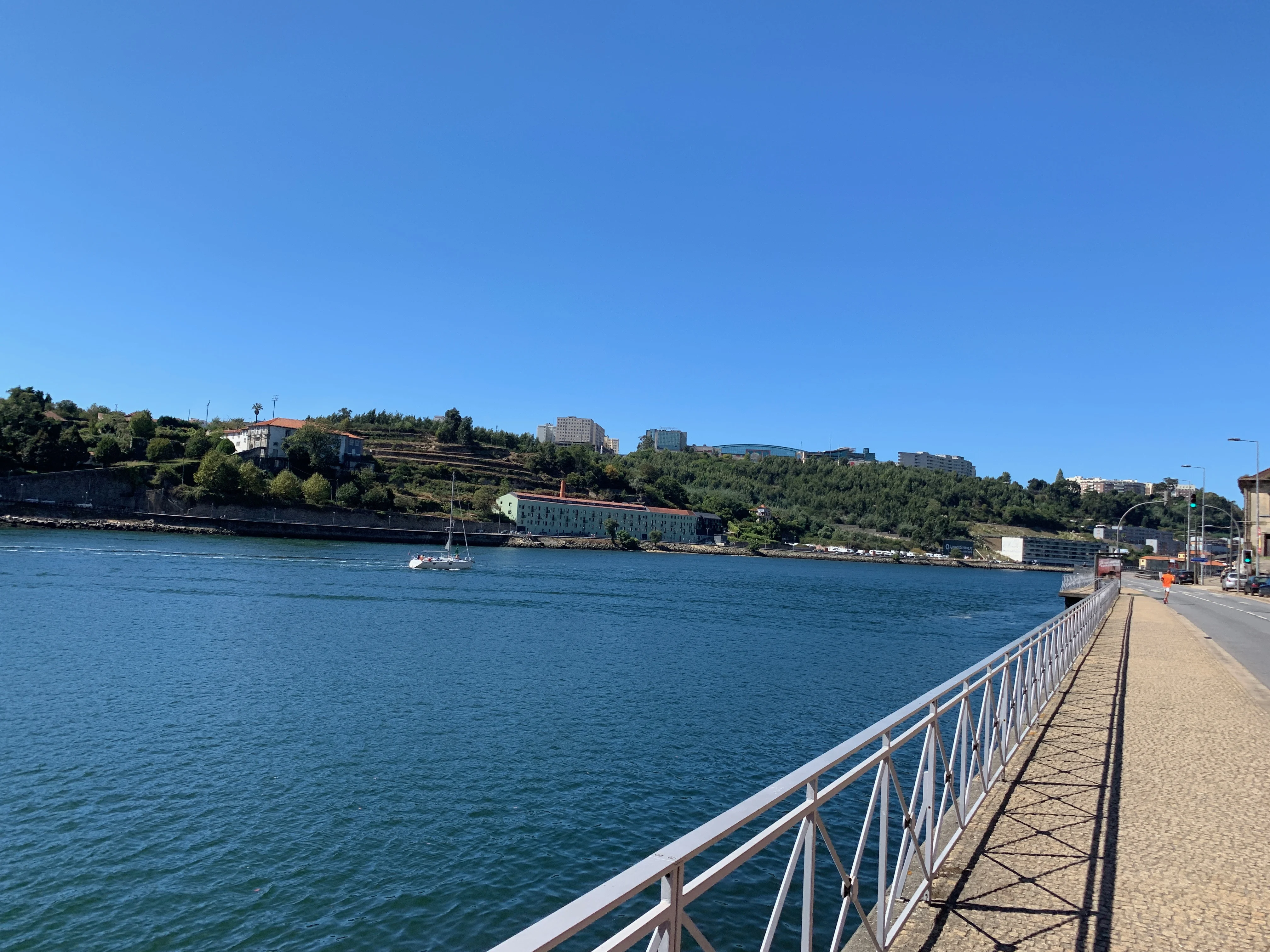 Breakfast: Mercearia do Miguel
After the trek (or ride) over, grab some breakfast at Mercearia do Miguel. You can dine in or outside at this cute café and get a wide range of fare, from granola and fruit to authentic Portuguese tapas.
Hit the Beach: Praia Ingleses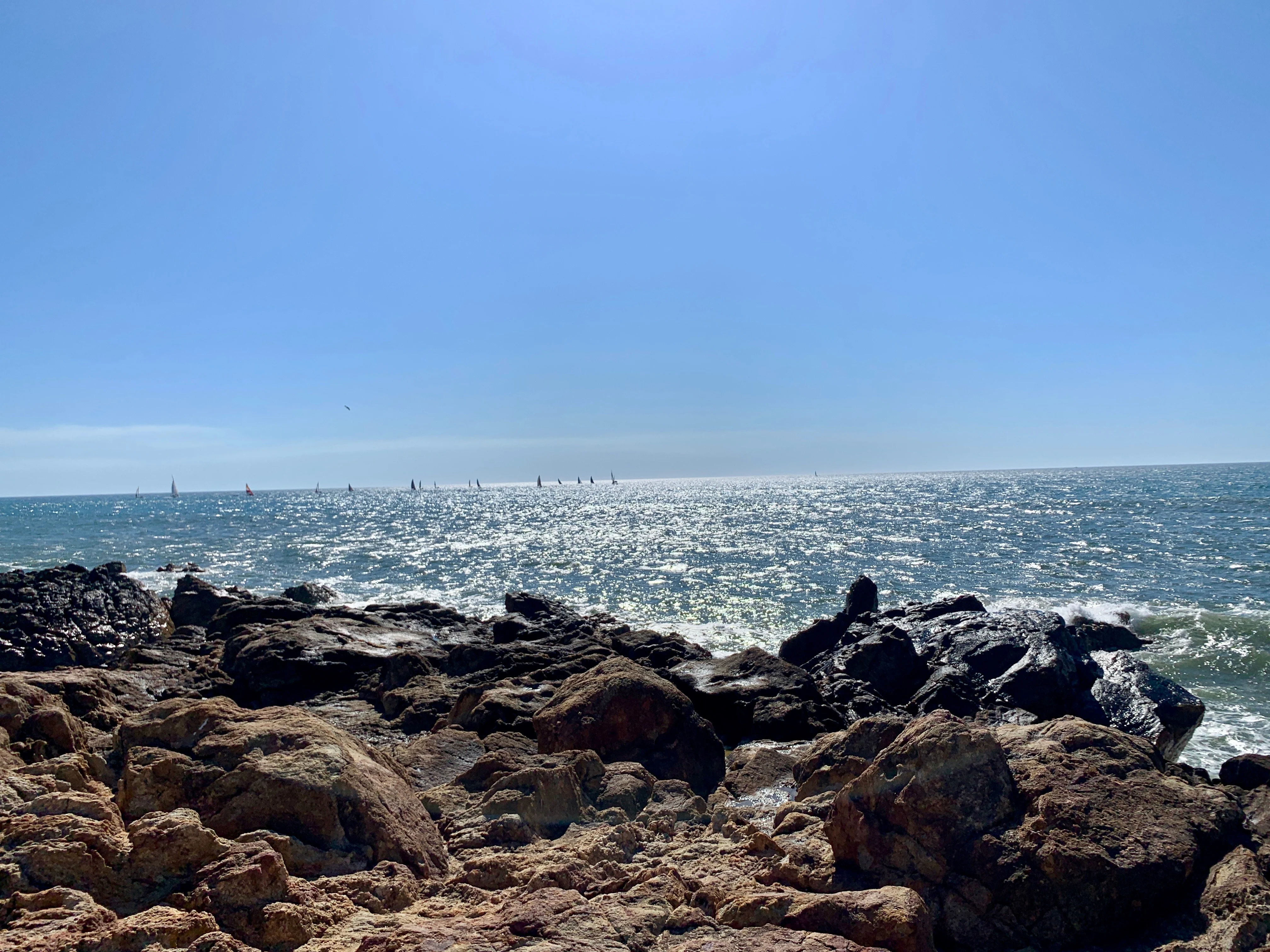 There are plenty of great beach spots in Foz to choose from, and we ended up going to Praia Ingleses first.
This is a larger beach with lots of room to spread out. There are stunning rock features all along the coast that the waves crash against, making it a fun place to watch the water and bask in the sun.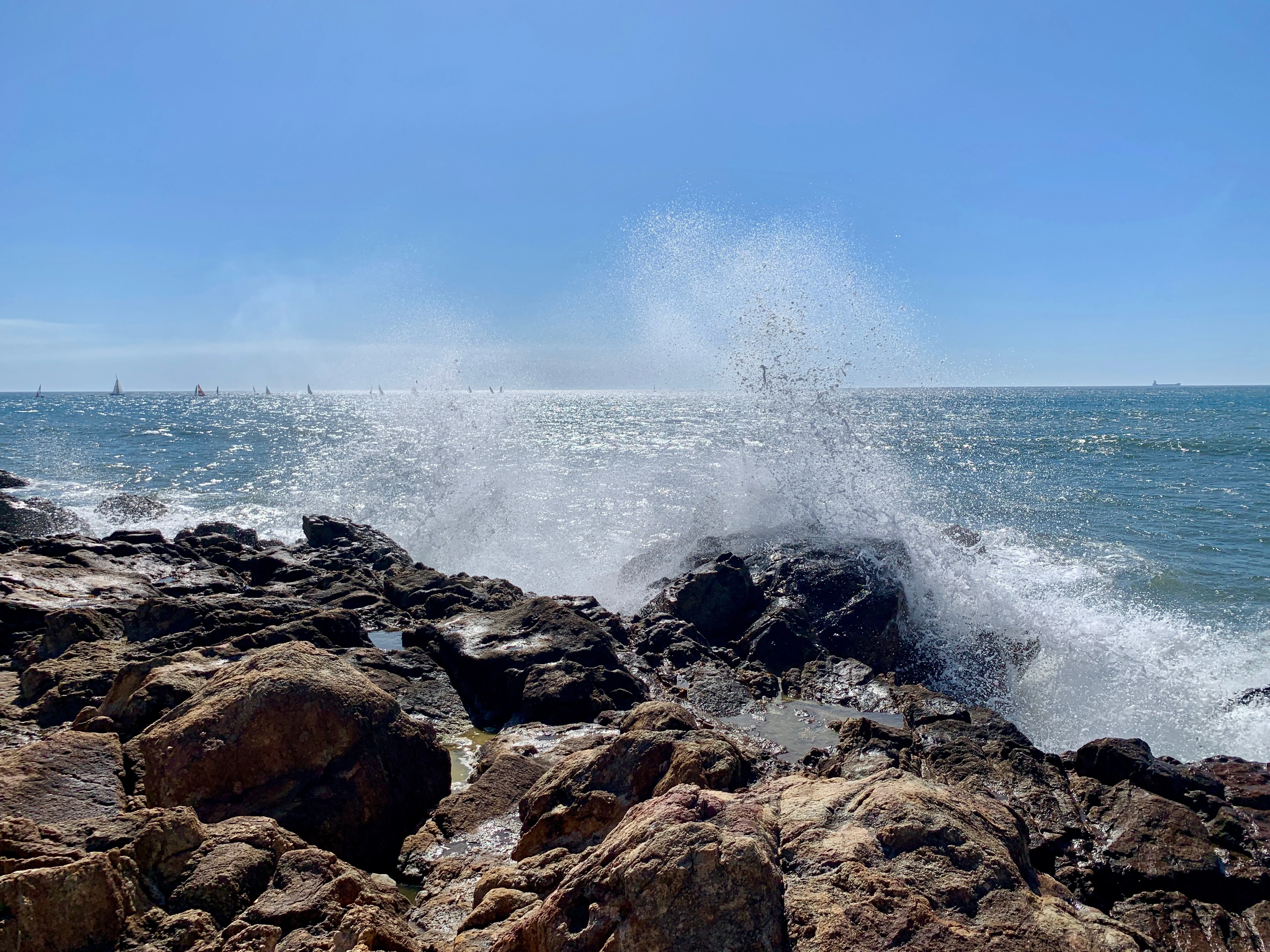 Lunch: Picnic from Mercado da Foz
When lunch time comes around, head to the local market to pick up some food for a beach picnic! Mercado da Foz has plenty of wine, bread, cheese, and hot or cold takeaway food to keep you full on the beach for hours.
Just don't forget cups for your wine unless you're okay with drinking directly out of the bottle!
Back to the Beach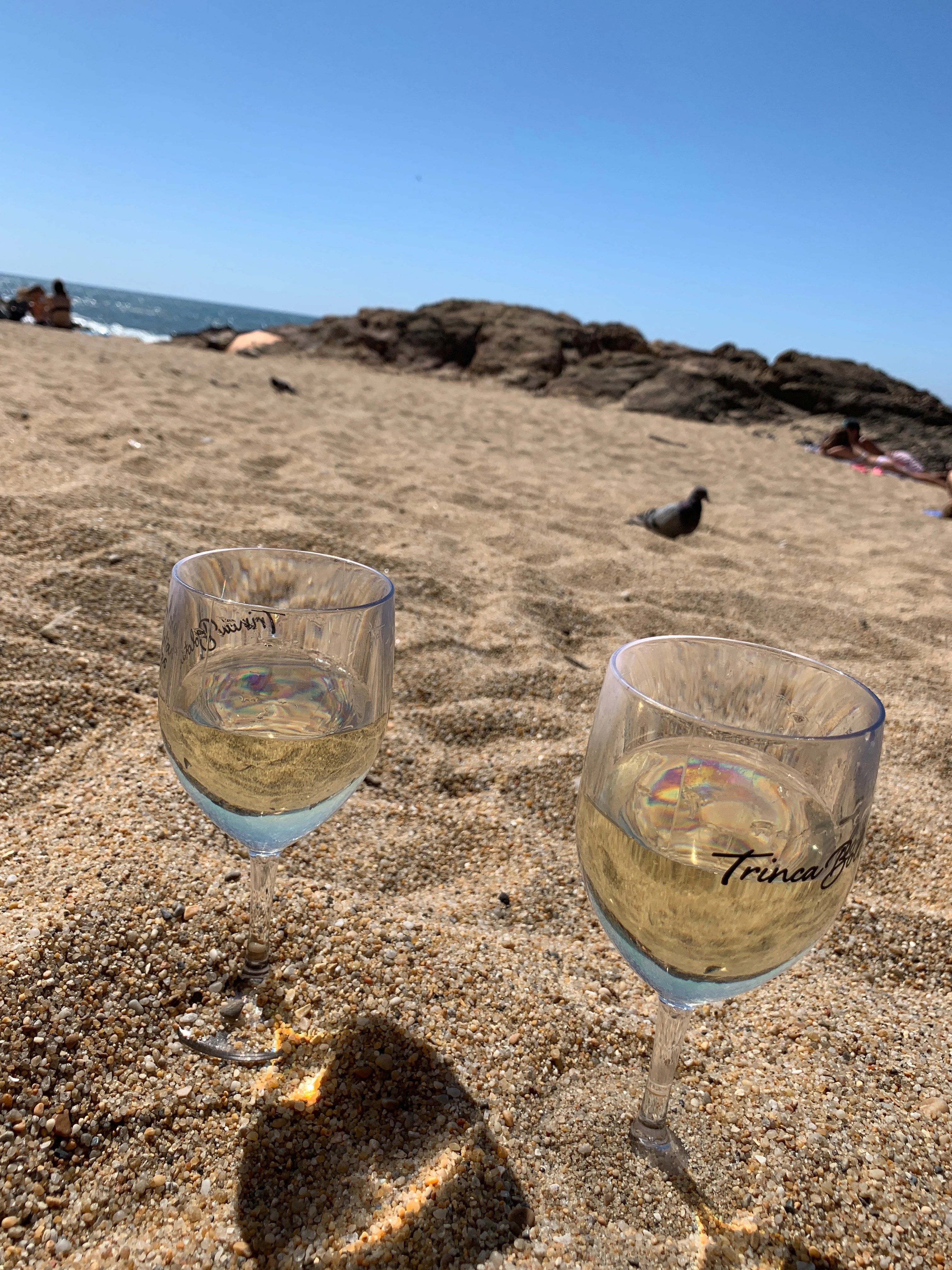 Since there are so many beaches to post up in, shake it up and head to a different area! We walked further down the coast to an extremely secluded spot and had our own little rock cove to ourselves for the last bit of the afternoon.
Pre-Dinner Drinks: Praia da Luz
Right on the beach is the bar Praia da Luz, where you can grab a quick Porto Tonico and a snack before moving on to heftier fare and catch a phenomenal view of the sunset.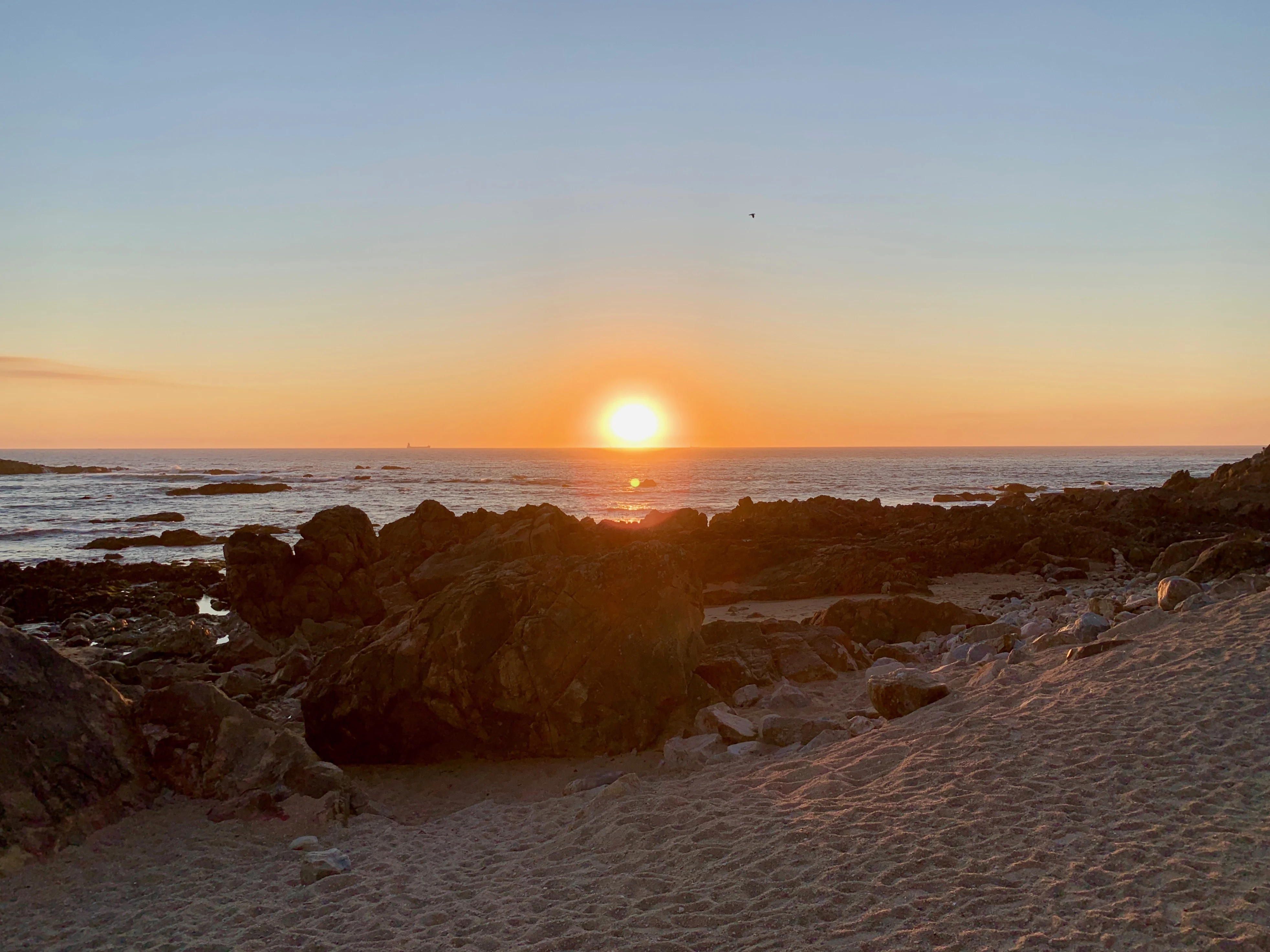 Dinner: Dealer's Choice
I'm providing two options here: one is Pedros Lemos, a Michelin star restaurant that I'm not necessarily endorsing or critiquing.
Pedros Lemos is one of the two Michelin star restaurants in Porto, and it's honestly not horribly expensive — something like $150 euros per person.
We had a nice experience, but it's definitely for the type of person who enjoys, well, Michelin star restaurants. I personally don't think it's one of those "can't-miss-it" type of places.
If a $300 dinner is outside of your budget, I would suggest checking out Ichiban: a Japanese restaurant known for having the best and freshest sushi in town.
Day 4: The Douro Valley

Some might think putting an overnight trip to the Douro valley on a 5 day Porto itinerary is overly ambitious, but it's only 2.5 hours or less away from the city and is honestly one of the most beautiful places I have ever seen.
It's an absolute MUST for anyone who loves wine or gorgeous scenery, and a welcome break from the bustling streets of Porto. So just trust me and go for it!
I have a whole post on how to spend 24 hours in the Douro Valley, but here's a quick summary…
Take a train in the morning — only about 15 euros depending on where you're getting off — and stay all day and overnight at a Quinta (a Portuguese winery) of your choice. We chose to stay at Quinta Da Marka, which I highly suggest if you're looking for recommendations 🙂

The train ride takes you directly along the Douro river and through some of the most breathtaking landscape you can imagine. Sure, a car is faster, but you won't want the driver to miss out on seeing this beautiful region.
Once you arrive at the Quinta in the afternoon, spend the day tasting wines and charcuterie, swimming in the pool, strolling through the vineyards, and taking in the spectacular scenery and views. Especially be sure not to miss the sunset!

Grab dinner at the Quinta and breakfast the next morning, then hop on the train back to Porto and you'll be back in time for an early lunch.
I promise you'll have plenty of time in Porto the next day and the Douro Valley will be the highlight of your trip. This sounds like a pretty simple agenda for an overnight stay, but you WON'T regret it.
Day 5: Views on Views
Lunch: Picnic at The Crystal Palace Gardens
Once you get back and settled in Porto, it'll be about time for lunch and a view!
The Crystal Palace Gardens (Jardins do Palácio de Cristal) absolutely require a visit if you're staying in Porto. It's a gorgeous space with various panoramic views of the city, plenty of places to set up a picnic, a concessions stand with cheap Porto Tonicos, AND a bunch of peacocks waltzing around the grounds. Need I really say more?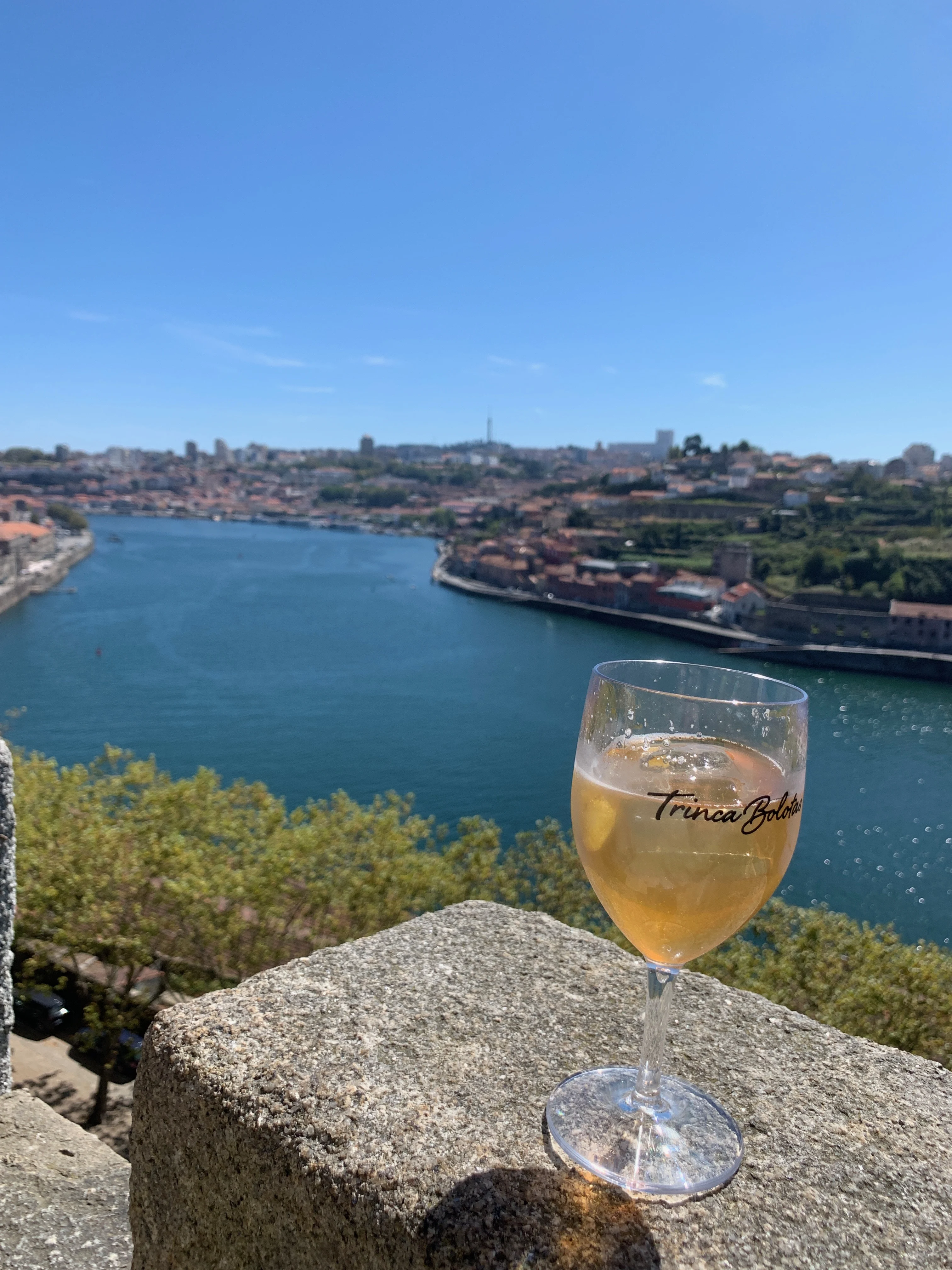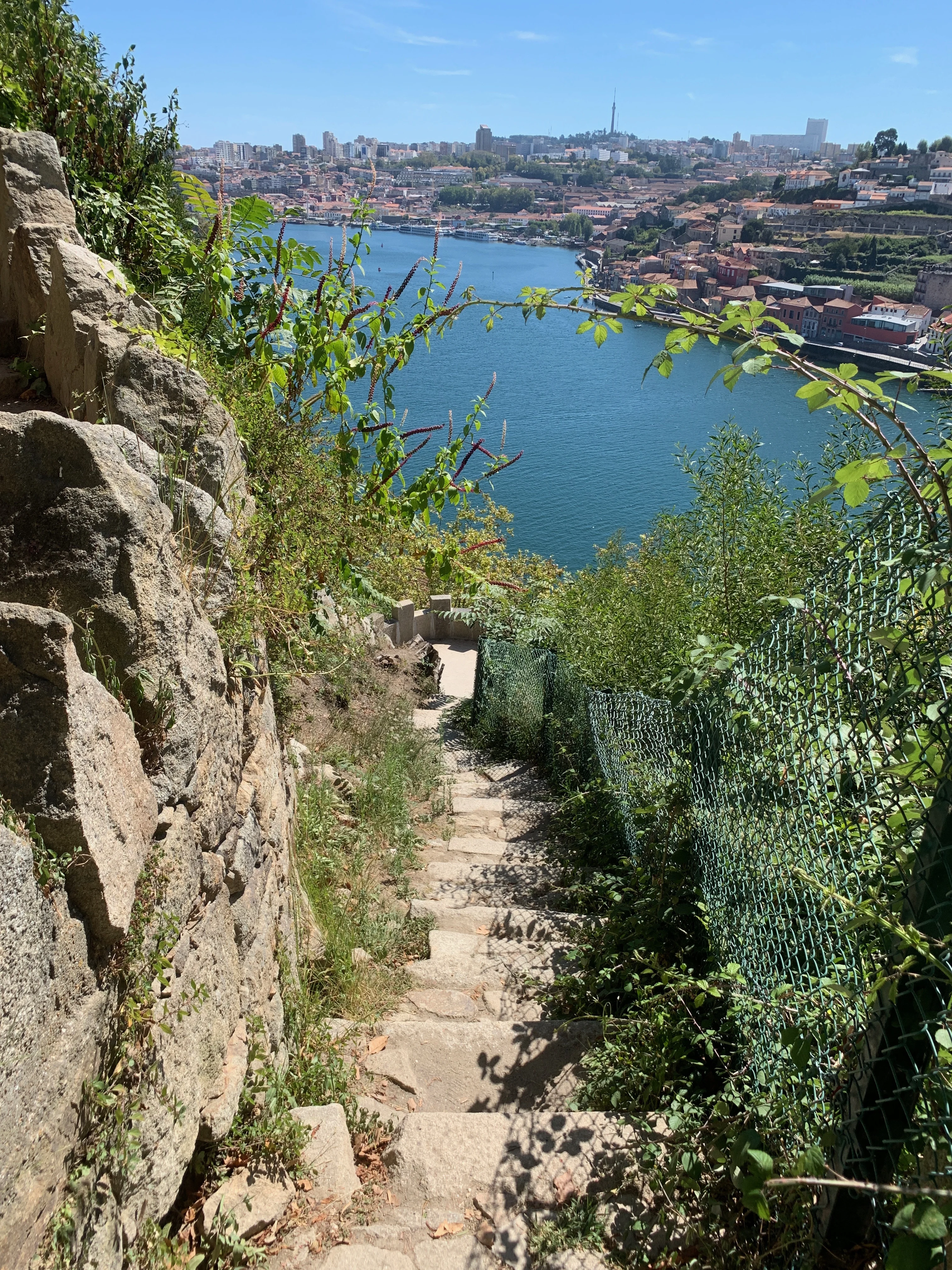 You could spend hours at this park and still not see every view that it offers, so take your time and really try to see it all.
Drinks with a view: Guindalense Futebol Club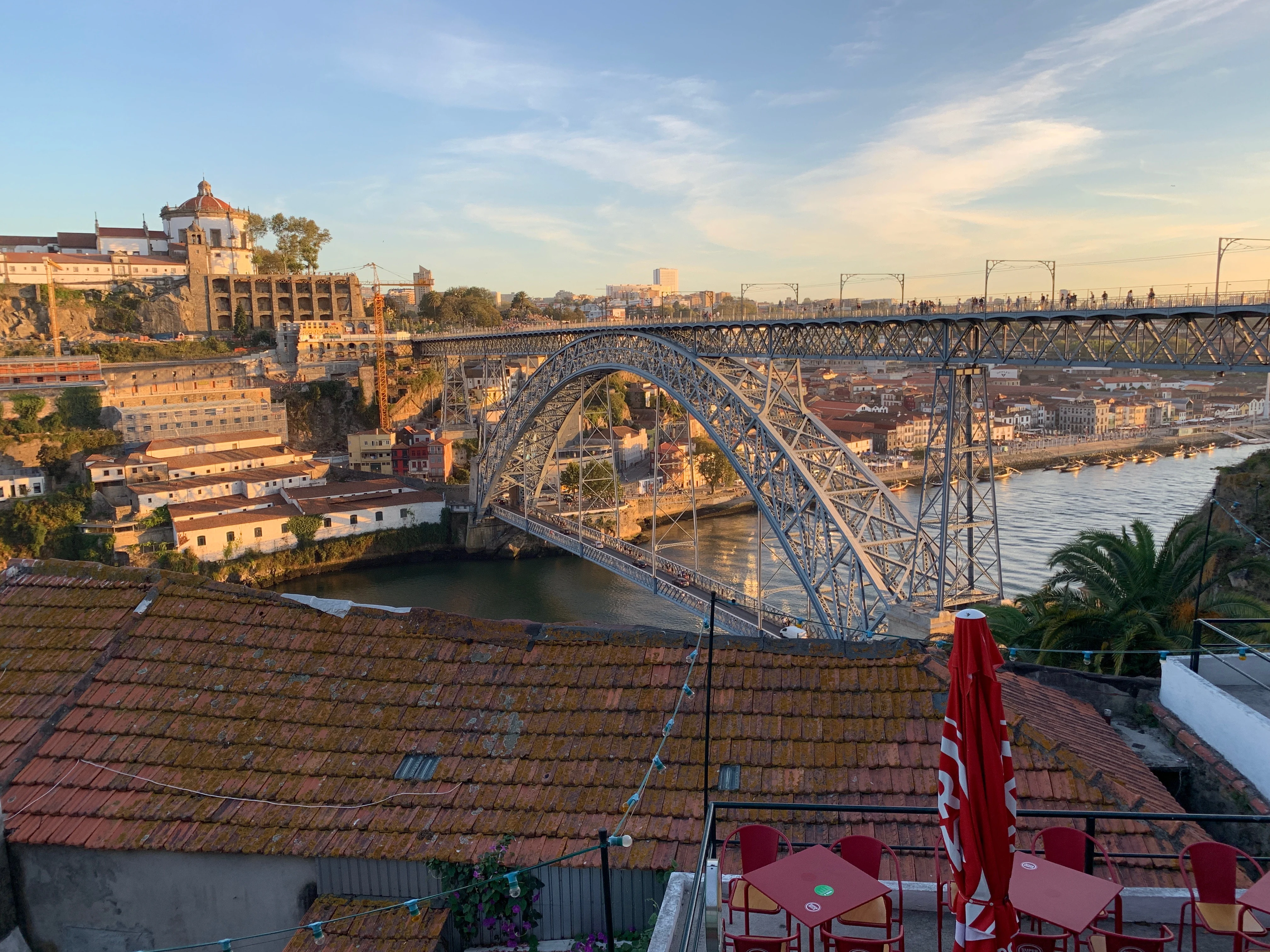 After the park, trek on over to Guindalense Futebol Club.
This beautiful bar decorated with colorful tiles is what I would consider a dive bar in terms of the fare it offers, but it just happens to have the best view in town. Once you make the hike uphill, you'll have an amazing first row seat overlooking the Douro river & Porte Luis bridge.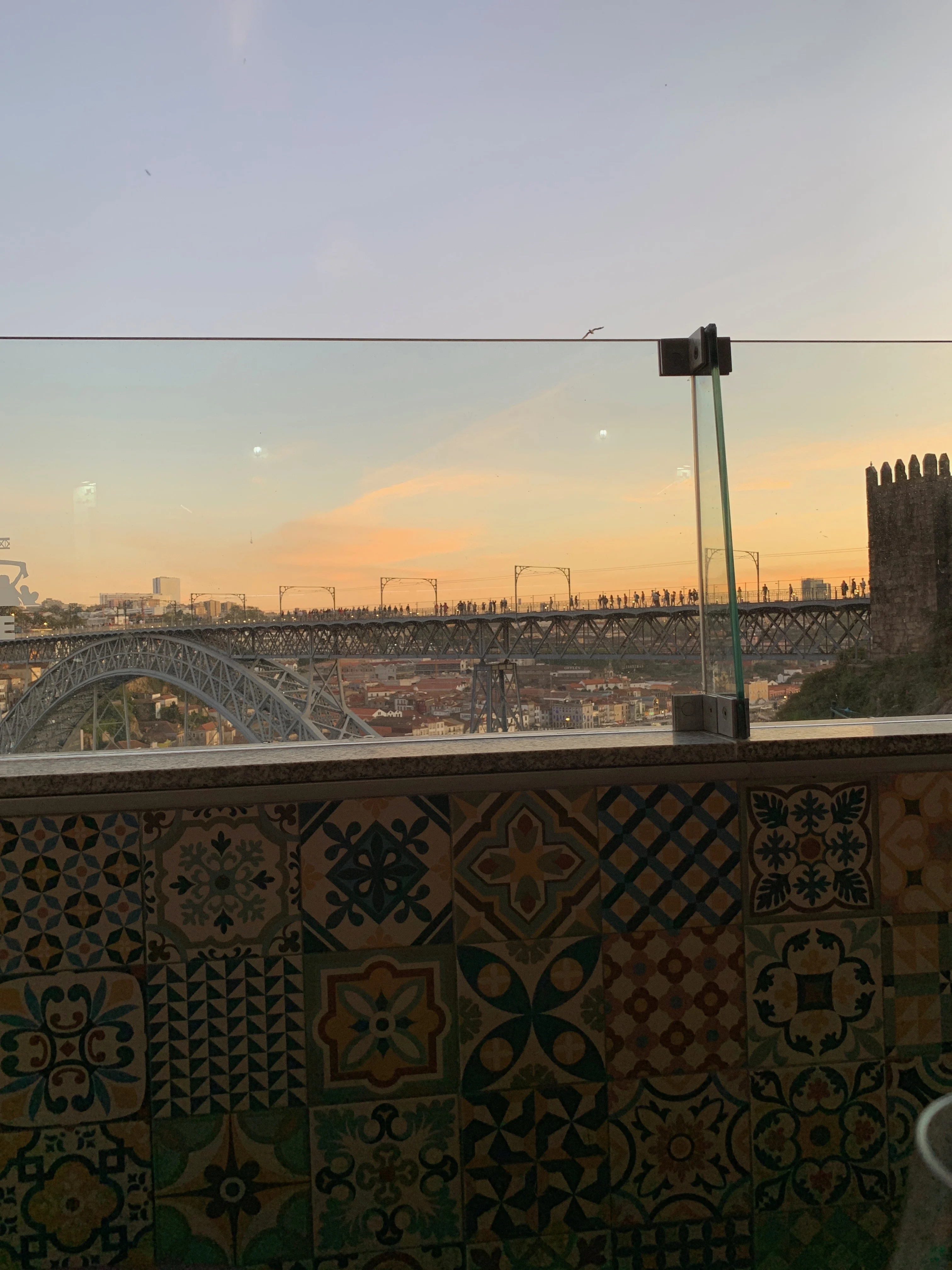 Dinner: Intrigo
Intrigo is tucked away in a small building with a terrace that extends over the city in the Ribeira neighborhood. While you're dining on delicious local fare, you'll be able to enjoy a gorgeous view of the city at night.
You might have to wait for a table, but I promise it's worth it! We actually ate outside on the side terrace, and they were kind enough to provide giant blankets since it was a chilly night. 10/10 would do again.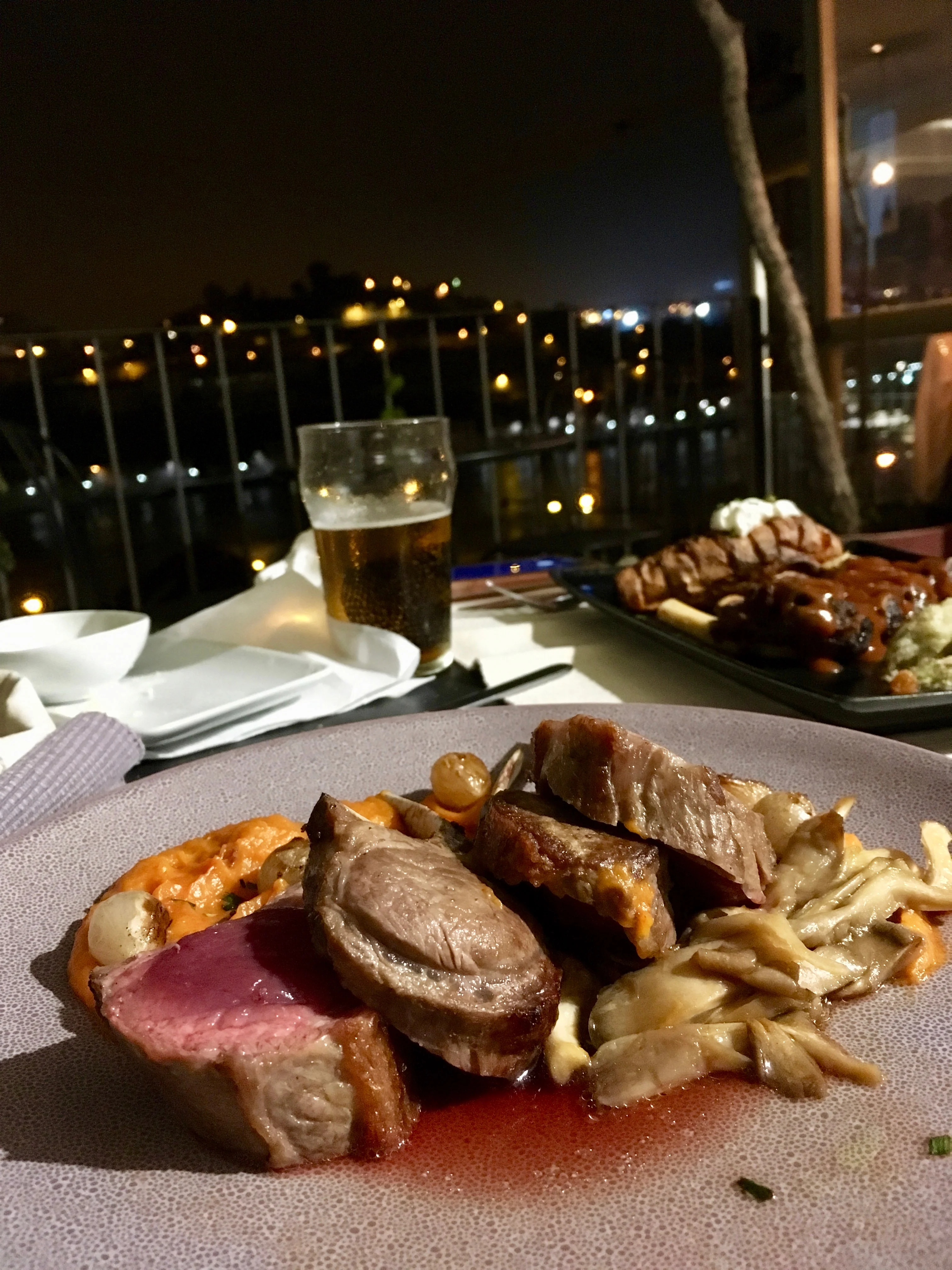 Ready to go?
And there you have it! Five perfect days in the wonderful city of Porto. If you're lucky enough to take a trip to this magical place, I hope some of these suggestions come in handy and that you have as much of an amazing time as we did!
And if you have suggestions for ME for next time, please let me know in the comments. I would so appreciate it 🙂
---
Read Also: