Meet the Trinidad Sour: the unusual classic cocktail that's so wrong, it's right! The unique vivid reddish-brown drink sets itself apart from other cocktails by using a hefty serving of Angostura bitters as its base spirit. This alone is enough to make people approach the Trinidad Sour with skepticism, but I promise you'll love it if you like complex, well-balanced, and flavorful cocktails!
If you like unique and complex cocktails, you have to try the Trinidad Sour! There's perhaps no classic cocktail more unorthodox, and yet it's one of the most popular cocktails in the world. What makes it so different is that it uses Angostura bitters, which are usually used as a supporting role in cocktails in very small amounts, as the primary ingredient. This could scare some people off, but trust me: it's delicious. The large portion of bitters is perfectly balanced out by rye whiskey, citrus, and almond syrup, resulting in a delightfully spicy, tart, bitter, and nuanced cocktail. It shouldn't work, but it does. And that makes the world love it even more!
Trinidad Sour quick facts
Level of difficulty: Easy! It's a straight-forward shaken cocktail with just a few ingredients.
Number of ingredients: Four not including the optional lemon peel garnish.
Main spirit(s): Angostura bitters and rye whiskey.
Season or occasion: It's perfect for whenever you want to serve a truly unique and impressive drink! As for seasons, it's surprisingly bright and refreshing with a tropical flair, which makes it great for the summertime. But it also has a dark spiciness to it and flavors that will remind you of the holidays, which makes it just as appropriate for cold weather and festive occasions!
Type of cocktail: Classic cocktail.
What is a Trinidad Sour?
A Trinidad Sour is made with Angostura bitters, rye whiskey, lemon juice, and orgeat almond syrup. Without knowing the ratios, this sounds like a fairly normal cocktail, right? When you find out that the bitters are the primary ingredient though, that's where things get interesting!
Using any type of bitters as a base for a cocktail is pretty much unheard of since its such a potent flavor. So who came up with this wild concoction? None other than legendary bartender Giuseppe Gonzalez, who invented the cocktail in 2009 while working at the The Clover Club bar in Brooklyn. It was inspired by another award winning cocktail called the Trinidad Especial, which uses Pisco and lime juice instead of rye whiskey and lemon juice.
Unsurprisingly, this unconventional cocktail was not an overnight success. It took a while to catch on, but with the help of other respected bartenders who served the drink at their own bars, the cocktail slowly gained traction over the years.
Today, the Trinidad Sour is one of 77 IBA (International Bartender's Association) official cocktails, making it one of the most popular cocktails in the world. So if you don't trust me that this cocktail is amazing, you can at least trust the judgement of the IBA 😂
Ingredients in a Trinidad Sour
The most perplexing thing about the Trinidad Sour is how good it actually is! Typically you wouldn't use more than a dash or two of bitters since they're so potent, but the Trinidad Sour has a whopping 1 to 1.5 ounces. So when you first see the recipe, it's natural to think "this isn't going to work." Once you take a closer look though, the ingredients actually do make a lot of sense. The bitters, which would usually overpower a drink when used in this large of a quantity, are balanced out by the equally potent and dry rye whiskey, sour lemon juice, and creamy, sweet orgeat syrup.
The flavors all come together to make a shockingly balanced, complex cocktail. There are almost too many adjectives to describe how the Trinidad Sour tastes — it's tart, bitter, herbal, spicy, and rich, with notes of cinnamon and clove that remind me of the holidays. This is all to say that it's an explosion of flavor that will surprise you in the best way possible! My specific recipe doesn't diverge much from the original, but I do have a few tips and tricks that I think make the cocktail even better. Here's the full rundown on what you need to make it!
Angostura bitters
Rye whiskey (preferably 100 proof)
Lemon juice
Orgeat
Lemon peel, for garnish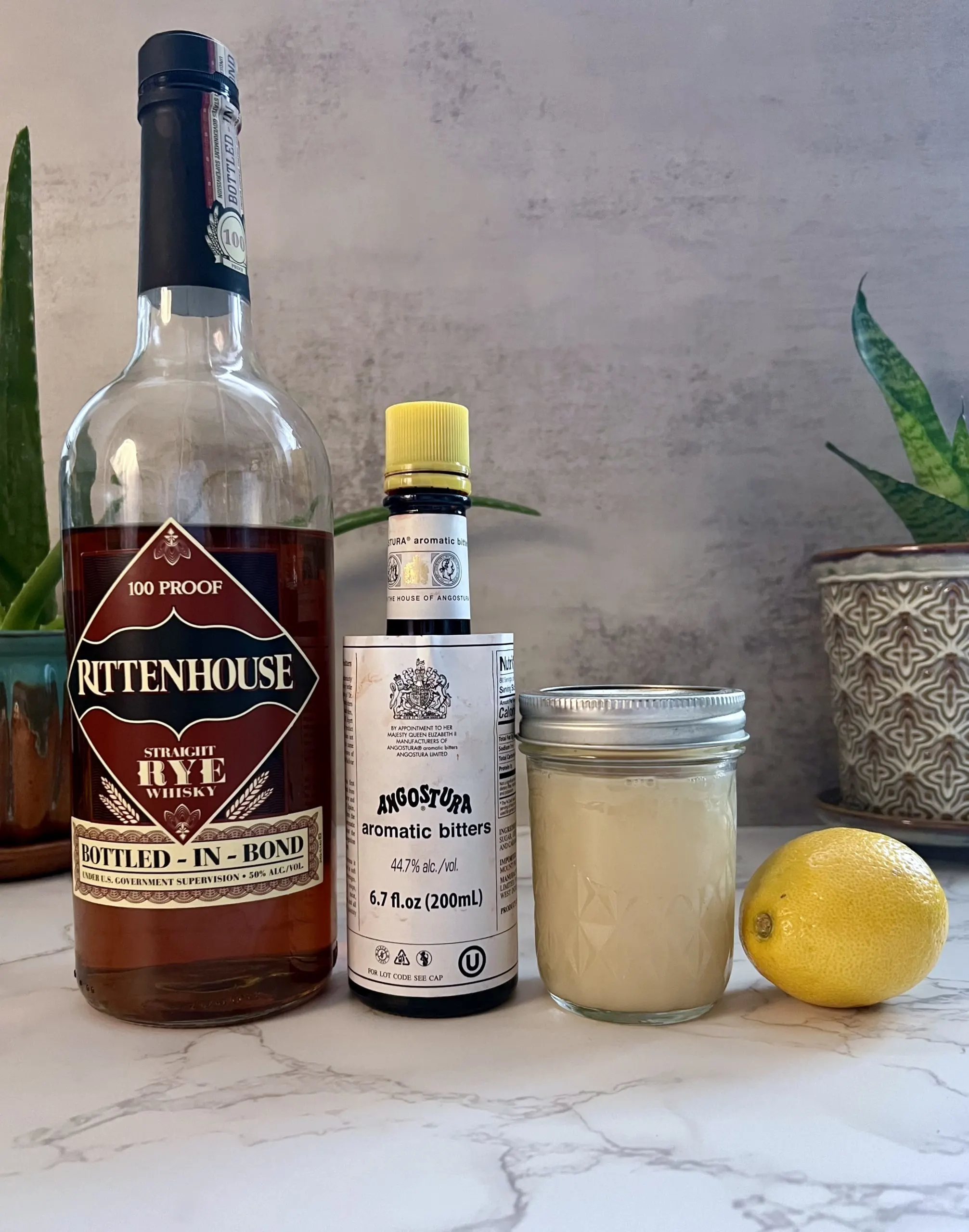 What to know about Angostura bitters
Angostura bitters are the most popular bitters in the world, and are known for being a key ingredient in famous cocktails like the Manhattan, Old Fashioned, Whiskey Sour, and (of course) the Trinidad Sour! They're easily recognized by their iconic oversized label, and are used to add extra depth of flavor, balance, and aromatics to cocktails. Here's what else you should know about them…
The TLDR history behind Angostura bitters
The name "Angostura" comes not from the Angostura plant, but rather from the Venezuelan town of Angostura where the bitters were originally created by a german doctor named Johann Siegert in the early 1800s. Siegert made and sold the bitters through his company House of Angostura in Venezuela until 1876. This is when his sons moved the company to Trinidad and Tobago, where the bitters are still produced today and the Trinidad Sour derived its name. Initially the bitters were used for medicinal purposes, but some time in the late 1800s people started using them as a cocktail ingredient. As for who first said "hey, I should add this bitter medicine to cocktails!", that's a part of history we'll likely never know, but we owe them BIG TIME.
Angostura bitters quick facts
What are Angostura bitters made of? While we know Angostura bitters are a concentrated infusion of herbs and spices with a neutral alcohol base, the actual recipe is a closely guarded secret known by only a few people. The sole known ingredient is gentian, which is a bitter root, but it's rumored there are over 40 other botanicals in the recipe.
What's the ABV of Angostura bitters? Angostura bitters have an ABV of 44.7%, so they're as potent as any other spirit like whiskey, gin, or vodka. This is the case with any type of bitters, but since you usually use them in such small amounts, they don't add any significant amount of alcohol to most cocktails.
What do Angostura bitters taste like? Spicy, bitter, and botanical with strong notes of cinnamon and clove.
How much do Angostura bitters cost? A 4oz bottle of Angostura bitters only costs around $9, and it will last you forever since you usually only use a dash or two at a time! (If you're making Trinidad Sours everyday though, it'll go pretty quickly 😂).
What can I use instead of Angostura bitters? You shouldn't try to substitute Angostura bitters for any other bitters in a Trinidad Sour. Period. It would totally change the taste of the drink. In other cocktails where you're only using a few dashes though, you could try other aromatic bitters like Peychaud's or Fee Brothers. But this will still totally change the taste of the drink, and it's always best to use what the recipe calls for.
More about orgeat
Orgeat is an almond syrup that adds richness, creaminess, and sweetness to cocktails. It's best known for being an ingredient in tropical cocktails like the Mai Tai and the Saturn, as well as in classic cocktails like the Army & Navy and Trinidad Sour!
What's orgeat made of? Traditionally, it's made with almonds, sugar, and orange flower water. There's a wide range of recipes though — some use a spirit like cognac or vodka, others substitute almonds with almond milk and almond extract. So there are many different ways to make it!
What does orgeat taste like? Orgeat has a unique, nuanced flavor that's balanced between sweet, nutty, and creamy.
Where can I get orgeat? Some cocktail specialty stores or liquor stores carry orgeat, but your best bet is to make it at home! This is the orgeat recipe that I always use — you can make it in 5 minutes and it's absolutely delish. I greatly prefer it to any store-bought orgeat I've had, and it's so worth the extra effort.
Is orgeat perishable? Yes! It has to be refrigerated in an airtight container once made or opened, and will last a little over a month in the fridge.
If you're looking for more cocktails that use orgeat as an ingredient, check out the best orgeat cocktails here!
Choosing a rye whiskey
Rye whiskey plays the much needed sidekick role to the Angostura bitters in the Trinidad Sour — it's the perfect example of fighting fire with fire! The rye whiskey balances out the potent bitters by making the cocktail drier, so it's best to use a strong rye whiskey that's at least 100 proof (i.e. 50% ABV) and can stand up to the bitters, as opposed to a sweeter, mellower whiskey. As for choosing a rye whiskey for this cocktail, here are my go-to bottles!
Rittenhouse Straight Rye Whisky
Wild Turkey Rye 101
Knob Creek Kentucky Straight Rye Whiskey
Old Forester 100 Proof Rye
You should be able to find these at most liquor stores, and they're all reasonably affordable. For the Trinidad Sour, my favorite is the Rittenhouse Straight Rye Whisky because it's super spicy and has the right amount of strength to dry out the cocktail.
Tips and tricks for making a Trinidad Sour
Glassware
Typically you serve a Trinidad Sour in a Nick and Nora glass, which is similar to a coupe but with more of a bell shape. Since it's a shaken cocktail served "up" (i.e. without ice) though, you can feel free to use any long stemmed glass that you won't warm up with your hands, like a coupe or sour glass.
Don't use egg white
While some sours call for egg white, the Trinidad Sour isn't one of them. This is because egg white mellows and softens cocktails, and this drink is supposed to be a powder keg of flavor. So egg white wouldn't be terrible, but you're missing the point of the cocktail if you're trying to temper it.
Add a lemon peel garnish
A lemon peel adds a nice pop of yellow against the deep red cocktail and extra aromatics. You can simply shave off a piece of peel and add it to the side of the glass. Or to elevate the presentation, you can make a lemon twist by shaving off a swath of lemon peel with a vegetable peeler and trimming off the sides to make it a uniform ribbon, then twisting the ribbon around a chopstick or bar spoon handle and holding it there until it maintains the curled shape.
Double strain it
Double straining (or fine straining) a cocktail prevents tiny fragments of ingredients like ice, herbs, or fruit, from making it into the final drink. In my opinion, it's always best to double strain a shaken cocktail served up.
To double strain it, you can use the cocktail strainer you'd normally use for shaken drinks (like a Hawthorne strainer), as well as a small fine mesh strainer. Simply hold the fine mesh strainer below the cocktail shaker and above the serving glass, then pour the contents of the shaker though both strainers.
Want to learn more about double straining? Check out this step-by-step guide that covers everything you need to know about how to double strain a cocktail!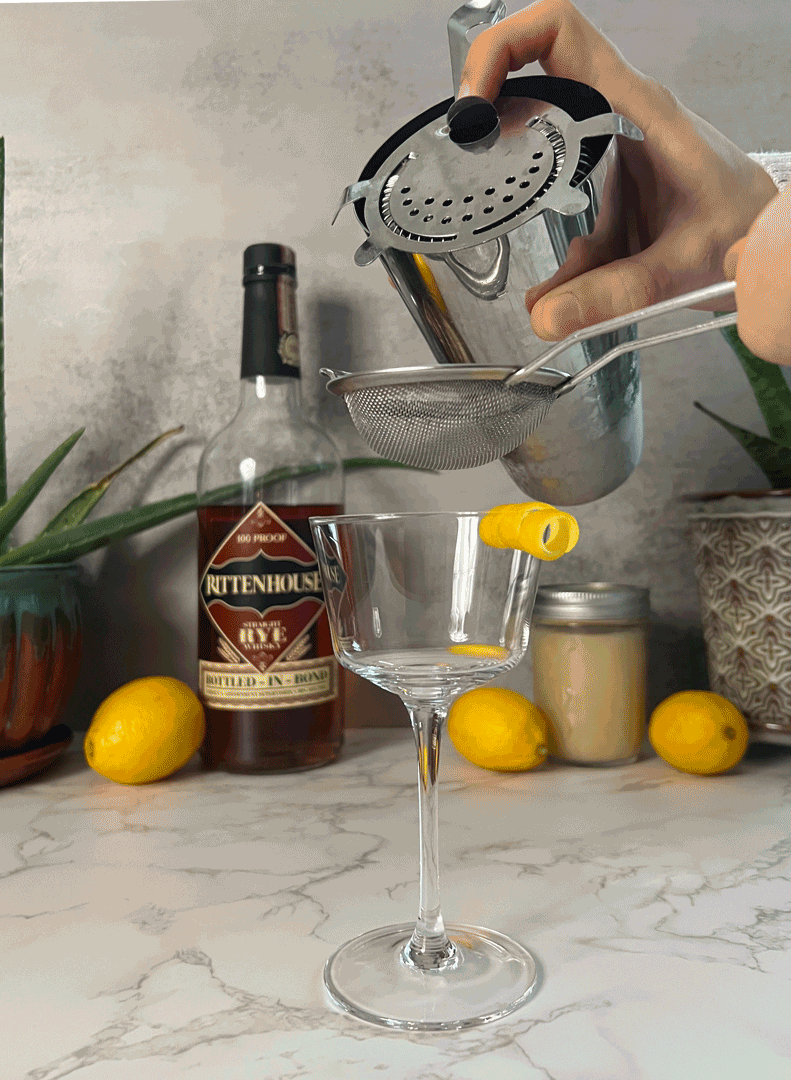 How to make a Trinidad Sour
The Trinidad Sour is so easy to make and doesn't require any fancy tools. You just need a stemmed cocktail glass (preferably a Nick and Nora), cocktail shaker and strainer, and fine mesh strainer. Here's how to make it!
Build the cocktail: Add the Angostura bitters, rye whiskey, fresh lemon juice, and orgeat to a cocktail shaker with ice and shake until you feel it get ice cold.
Double strain it: Double strain the cocktail using a cocktail strainer and fine mesh strainer into a serving glass.
Garnish (optional): Garnish with a lemon peel.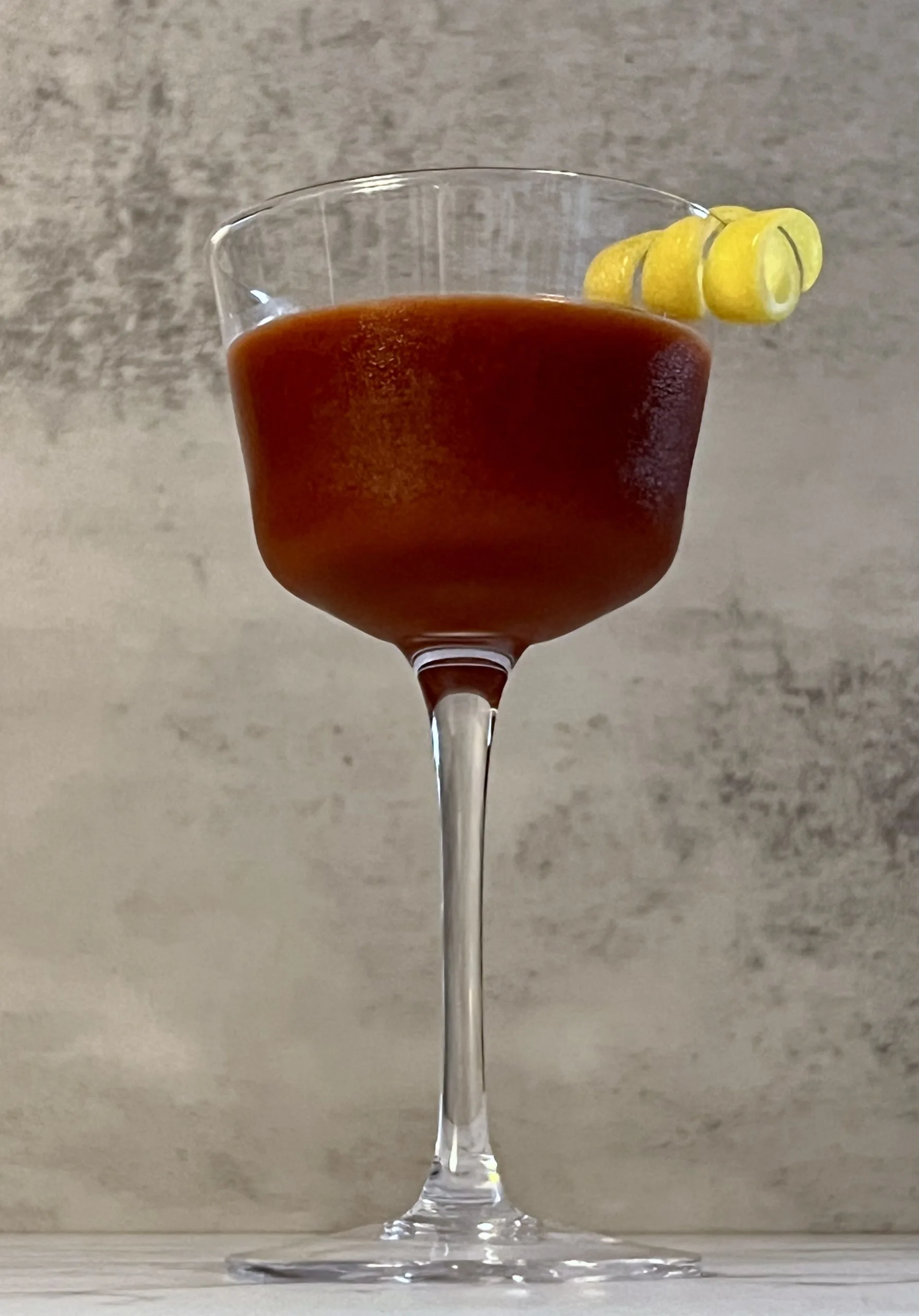 More unique cocktails
If you're always in the market for new and interesting cocktails to broaden your palate or impress your cocktail-savvy friends, here are a few more recipes to try!
Trinidad Sour
Meet the Trinidad Sour: the unusual classic cocktail that's so wrong, it's right! The unique vivid reddish-brown drink sets itself apart from other cocktails by using a hefty serving of Angostura bitters as its base spirit. This alone is enough to make people approach the Trinidad sour with skepticism, but I promise you'll love it if you like complex, well-balanced, and flavorful cocktails!
Ingredients
1 1/2 ounces Angostura bitters
1/2 ounce rye whiskey (preferably 100 proof)
1 ounce orgeat*
3/4 ounce fresh lemon juice
Lemon peel, for garnish (optional)
Instructions
Add the Angostura bitters, rye whiskey, orgeat, and fresh lemon juice to a cocktail shaker with ice and shake until you feel it get ice cold (about 10-15 shakes).
Double strain** the cocktail through a cocktail strainer and fine mesh strainer into your serving glass.
Optional: garnish with a piece of lemon peel or lemon peel twist.
Notes
*To take the cocktail to the next level, make your own orgeat at home in 5 minutes with this easy recipe!
**Double straining (or fine straining) the cocktail keeps any specks of ice from getting into the final drink, which improves the overall appearance and prevents it from getting overly diluted.
Nutrition Information:
Yield:

1
Serving Size:

1
Amount Per Serving:
Calories:

150
Total Fat:

0g
Saturated Fat:

0g
Trans Fat:

0g
Unsaturated Fat:

0g
Cholesterol:

0mg
Sodium:

1mg
Carbohydrates:

6g
Fiber:

1g
Sugar:

4g
Protein:

0g