Welcome to my honest review of Bota Box Nighthawk Black Dark Malbec.
This is part of my I-Tried-Every-Boxed-Wine-So-You-Don't-Have-To post series that's designed to help you choose the right boxed wine for you. No one would ever pay me to write about this, so you can rest assured my opinions are unbiased.
Overall value of the wine is primarily graded by taste and the number of ice cubes needed to make it drinkable. Wines are rated on a grading scale of F to A+.
So join me as I suffer through three liters of every Black Box, Bota Box, Barefoot Box, etc and take myself way too seriously.
More Boxed Wine Reviews
Bota Box Nighthawk Black Dark Malbec Honest Review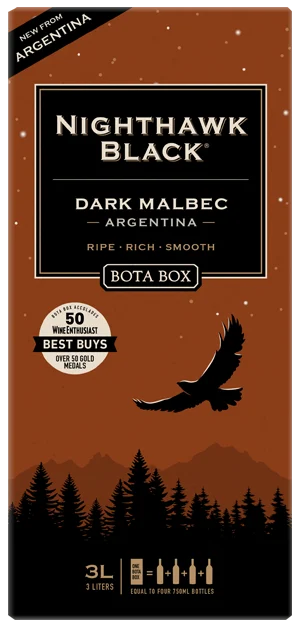 Price Range
$16-$19
Origin
This box comes all the way from the Motherland of Malbec: Argentina.
(Actually, Malbec originated in Bordeaux, but it's safe to say it's far more popular in Argentina nowadays and they've reclaimed the grape as their own.)
Packaging
As with all Bota Boxes, you have to open the nozzle slot, wrestle with the nozzle to get it in a position that won't result in wine being sprayed in every direction, and then remove the silver safety tab from the nozzle.
So it's a little more complicated than other boxes, but nothing to write a letter of complaint about.
Visually, I've always been a fan of the Nighthawk box designs. Staring at the bird flying over the facade of a mountain and tree tops, it's easy to pretend I'm camping in the wilderness. Which I would never actually do. This box is as close as I plan on getting to nature.
Tastes Like
Luckily, it actually tastes like a Malbec! Usually boxed wines do a bad job of representing whatever grape they're supposedly made out of, but this one delivers.
From the outset, it smells and looks like a Malbec. It's a nice, dark ruby color with dark berry notes and a hint of spice. On the nose, I primarily get a lot of cherry and raspberry.
When I take a sip, I get the characteristic Malbec bite, but it's also VERY drinkable and smooth. It manages to be bold and fruity — I get a lot of dark berries and cherry — while also being nice and dry. I would almost compare the experience to drinking a fruity bonfire.
There's also little bit of vanilla, cinnamon, and spice mid-palate that makes me think of a festive cobbler.
Another great thing about this box is it has fantastic acidity that balances out the fruitiness. Way more acidity than I've come to expect in a box o' red, and the finish is super tingly in the best of ways.
It has great body, more tannin than you usually get from a wine in a box, and overall surprisingly good structure.
If I had one critique, it'd be that there's a very, very slight cardboard taste when you first try a sip, but it's pretty much entirely masked by the acidity and bold fruitiness. This critique is truly a reach — this is a really freaking good box of wine.
Number Of Ice Cubes Needed
None! No cubes. Unless you liked your red chilled, like some people in my family. In that case, no judgement: throw in a few cubes, but not so many that it completely dilutes the flavor.
Food Pairings
While drinking it on a road trip to the mountains, I was imagining pairing it with some grilled chicken or something peppery and meaty. I could also see it being wonderful with spaghetti or pizza.
Overall Value of Bota Box Nighthawk Black Dark Malbec: A
Not gonna lie, I think this is my new favorite boxed red wine. If you served this to me at a party, I would accidentally assume you liked me and broke out the good-ish stuff. I definitely wouldn't guess it's from a box.
Ultimately, it tastes like an inexpensive, mid-tier Argentinian Malbec, which is far more than I can say about a lot of boxed wines.
For these reasons, it deserves a solid A. The only reason it's not an A+ is because I'm reserving that for the holy grail of boxed wine, and I don't think my quest is complete quite yet.